We've all gone the past few years dealing with all of the background noise of sports and yearned for hope, and I got to thinking of the first lines of the song "Hello World" by Lady Antebellum:
Traffic crawls, cell phone calls
Talk radio screams at me
MLB Playoffs.    KC and SF gave me pause to think of the closing lines of the very same song, and I realized why we come together – why we love sport so freaking much (I changed the word "world" to "sports"):
All the empty disappears…I remember why I'm here
Just surrender and believe…I fall down on my knees
Oh hello sports…Hello sports…Hello sports
Hello sports…How've you been?
Good to see you, my old friend
Sometimes I feel cold as steel…Broken like I'm never gonna heal
I see a light, a little hope
In a little baseball…Hello sports
None of us here have a direct connection to Kansas City that I'm aware of, but I'll be damned if this KC team in this city in a sport thought changed forever for the worse hasn't brought a nations worth of Baseball fans together.
World Series on the Field.   SF has to hit the KC starters early and often, and then convert by getting their RISP across the plate, something they've struggled over since June.  If they can't do that, forget about it, especially late when KC has that bully up and running.  The fact that KC plays that amazing defense makes it even tougher on SF, especially in KC.  It's gonna take another Pablo Sandoval World Series explosion to keep this close, and he's gonna need help from Pence, Belt, and Morse.
As for KC, can they stay hot?  Can they take advantage of their speed and steal on Buster Posey? 
NFL – 10 questions/thoughts.  This was not a week for the ages.  Pretty boring actually, though sometimes you just gotta tip your hat and say that the team you root against was the better team.  Denver classified as that last night, so good job Denver.
1.  New England/New York.   I'm calling shenanigans on this one.  How does NYC stay that close to New England?  And now NYC is gonna be the new home for the biggest diva of all – Percy Harvin.  Good luck with that Rex.  Wonder how long it's gonna take for the world's biggest Migraine sufferer to start giving Rex one while he's playing Locker Room Lawyer and Bouncer?
2.  San Francisco/Denver.   Thanks to the football gods that SF has the bye week coming up - they need to get healthy and come together as a team!
3.  Miami/Chicago.  All of a sudden Miami has an offense?  Who knew?   Chicago is 0-3 at home and now fighting with each other post-game in the Locker Room?  U-G-L-Y, Chi-town got no alibi it's UGLY.
4.  Kansas City/San Diego.  The one game that should have got press and didn't.  Does anybody know what happened in this game?
5.  New York/Dallas.  One thing Tom Coughlin doesn't suffer well is players who fumble.  #84, consider yourself officially in Coughlin's dog house.   Meanwhile, DeMarco Murray is making a serious case to be considered NFL MVP.  He won't get it of course, but he's a worthy contender.
6.  Minnesota/Buffalo.  If I'm the NFLPA, I'm taking a hard look at how many injuries came out of this game.   Did we just witness the birth of the next big WR in Sammy Watkins?
7.  Cincinnati/Indy and Atlanta/Baltimore?  Yawn.
8.  Cleveland/Jacksonville.  Really Cleveland?     
9.  Carolina/Green Bay.  Props to Green Bay, but I'm not getting Carolina at all.  Can somebody please explain that Kuechly ejection to me because I sure don't get it.
10.  Seattle/St. Louis.  I think it's safe to say that most of The Gab enjoyed the outcome of this one.  I'm thinking Pete Carroll is going to be spending quality time with his Special Teams Coach.  As for St. Louis, they got away with it this week, but somebody needs to have a chat w/that Defensive Coordinator because they shouldn't be playing that soft.
NFL Trade thoughts.  If I'm Minnesota, I'm looking towards the future, and while it may not be possible or even realistic, if I'm Minny's GM, I'm calling Arizona to see what it would take to get Larry Fitzgerald, or hell, even this off-season trying to get C. J. Spiller.
CFB – 10 thoughts.   I got stuck in a place where I had to listen to ESPiN Radio during Saturday and I actually heard Danny Kanell (Former FSU QB) try to sell parity in CFB – uh yeah, because nothing says PARITY like four SEC West teams in the National Top Five.  Really Danny?  Effing ESPiN…
He then tried to sell that Blow-hio State deserves to be in the mix for the playoffs.  Really Danny?  Remember Virginia Tech?  If your boy Herbstreit is gonna bust Baylor for a crappy schedule, how do you justify Blow-hio State who lost to Virginia Tech, and whose only big game is Sparty?
1.  My four playoff teams right now:   Florida State, Notre Dame/Arizona State winner, Ole Miss, Mississippi State/Alabama winner.  To me, this is simple – if the Domers win out, they clinch one of the spots, though Alabama got a HUGE boost today when West Virginia (A previous Alabama opponent) beat Baylor while the Tide rolled and destroyed TAMU.     
2.  SEC:   The East is Georgia's to lose and they will be waiting for a beatup SEC West Champ in the SEC Championship Game.  If they pull the upset in December, all of a sudden we may see a Bulldog in the Playoffs, but not the one many are expecting/hoping for…
3.  PAC 12:  Arizona State is 5-1, and though their loss to UCLA is inexcusable, I think they could end up having a playoff argument if they win out, especially if they can beat Utah and Notre Dame, at home then @ Arizona and take the PAC 12 Championship Game?
4.  ACC:   Duke seems to be in the drivers seat to face Florida State in the ACC Championship Game BC is a huge surprise giving Clemson a game at home  - nice job Eagles.  Meanwhile, North Carolina waited two weeks to long to show their potential.    
5.  Big 12:  Kansas State has one loss – to Auburn (20-14) and still has games against OK State, @ TCU, @ a suddenly better West Virginia, and @ Baylor.  Meanwhile, TCU and Baylor have got to be kicking themselves right about now, and if I'm Oklahoma fan, I gotta wonder what is it that's holding this supposedly great program back.  West Virginia beat Baylor?  OK, before anybody makes any judgments on this game, it really wasn't a game so much as it was a referee fest. 
6.  MWC:  I get ridiculed at times for my belief in the MWC, and that's fair, but I also see a conference that has 6-1 Colorado State, 5-2 Boise State, a rapidly improving Nevada team, and a Utah State team that many big power schools wouldn't want none of.    Add in Air Force, a competitive San Diego State and San Jose State, along with BYU as a pseudo affiliate, and I think this is a deep conference.   Too bad they'll never get a fair shake to see what they can do.
7.  Big 10:  Sparty and Blow-hio State won, Yawn – their matchup is still three weeks away. 
8.  Big 10 #2:  But there were two damn good games with Maryland beating Iowa and Minnesota coming back from the brink and getting to 6-1 by beating Purdue.  .`
9.  Other non-Power Conferences:   Believe it or not folks, there were actually two ranked non-power conference teams:  East Carolina and Marshall.
10.  Next Week:  Ole Miss/LSU, USC/Utah (Will Devonte Booker run wild on Trojan man?) are about the only real interesting matchups.  And while it isn't in the "Power Five", I'll take the BYU/Boise State and San Jose State/Navy games.      
West Hills Update.    The boys got their first test this week and the defense struggled, but West Hills scored with :07 left in the game to take a 48-43 win over Reedley and remain undefeated for the first time in forever. 
Good Story #1:   You want to talk about redemption?  Let's talk about #31, St. Louis Rams.  Goes from Football star, to CFB player at Utah State, to trouble of the judicial variety, to kicked off team, to moving back in w/mom, to getting job as Janitor at Edward James Dome, back to Utah State, then drafted by…you guessed it, Jeff Fisher and the St. Louis Rams.   Redemption indeed, and I'm glad to see he hasn't forgotten his roots.
Good Story #2:   The Kansas City Royals.  Seriously, nothing else need be said.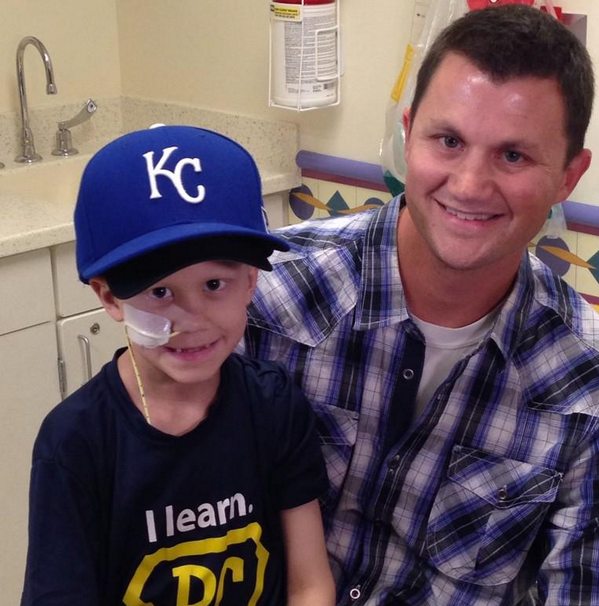 Good Story #3.  MLB got wind of a little six year old boy who is a KC fan and wanted to go to a World Series game in the worst way.  Well, Joe Torre stepped up and is getting little Noah Wilson into a game as his guest.  MLB and Joe Torre - class act!  
Good Story #4:  It appears that we are going to be spared a Justin Bieber/Eminem collaboration because ole Marshall Mathers decided he didn't want nothing to do with that gangsta wannabe.
Sick Thought.  What if Bieber and Miley Cyrus hooked up and had a kid?  That poor spawn of Satan wouldn't have a chance.
Douchebag of the Week (DBOW).   Washington, DC.  So let me get this straight:  Ebola in America is Republicans fault based on sequestration that was agreed to by BOTH parties, and DC referring to anybody trying to deal with the Ebola problem in Africa as RACISTS.  You read that right – RACISTS. 
Folks, if you vote for any incumbent regardless of party – YOU are the problem.    
DBOW Honorable Mentions?  City of Houston demanding transcripts of five preachers preaching, Johnny Twitter tweeting about the TAMU beatdown, the NBA with Cleveland 24/7, and the Swaggy P/Snoop Dogg Beef all were all dishonorable mentions.