My name is Uncle B.O.B., and I am an ESPiN-a-holic.  I have been sober for 15 days now (August 26th was my last visit there) and day by day I'm getting better for it.  But at the same time, my disgust with sports is at an all-time high and yesterday really has me questioning my loyalty to sports.  If I'm to be honest, I have a lot to think about.  In the meantime…
Sports Question.  I have to ask this question after the debacle of yesterday in the sports world:   On a scale of 1 to 10, what is your enjoyment of sports compared to your youth.  For me, it was at an 8 and now I'm at a 5.
Death Star.  What in the hell is going on lately in America?  Bieber (AGAIN)?  Cee Lo Green?  Dumb Ass pro sports careening out of control?  Idiot media who allows TMZ to be the bastion of journalism?  Beyond stupid business people?  Female "actresses" trying their hand at Skin-a-max type porn?  Hackers?  Politicians comparing other politicians to women beaters because they disagree on policy?   I have it on very good authority that the Death Star is coming for us because the Empire is pissed about what is going on in this spinning chunk of rock – let that be a message to all the other idiots out there.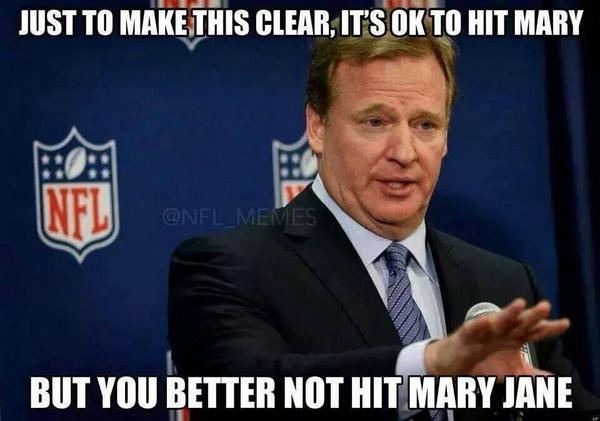 Ray Rice.  Moral indignation and outrage aside, Ray Rice is a piece of shit – that's clear, but for all those taking a verbal dump on the NFL, let's take a look at who else should be taking some, and that would be New Jersey, Baltimore, the union, and the players themselves. 
Hey Jersey, what the hell were you thinking by not being harder on this fool?  Wife doesn't want to press charges?  Fine, press em yourselves – violence is violence and you've got the shit on tape - pretty clear. 
Hey NFL, this is kind of on the periphery, but while you are busy giving out free passes for domestic violence, you think you might want to take a look at why one of your active players was publicly rolling around in a casino in the first place?
Secondly NFL, I'm wondering if now is the time to institute as part of the domestic violence policy that if Johnny Law charges any NFL employee with domestic violence that they are to be placed on "paid administrative leave" until the case is adjudicated?  Piss on the union - do this unilaterally and if they complain, let them take the public heat!
Hey Baltimore, don't go patting yourselves on the back.  You hired private detectives.  You have lawyers in contact with the NFL.  You probably even knew from TMZ the real deal – there ain't no way you didn't know the reality of the situation, and yet you hid behind the Sheriff.  I'm not real thrilled with you right about now.
Speaking of hiding behind the sheriff, we get to the union.  In my opinion, Rice's "punishment" couldn't have occurred without some involvement of the Union and I continue to marvel at how the slime continues to avoid them.  Think about it for a second, for as heavy handed as the Sheriff has been in terms of players screwing up as evidenced by the numerous complaints, how is it he only gave Rice two games for domestic violence?  Let me give you a clue:  Anybody hear of the recent reports of the NFLPA "negotiating" recent punishments as part of accepting a comprehensive testing program for HGH?  I think you might have the answer. 
Players.  Yeah, you tough guys are publicly yapping now about Rice being a turd, but where the hell were you when it went down months ago?  Another thing where the union told you to shut up?  You have zero credibility with me.
And that brings me to you Scott Fujita, you hypocritical son of a bitch.  Here's this asshole's comments courtesy of Profootballtalk.nbcsports.com: 
"Longtime linebacker Scott Fujita, a former vice president of the NFLPA's executive committee, had equally harsh words:
"I'm glad no one this morning seems to care about yesterday's games," Fujita wrote. "This piece of s— needs to be out of the league. Period."
Hey Scott, if you were so fucking concerned about domestic violence, where the hell were you when you had a voice?  For that matter, where the hell were you when this shit went down?  Oh yeah, that's right, you were too busy fighting the Sheriff on Bounty Gate, you know, when you all were paid to take players out.  Weren't you a part of that in some way?  Yeah, you're credible…NOT!!!
It is now time for a complete overhaul of the NFL and the union.  Goddell and DeMaurice Smith need to go.  Rip up the collective bargaining agreement and create something that passes the common sense test.  The union needs to start holding their players – ALL OF THEM – to a much higher standard. 
MLB – Stretch Run.  It's amazing that when a team not named Boston or New York take charge of the AL East, they are pretty much ignored.  Well somebody had better keep an eye on that one team that nobody wants to talk about, a team from (of all places) the AL East – Baltimore.  8-2 over the last ten and a 9.5 game division lead.  
It looks as if both Oakland and SF are going to be participants on Wild Card Day, though if Oakland doesn't start hitting with a quickness, they won't be playing in October AT ALL.  Oakland picked a horrific time to fall apart, but there's still time to right the ship. 
Cleveland is only 3.5 GB from the 2nd wild card all of a sudden, and 7-3 through the last ten. But now the big boys come to town in the form of Anaheim.  We'll find out how real they are now.
Texas needs to make sure they publicly thank Ron Washington.  As Skipper, he led this team to the heights it never before achieved.  Best of luck to him, and no Gabbers, I'm not gonna go with the obligatory cheap shot.
NFL – Week 1.   So what did I take away from Week 1 (not counting Monday Night)?
Antonio Brown ain't Chuck Norris.
If you're a fat guy and want to catch a football, go play for Buffalo, those fat boys get more of a chance than anybody to imitate Jumbo and run with the rock and I absolutely love it.  NUN-DIS-KA!!!
Clowney went out with a torn meniscus, and that's a shame, but does anybody else wonder about how easily this kid gets injured?
Was Seattle's destruction of Green Bay showing us how dominant they were, or is it the fact that Green Bay's injuries, exacerbated by Bulaga going out Thursday just killing them?
New Orleans defense was bad, but at the same time, I don't want to short change Atlanta's offense.
I think at least for a few weeks we can put the "QB controversy" in Cleveland to rest.
I think if you sleep on Jacksonville, you're in for a hell of a fight.  Philly darn sure found that out. 
In 40 years of watching NFL Football, I have NEVER seen a football game in Dallas where their fans were out-represented in terms of colors, noise, and support.   I could have articulated it better yesterday, but I stand by my statement that King Jerrah should be embarrassed – not by the game (they weren't as bad as many thought), but by the fan reaction.  He gets the message Dallas fan, he just doesn't care when he makes that kind of cheddar.
CFB Big Winners?  The SEC West (by default), Oregon, BYU, the Playoff Selection Committee, Notre Dame, and the NCAA. 
CFB Big Losers?  The Big 10, PAC 12, Texas, and the Playoff Committee. 
CFB schools on the hot seat?  Oklahoma, Baylor, and UCLA.  None of them can afford one single mistake, and that includes close games.  Texas getting killed hurt them all badly.
CFB Power players.  Right now that has to be the SEC East.  At this point, almost every conference right now outside of the ACC needs them to step up and beat teams in the SEC West for anybody to have a chance to get into this dance.
Jerry's new adventure.  Friday Night, West Hills JUCO Falcons started their season against San Jose, and they won 50-0. 
Douche Bag of the Week.  The ACC and SEC have apparently gone public in stating that they won't schedule BYU anymore because they don't consider them "power conference worthy" whatever the hell that means – not that the big boys ever played them anyway.  Hey ACC and SEC you hypocritical bastards, look at your schedules again then tell me with a straight face whose worthy and whose not.
Honorable mention:  Yep, he's at it again – Johnny "trademark".  Are you serious dude?  Reports are you can't figure out NFL defenses, yet you're running around trademarking nine effing nicknames?  Damn Cleveland…
Before I go…I encourage you to get on over and check out my Tuesday Brother.  Always a good, solid read.