Dick LeBeau

LeBeau was a fifth round draft pick of the Cleveland Browns in the 1959 draft, the was the 58th player picked overall. LeBeau did not make the Browns team, and was cut in training camp. He would then be picked up by the Detroit Lions.

He played six games in his rookie year, mostly on special teams, did recover the first fumble of his career that season. In 1960, LeBeau earned the starting job at cornerback opposite newly acquired Hall of Famer Dick "Night Train" Lane. The Lions defense also had Hall of Fame middle linebacker Joe Schmidt, Hall of Fame safety Yale Lary. Pro Bowl defensive tackle Alex Karras and Pro Bowl safety Terry Barr.

LeBeau picked off four passes his initial season. The next three seasons, LeBeau and Lane formed the best cornerback tandem in the NFL. LeBeau picked off four balls in 1962. He scored the first two touchdowns of his career that year, by interception and fumble recovery.

In 1963, LeBeau picked off five passes and returned them for 158 yards. He also returned one interception 70 yards for a touchdown. LeBeau would then make his first of 3 consecutive Pro Bowl appearances in 1964. That season also marked Lary's last in the NFL, and Lane played only seven games. LeBeau still managed five interceptions that year.

The 1965 season was the last year for both Lane and Schmidt. LeBeau picked off seven passes and returned one for the last touchdown of his career. LeBeau's last Pro Bowl season was in 1966, when he intercepted four passes.

LeBeau picked off four passes in 1967 by bookending Hall of Fame cornerback Lem Barney. He did this while under new head coach, and former teammate, Joe Schmidt. LeBeau and Barney would then team up for the next three years as one of the best cornerback tandems in the league.

The 1970 season saw LeBeau have a career high nine interceptions. At 34-years old in 1971, LeBeau would intercept six passes. The 1972 season would be the last year as a Detroit Lion for LeBeau and Schmidt. LeBeau was moved to free safety that year, and would not intercept a pass for the first time since his rookie season.

LeBeau only retired from the NFL as a player after 1972. He went into coaching in 1973 for the Philadelphia Eagles as a Secondary Coach. He stayed with the team until 1975. He then held the same duties with the Green Bay Packers from 1976 to 1979.

In 1980, he moved to the Cincinnati Bengals. He served as their secondary coach and a defensive coordinator with the Bengals until 1991. LeBeau then served as the Defensive Coordinator for the Pittsburgh Steelers from 1992 to 1996.

This is when LeBeau would gain notoriety for inventing the now commonly used "Zone Blitz" defense. The Steelers defense featured such greats as Hall of Fame cornerback Rod Woodson, Pro Bowl linebackers Greg Lloyd, Hardy Nickerson, Levon Kirkland, Chad Brown, Kevin Greene, Jason Gildon and strong safety Carnell Lake. They would go to the Super Bowl after the 1995 season.

In 1997, LeBeau returned to the Bengals as a defensive coordinator. He would then be named head coach of the Bengals in 2000, holding that job until 2002. LeBeau then worked for the Buffalo Bills in 2003.

He returned to the Pittsburgh Steelers in 2004, and is still the defensive coordinator of the Steelers today. In 2005, the Steelers won Super Bowl XL. LeBeau is one of the most respected coaches in NFL history and is called "Coach Dad" by his players.

Dick LeBeau's playing career alone may have had him inducted into the Pro Football Hall of Fame in 2010. He is the first player from the 1959 NFL Draft to make it into Canton. He is a member of the Detroit Lions Legends and his 62 interceptions are the most in the history of the Lions.





Dave Butz



Butz was the fifth overall selection of the 1971 draft, chosen by the Saint Louis Cardinals. His career got off to positive beginnings, as he started 10 of the 12 games he played as a rookie.

Then Butz suffered a devastating knee injury of the first game of the 1972 season. The Cardinals believed his playing days were over, so they released him. The Washington Redskins quickly signed the huge defensive tackle.

After being brought along slowly by Hall of Fame head coach George Allen, where Butz started in 16 of the 40 games he appeared in over three seasons, he was elevated to a starters job in 1978. He would remain there the next 11 seasons.

Being 6'7" 291, he was an immovable object in the middle of the defense. While stuffing running backs was his specialty, Butz also batted down a ton of passing attempts. If that wasn't enough of a distraction for opposing quarterbacks, he was also a good pass rusher despite drawing multiple blockers most plays.

The 1983 season is considered his finest year. Butz was named to his only Pro Bowl and First Team All-Pro nod after being named the NFL Defensive Player of the Year by the Kansas City Committee 101, an award chosen by 101 NFL sportswriters and sportscasters. He had a career best 11.5 quarterback sacks that season.

He was the Redskins model of consistency. After becoming a starter, he missed three games in 11 years. Butz missed five total in his 14 years with the Redskins. Besides having 59.5 career sacks, which is most ever by a Washington defensive tackle, his 203 games played is the fourth most in franchise history.

Dave Butz is a member of the NFL's 1980s All-Decade Team. Not only did he constantly make the Cardinals regret giving up on him, Butz made Redskins fans joyful by helping their team win two Super Bowls. He is one of the 70 Greatest Redskins ever.






Lou Creekmur



Creekmur lasted until the 26th round of the 1948 draft when the Philadelphia Eagles used the 243rd pick on him. He did not make the team, so he was out of football until 1950.

The Detroit Lions offered him a tryout that year, which turned out to be a great move. He earned a starting job at left guard that season and went to the first of eight consecutive Pro Bowls. The 1951 season saw him honored as First Team All-Pro, something he would garner in six of the next seven years.

Creekmur moved to left tackle in 1952, where he would stay the rest of his career. While noted as a fierce run blocker, he was equally exceptional pass blocking. He kept Hall of Fame quarterback Bobby Layne upright.

Layne also happened to be a player Detroit got from another team off that 1948 draft. He was selected by the Chicago Bears with the third overall pick that year, who would trade him one year later to the New York Bulldogs. He was traded to the Lions the following season.

Layne was known for taking his linemen out each week for expensive dinners to thank them for keeping him healthy. Creekmur would later note that Layne was his favorite quarterback to protect.

Detroit would go to four title games and win three of them behind Creekmur. He retired after the 1958 season, but was coaxed back in 1959 to play eight straight games despite not having any time to practice and get in shape. He retired permanently after that season.

Not only is Creekmur inducted into the Pro Football Hall of Fame, his six First Team All-Pro nods are the most ever by a Lions offensive lineman. It is also tied with Hall of Famers Barry Sanders and Dutch Clark as the most ever by an offensive player in that franchises long history.

Lou Creekmur is the best blocker in Lions history and his toughness is legendary. Creekmur broke his nose 13 times playing football, but he never missed a game and always was great. Not bad for a guy who nobody wanted on their team for the first few years he was out of college.









George Blanda



Blanda was a 12th round draft pick of the Chicago Bears in the 1949 draft. His final two seasons pf college football was played under legendary coach Bear Bryant. Blanda is a member of the University of Kentucky Hall of Fame.

Blanda then went on to play pro football under NFL founder and Hall of Famer George Halas. The two did not get along.

Blanda was given $600 to sign with the Bears, but Halas took the money back after Blanda made the team.
He kicked, punted, and quarterbacked his rookie year. Blanda started the next season with the Baltimore Colts, but found himself back on the Bears for the final 11 games of that season.

While mainly used as a kicker for three years, he spent the 1951 season also playing linebacker. Blanda intercepted the only pass of his career that season.

Blanda earned the starting job at quarterback in 1953, and led the NFL in attempts and completions. He started seven games the next year, and led the NFL in yards gained-per-games played.

He would accomplish that feat two more times in the AFL. Blanda was then mainly used as a kicker until 1958. He decided to retire because of his difficulties with Halas.

He said that Halas no longer seemed interested in the NFL and the game had passed him by. Blanda was quoted to have said, "Halas was too cheap to even buy me a kicking shoe."

After sitting out of the 1959 season, Blanda decided to play for the expansion Houston Oilers in the fledgling American Football League. The Oilers would go on to win the first AFL Championship with Blanda at the helm.

The Oilers repeated as AFL Champions the next year, as Blanda was named to his first All Pro team while leading the AFL in passing yards, touchdowns, and several other categories. He also set a record for fewest receiving yards in a career, when he caught a pass for negative 16 yards.

He would be named an All-Pro the next two seasons as well. He led the AFL in attempts and completions from 1963 to 1965. Blanda also led the AFL in interceptions thrown from 1962 to 1965.

At 40-years old, Blanda joined the Oakland Raiders in 1967. He was named to his last All Pro team, this time as a kicker, helping the Raiders get to Super Bowl II.

He led the league in extra points attempted and made in four of his first eight seasons with Oakland. He led the NFL in scoring in 1967 with 116 points, and had a career high 117 points the following year.

His biggest year in Oakland was in 1970, when he would be named the Bert Bell Award winner for Player of the Year. Blanda had actually been released for a short time in preseason, but was quickly brought back.

That season, Blanda had to come off the bench four times to replace Darryl Lamonica, the starter, due to injury. Blanda led the Raiders to three comeback wins and a tie.

He then had the come in for an injured Lamonica during the AFC Championship game. He booted a 48-yard field goal, and went 17-32 for 271 yards and two touchdowns, but the Raiders fell to the eventual Super Bowl Champion Baltimore Colts.

In 1973, at 46-years old, Blanda scored 100 points. He then retired after the 1975 season at 48-years old.
Many fans may know that the Hall of Famer Blanda retired with an then-NFL record 2002 points, but he also holds several other records.

He shares the record for seven touchdown passes in a game, owns the record for most seasons played, and most seasons scoring a point (26). He's also the first player in history to score over 2,000 points, the oldest person to ever play in the NFL and in a title game. Blanda has thrown the most interceptions in a season.

He still has attempted and made the most extra points ever. While playing the fourth most games ever, he still has the fifth most points scored ever. His 26 seasons played and most years of scoring a point are also records.

Brett Favre broke his record of 277 interception in 2007, and Drew Bledsoe broke his record of 68 passing attempts in a game during the 1994 season.

George Blanda is truly one of the legends of the game of football, as a kicker and quarterback. Many Raiders will always remember him coming off the bench and leading Oakland to thrilling victories.







Timmy Brown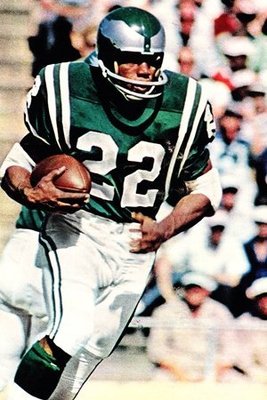 Brown was a 27th round draft pick by the Green Bay Packers in the 1959 draft. He only was on the roster for one game in his rookie year, and did not accumulate any stats.

He then joined the Philadelphia Eagles the next year. He played very sparingly, but did have a 79-yard kick return on 11 attempts.

The 1961 season would be the year Brown got his chance. He led the NFL with 29 kickoff returns and 811 yards. He scored on a 105-yard return, which still stands as an Eagles franchise record and is the seventh longest in NFL history. He also scored the only punt return touchdown of his career on just eight returns.

Brown led the NFL in all-purpose yards in 1962 and 1963. In 1962, Brown caught 50 balls and averaged an impressive 16.3 yards per catch.

He led the NFL in kickoff returns and kickoff return yards in 1963, with 33 attempts for a career high 945 yards. He was also named to the Pro Bowl from 1962 to 1965.

He led the league with a yards per rushing average of 5.4 yards per carry, as he ran for a career high 861 yards in 1965. Brown became the first ever to score on two kickoff returns in one game during the 1966 season, which is still a NFL record that he shares with nine others.

Brown got injured in the seventh game in 1967 and missed the rest of the year. He joined the Baltimore Colts the next year, and helped the Colts win the NFL Championship before they went on to lose in Super Bowl III. He retired after that season and has enjoyed a fine acting career. Brown was in both the movie and TV version of M*A*S*H.

Timmy Brown rushed for 3,862 yards and 31 touchdowns, while catching 235 passes for 3,399 yards and 26 additional scores. His 14.5 yards per catch is very impressive for a running back, and he also averaged 26 yards on 184 kickoff returns. Brown's five career kickoff return touchdowns is tied for the eighth most in NFL history.










Don Maynard



Maynard was drafted in the ninth round of the 1957 draft by the New York Giants. Though he did not make the team that year, he did play the next year for the Giants. He was used as a return specialist mostly, taking 24 punts and 11 kickoffs for 401 yards. Maynard also caught five passes and ran the ball a career best 12 times as a reserve halfback.

He was released after that season, so Maynard joined the Hamilton Tiger-Cats of the Canadian Football League in 1959. The fledgling American Football League was born the next year, so Maynard left the CFL to join the New York Titans.

He was teamed up with felow wide receiver Art Powe. Powe, who is a member of the AFL's All-Time Team, was another receiver rejected by the NFL the year before. Powe had been an 11th-round pick of the Philadelphia Eagles, but was also just used as a return specialist.

The duo lit up the AFL for the three years they teamed up. Powe had 204 catches over that time, leading the league in receiving yards and touchdown catches once, before going to play with the Oakland Raiders.

Maynard was equally as dangerous, grabbing 171 balls for 1,935 yards and 22 scores over that time. The Titans weren't a very good team, so the franchise was often on the verge of bankruptcy trying to compete against the Giants in the same city.

Renamed the Jets in 1963, the franchises fortunes began to change for the better after drafting future Hall of Fame quarterback Joe Namath. He and Maynard soon developed an excellent repertoire and Namath often looked the way of his favorite receiver when the team needed yards most.

Making his first Pro Bowl in 1965, Maynard led the AFL with a career best 14 touchdown receptions. Namath became the first quarterback to throw for over 4,000 yards in 1967, and Maynard's career best 1,434 yards and 102.4 yards receiving yards per game, both of which led the league, was a big reason why. He also averaged 20.2 yards on 71 receptions while scoring 10 times.

This set the stage for the Jets magical 1968 season. Maynard led the AFL with a career best 22.8 yards per catch average, while also leading the league with a 99.8 yards receiving per game average. He piled up 1,297 yards and caught 10 touchdown passes.

In the 1968 AFL Championship, Maynard burned the Oakland Raiders secondary for 118 yards on six receptions. Not only did he score the first touchdown of the contest, he also scored the last. That latter touchdown won the game for the Jets 27-23.

The Jets then faced the NFL's Baltimore Colts in Super Bowl III. Tired of hearing the media constantly tell him the Colts would dominate, Namath made his famous guarantee that his team would win. Baltimore was so intent on stopping Maynard, Namath used him as a decoy and targeted George Sauer instead.

While Maynard did not touch the football, the strategy worked. New York won 16-7, an important moment in AFL history that ultimately forced a merger between the leagues. It is still the only championship season in Jets history.

The 1969 season was not only Maynard's last Pro Bowl year, it was his only First Team All-Pro nod. He averaged 20 yards on 47 receptions. His production began to decline over the next three years, so he joined the Saint Louis Cardinals in 1973.

After one catch in two games, he joined the Houston Texans of the World Football League in 1974. The Texans were later renamed the Shreveport Steamers because the WFL was struggling financially. He retired after that season.

Not only is Maynard inducted into the Pro Football Hall of Fame, he is a member of the AFL's All-Time Team. Maynard is one of 20 players to play the entire 10 seasons the AFL existed, and he is one of seven to have played his entire AFL career for one franchise. He is also one of just a few players to play for the NFL, CFL, AFL and WFL.

Maynard was once just one of only five players to record more than 50 receptions and more than 1,000 receiving yards in five different seasons for many years. He left the game with the most receptions and receiving yards in pro football history at the time. He is the first receiver ever to exceed 10,000 receiving yards.

He still is the Jets all-time leader in receptions, receiving yards and touchdowns caught. His 18.7 career yards per catch average is even more amazing because Maynard dealt with the 10-yard chuck rule and caught balls from over a dozen different quarterbacks.

Known for his sure hands, Maynard also was had great improvisational skills when running routes. He is easily the greatest receiver in Jets history, let alone one of the best in pro football history.







Warren Lahr



In the final round of the 1947 draft, the Pittsburgh Steelers selected Lahr. Just six players were chosen after him. He did not make the team, but he was the last of 16 players from Case Western Reserve University to play in the NFL.

The Cleveland Browns had him try out in 1949 and he made the team. His rookie season found Lahr used in assorted ways, where he caught his only career pass and scored his only offensive touchdown off of nine rushing attempts.

Safety was the position he would make his mark quickly. He had four interceptions his rookie year as the Browns won the All-American Football Conference title for the fourth and final time. The AAFC merged with the NFL the next season.

Cleveland dominated the NFL in 1950 and Lahr was certainly a big reason why. He snagged a career best eight interceptions, two of which he returned for two scores. He led the league in scores off of interceptions that year.

When Cleveland beat the New York Giants in a 8-3 defensive struggle, Lahr picked off a pass that helped preserve the win. It helped substantiate the Browns as a legitimate powerhouse as well as showed the three AAFC teams belonged in the NFL.

He came up big in the Browns first title win. The Los Angeles Rams had two Hall of Fame quarterbacks in Bob Waterfield and Norm Van Brocklin, but Cleveland picked off five of their passes that day. Lahr led the way with two, as the Browns prevailed 30-28.

Lahr led the NFL again with two touchdowns off of interceptions in 1951. Cleveland mowed through the league with one loss behind the top defense. They scored five times off of 58 turnovers that season.

The Browns faced Los Angeles again in the title game, where Lahr had an interception and two fumble recoveries. The Rams won the game 24-17 on a 73-yard bomb from Van Brocklin to Hall of Fame wide receiver Tom Fears late in the fourth quarter.

Despite 22 interceptions in his first four seasons, Lahr did not get to the Pro Bowl until 1953 after gaining a career best 119 yards off of five interceptions, He scored the final touchdown of his career in 1954, as the Browns won another championship.

Cleveland repeated as champions in 1955 as Lahr had another five swipes. In his first seven seasons, he had piled up an impressive 34 picks and never had fewer than four in a season. He stayed with the team until 1959 before retiring.

His 44 career interceptions are still the second most in Browns history, and his five touchdowns off of interceptions is still the most in franchise history. He is a member of the Browns Legends and should soon find himself inducted into the newly created Browns Ring of Honor.









Earl Morrall



Morrall was a first round draft pick of the San Francisco 49ers in the 1956 draft. He was the second player chosen overall that year.

He was mostly used as a punter in his rookie year. He did start four games when the starter, Hall of Famer Y.A. Tittle, was injured. Morrall was traded to the Pittsburgh Steelers after that year, and was named to his first Pro Bowl in 1957.

After starting the first two games of the 1958 season for Pittsburgh, Morrall was traded to the Detroit Lions for Hall of Famer Bobby Layne. There, he backed up Tobin Rote, Jim Ninowski, and Milt Plum until 1964. During the 1963 season, Plum was injured early in the year and Morrall ended up starting 11 games.

Morrall tossed 24 touchdowns on 2,621 yards. Both totals would be the second highest of his career. He was hurt early in the 1964 season, and missed the rest of the year. He was then dealt to the New York Giants during the offseason.

He started the entire 1965 season, and threw the longest pass of that season for 89 yards. Morrall started seven games the next year and threw a pass that is still franchise long of 98 yards to Homer Jones, the man who invented the spiking of the football after a score.

He was replaced by Gary Woods as the Giants went 1-12-1. Morrall soon became a reserve behind Hall of Famer Fran Tarkenton. He then was dealt to the Baltimore Colts in 1968, where his career would be reborn.

Hall of Famer Johnny Unitas was injured in the last preseason game and was out for the year, so Morrall became the starter. He led the Colts to a 13-1 record after throwing for a career high 26 touchdown passes with a career best 2,909 yards.

He led the NFL in touchdown passes, touchdown percentage and yards gained-per-pass attempt. He was selected to his last Pro Bowl and was named the 1968 NFL MVP. The Colts would go on to lose in Super Bowl III. With Unitas healthy again, Morrall started three games over the next two seasons.

In 1970, the Colts would win Super Bowl V when Morrall was called upon again after Unitas was injured early in the game. Morrall helped the Colts beat the Dallas Cowboys 16-13.

Morrall started the first nine games of the 1971 year, leading the Colts to a 7-2 record. He was then injured and replaced by Unitas as the Colts would go on to lose to the Miami Dolphins in the AFC Championship game.

The Colts then cut Morrall, but he was claimed by Miami. Dolphins head coach Hall of Famer Don Shula had coached him on the Colts' 1968 Super Bowl team, so he knew what kind of player he was getting.

The move paid off early into the 1972 season, when Hall of Famer Bob Griese was injured during the fifth game.
Morrall started the next 12 games and helped lead the eventual Super Bowl Champion Dolphins to the only perfect season in modern NFL history. He took them to the AFC Championship game, but was replaced by Griese.

Morrall was named the AFC Player of the Year in 1972, and he also won the first Comeback Player of the Year Award that year. He started one game the next year, as the Dolphins repeated as Super Bowl Champions. Morrall retired after the 1976 season at the age of 42-years old.

Though Earl Morrall started only 102 of the 255 games he played over 21 years, he won 60 and tied three. He also was an important part of four Super Bowl teams and has to be considered one of the best firemen in NFL history.







Otis Taylor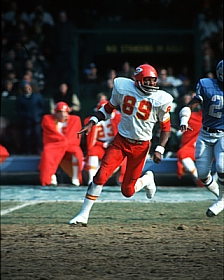 Taylor was drafted in the 15th round of the 1965 NFL Draft by the Philadelphia Eagles. He was also selected in the fifth round of the American Football League's draft by the Kansas City Chiefs.

What happened next is part of both AFL and Chiefs lore. Taylor was brought into the Eagle camp to try out, but legendary Chiefs scout Lloyd Wells had other ideas. Wells had successfully stolen Hall of Fame talents like Buck Buchanan, Emmitt Thomas and Willie Lanier from the NFL.

Taylor was being watched closely by Eagles personnel to prevent him from talking to Wells, but were unsuccessful. In a moment called the "Babysitting Incident", Wells coerced Taylor to sneak out the Eagles facility and sign a contract with the Chiefs.

It turned out to be a great move for Kansas City because Taylor became the big-play receiver the needed. He made his first Pro Bowl in 1966 after having the best year of his career.

Taylor led the league with a 22.4 yards per catch average on 58 receptions for a career best 1,297 yards. He scored eight times, including one on a league leading 89-yards catch.

He led the AFL with a career best 11 touchdown catches the next year, as well as grabbing a career high 59 balls, then spent the next three seasons battling injuries. Yet he was there when Kansas City needed him most, which was seen in the 1969 season.

The Chiefs won the last AFL title that year, which propelled them into Super Bowl V. Taylor led all Chiefs receivers with six catches for 81 yards. He sealed Kansas City's 23-7 victory in the fourth quarter with a catch that covered 46 yards en route to a touchdown.

The 1971 season saw Taylor return to the Pro Bowl and earn his second First Team All-Pro nod after grabbing 57 passes for a league-leading 1,110 yards. He made his final Pro Bowl the next year after getting another 57 receptions.

After a decline in production over the next two seasons, he suited up for one game in 1975 before retiring. He was more than a productive receiver with a propensity of making a big play, Taylor was also a fierce competitor who is one of the best blocking wide receivers to ever play the game.

This fierceness was seen in a game against the Oakland Raiders in 1970. Chiefs Hall of Fame quarterback Len Dawson was speared by mammoth Raiders defensive end Ben Davidson as he laid on the ground. Taylor attacked Davidson, which provoked a bench-clearing brawl.

Not only is he a member of the Chiefs Hall of Fame, Taylor is still all over the teams record books. He ranks second all-time in receiving yards and touchdown catches. His 410 career receptions still ranks third best in Kansas City history.

Wells was a huge reason the Chiefs got their only Super Bowl win. His famous encounter with Taylor helped give the team the best wide receiver that team ever had wear their uniform. Taylor also made the NFL regret not keeping a closer eye on their prospects.








Pete Retzlaff



Retzlaff was drafted in the 22nd round of the 1953 draft by the Detroit Lions, where he was the 265th player chosen overall. The Lions cut Retzlaff in training camp, so he went back to college and worked as an employee of the school for a year. He then enlisted in the United States Army for almost two years before coming back to again try out with the Lions.

Detroit sold his contract to the Philadelphia Eagles in 1956, where he would spend the first two seasons of his career as a reserve fullback. Though he did not have a rushing attempt over that time, the Eagles coaching staff noticed his excellent receiving skills.

Moved to wide receiver in 1958, Retzlaff exploded onto the NFL scene. He went to his first Pro Bowl after leading the team with 56 receptions. After a solid 1959 season, Retzlaff became part of Philadelphia lore.

The 1960 season is the last year the Eagles have won an NFL title. There were eight Pro Bowlers on that squad, which included Retzlaff, and four future Hall of Famers in Norm Van Brocklin, Sonny Jurgensen, Tommy McDonald, and Chuck Bednarik.

While all three Eagles receivers went to the Pro Bowl that year, Retzlaff led the team in receptions and receiving yards. He would catch 80 passes over the next two years, but he got hurt in 1962 and missed six games.

The Eagles asked Retzlaff to move to tight end in 1963, where he excelled immediately. Making the Pro Bowl until the 1965 season, he led the team in receptions and receiving yards each season.

The 1965 is considered by many his finest year in the NFL. Retzlaff set career best marks of 66 receptions for 1,190 yards and 10 touchdowns. Not only was he given his only First Team All-Pro nod, Retzlaff was the recipient of the Bert Bell Award for NFL player of the year.

He was 35-years old in 1966, an advanced age for an NFL tight end. Despite having another productive season, Retzlaff decided to retire at the end of the season after 11 years.

Dubbed "The Baron" and "Pistol Pete" by his teammates, Retzlaff bled the Eagles colors. He loved his peers so much, he was the second ever National Football League Players Association president.

He was also the second general manager in Eagles history. Not only has the franchise retired his jersey number, Retzlaff is a member of the Eagles Honor Roll.

Retzlaff still ranks second in Eagles history with career receptions and receiving yards. He also ranks fifth in touchdown catches. His five Pro Bowls is tied with McDonald and Mike Quick as the second most ever by a Philadelphia receiver.

Philadelphia got real lucky Retzlaff came along when he he did. Pete Pihos, the legendary Hall of Fame end of the Eagles, had just retired in 1955. Buck Shaw and his coaching staff also deserve credit for switching his position.

His experience as a fullback made him an exceptional blocker and a threat once he caught a pass. Retzlaff averaged over 16 yards per catch in his career, never averaging less than 15.4 yards in the last eight years of his career.

While the spectacular and diminutive McDonald got most of the press, which was also shared with Pro Bowl tight end Bobby Walston, Retzlaff was consistent. He led the Eagles receptions six times throughout his career.

Not only could he split the seam of a defense by being a deep threat, Retzlaff went and got the tough pass over the crowded middle of the field. He missed just 12 games in his career, showing the toughness and durability he exemplified.







Brett Favre



The main reason Favre lasted until the second round of the 1991 draft is because teams were concerned about reports of a hip condition he had. The Atlanta Falcons used the 33rd overall selection on him.

He got into two games as a rookie, throwing two interceptions off of four attempts. Green Bay then hired Ron Wolf as their general manager, who then began trying to acquire Favre.

Wolf had been working for the New York Jets before that and had planned on drafting Favre until the Falcons snagged him one pick before the Jets could. New York took Browning Nagle instead, and the quarterback stayed in the NFL until 1996.

Giving up Green Bay's first round pick of 1992, a running back named Tony Smith, the Packers obtained Favre's services. Smith, who was out of the league after 1994, happened to be Favre's teammate at Southern Mississippi University.

What happened next is often compared to Wally Pipp. Pipp was the first baseman of the New York Yankees who sat out a game and never got his job back because Hall of Famer Lou Gehrig would man the position for the next 17 seasons.

Green Bay had a Pro Bowl quarterback named Don Majkowski, but he got hurt in the third game of the season. Favre took over and stood out immediately, making the Pro Bowl. It was the third straight year Majkowski got hurt, so he was released after the season and was out of the league at the end of the 1996 season.

Favre began a career where he went to the Pro Bowl in nine of his 16 seasons with the Packers. He not only had the respect of his peers, the media loved him. He would be named NFL MVP three times.

The 1996 season was his most successful. Favre led the NFL with a career best 39 touchdown passes while tossing just 13 interceptions. Green Bay would go on to win Super Bowl XXXI, where the gunslinger tossed a pair of scores in the 35-21 victory.

He led the NFL a third straight year in touchdown passes in 1997, something he would do one more time in his career. The Packers reached the Super Bowl again, but would lose 31-24 despite Favre's three touchdown passes. This would be the last time in his career that he took a team that far.

After setting a ton of NFL and Packers records, Favre decided to retire after the 2007 season, his last Pro Bowl season with Green Bay. He then decided he wanted to play again, but the Packers opted to go with Aaron Rodgers as their quarterback.

He was traded to the Jets and got off to a good start, tossing a career best six touchdowns in the fourth game of the season. He would make the Pro Bowl that season, then decide to retire again.

The itch to play quickly returned, so Favre decided to suit up for the Minnesota Vikings in 2009. He went to his 11th and final Pro Bowl after having maybe the best season of his career. The 40-year old tossed a career low seven interceptions against 33 touchdowns. His 4,202 yards thrown that year was the third highest total of his career.

After taking the Vikings to the NFC Championship Game that year, he decided to play in 2010. Unfortunately for him and Minnesota, he played like a 41-year old quarterback. He got hurt, which ended his streak of 297 consecutive starts, and missed three games that season. He retired for good soon after.

Favre owns several records, like most consecutive games started, most touchdown passes thrown, most passes attempted and completed. and most wins by a quarterback. He is the only player named NFL MVP by the Associated Press three straight years and he is a member of the NFL's 2000s All-Decade Team.

There is the other side of his gunslinger attitude that most likely prohibited him from winning more than one title. Favre owns the NFL records for most interceptions thrown, most fumbles lost, most turnovers ever by a player, and most times sacked.

Yet he did take his teams to five conference championship games and two Super Bowls in his career. Pretty good for a guy given up on early in his career because people thought the avascular necrosis in his hip would prevent him from attaining the greatness he later achieved.
Yoooooooooo!  Dis iz 7th again! Yo! I GOTS too make dis quik cuz sum of yous fuggazioz mite remember I owed a lot o cash on sum missed markers las yeer and has peoples lookin four me. Capeesh?
I got hammered las weak. I went 7-9, so I iz now 28-20.
Detroit Lions @ Dallas Cowboys
Yo! I TOLD yous da Lions iz four reel! Yo, let us hope Ndamukong Suh brakes sum more of Tony Romo's ribs.
Lions 34   Cowboys 13
New Orleans Saints @ Jacksonville Jaguars
Drew Brees iz on fire, in case yous didnt notice.
Saints 37   Jaguars 24
Tennessee Titans @ Cleveland Browns
Chris Johnson better come back two da Titans.
Titans 17    Browns 16
Buffalo Bills @ Cincinnati Bengals
Buffalo 4-0? Who hear called dat?
Bills 31   Bengals 21
Washington Redskins @ Saint Louis Rams
Da Rams knead dis. Da Skins run defense iz havin issues. I hate Rex Grossman, but 3rd mite hate me if I pik against his teem.
Redskins 30   Rams 28
San Francisco 49ers @ Philadelphia Eagles
Da Igglez is slammed wif injurees and loss of confidence. Dey get sum back hear.
Eagles 27   49ers 16
Minnesota Vikings @ Kansas City Chiefs
Both teems suck. Capeesh?
Vikings 28   Chiefs 17
Pittsburgh Steelers @ Houston Texans
Dis game skares any bookie. Pittsburgh looks back and da Texans defense played like it was 2010 las weak.
Steelers 37    Texans 31 
Carolina Panthers @ Chicago Bears
Cam Newton will trow near 50 balls cuz Carolina forgot the run game. Chicago's defense will be reddy.
Bears 24   Cardinals 21
Atlanta Falcons @ Seattle Seahawks
Falcons will rebound. Capesh?
Falcons 34   Seahawks 17
New York Giants @ Arizona Cardinals
So, if Kevin Kolb wants to get his fans behind him...he better tear up dat torn up Giants secondary.
Cardinals 31   Giants 30
Denver Broncos @ Green Bay Packers
Yo! Iz yous serius?
Packers 38   Broncos 20
New England Patriots @ Oakland Raiders
Game of the Week
Yooo! Da Pats kant stop da run. Capeesh? Da Raiders kan run!
Da Raideras kant stop da pass and da Pats gort Tom Brady. Capeesh?
Dis will be close.
Patriots 27    Raiders 24
Miami Dolphins @ San Diego Chargers
OK, da Bolts looked like dey should las weak. Ride em.
Chargers 21   Dolphins 20
New York Jets @ Baltimore Ravens
Yo! Dis iz usually game of da weak material. I expect low scoring, but dat Jets offense ain't very good.
Ravens 20   Jets 13
Indianapolis Colts @ Tampa Bay Buccaneers
I dont kare uf Painer or Whistler's Mother is playin, da Colts stink wifout Peyton Mannng.
Buccaneers 27   Colts 10
Power Rankings 
1. Green Bay Packers
2. Detroit Lions
3. Buffalo Bills
4. Baltimore Ravens
5. Houston Texans 
6. Pittsburgh Steelers 
7. Tennessee Titans
8. Tampa Bay Buccaneers 
9. Oakland Raiders
10. New England Patriots
11. San Diego Chargers
12. New Orleans Saints 
13. New York Jets
14. Atlanta Falcons
15. New York Giants
16. Dallas Cowboys
17. Philadelphia Eagles
18. Chicago Bears
19. Washington Redskins
20. San Francisco 49ers
21. Seattle Seahawks
22. Cleveland Browns 
23. Carolina Panthers
24. Miami Dolphins
25. Jacksonville Jaguars
26. Arizona Cardinals
27. Cincinnati Bengals
28. Minnesota Vikings
29. Saint Louis Rams
30. Denver Broncos
31. Indianapolis Colts
32. Kansas City Chiefs
OK, I GOTZ two roll. I heard frum dis littul bird dat dey knows where I am at. I iz goin too lay low at dis gurlz house. Lay her low two. Capeesh?
As They say in Ol' Messico = A.M.F.