As a means  to honor America, I propose that we take a closer look at the game that helped define our great nation. Baseball is a rich and storied part of our countries past, present, and future. It's a game that has lived in the young and old alike. It's connected fathers and sons. It's a part of the legacy and story-telling that our country thrives on.
To help discover and share the great exploits and players of our game, I'm inviting all of you Gabbers to think about the people that make the 30 teams that comprise today's MLB great. Give your suggestions and a brief description of who you think best represents any team in the comment section below and we'll slowly compile ourselves a gallery of who means the most to each team. Keep in mind that this doesn't need to be the best player from that team. It just has to be someone you think captures the essence of a team. Arguments or rebuttals are encouraged since that's our way here at the Gab. Lay your case out on the line and let's see what we come up with.
I'm going to start with my choice for the Detroit Tigers. This is by no means the final decision. Everything is open for debate.
My pick for the face of the Tigers would be Willie Horton. Horton was born and raised in Detroit. He used to sneak into the stadium just to be able to watch his hometown team play. Horton not only watched for entertainment, but he watched to improve himself. He studied technique. Horton honed his skills and quickly became a standout on Detroit's sandlots. At age 16, Horton belted a towering homer during a city all star game held at Tiger's Stadium. The Tigers signed Horton in1961. He became a power bat out of the outfield and was the spark plug for Detroit's 1968 Championship team. Horton is 4th all time on the Tigers home run list and played 15 seasons with his home town club. He returned fro Tiger Stadiums closing in 1999 to a standing ovation and has since been honored with a statue in Comerica Park.
The List
Arizona Diamondbacks
Atlanta Braves: Hank Aaron OF/1B (nominated by B-Dub)
The Braves face of the franchise is Hank Aaron, or as I like to call him - the true Home Run King.
Baltimore Orioles
Boston Red Sox: Ted Williams OF (Nominated by Fragnoli)
Reasoning: I'll fill the Red Sox vote here and it is Ted Williams. No man better exemplified the Red Sox than their greatest player of all-time. As if I need to make a case for Teddy Ballgame. He is quite simply one of, if not the greatest hitter of all-time. A career .344 hitter, All-time record high .482 On-Base Percentage, 521 home runs, 1829 RBI, 2 MVP awards, and the last hitter to put together a .400 average in a season. Oh, and did I mention he was one hell of an American too, losing most of 5 seasons after serving not one, but two military stints as a pilot?!
Chicago Cubs: Ernie Banks SS/1B (nominated by The Beeze and AFD)
Reasoning: While Beeze was pushing hard for Ryan Sandburg, there is a reason this man is know as Mr. Cub. Banks gave the Cubs 19 years and put up good number into the 1970s. We're also talking two MVPs, a gold glove, 512 HR, 1636 RBI, and 2583 hits.
Chicago White Sox
Cincinatti Reds
Cleveland Indians: Bob Feller P (nominated by The Beeze)
Reasoning: I gotta say BOB_FELLER for the Indians...He's the first name that pops into most Cleveland baseball fans minds...Not just for his stellar pitching numbers...But signing up to serve the day after Pearl Harbor...he gave up 3 prime years in his playing career (23, 24, 25 years old) to serve, because it was the right thing to do...And of course, we all know the value of a Feller autograph is next to nothing...Why? because he signed anything, for anyone...He always had time for fans...And up until he died, he went down and pitched at least once to every batter at Indians fantasy camp....
Colorado Rockies: Todd Helton 1B (nominated by Norm)
Reasoning: On a usually turbulent franchise, Helton's 16 years with the Rockies speak volumes. He's a five time all star who's had several brushes with MVP voting. Lifetime .320 average with 354 HRs, 2415 hits, 1342 RBIs, and three gold gloves.
Detroit Tigers
Houston Astros: Craig Biggio 2B (nominated by The Beeze)
Reasoning: In my opinion Houston has to be CRAIG_BIGGIO...20 years with one team is just something you don't see much of...20 good years...Over 3000 hits! did whatever the team needed...Did all the little things well...
Kansas City Royals: George Brett 3B (nominated by B-Dub)
Reasoning: Would anyone other than Brett deserve this? Plus, you have to have the photo of him losing his shit on Tim McClelland.
Los Angeles Angels
Los Angeles Dodgers
Miami Marlins
Milwaukee Brewers: Robin Yount SS/OF (nominated by Norm)
Reasoning: I have to go with Yount. Molitor was great too, but Yount was the two-time MVP and lifelong Brewer.
Minnesota Twins
New York Mets: Tom Seaver SP (nominated by ScottyJax)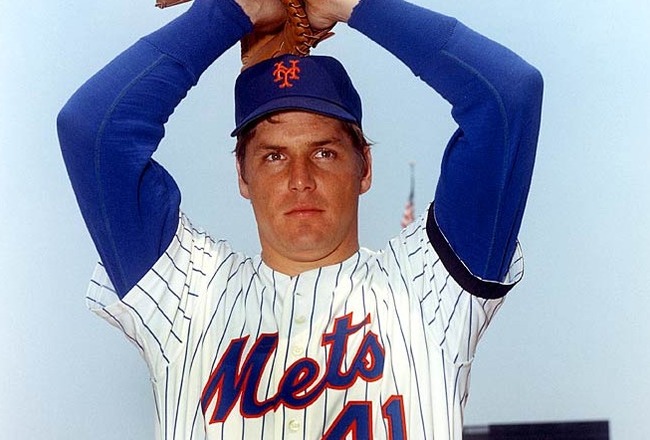 Reasoning: He's a Hall of Famer. Over 20 years he compiled a 311-205 record with  2.86 ERA, 231 complete games, 3640 strike outs, and 3 Cy Youngs. He's the only player to have a number retired by the Mets, the other numbers being managers and Jackie Robinson...
New York Yankees: Babe Ruth OF (nominated by ScottyJax)
Reasoning: Of course, it's Ruth.
Oakland Athletics: Rickey Henderson OF (nominated by BOB)
Reasoning: Rickey Henderson says Rickey Henderson perfectly captures the essence of the Oakland A's, and I'll agree with Rickey.  He brought back the art of running the bases to the AL.  Not only that Rickey believes Rickey was highly entertaining, and again, I'll agree because he puts butts in the seats in Oak-town, and that has always been hard.
Philadelphia Phillies: Mike Schmidt 3B (nominated by BOB)
Reasoning:  Kind of a no-nonsense type of player in a no-nonsense type of town.
Pittsburgh Pirates: Roberto Clemente OF (nominated by The Beeze)
Reasoning: Another guy with great numbers, and a true 5-tool player...He played with skill, power, speed, and grace...And was the definition of a humanitarian.
St. Louis Cardinals
San Diego Padres: Tony Gwynn OF (nominated by Norm and BOB)
Reasoning: Of course it's Tony Gwynn. If this guy ever decided to run for Mayor, he'd win in a landslide.
San Francisco Giants: Willie Mays OF (nominated by BOB)
Reasoning: Can it be anyone other than Willie Mays?
Seattle Mariners: Ken Griffey Jr. OF (nominated by B-Dub and ScottyJax)
Junior was born into the game as the son of Ken Griffey, a crucial piece of Cincy's Big Red Machine. Junior possessed one of the sweetest swings in the game and electrifying defensive capabilities. Injuries shortened what was already a Hall of Fame career, leaving us to only wonder what he could have doen with full health.
Tampa Bay Rays
Texas Rangers: Nolan Ryan SP (nominated by B-Dub and ScottyJax)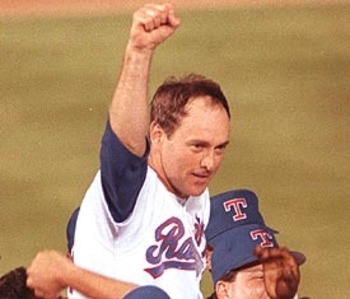 Reasoning: No pitcher was as dominating on and off the field as Ryan. You need convincing, go ask Robin Ventura. Ryan could bring 100 MPH heat down on a batter at any moment, but had plenty of baffling pitches as his 5714 career strikeouts show. Remarkably, Ryan never won a Cy Young or MVP award in his career. He can, however, lay claim to 7 no-hitters.
Toronto Blue Jays: Joe Carter OF/1B (nominated by BOB)
Reasoning: If it's not Joe Carter, then I don't know who it could be.
Washington Nationals