†
Yup.† The Fort Garry Hotel in Winnipeg is the top shelf hotel in the city.† Apparently, no one usually goes for breakfast in their robes.† But Hotchnuts did.
Well, it finally happened.† Winnipeg finally got their hockey back.† One thing that I enjoyed was seeing Bettman struggle during the press conference earlier in the week.† Authorizing a move of an expansion team that Bettman placed to a location that Bettman removed a team from, has to make him feel like somewhat of a failure.† Maybe it is the fact that he is faced with the grim realization that hockey below the Mason Dixon Line may not be all that it is cracked up to be.† Bettman stated that he would like 13,000 season tickets sold prior to the June 21 General Managers meeting.† As of Friday June 3, a total of 7,158 had been sold.† Funny thing is, the general public isnít even allowed to purchase season tickets yet.† The first few days of the sale was only for current season ticket holders of the Manitoba Moose, and even then, there were only 2000 season ticket holders for the Moose.† The season ticket packages were being sold in 3, 4 and 5 year packages.†
†
When the tickets went on sale for the general public, the remainder of the season tickets sold out in 17 minutes.† Letís clarify that a bitÖthe online queue filled up in 2 minutes and it took 15 minutes to get all sales processed.† There is quick, then there is fucking quick.† Now it is a matter of getting the sale approved from the Board of Governors when they meet later this month.† Letís just hope that Winnipegers donít let their team get away from them again.† However, with that being said, letís remember that at the time the Jets were moved, the Canadian Dollar was about .62 cents US.† It was the state of the economy that led to the downfall of the relocated Cdn teams, not a lack of fan support.† One thing that Winnipeg is going to have to do in the near future, is look into a new facility.† The MTS Centre is a good facility in a great location, but it was built on the cheap.† It was built at a time when the Canadian Dollar was well under par with the US Greenback, and a bigger facility with a couple extra thousand seats may be needed.† However, if Winnipeg can keep the sale of season tickets going annually, they will be just fine.†
†
†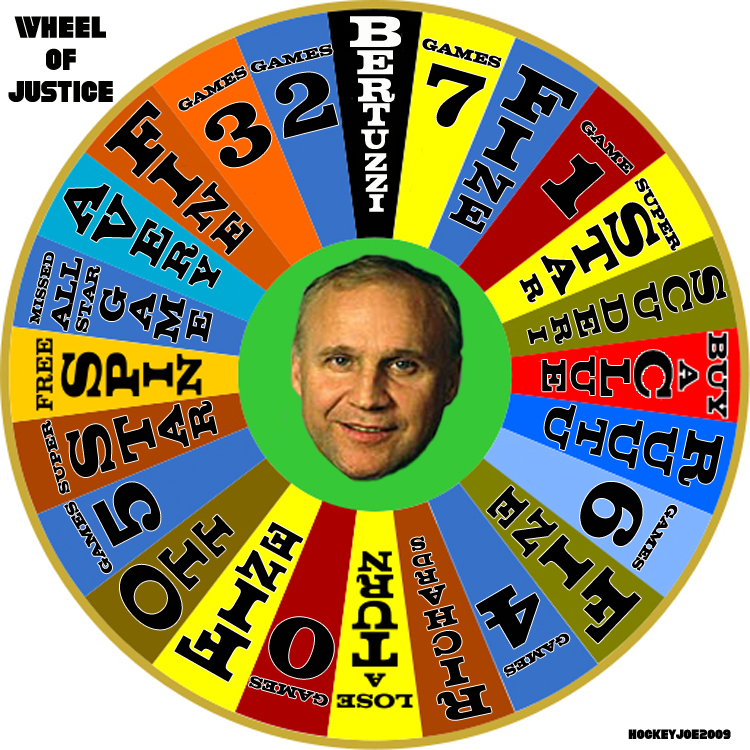 †
WowÖwhat a week it has been!† To coin a phrase I heard from Sully, I donít know whether to scratch my watch or wind my assÖor something like that.† I have been hit in the head frequently over the years, and my brain isnít what it used to be.† Could be worseÖI coulda use ta been smart.† But I digestÖ†
Colin Campbell is finally leaving!† I cannot begin to explain how happy this news has made me.† I have been especially hard on Campbell over the years, and I honestly feel that it was justified.† Why did they announce it now and not wait until the end of the season?† Simple.† Campbellís kid plays for the Bruins and Campbell would have to recluse himself from any supplementary discipline involving the final round of the playoffs.† Not to say he isnít going to try and sway a decision still here and there, but by the books, he is supposed to be off the books.† Hopefully gone are the days of inconsistent and inactive consequences.† Now, we have Brendan Shanahan taking over.† This should be a good move, seeing as how Shanny was a far better hockey player than Campbell ever was and Shanahan has been more involved in the new NHL than Campbell. †Only time will tell how Shanahan will pan out in this new position.† But letís be honestÖhe would be hard pressed to be worse than Campbell.†
I think I may have found a new training routine.† In the past couple of weekends, I have made sure I have had a good meal and a good nights sleep before running my race.† However, last weekend I may have found my niche.† A friend and I were in Winnipeg running the Air Force Half Marathon, and we definitely had a little too much to drink on the Saturday night.† We had good intentions at the start of the night.† We went to the Olive Garden for dinner and killed a couple bottles of wine.† Then, it was off to the Regent Casino for some gambling and drinking.† Once we wrapped things up at the Casino, we went off to a Boston Pizza for a few more hours of driving some draft and chicken wings into us.† Soon enough, it was 2 am and we had to wake up at 7.† So, when everyone is marshalling into the starting positions, Rob and I were wandering around asking where the 4 hour pace bunny was.† So, Rob and I took our positions at the very back of the pack and started very slow.† I wasnít feeling too sober, but I ended up shaving 8 minutes off of my best time for a half marathon.† Now, Iím not too sure how the girlfriend will feel about joining me in my new training routine.††
As the weeks roll on, there is less and less to talk about.† But I have saved the best for last; the final round of the Stanley Cup playoffs.††The first 2†games were absolutely fantastic.† Even though my Bruins came out on the losing end, we can sit here and debate whether or not the goal was offside or if Burrows bit Bergeron in game 1.† Going forward, as a Bruins fan, I was very happy with the way that they played in Game 1 and 2.† Thomas played like their MVP, and I was happy with how Boston matched up physically against the ĎNucks.† The Canucks are leading the postseason in hits, and Boston outhit them in game 1.† After game 2, this is shaping up to be a well balanced series.† One thing that is continuing to be the Achilles heel of the Bruins is their power play.† I hate to say this, but their power play was just fine before the addition of Kaberle.† Wasnít he supposed to make their PP better?† Sure he may be one of the defensive leaders on Boston in terms of points, but I only remember the plays where he is weak on the puck and causes turnovers.† Kaberle is good if he has an opportunity to skate and engineer his outlet pass, but he hasnít been able to do that in the last couple of rounds.† Both Vancouver and Tampa have played the fore check very effectively.†
I am going to be honest with everyone here.† One thing I cannot tolerate is an anti-Canadian stance.† That is my one hot button.† If I say that it doesnít matter to me if the Cup comes back to Canada or not, I mean it.† The majority of each and every fucking team in the NHL is comprised of Canadian born players.† I can take solace in that.† So honestly, I donít give a flying fuck how many years it has been since the Cup was won by a Canadian team.† The Cup has been to my hometown of 110,000 people for the last 3 years.† How many times has it been to other hometowns in a short period?† Enough of this shit from people that watch more competitive knitting and lawn bowling than they do hockey, and are only actively† involved in the playoffs as an opportunity to brag about how many of the recent Cups their country has won.† 24 teams to 6.† I donít give a fuck.† Donít waste your breath here.†
Thanks for stopping by.
Hotchnuts