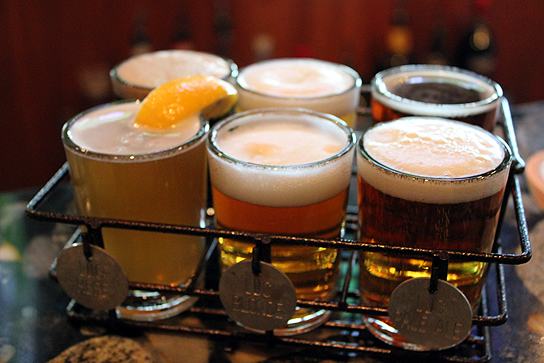 Welcome to your Tuesday Happy Hour, where your barkeep Uncle B.O.B is more than happy to serve you up a happy hour's worth of rants.  So belly up to the bar boys, and let's get to gabbin'.    
Rant #1 – Racists.  Why is it that the race-baiters aren't screaming bloody murder about the despicable racist blasts directed at Joel Ward on Twitter?  Guess I shouldn't be surprised, but look you racist COWARDS – you are the scum of the earth and should be euthanized.  You are idiots beyond belief.  I have not read the tweets you scumbags put out there, and I'm glad I didn't.
Ward took the high road, as you would expect any Hockey player to do.  Speaking of which, the good hockey fans came out in support of Ward with support by tapping the ice with the sticks, and fans who provided him with a standing ovation.
While I'm blasting racists – hey Delmon Young you worthless POS, what's your problem?  Did Mommy not give you enough love or something?  At least MLB gave you a seven game sit-down to figure out how to keep ignorant shit from flying out of your cake-hole.
Rant #2 – NBA.  Whatever happened to David Stern the hardass on player misconduct and general overall douchebaggery?  If anybody sees him would you send him back to clean up his product?
By now it should be fairly obvious that somebody needs to get control of the NBA players.  There has been far too many cheap shots and off-court altercations.  Now players are ignoring coaches, disrespecting franchises by refusing to play there, and bumping refs? 
The NBA Front Office can't do it, there's too much bad blood.  The Players Union can't do it when they're fighting amongst themselves.  As crazy as this sounds, the agents had better get a hold of their clients and settle them down.  This is a business and people are getting frustrated with the product and the attitude.
Rajon Rando gets suspended for two games for throwing a ball at a ref, but gets one game for bumping a ref?  Wow NBA, Wow!
Oh, and I'll be curious to see what they do with Jordan Hill now that he's accused of choking his girlfriend.  I swear I hope that's not true.
Rant #3 – Boston Sports.  Somebody better get a hold of Spenser and Hawk to find out what in the world is going on in the City of Champions?  The Bruins get beat (Let Hawk deal with the racist tweeting twats!), the Red Sox have plenty of questions, the Pats can't beat New York, and now Rajon Rondo bumps a ref and is going to get suspended (this isn't the first time Rondo has had it in with refs…). 
Rant #4 – Stanley Cup Playoffs.  Holy Crap this is gonna suck.  Two NY area teams, Philly, and Washington.  Great, four teams 225 miles apart, and nobody to root for. 
Rant #5 – NFL Draft.  I have to admit, I had the draft on and could barely contain any interest.  But a few thoughts starting out with – THERE'S NO WINNERS AND LOSERS, AND YOU CAN'T GIVE A GRADE.
How funny was it that the gallery went with the "what?" chant every time the Sheriff spoke?
How did Georgia get seven players in the NFL Draft?  The only college that did better was Alabama with Eight.
Pittsburgh didn't seem to bother drafting anything but O-Line help, but it's what they needed.
Hey Cincinnati, I'm not understanding why you signed Vontaze Burfict.  Yeah, you might need LB help, but the Bengals are the last place a head case needs to be.
Hey Scott, what's your third string TE doing tweeting how jacked up it was his team drafted a Punter in the third round?  I suspect Zach Potter will be a no-string unemployed athlete after that.
Rant #6 – Skip Brainless & Stephen A. Smith.  Here's this gem:
Bayless said that drafting Kirk Cousins could be racial and chided Smith for not bringing it up.  Smith replied that if that happened that Shanahan would be on his way out.
First off – Bayless is an idiot, but its Smith I have an issue with.  Hey Stephen, wasn't it just two years ago that Shanahan replaced Donovan McNabb with Rex Grossman?  He's still employed…
Bonus Rant - Soccer.  So I'm at the gym on the treadmill which means I have to watch TV, and what do they have on?  Soccer.  GREAT!  There's more flopping in this sport than a Massachusetts politician, but I digress...
So as I settle in to my routine, I'm watching Manchester City vs. Manchester United.  Between the two of them during the 30 minutes my fat ass was breaking the treadmill, there were only three shots taken on goal - THREE!
Yeah Euros, that's a beautiful game you got there!  No wonder there is so much hooliganism at Soccer games - FANS ARE BORED!