Can't believe it's March already. Pretty soon, we'll be talking about St. Patrick's Day, but in the meantime, I guess I'll have to get a few rants outta the way...
MLB.
The Cardinals already lost Nick Punto until May at the earliest due to a hernia, and the very next day they lose Adam Wainwright to Tommy John Surgery? Sucks to be Cardinal fan right now, but nobody should make the mistake of thinking that St. Louis is just gonna allow Cincinnati to run away with the NL Central.
Hey Red Sox nation, can somebody explain to me why you would move Youkilis to third base?
Brian Wilson, are you effing crazy? You got flown from Phoenix to LA (during spring training) to attend a private showing of "Major League" at Charlie Sheen's house? That dude is loony as hell.
The Cubs have already said that Ryan Dempster will be their starting pitcher on opening day over Carlos Zambrano and Matt Garza? Didn't we just start Spring Training?
Did I read that right, Tony Gwynn's son plays for the Dodgers? Mr. Padres' son playing for the Dodgers is baseball blasphemy! I'm glad to hear that Daddy Gwynn is doing much better.
NBA. Watching the Court Jester continue to be unable to close out games late for the Heat never sucks, but having to watch the Knicks beat the Heat in Miami was a nightmare. Why? Because how many times to we have to see Spike Lee on coming out of his seat? It's just as stupid as Jack Nicholson. Spike, get back to work and make a movie worth seeing and stop making a damn fool of yourself. And as for the Jester, let Wade close out the games.
Denver fans chanting "Who is 'Melo" was priceless...
There was an article about the San Antonio Spurs on Wednesday, an article which was great.
http://msn.foxsports.com/home/story/mark-kriegel-san-antonio-spurs-not-carmelo-anthony-nba-true-story-022211
The Spurs are a throwback team. Throwback to a time when teams played as a team, not one on one with a stagnant offense like one on one while the four other players stand on the other side of the court and watch.
Hey IHM and AFD, what was with the Pistons of all teams boycotting a practice on Friday? Damn if these players aren't straight up doing everything they can to show the owners whose boss…
NHL. Here come the Sharks, winners of six in a row and now in first place in the Pacific. With a homestand now up, this isn't the time to take the foot off the pedal boys. This week its home for Colorado, Detroit, and Dallas – not exactly easy.
Question for Edmonton Oilers - how the hell are you ever trading with the LA Kings? They took Gretzky away from you and you want to trade with these d-bags? You should never have done that, and I don't care if its been 20 or so years ago. Hell, the Sawx don't trade with the Cranks, do they?
You gotta love the NHL. We've seen this all week, but it's still funny to me:
College Basketball. CalTech snapped its 310 game losing streak Wednesday Night beating Occidental by one point, 46-45. They hadn't won a game since 1985!!! This is a school of 900 who don't give out athletic scholarships. Props to them.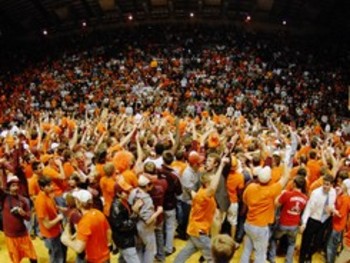 Hey Duke, are you tired of this happening to you? I'm not. How many times did Virginia Tech cherry pick you Saturday Night? But Hokie fan, the "Whose your Daddy" chant with Seth Curry's Dad (Dell Curry, the #1 scorer in Va Tech history) was bad form. Virginia Tech should get in to the dance this year – don't screw it up NCAA.
Damn Doug, I was rooting for the Aztecs Saturday, but BYU hit for 14 threes? That's where you gotta tip your hat and say I'd rather get beat by long ass threes then killed in the paint. Regardless, the fans showed up big, and that's saying something down in San Diego!
Speaking of Saturday, hey Texas, what the hell was the second half against COLORADO?
Mustang Basketball. While the boys had a rough season, the girls ended up ranked #7 in the 16 team divisional playoffs. They were the section runner-ups at Arco Arena last year and won their first round game easily against the #10 team 58-24. Unfortunately Thursday Night, they had to travel to the #2 ranked teams house and lost 50-32. I know the girls are disappointed, but they had a very big season since losing the stars to graduation last year.
NFL – or bashing Cam Newton. One week before the NFL Scouting Combine, Cam Newton busts out this gem of a comment - "I see myself not only as a football player, but an entertainer and icon,". Are you effing kidding me? I'll give him Football Player, but entertainer and icon? The word "icon" will be dealt with in a locker room come July and August, but it's the word "entertainer" that has me convinced that this guy isn't 100% committed to Football. Hey Buffalo and Cincinnati, I would say to you both – DON'T DRAFT THIS GUY, he will only hurt you. Didn't you guys already deal with Terell Owens?
Speaking of the NFL's "Icon", right on cue at the combine we're starting to hear about Cam Newton to the Cowboys, even pics of him wearing the ballcap and holding the jersey. Newton and King Jerrah deserve each other. When will Jerry Jones ever learn? Yet another diva on a team full of 'em? Where would you play this guy? Second string QB and run Kitna out of town? Yeah that makes sense, the only QB to get that offense moving.
Oh yeah, one more point, Cam Newton couldn't hit a WR on a short pattern to save his life, and that was without blockers and no rushers in his face. Hey Cowboy fan, enjoy!!!
New Orleans let go of Jeremy Shockey, and the Foreskins bought out Clinton Portis. Not sure what to think about that, although you might be getting an idea of the near future for all teams in the NFL who wonder about the CBA and ongoing negotiations. Get rid of some of the mid-level players until they figure out how the cap will work, I guess.
"I guarantee we'll win it this year." – Rex Ryan. Rex, I love the smack, but you're jerking with the karma and the patience of the football gods.
College Football. I'm very happy to say that Doug Williams is going back to be the Head Coach at Grambling. He was very successful there (35-5).
Wrestling. Hey TNA, you still suck. How 'bout this for an idea, bring Samoa Joe back up to main eventer status and have him kick the shit out of Ric Flair. That might be something to put you dickheads into the right direction.
Rant of the Week – Sacramento Kings. These fucking "fans" here infuriate me. It took that criminal David Stern telling the media during all star weekend that the owners are negotiating with Anaheim to move the Kings down there for fans to finally take what I said two years ago serious. Lo and behold, these fair weather fans got scared and wanted to do everything they could to prove to those billionaire douche bag Maloofs that they should keep the team here. Look assholes, the team can't even fill the bottom bowl of Arco Arena with you supposed "fans", now you schmucks get scared and fill Arco Arena for the first time in years in order to prove "you love your team"? As Beeze says, fuck you all! Go back to LA or the SF Bay Area, you water thieving criminal rejects and stop trying to turn my small city into another fucked up version of the Bay Area or Hollyweird.
As for the Kings, feel free to close out a game in the 4th when you have a lead. I swear the next time you to that, it'll be the first time you do it.
Before I go… It was reported that our friendly neighborhood trailer trash Tonya Harding had a baby at age 40 recently. Let us all hope this woman has gotten herself straight because we don't need another spawn of trailer park, that's for sure.
Peace and ranting forever.