(Props to Beeze for showing me this one!) 
  Hello ladies and gentlemen, and welcome to another Sexy Action Sports Saturday with IHM. This week, with a little over a month to go til the NFL Draft, I thought I'd give the ol' mock draft a spin, and see what you folks think. So, without further adieu…
Colts- QB Andrew Luck, Stanford. No brainer at #1 overall. Griffin III has the physical tools, but Luck has both the tools and smarts to be a great NFL quarterback. Only time will tell which one has the better career.
Redskins- QB Robert Griffin III, Baylor. Griffin is the reason the Redskins mortgaged their entire future… and it better pay off. If not, you're looking at another three years before you have a first round pick to use on your next "quarterback of the future".
Vikings-  OT Matt Kalil, USC. Kalil is the highest rated tackle in the draft, and the Vikings are rebuilding their offensive line. Kalil gives them a potential Pro Bowler for the next decade or so.
Browns-  RB Trent Richardson, Alabama. Fourth overall is a heavy price to pay for a running back in today's NFL, but Richardson is a different breed of back. He's a workhorse, and can take a lot of pressure off McCoy, or whoever the hell the Browns put under center this year after losing out on the RGIII sweepstakes.
Buccaneers- CB Morris Claiborne, LSU. Best corner of a fairly strong class comes off at #5.
Rams- WR Justin Blackmon, Oklahoma State. A bit high in my opinion for Blackmon, but Sam Bradford needs a #1 wideout, and Blackmon is the best of a shaky draft class.
Jaguars- DE Quinton Coples, North Carolina. The Jags need a bit of everything. Coples improves the pass rush.
Dolphins- QB Ryan Tennehill, Texas A&M. I'm not high on Tannehill, but the Dolphins need a QB after losing out on the Peyton Manning sweepstakes. Hell, now that they've traded Marshall, they pretty much need a little bit of everything.
Panthers- DE Melvin Ingram, South Carolina. BDub gets to root for one of his Gamecocks as a pro, as Ingram helps fill the void left by Julius Peppers signing with Chicago a few years back.
Bills- ILB Luke Kuechly, Boston College. The Bills have made defense a priority, and Kuechly hopefully gives them a starter at MLB for years to come.
Chiefs- CB Dre Kirkpatrick, Alabama. The Chiefs need secondary help (among many other things), and Kirkpatrick is the second best corner in this draft.
Seahawks- G David DeCastro, Stanford. A little high for an interior lineman, but Seattle will build from the inside-out.
Cardinals- OT Riley Reiff, Iowa. The Cardinals are happy to have Reiff on the board as they pick, and so is Harvey.
Cowboys- CB Janoris Jenkins, North Alabama. The Cowboys need secondary help, and they get a solid corner with return skills in Jenkins.
Eagles- DT Dontari Poe, Memphis. This guy has shot up draft boards in recent weeks, and the Eagles get him at #15.
Jets- OT Jonathan Martin, Stanford. The Jets get to work building their aging offensive line.
Bengals- CB Stephon Gilmore, South Carolina. Corner is a priority.
Chargers- DT Michael Brockers, LSU. Good value pick at #18. This guy is a top 5 talent.
Bears- WR Stephen Hill, Georgia Tech. The Bears need help at wide receiver, even with the addition of Brandon Marshall. Hill has the size and speed to be a stud.
Titans- DE Nick Perry, USC. Perry was once considered a top ten pick. The Titans are happy if he falls this far.
Bengals- OLB Courtney Upshaw, Alabama. Best outside backer in the draft adds to the Bengals defensive stockpile.
Browns- WR Michael Floyd, Notre Dame. Floyd was a stud in college, and gives the Browns a chance at having a legit #1 receiver for the first time since Braylon Edwards (waiting for the sound of grinding teeth eminating from the Fish House)!
Lions- SS Mark Barron, Alabama. The Lions could reach for a corner here, or for a second-rate tackle to groom under Backus, or they could snag a Pro Bowl caliber safety. I go with the Pro Bowl caliber safety here.
Steelers- OT Mike Adams, Ohio State. Adams is probably the best prospect left at tackle, and the Steelers have well-documented issues along the offensive line.
Broncos- WR Kendall Wright, Baylor. The Broncos have a new toy in Peyton Manning, and they need a weapon for him to throw to. Wright joins a young core of receivers in Eric Decker and Demariyus Thomas in Denver.
Texans- DT Fletcher Cox, Mississippi State. Good value late in the first round for this young, up and coming defense.
Patriots- DT Jerel Worthy, Michigan State. Watching the guy in college, I can tell you Pats fans he is an absolute beast.
Packers- C Peter Kontz, Wisconson. The Pack just signed Jeff Saturday, but Kontz gives them a local boy to groom for the future. Kontz can also fill in at guard if needed.
Ravens- LB Dont'a Hightower, Alabama. The guy gets to learn under Ray Lewis… just hope he keeps his tutelage to ON the field behaviors.
49ers- WR Alshon Jeffery, South Carolina. The Niners need receivers, and Jeffery is one of my favorites in this class.
Patriots- RB Doug Martin, Boise State. Martin is a versatile back, something the Pats value. He's a tough runner and catches the ball well out of the backfield. Nice fit for that offense.
Giants- DT Devon Still, Penn State. The guy's stock is falling, but the Giants might just get a steal at the end of the first round here.
  That's all the mocking I have in me today… as our pal OldHarry says… go ahead and do some mocking of your own.
  So now Peyton Manning is a Bronco… and Tim Tebow is a Jet. Wow… what a dip shit move by the Jets. Giving up a seventh round pick for this guy is too much. Do they have ANY idea how quickly the city of New York will turn on a quarterback who completes 47% of his passes? Let alone with all the pretentious "Jesus" bullshit. But, on the other hand… he's always got this guy on his side…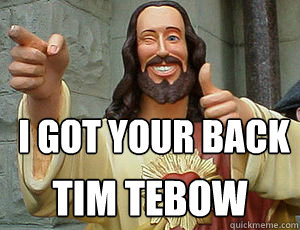 Quote of the week goes to New York Jets DT Kris Jenkins after hearing of the trade. His twitter quote; "I think I threw up in mouth a little bit" when learning his team traded for Tim Tebow. Yeah, Tebow's going to do just fine in THAT locker room. Don't be surprised if he leaves New York a tatted up, alcoholic mess. What a dip shit move for the Jets… don't know how many times I can say that before I'm satisfied.
  As for the Saints and their bounty program… they pretty much got what they deserved. Peyton got suspended a year, ex-Defensive coordinator and alleged "ring leader" Greg Williams got an indefinite suspension, and the team was fined $500,000 and forfeits two second-round picks this year and next. Hope that was worth it, Saints. Hope Greg Williams never works in the NFL again.
  This week, we've got two contenders for our shut the fuck award… the first is the new guy in town, trying as hard as he can to endear himself to a tough fan base… that man, of course, is new Red Sox skipper Bobby Valentine. Usually, anybody giving the Yankees shit is something I would celebrate… but Valentine bitching about Giarardi not wanting to play extra innings in a spring training game, just shut the fuck up. Our next contender is Warren Sapp, commentator for the NFL Network for his calling out of the "snitch" who ratted the Saints out in the Bounty "scandal". Can we stop it with the fucking hood mentality already? This is professional football… the "Snitches get stitches" horse shit is just played out. Bottom line, whomever the "snitch" is deserves a lot of credit. No matter what level you play on, bounties for injuring an opposing player is just an asshole way to play the game of football.
   So what are your thoughts on my mock draft… who do you want to shut the fuck up more? Be sure to let me know in the comments below. Thanks as always for reading and for any comments you leave on the way out. Have a great weekend.