Welcome to Tuesday, where the local temp is between 102-105, Baseball is in full effect, Football has begun, the pool is in max use, and that BBQ smell is in the air everywhere – where last night Uncle B.O.B. made it easy and went with Hot Links and Kona (Hawaiian) Chicken on the grill.  How the hell can you not be in a good mood?  It was great to go back East and get a bit of a different perspective on things, and to be honest it is hopefully helping me to grow a little bit more as a person.
Minny Follow-up.  Many have asked what is in a "juicy lucy", and so I'll tell you:  1/3 lb angus beef, spices, and melted cheddar in the middle of the pattie, and covered with a gooey layer of Monterey Jack on top on a toasted Kaiser Roll.  That was some good eating.
Kansas City.  When you arrive and walk out of your car towards the hotel front door and your senses get blasted with that BBQ smell, you know you are about to grub & the BBQ in KC is OUT OF THIS WORLD!!!  I haven't been to Texas yet, but KC is gonna be tough to beat.  I had brisket and a sausage platter with six different sauce flavors, dirty BBQ rice, BBQ Beans, and cole slaw, while Jerry grubbed on pulled chicken sandwich.  We were offered donut holes for after dinner.  Who does that?
Royals (Kauffman) Stadium.  Ever since I was a little B.O.B., I always wanted to go to there.  You can tell that it's an older stadium, but it's definitely a credit to MLB – a beautiful park it added an upper deck around the infield, and brought in the new bells and whistles, the fountains are still there in the outfield, The Center Field jumbo tron is state of the art.  The minuses?  The concourses weren't wide, there wasn't really a store to buy merchandise.  As for the food, there was nothing enticing, the service was horrible, and absolutely nobody around me was eating stadium grub – a first that I have ever seen.  I would have thought BBQ might have been the focus at the park, but it's almost as if stadium grub isn't really a focus in KC.
Royals vs. Twins, 7/29/14.  We sat just four rows up behind first base.  Warm with a slight breeze and it was "Hunting and Fishing Nite" at the stadium, so a good crowd was on hand. The Twins won the game 2-1 which was for lack of a better term boring.  No real action until the bottom of the 9th.  What I did see though was Minnesota be far more aggressive on the basepaths, though they continue to struggle with RISP, leaving seven on base, including four at 3B, three of which were in the first three innings.  Good Lord, these boys need to learn the art of the timely hit.
Hey Minnesota Twins, you are on a two game winning streak with us following you around and YOU'RE WELCOME!!!  For the second consecutive game Glenn Perkins was extremely shaky as the Twins closer – it's OK Glenn, you don't have to impress us, we're going home.  But you want to talk about shaky???  James Shields was the luckiest pitcher on the planet.  He threw 125 pitches in six innings and Minny only scored twice.  You could tell the fans were getting bent about why he wasn't getting pulled earlier.
Ron Gardenhire did his best Uncle B.O.B. imitation after Alex Gordon made an incredible catch in the outfield to take away a multiple base hit from a Twin, he argued, lost, and got tossed after using a certain type of word that's a no-no with umpires (God, I love the lines in Bull Durham).
Hey though, I had no idea that Paul Molitor was the First Base Coach of the Twins.  If he can't get this team to hit (they left seven folks on base tonight!), then nobody can.
Kansas City Royals.  As you and I gab today, the Royals are sitting four games above .500 and are 1.5 GB of the second wild card spot.  They are running 7-3 in the last ten, and have a better winning percentage on the road then they do at home (27-27 at home btw), witness their just completed 2-1 roadie at the Mausoleum against the very strong Oakland A's.  Yes, they have talent, and if Mike Moustakas (.191 BA)  can pick it up finally, this team can be dangerous.  They are nowhere near a HR hitting team, but they're capable of speed on the basepaths. 
As for pitching, it's OK, but let me throw a crazy stat at you:  If I were to tell you that a starting pitcher after 16 starts this season had a 2.42 ERA, with over 104 IP, and the BA against him was .203, you'd consider him to have a good won/loss ratio, right?  WRONG!  Danny Duffy is 5-10. 
Kansas City fans.  These folks have a rep as very, VERY supportive and loud, but quite honestly, I got the impression I was sitting at a Laker game in LA.  Fans were detached from the game and I just didn't sense the energy they are famous for in KC, though I did hear a very funny story about a 94 year old Royal fan who has season tix near where we sat.  Apparently, he gets a little too boisterous and had to be told by the ushers to chill out/tone it down.  I guess he got bent and never comes anymore though the tickets are in his name.  EFF THAT KC, you got a fan getting into it like this and he's damn near a century old, you cherish that – you honor the hell out of that, and hell, you buy him a freaking beer!  YOU DON'T TELL HIM TO TONE IT DOWN!  What the hell are you thinking???
Kansas City Chiefs.  Wednesday morning as we started our trek home, 50 miles into the drive, we stumbled into St. Joseph, Missouri which was hosting the Chiefs camp so we decided "Why not".  The Chiefs had practice at 8:15 AM in full pads and there was some serious hitting going on.  It was well organized from every perspective both on the field and for the fans.  While I may have criticized Royal fans, Chief fans are incredible.  8:15 AM on a Wednesday morning and the place was mobbed.
Rest of the trip.  There is just so much of America to see.  From the rolling hills of Missouri, through the corn fields of Iowa along with the grasslands of Nebraska, the truly spectacular views of the prairie, mountains, high desert, and rec areas of Wyoming, to the interesting rock formations of Utah and the Great Salt Lake, and finally the desert of Nevada.  We really do live in a special place, don't we?
NFL Hall of Fame Weekend.  Every first Saturday in August we get to look back at up to seven of the leagues greats receive the highest honor Football has, and I try to stop what I'm doing to watch it.  We may be frustrated with the NFL right now, but another thing right about sports is celebrating the past by honoring the individual achievements of Derrick Brooks, Ray Guy, Claude Humphrey, Walter Jones, Andre Reed, Michael Strahan, and Aeneas Williams.  They in my mind are deserving of entry.
Note who they played for:  Buccaneers, Raiders, Falcons, Seahawks, Bills, Giants, and Cardinals/Rams.  That's the beauty of NFL HOF, it doesn't matter WHERE you played, it mattered what you did when you played on the field. 
The moment that stuck out with me was when Andre Reed busted out the "And yes Buffalo, the Bills are staying."  Talk about putting heat on that supposed Toronto backed money trying to lift the Bills out of town...Hall of Famer Andre Reed just made their ambitions a lot harder.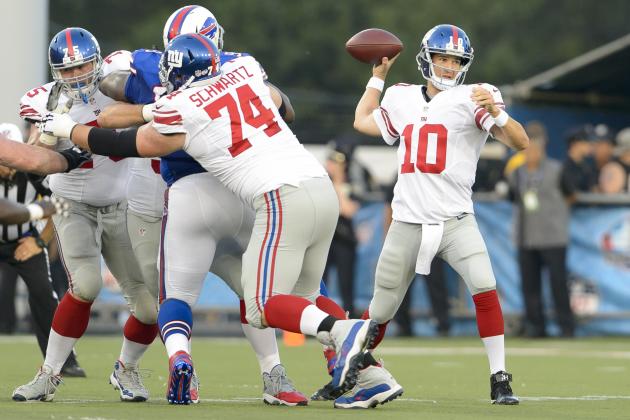 Hall of Fame Game.  Yes, I know it means ABSOLUTELY NOTHING, but isn't it great to sit down on a Sunday Night and catch a game in August?  Oh, and by the way, on paper, I really love what the Buffalo Bills are doing.  They are building something up there and in my mind right now, it's pretty positive.  Keep an eye on these guys the next couple of years…
Douchebag of the Week.  Stephen A. Smith and Bob Beckel both said some remarkably stupid shit on TV this past week, and both have either got suspended, were forced to apologize, or both.  Smith should never have went with the "women's role" in domestic violence, that was just stupid.  In Beckel's case, he was forced to apologize, may be suspended, and the talk is that they are ready to fire him for calling a reality show star a "slut" after it was reported that some runner-up guy claimed he laid the pipe to a bachelorette before she chose some other dude on one of those ignorant shows.
They both deserve DBOW, but I think the issues related to both these cats bear watching to see how much further this gets.  I for one am VERY curious to see how these two get treated by their respective networks.