While wondering if she really missed me with that "Where have you been?" comment or just wondered where I'd gotten to on general principle...
HIGH SCHOOL FOOTBALL
The Higher Standard?
It made the national news broadcast and even got a front page link on Yahoo and Sports Illustrated. But I'm not sure how many people really read about the story of the Lunenburg football team forfeited the rest of their season (two games) after a player's home was vandalized with racist graffiti.
While it has been strongly suggested that some of the team was involved, there has been no confirmation about this at all. And they are of course painting the whole team with the brush of racism instead of trying to find out if there were players involved AND which ACTUAL players.
Article Link: http://tracking.si.com/2013/11/20/massachusetts-high-school-cancels-football-season-racist-graffiti/
Of course, the last of the two games being canceled is the Thanksgiving Day game. Now, don't think I'm not sympathetic to the idea of anyone being targeted over their race. Of course I am. But I think a little common sense should've prevailed here.
And that should have included NO forfeiting of games. Unless you can say who did what, why are you effectively punishing everyone? You know, including the innocent that everyone purports to be protective of.
The targeted player's father was quoted as saying it was right that the game was canceled. To that I say, "BS!"
While your kid should not be subjected to such idiocy, aiding and abetting the idiocy by canceling a game that the innocent parties were looking forward to is ignorant as well.
I look at it this way. For many high school seniors, the Thanksgiving Day game is their last game. They went through four years and that last Turkey Day game is their "Senior Moment".
And I'll tell you, if it was me that got denied the chance to play that one last game over something I didn't do, I'd be raising holy or unholy hell.
Sure I know people will say that I'm not supportive of the kid who got targeted. But the fact of the matter is now I would be the one being targeted. I'm being looked up as guilty by assumed association. And we all know what happens when you assume...
By canceling the game, you are holding the innocent parties to the lower standards of the morons who painted the graffiti in the first place. And for me, that is a HUGE problem. It seems everything these days is solved by cutting and running, instead of confronting said issue.
I used to coach in the community I live in. Besides having a yearly background check, you are effectively held to a higher standard or at least should be. And I had no problem with that. But I despise the notion of being held accountable for something I didn't do and so should those Lunenburg players.
It is a Choose-Your-Own-Adventure option people. Will you allow yourself to be held to a lower standard of expectations or aspire to the Higher Standard?
BASEBALL
Speaking of lower standards, is there any way for Alex Rodriguez to become more of a pansy in the eyes of the public? Is there yet another new low for this repugnant piece of filth to discover?
From the successor to all that was good and worth honoring in the history of baseball to pariah beyond measure. That is how far he has fallen so far.
And after his prima donna performance of a childish temper tantrum at the arbitration hearing and staged radio interview this week, if there is anyone out there who thinks that he isn't both guilty and a total tool, you really need to be given an actual lobotomy to go along with your metaphorical one.
FANTASY FOOTBALL
And now for a palate cleanser from the distasteful leadoff to the column. I went 2-0 in the fantasty football matchups last week. I'm in third place in one league and fourth place in the other. It was a good week that featured a come from behind Monday win in one of the leagues.
NEW ENGLAND PATRIOTS
As everyone else has written over the course of the last week, the Patriots got hosed but good on Monday Night Football last week. Because I have a jam packed Monday TV schedule, I was watching my regular programs and only caught bits and pieces of the game until the final 8 minutes or so of the 4th quarter.
But since it really all came down to the very last play of the game, I can't say I missed most of what was worth watching.
I know that Carolina was on their hot streak and looking to continue it. I know the Patriots were looking to continue to establish themselves as a top rung team despite lower rung talent.
And for the most part, everyone got to see a real heavyweight battle. And let me be clear, the Panthers were the better team on the night. They did outplay the Patriots. And of course New England helped by redefining what it means to not tackle properly, well or even at all.
But the makeup of the game before the final play became moot because of said final play. The crowd in attendance and the viewing audience at home all saw it. Luke Kuechly should've been penalized for holding Rob Gronkowski in the end zone. Or pass interference. Or faceguarding.
Oh wait, he was penalized. The back judge threw the flag. But then all hell broke loose when the rest of the crew browbeat him into taking back the flag. Which was preposterous!
Explanations from both sides of the call were quickly given but anyone who watches the video knew the truth. And those arguing in favor of no penalty should be immediately fired for incompetence.
There's no saying that the Patriots would've won the game with the untimed down and one final play they should've gotten. It's 50-50 no matter how you look at it. But they should've gotten the chance.
Most of America was happy that the Patriots got screwed because they hate New England. And that's fine. But the next time THEIR team gets screwed by a bad call (that the league actually tried to spin and defend as being correct), don't come crying to me.
Dan Wetzel of Yahoo Sports had a pretty good article summing up the entire debacle here: http://sports.yahoo.com/news/tom-brady-blows-up-and-bill-belichick-fumes-over-puzzling-non-penalty-in-loss-to-panthers-073900291.html
Of course, Tom Brady's comment to referee Clete Blakman is probably the best summation of the end of the game: "That was F**king horrible, Clete".
BOSTON CELTICS
The Celtics have officially cratered. After the four game losing streak to start the season and then a four game win streak. They've now lost 6 straight games, including three in the past week.
They went on the road to Texas where they went 0-2 with a loss to the Houston Rockets (which I read one article that said the team embarrassed themselves and the uniform). It probably says something when your leading scorer is the point guard off the bench Courtney Lee (17 points). But anyway you look at it, a 109-85 loss against a team that has that hack Dwight Howard on it, is bad.
When you follow that up with a loss to the San Antonio Spurs (104-93), you just hope you can get the hell out of Texas. There was a bit more of a concerted effort that produced some individual results at least. Jeff Green, Jared Sullinger and Avery Bradley each scored 19 points. Sullinger also added a career high 17 rebounds. But a loss is a loss.
On Friday night, Boston played the Indiana Pacers. Other than the Miami Heat, Indiana is probably the best team in the league both on paper and on the court. And the Pacers showed the Celtics their place in the pecking order, coming away with a 97-82 victory.
Jordan Crawford had 24 points and Jeff Green actually strung together two high scoring games with a 20 point performance. Sullinger added 13 points.
A 4-10 record pretty much reveals just how good or bad a team is. And that good feeling of 4-4 has completely evaporated. It wasn't entirely unexpected, but you can't blame a guy for hoping the team would be better than projected.
But for a change I don't have to end a section about the Celtics on a down note. After 6 straight losses, the Celtics close out their week on a high note. They took on the Atlanta Hawks last night and despite trailing by 10 points at the start of the 4th quarter, blew the doors off the Hawks in that last frame (30-13) and took the 94-87 win. The win ups their record to 5-10.
The Celtics were keyed by Brandon Bass. He returned to the starting lineup and finished the game with 17 points, 7 rebounds and 2 blocks. All five starters, plus Vitor Faverani off the bench, hit double figures. Jeff Green hit for 16 points, Jared Sullinger had 15 points and 9 boards and Jordan Crawford had 12 points and 10 assists.
PRO WRESTLING
For fans of the classic days of pro wrestling it was a sad bit of news this week. Maurice "Mad Dog" Vachon passed away at the age of 84. Besides his 13,000 match professional career, he also represented Canada in the 1948 Olympics.
Here's a brief article on his passing: http://sports.yahoo.com/news/pro-wrestler-maurice-mad-dog-181529171--spt.html
Also, you can check out this SI.com article on Dixie Carter (not the late actress), the head of TNA wrestling. Here's the link: http://sportsillustrated.cnn.com/more/news/20131121/dixie-carter-tna-wrestling/index.html
LACROSSE
Remember the Duke lacrosse rape scandal? The one where the accuser turned out to be a liar of epic proportions? Well, it seems that she is now on her way to jail. She was convicted second degree murder.
Everyone immediately assumed she was telling the truth when the Duke story broke and it turned out she was less believable than Alex Rodriguez. But nothing really happened to her despite multiple chances to nail her for her lies.
But she couldn't get away with murder.
Article Link: http://tracking.si.com/2013/11/22/duke-lacrosse-accuser-found-guilty-of-murder/
NCAA VS. EA SPORTS
After EA Sports and College Licensing Co. settled their portion of the Ed O'Bannon lawsuit, I suppose it was a matter of time before the National Communists Against Athletes...err...the NCAA turned on them like they do on the athletes they claim to care about and represent.
They've filed a lawsuit against EA Sports and CLC saying "CLC failed to adequately supervise EA Sports, subjecting the NCAA to "potential liability in several lawsuits currently being litigated relating to EA's alleged use of NCAA student athletes' names, images, and likenesses in EA's NCAA-themed video games."
Article Link: http://college-football.si.com/2013/11/20/ncaa-suing-ea-sports/
HIGH SCHOOL SPORTS
In today's crazy story of the week comes the news of one of the most successful high school girls basketball coaches in the country resigning after, I kid you not, biting one of his players on her face.
You can read the story here: http://tracking.si.com/2013/11/19/coach-resigns-after-being-accused-of-biting-player/
THIS WEEK'S MOMENT OF NOSTALGIC HOTNESS
Do you remember the teen queen singer from the 1980's Debbie Gibson? I certainly do. I am a hard rock and heavy metal guy for the most part, but in moments of niceness, I was a fan of Debbie Gibson. I still have some of her albums too.
Well, she was apparently brought out to perform at the New York Knicks game on November 14th. And the now 42 year old Debbie Gibson totally rocked a sparkly teeny tiny leotard for her performance. So totally yummy!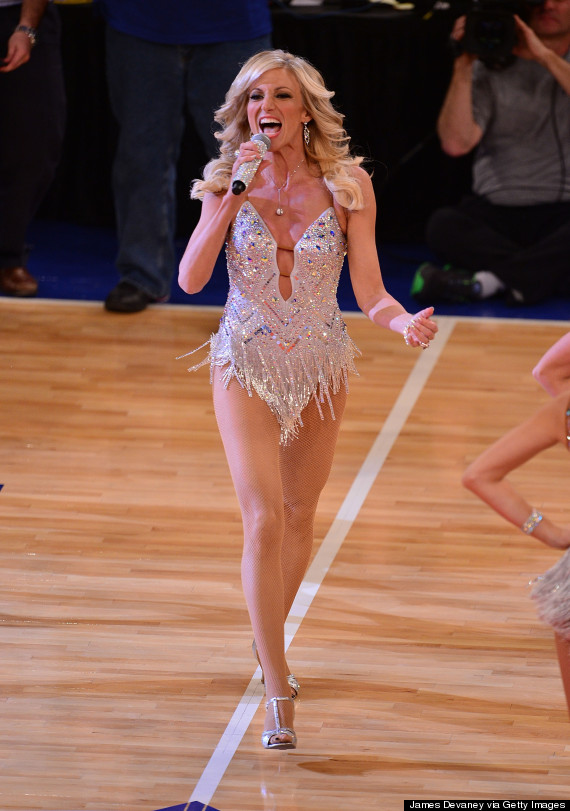 WNBA
My favorite basketball player, Katie Smith, retired at the end of this past season. I was on the lookout for a new favorite team since I supported whichever team she was playing for. I moderately supported the Chicago Sky because ex-Boston College star Carolyn Swords is on the team. And while I will still do that, it looks like I'll be staying to root for the New York Liberty as well.
This move comes because the Liberty announced the hiring of Katie Smith as an assistant coach for next season. Article Link (with audio interview with Smith): http://espn.go.com/wnba/story/_/id/9999330/wnba-wnba-veteran-smith-joins-new-york-liberty-assistant-coach
It's a bit funny that both Smith and Brooklyn Nets head coach Jason Kidd begin their coaching careers in New York and both with no prior coaching experience. Although at least Smith has the sense to begin learning the ropes as an assistant.
Back when both were Olympic athletes, they once shared a trading card!
WOMEN'S COLLEGE BASKETBALL
It was a big week for the teams that I follow in college basketball but not all in a good way.
Hartford - The Hawks got trounced by Providence 79-53. They committed a season high 25 turnovers and shot just 33.3% from the floor. Morgan Lumb (pictured below) had a team high 11 points while Deanna Mayza and Cherelle Moore added 10 points apiece.
You can check out highlights of the game and postgame comments from coach Jennifer Rizzotti in the video below.
The team followed the loss to the Lady Friars with a 63-59 loss to UMass. The loss drops the Hawks to 1-3 on the season.
Amber Bepko (15 points and 9 boards) and Cherelle Moore (10 points) combined to lead Hartford's offense. But they got out rebounded 41-32.
Highlights of the game and the post game press conference are below.
Missouri State - The Lady Bears fell to 1-3 on the season with two losses this week.
Against IUPUI, they fell 76-65 despite 16 points from Kenzie Williams (who was named Missouri Valley Conference Player of the Week). Tyonna Snow had 12 points and 6 boards while Bry Snow had 10 points and 6 boards. Hannah Wilkerson (pictured below) had 10 points.
Friday night's game against Arkansas was a 78-44 blowout in favor of the Razorbacks. The Bears shot just 26.9% from the floor. Tyonna Snow had 14 points to lead MSU in scoring. Kenzie Williams added 12 points.
Tennessee Lady Vols - The Lady Vols ran their record to 4-0 with an 87-76 win over Georgia Tech this week. Bashaara Graves (pictured below) had 23 points and a career high 18 rebounds to power the Lady Vols to the win. Meighan Simmons added 13 points and Mercedes Russell had 14. Isabelle Harrison finished with 10 points and had a career high 18 rebounds.
The team's 65 rebounds is the most they had in one game since 1996.
Meanwhile, Ariel Massengale was named both SEC and NCAA player of the week.
On Friday, the school held the dedication ceremony for Pat Summitt Plaza where they unveiled a statue of Summitt. I'm not crazy about the look on the statue's face, but you can't say Summitt wasn't worthy of the immortalization.
You can read about the ceremony here: http://www.utsports.com/sports/w-baskbl/spec-rel/112213aap.html
A video of the ceremony is below.
COLLEGE FOOTBALL
I know that I'm supposed to care about the Texas A&M-LSU game but I really don't. Of course seeing that LSU slapped Johnny Football around the field yesterday 34-10 wasn't a bad thing either.
How bad is Florida this year? How about losing to FCS school Georgia Southern? It happened today. And making it even worse, the victors ran up 429 rushing yards and won without completing so much as a single pass. Read about it here: http://college-football.si.com/2013/11/23/florida-gators-georgia-southern-will-muschamp/
A couple of blowout games caught my eye when I saw the final scores. North Carolina became bowl eligible by beating Old Dominion 80-20. The game saw UNC set all-time school records for points and touchdowns (11) in a game and total yards (721). The game was such a blowout that the 4th quarter was shortened to just 10 minutes.
QB Marquise Williams (pictured below) had 409 passing yards, 5 TD passes (all in the first half) and ran for 60 more yards.
Coastal Carolina was 10-0 going into today's game with #12 South Carolina, but that was a thing of the past by the end of the game. It was 70-10 in favor of Steve Spurrier's Gamecocks.
It was the most points put up by South Carolina since Spurrier took over the program. QB Connor Shaw (pictured below) played less than 1 quarter of action as the South Carolina rolled up 639 yards of total offense. He had one passing TD and one rushing score.
It is simply another case of one team not belonging on the same field as the other. I'm actually amazed Coastal Carolina put any points on the board.
And just when you thought that might be the biggest blowout of the weekend, Florida State comes along and in the looming shadow of the possible Jameis Winston criminal case, just blew the doors off Idaho 80-14.
The big upset of the daytime games was unranked Arizona blowing out #5 Oregon 42-16. You can read about the Duck Disaster here: http://sportsillustrated.cnn.com/football/ncaa/gameflash/2013/11/23/53826/index.html#recap
The biggest late game upset was #11 Oklahoma State cruising over Baylor 49-17. It was the first loss for Baylor all season and also the worst showing for their video game offense as well. You can read more about that game here: http://sportsillustrated.cnn.com/football/ncaa/gameflash/2013/11/23/53679/index.html#recap
Oh, and in the annual Harvard-Yale clash "The Game", Harvard rolled to a 34-7 win.
Alabama - Heading into next week's big SEC showdown in the Iron Bowl with Auburn, the Crimson Tide got their game on with outclassed Chattanooga. The final score was 49-0.
A.J. McCarron (pictured below), playing his final home game, left the game after the first drive of the second half. He became 36-2 as a starter, breaking the tie he was in with Jay Barker. He threw for 171 yards and 2 TDs (one to Kevin Norwood and one to Amari Cooper).
Kenyan Drake ran for 77 yards and a score (which is shown below), but T.J. Yeldon appeared to have the day off as he didn't appear in the box score.
It was the third shutout of the season for Alabama and their special teams blocked a field goal attempt by Chattanooga. The defense picked off one pass and recovered a fumble.
BOSTON COLLEGE NOTEBOOK
Women's Soccer - The women's soccer team knocked off #10 Nebraska 4-1 on Friday night in the second round of the NCAA tournament. The win advances BC to the Sweet 16 for the 9th time in school history.
They will play Illinois today at 2 pm.
Women's Hockey - After the team's 6-2 win over UConn yesterday, they are now 11-3-1 on the season.
Women's Volleyball - After dropping consecutive matches 3-0 to Georgia Tech and Clemson, the team falls to 9-21 on the season.
Men's Basketball - It was a relatively successful week for the Eagles. Things started off with the team notching their first win of the season. They beat Florida Atlantic 82-79 behind 38 points from Olivier Hanlan. Joe Rahon added 17 points and 7 boards.
Against #18 UConn, the Eagles missed out on an upset with the Huskies escaping 72-70. Ryan Anderson had 22 points and 7 rebounds in the game while Hanlan (pictured below) added 19 points. Alex Dragicevich finished with 10 points.
On Friday night, BC knocked off Washington 89-78 in a game that saw them hit 8 out of 11 three pointers in the first half. Joe Rahon (pictured below) led the team with 22 points (including 4 of those first half 3's). Hanlan had 20 points and Anderson added 18 points and 7 rebounds. Lonnie Jackson was the fourth Eagle to hit double figures in scoring, finishing with 10 points.
The team is now 2-4 on the season.
Football - The football team picked up their 7th win of the season yesterday. They edged out Maryland 29-26 with a stunning comeback. They were trailing 24-13 but a 72 yard TD run from Andre Williams and a 74 yard TD pass from Chase Rettig to Alex Amidon (where Amidon was EMBARRASSINGLY wide open) gave the Eagles the lead in the game. The Terrapins ran back a blocked PAT 104 yards for a 2 point conversion to tie the game. But Nate Freese kicked the game winning field goal as time expired and the Eagles got to celebrate!
It was a miserable day for Chase Rettig in the passing game outside of that long TD to Amidon. He went 6-14 on the day with 119 yards. But he was picked off once and lost a fumble.
Once again, along with Freese using his leg to put points on the board, it was Andre Williams (pictured below) being the horse for BC. He had 263 rushing yards on 32 carries and scored twice. It must be said again, he should be a legitimate Heisman award candidate.
Women's Basketball - The week started off with a Monday press conference with coach Erik Johnson.
Before heading off to play 3 games in the Cancun Challenge this coming week, the Eagles took care of business when they hosted FIU at Conte Forum. They came away with an 89-69 win that saw Kristen Doherty score 19 points and grab 5 rebounds. The point total pushed her over the 1,000 point mark for her career. She went 9-9 from the foul line where she is shooting 92.9% for the season thus far.
Nicole Boudreau finished with 14 points on 4-5 shooting from three point range. Kelly Hughes had 12 points (three 3-pointers). Kat Cooper got her first star and responded with 11 points and a career high 8 rebounds. Lauren Engeln added a career high 7 assists.
BC is now 2-2 on the season.
The post game presser is below:
In BC women's hoop alumni news, Kerri Shields scored 18 points to lead her Ulster Rockets (Belfast) team to a 73-62 win over the Meteors (Dublin) in the Ireland Premiere League. The Rockets are 2-3 on the season.
Kerri is on the left in the picture below:
MISCELLANEOUS
XMAS - I watched another Hallmark Xmas movie last night. It premiere last weekend but I didn't get to see it then. It's called Catch a Christmas Star and starred Shannon Elizabeth as a famous singer who ends up meeting up with the guy who was her high school sweetheart. Leaving aside the bad special effects work, the story wasn't all that bad. Until the end when preposterous is the best way to describe how the resolution came about.
I'm in the midst of holiday shopping. I am trying to be done as early as possible so I don't have to go to the stores during the "Official Holiday Shopping" times.
And of course, on Tuesday November 26th, I'll be glued to my TV which will be tuned to CBS. Nope, it isn't a new episode of NCIS. Instead, it is the traditional airing of the Rudolph the Red-Nosed Reindeer that I'll be watching.
I know my Scrooge like demeanor will have many wondering what I could be thinking watching the annual holiday classic. But I love the special and of course own it on DVD (well, technically my mother owns it) but it is the one holiday show that I make a point of insisting on watching on TV with the commercials every year.
And despite my inability to carry a tune, I happily (though badly) sing along with all the songs as well.
TV - The 50th Anniversary special of Doctor Who aired yesterday. And it was really quite fantastic. It celebrated the entire history of the series while simultaneously telling a good story that retconned a major event without seeming a cheat. And it featured a huge cameo from a former Doctor.
It was a blast to watch and I can't wait to see how things go from this point forward. The Christmas special is bound to be amazing.
By the way, if you plan to watch it, there was a prequel webisode I posted in last week's Sunday Musings that you can check out. But here's another one that you should watch as well.
And it seems with the global simulcast, the whole world was in on the big celebratory event. Google even had their webpage done over to feature Doctor Who and had a little game you could play as well. (I did, and managed to win it.)
Movies - The release of The Hunger Games - Catching Fire is this weekend. I saw the first movie and I wasn't all that impressed. It was fine to watch one time but nothing much beyond that. Of course, I might see this second movie. Not because I have any burning (sorry, pun not intended) desire to continue with the story, but it seems one of my favorite actresses is in the movie. I've been a fan of Jena Malone since I saw her debut in the TV movie Bastard Out of Carolina.
She plays Johanna Mason (didn't read the books, don't know much about the character).
Books - I picked up a couple of new books this week. I got the new Janet Evanovich paperback Notorious Nineteen. It's another in her Stephanie Plum series. And I got the Iris Johansen thriller Hunting Eve. It's the immediate followup to Taking Eve a special three book trilogy story featuring her forensic sculptor character Eve Duncan.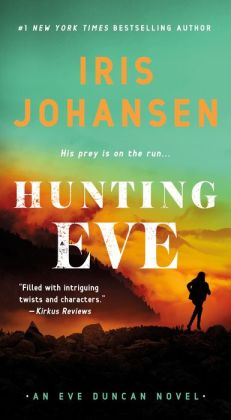 Music - Ex-Ozzy and Badlands guitarist Jake E. Lee is coming back to the music scene after a long absence. His new project is called Red Dragon Cartel. The debut album is due out in January 2014, but you can check out the lyric video for the song "Feeder" (guest vocal by Cheap Trick's Robin Zander) below.