While anticipating the season finale of The Walking Dead tonight...
HIGH SCHOOL BASKETBALL
It was quite a week for some of my former players. Last Sunday, the New Bedford Standard Times released their picks for the area basketball All-Star players. Three of my former girls players got mentioned and one of my former boys did as well.
For the girls, Amber and Breanna made the "Super Team" while Gina got an honorable mention.
Here's what was written about Amber and Breanna:
Amber:
Averaged 14.9 points a game in her final season and finished with 1,052 career points as a shooting guard. ... Was among the top-three picks in voting for South Coast Conference All-Star honors and ranks sixth all-time in girls basketball scoring at Wareham. ... Holds school records for points in a game (37) and career 3-pointers (191). ... Is nominated for the Dave Cowens Achievement Award and is headed to Catholic University to continue her playing career and study physical therapy. ... "Amber brought some real stability and leadership to the team," Wareham coach Dave Brogioli said. "She played with a lot more maturity and intensity. She has great range on the perimeter and she played better defense this season."
Breanna:
A solid ballhandler and passer, Muir set school records for single-season assists (187) and career assists (416). ... Averaged 11.8 points, 6.2 assists and 3.4 steals a game en route to being named a South Coast Conference All-Star. ... Used her speed and quickness at the point to make up for a lack of size. ... Wants to continue playing in college and has narrowed her choices to Mount Ida College or Worcester State. ... "Breanna teamed up with Amber to give us one of the best backcourts in the area," Wareham coach Dave Brogioli said. "She was quick enough to get past defenders, take the ball to the basket and get to the free-throw line. She also made a lot of shots on the perimeter."
For the boys this is what they said about Latroy:
Vikings coach Kevin Brogioli called him "the hardest working small big man I've ever coached," and the 6-2 center helped turn that faith into an all-star effort. ... Working hard in the offseason to develop a mid-range jump shot, Latroy became an inside-outside offensive threat and averaged 13.3 points a game with 57 of his 267 points coming on 19 3-pointers. ... Seven times he led or co-led the Vikings in scoring and was a dominant factor inside with both his scoring and rebounding as Wareham wrapped up its eighth consecutive South Coast Conference championship. ... Latroy hopes to further his education and is looking at Dean or Bristol Community College.
But things got even better and historic this past Thursday. Amber was nominated for the Dave Cowens Leadership Award. No player from Wareham, girl or boy, had ever won the award. Until Thursday night when Amber's name was announced.
As you might imagine, I was very proud of her accomplishment and made sure to send her a congratulatory message.
BOSTON RED SOX
While the Red Sox struggle in their spring training games, two off the field items of note led the Beantown discussions this week.
David Ortiz got the contract extension he was looking for, with two club option years thrown in beyond that as well. It essentially guarantees that he will stay in a Red Sox uniform for the rest of his career.
I know a lot of people hate the yearly complaining Ortiz has done about his contract. Heck, I'm usually one of those people. But this year, he didn't start the engine on this year's edition.
I'm glad that things are taken care of and out of the way. He, the team and we can focus on the on the field stuff (not counting the team's dealings with Jon Lester and his possible contract extension).
The other news comes courtesy of the Red Sox TV broadcast booth. This past week, the Boston Globe laid out a devastating report on the level of monstrosity that is the life of Jared Remy, the son of Sox TV analyst Jerry Remy. It included looks at the other two Remy children and their brushes with the legal system as well. You can read the Globe article here:
http://www.bostonglobe.com/metro/2014/03/22/remy/xFRaOQqrnZ1S1pfLa2eKgK/story.html
The custody issue of Remy's granddaughter was settled as well. The Remys got visitation rights but not the physical custody they had been seeking. I think we all breathed a sigh of relief after reading the report.
But what gets me is how a sizeable chorus of the Tsk-Tsk crowd a lot of this country has evolved into has gotten it into their heads that Jerry Remy should not be allowed to be a TV talking head because of his lack of successful parenting.
ARE YOU KIDDING ME? SERIOUSLY?
The Remys should never be in the running for any kind of parental award, but how that affects his ability to analyze a bad throw from the shortstop to first base is beyond me.
For those who think Remy should be fired, get a freaking life and stop poking your nose into everyone else's business.
BOSTON CELTICS
The Celtics had a home and home set of games against the Raptors this week. Unfortunately, they lost both of them and dropped to 23-49 on the season.
The first game saw them lose 99-90. It was Jared Sullinger's 26 points that led the Celtics offense. Avery Bradley added 16 points and Chris Johnson had 13 points. Rajon Rondo scored 9 but also had 15 assists.
The Friday night game was a 105-103 win for the Raptors, but Jerry Bayless had 20 points for Boston. Jeff Green scored 16 points. Bradley, Rondo and Sullinger each scored 11 points and Kelly Olynyk finished with 10 points.
COLLEGE BASKETBALL
How's your bracket(s) doing? The NCAA men's tournament set the field for the Elite Eight on Friday night, and I had 5 of my teams still left alive.
My men's NIT bracket is completely dead, I will finish 13-18 in that one.
In the women's NIT tournament, I have two Final Four picks left alive but neither one was who I thought would win the title so the bracket will end up dying a cold and lonely death.
In the Women's NCAA tournament I had 14 of my picks for the Sweet 16 make it through successfully.
My Tennessee Lady Vols got to the Sweet 16 by virtue of beating St. John's 67-51. Cierra Burdick (pictured below) had 21 points and 11 boards for the now 29-5 Vols. Meighan Simmons added 17 points and Isabelle Harrison scored 10 points and grabbed 11 rebounds.
The move isn't surprising, she had five years at the school and just couldn't build a winning program there. While some say she left her "giveadamn" at Boston College, I just think it is utterly impossible to win at URI. Either way, she's done at the school.
The best news of the weekend comes out of Division 2. On Friday night, I watched the D2 women's national championship game between West Texas A&M and the Bentley University Lady Falcons.
Bentley being from Waltham Massachusetts, I think you can be safe in thinking that's who I was rooting for. You have to root for the teams that represent Massachusetts basketball!
It was a tough and exciting game. West Texas A&M opened up a lead in the first half but the two team were tied at the break.
In the second half, Bentley found themselves down by 9 points late in the half. But the Lady Falcons put the pressure defense on over the last three minutes of the game, rattled the hell out of West Texas A&M, went on a 19-5 run to close out the game and win 73-65 for the program's first ever national title!
HELL DAMN YEAH!
Seven seniors finished their careers as champions and it was the first ever championship for coach Barbara Stevens, who is a legend in her own time. She's coached all three divisions and has been at Bentley for 28 years. In that time at the school she has average 19 wins (917 in total) a year. But never a title...until now.

I was watching the game and afterwards, the sideline reporter asked her what was going through her mind when the team was down 9 points. Even Stevens admitted she was starting to think "Oh, well it's been a good season."
But the Lady Falcons soared and did themselves, their coach, their school and the state of Massachusetts proud!
Way to go Bentley University!
The emotions come out:
Coach Stevens cuts down the net:
The National Champion Bentley University Lady Falcons:
NEW ENGLAND PATRIOTS
After a week or two of drama and back and forth, the Patriots and Vince Wilfork came to an agreement on a new contract. I'm glad that the situation resolved itself rather quickly because the last thing we need is more Patriots drama. Welcome back Vince, put your nameplate back up willya?
COLLEGE SPORTS LEGAL ISSUES
Two big stories surrounding the notion of amateurism in college sports got a lot of talk this past week.
There's a long way to go in both cases, but I think it is clear to even the most basic sports fan that college sports as it has been for decades is coming to an end.
I just hope the athletes are ready for the changes that are going to affect them if they become employees rather than student athletes. Because as with most things, there are going to be pros and cons for everything. And the cons are usually a big enough bite in the ass, you begin to wonder if it was all worth it.
Not too mention that the schools and NCAA are going to fight this until their last red cent.
MISCELLANEOUS
With The Walking Dead season finale tonight, the fourth season will come to an end with a pretty split viewing audience. Either you have loved this season or you have absolutely hated it. I'm in the "I loved it" camp, and have even been called stupid on a message board because of my opinion. Episode 14 was called "The Grove" and it was an amazing piece of work, one of the best episodes of the series and could definitely be in the running for one of the best episodes of any TV series.
Now comes the last episode of Season 4 and no one has any idea what is going to happen.
I can't wait!
I picked up a couple of movies on DVD this week. I'd seen them in the theater or on PPV and liked them enough that I wanted them as part of my permanent collection. The movies in question? The Hunger Games: Catching Fire and Escape Plan.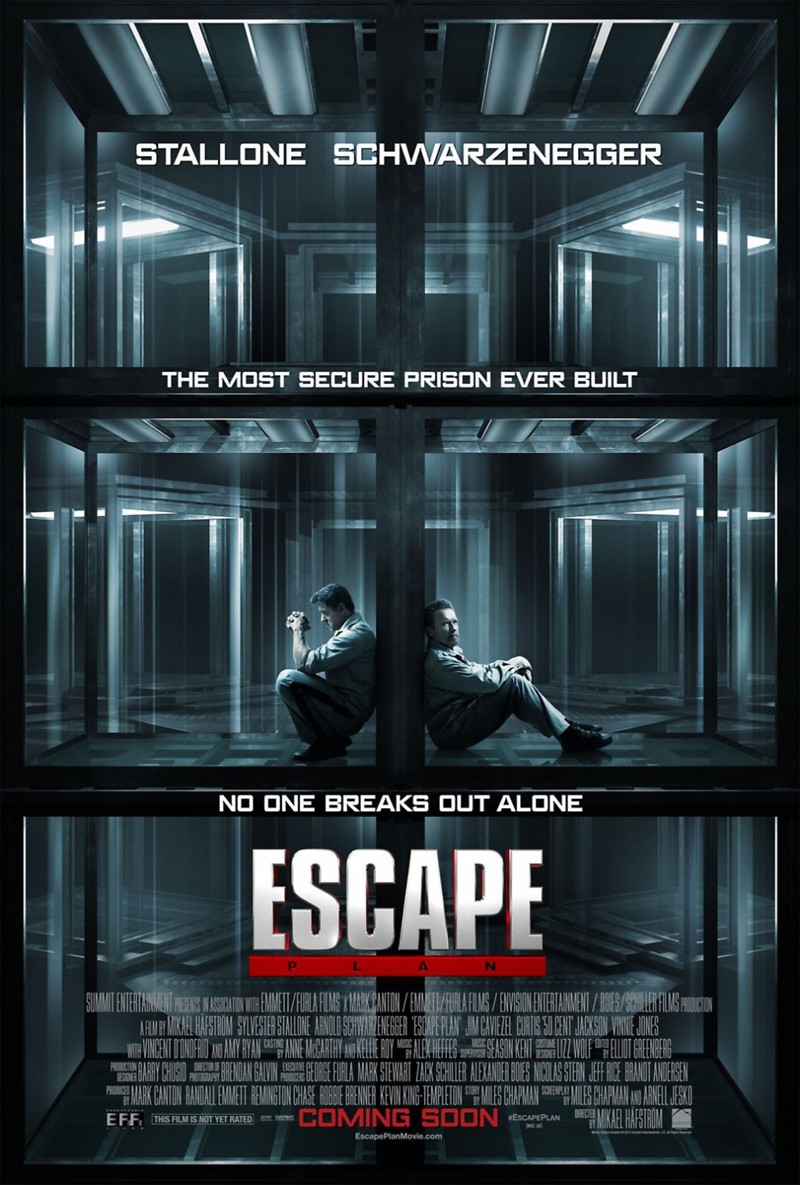 Books - I finished one book this week and ended up buying four more.
The book I finished was the Jennifer Roberson fantasy book Sword-Bound. It is the 7th book in her Novels of Tiger and Del series. It was a really good read.
As for the books I bought, there was the Christopher L. Bennett Star Trek Enterprise novel Rise of the Federation - Tower of Babel. The new Lee Child paperback in his Jack Reacher series is Never Go Back. And I got the Rob Thomas/Jennifer Graham novel Veronica Mars: The Thousand Dollar Tan Line. It is set after the events of the movie that came out a couple weeks ago.
The final book I picked up was a hardcover by J.A. Jance. It's the latest in her Ali Reynolds series entitled Moving Target. I usually would wait for the book to come out in paperback but the author is appearing at an event at a college in the area tomorrow afternoon and I'm going to it, so I picked up the book to have it signed.
The video for their song "Addicted to Pain" is below.
Winger released another video from their upcoming album. The song is called "Midnight Driver of a Love Machine". I thought musically the song was good but didn't care for the lyrics at all. You can judge for yourself below.