While lamenting that the car had to be put in the shop on Friday...
Don't forget to follow me on Twitter - @TheOneTrueJay
If you missed my blog post from earlier this week covering last Sunday's basketball games and news on a WNBA return by former Boston College star Carolyn Swords, you can check it out HERE.
NFL
New England Patriots - Do Your Job? I guess we can now say "Done Your Job".
The Patriots 28-24 win over the Seahawks in Super Bowl 49 had everything you could possibly have wanted in a championship clash. While I would've been very disappointed had the Patriots lost, if I am being honest this was a heck of a game from both teams.
I watched the first half of the game with my mom and things started out slow but decent. I was decked out in my Patriots gear of course and when Tom Brady threw that interception to Jeremy Lane (see below), my heart came crashing down.
But that play, as bad as it was, turned out to be a key factor in the game. After coming down with the ball, Lane broke his wrist (the pictures online were quite gross) and he was replaced with Tharold Simon. And Tom Brady just torched Simon for most of the game. He eventually hit three of his four TD passes against Simon.
The Patriots getting on the board first with a TD pass to Brandon Lafell (see below) had me cheering. As soon as I stopped, I immediately thought, "Man, Lafell has been such a fantastic pickup this year and now it pays off for him with a TD in the Super Bowl. Bet Chad Johnson wishes he'd learned the playbook!"
Seattle wasn't firing on all cylinders for most of the first half, but they did tie the game at 7 thanks to a 3 yard TD run by Marshawn Lynch. Lynch finished with 102 yards rushing. And while he did have a number of nice runs, including the last run, the Patriots much maligned run defense did manage to stop him at those moments when they ABSOLUTELY had to.
A Rob Gronkowski TD catch (see below) put the Patriots up 14-7 with about 30 seconds left in the first half, I have to say that I was feeling pretty confident of going into the break with a lead. Stupid me!
Instead, the Seahawks went on an 80 yard drive and went against conventional football wisdom to score the game tying touchdown with 2 seconds left. Talk about a deflated feeling. The Patriots played some of the worst 2 minute drill defense I've ever seen and Seattle picked them apart. 
The key figure in that drive was receiver Chris Matthews. He caught the TD pass from Russell Wilson, as well as three other receptions. He likely would've been the MVP of the game if Seattle had one. The most amazing thing about his game was that those four catches were the first he'd had all season. Hell, he was working at a Foot Locker before getting the call to try out for the team.
In the second half, Seattle's offense got rolling. They hit a field goal to take a 17-14 lead and then with the Patriots offense sputtering, they got a TD catch from Doug Baldwin and had a commanding 24-14 lead.
Truthfully, I was a little bit distraught at this point. The Patriots were looking bad and Seattle's defense wasn't the kind to give up a lot of points in the fourth quarter. Yes, I had my moment of doubt. Stupid me again...then the Patriots got rolling on their own.
With the run game practically non-existent, everything came down to Tom Brady's arm once again. And despite another gawdawful interception, he rose to the challenge one more time.
Brady hit Danny Amendola (see below) for a TD to make it 24-21.
He used Shane Vereen as a pass catcher out of the back field to pick up first downs. And when the drives looked like they were going to stall out, he picked up big first downs by hitting Gronkowski and Julian Edelman.
After defensive stops, the Patriots managed to move down the field once more and Brady put the Patriots ahead when he hit Edelman with his fourth TD pass of the game (see below).
I was going out of my head cheering when Edelman scored, but then I saw that there were still 2 minutes on the clock. "Oh crap," I said, "Please don't let them fuck this up!"
And it looked, at first, like the football gods were not listening or simply wanted to torture me and fellow Patriots fans because Seattle started their last drive with a 31 yard pass to Marshawn Lynch. And then came this admittedly spectacular catch by Jermaine Kearse (see below), that had me cursing his name and the Patriots defense.
The ball is on the six yard line and every Pats fan had to think that defeat was about to be snatched from the jaws of victory. Seattle ran the ball with Lynch and he picked up five yards to put the ball at the one yard line with about 40 seconds to go.
Everyone knew what the next play was going to be. It was hand the ball to Lynch and watch him barrel through the defense for the game winning score.
Everone except for the Seattle offensive coordinator it seems. And/or Pete Carroll. (You think Packers coach Mike McCarthy is breathing a sigh of relief now that he isn't the coach that made the worst play calling decision of this year's playoffs?)
What happened has already been tagged as the worst play call in Super Bowl and maybe football history. Seattle threw the ball on second down at the one yard line and an undrafted rookie name Malcolm Butler, who had been victimized two plays before on the Kearse catch, stepped into Patriots lore forever when he jumped the route and intercepted the ball to set off a wild celebration as he clutch the ball and fell down at the one yard line!
Okay, I lost it! I was screaming joy. I know, I know there was still 20 seconds left and anything could happen. But this was freaking awesome! And then the last 20 seconds ticked off the clock and MY New England Patriots were the...
I was screaming in joy, I screamed out the door in celebration and I came back in and whooped it up some more!
Bill Belichick (pictured below) led his team on a focused march from that very bad loss to Kansas City where everyone was jumping off the bandwagon or at the very least questioning just what the hell was going on with the team. Distractions, controversies and what have you...he and the team was on to whatever came next.
Tom Brady (see below) threw for 328 yards and 4 TDs in his 3rd Super Bowl MVP performance. He set a few records along the way as well (I'll let you look those up on your own). He did get sacked twice and had those two INTs but strange how winning cures all ills, isn't it?
It was great to see the players celebrating joyously like Gronkowski (6 catches for 68 yards and that TD) or like Brandown Browner who appeared overcome with emotion.
The defense had their moments to shine in the game besides Butler's INT. Rob Ninkovich (pictured 1st), Darrelle Revis and Chandler Jones (pictured 2nd) all sacked Russell Wilson in the game.
Julian Edelman (below 1st) had 9 catches for 109 yards and the game winning TD while Shane Vereen (pictured 2nd) had 11 catches for 64 yards with each catch seemingly the most important play the Pats needed at a given time.
And while a brawl broke out at the very end of the game, a nice moment of sportsmanship was seen when Richard Sherman and Tom Brady shook hands.
The Sports Illustrated cover for this week:
And of course there was merchandise to buy! The locker room T-shirt was ordered first and then there is a championship jacket that my mom is paying for half of as my birthday present this year.
And while I know that they are going to hate us because they ain't us, I'm going to enjoy this winning feeling. Thank you and good night!
By the way, if you want to check out some fan reactions to the end of the game, check out the video below.
Cleveland Browns - Cleveland has had a really bad week. My friend Chad must be banging his head against the nearest solid surface. First, the NFL suspended Josh Gordon for at least a year for a violation of the substance abuse policy. Then came the news that backup QB Johnny Manziel has entered rehab.
And just yesterday, the news broke on a national level that the team is being investigated for breaking the league's electronic communication policy. According to the story I read, club GM Ray Farmer (pictured below) is the point man and the team could be in big trouble for his texts to the sideline during games.
BOSTON CELTICS
The Celtics have put together a nice little run lately. They picked up three more wins this week after beating the Knicks, Nuggets and Sixers. I know that none of these opponents is all that good, but a win is a win.
Boston beat the Knicks 108-97 after jumping out to a 14-2 lead to start the game. The quick start was attributed to lineup changes made my coach Brad Stevens.
Avery Bradley (pictured below) scored 26 points to lead the Celtics while Jared Sullinger had 22 points, 9 rebounds and 6 assists.
Marcus Smart and Jae Crowder added 13 points apiece and Brandon Bass had 12 points.
On Wednesday, the Celtics built up a nice lead but had to hold off a Denver rally before prevailing 104-100.  Marcus Thornton (pictured below) and Avery Bradley scored 17 points apiece to pace the Celtics offense.
Tyler Zeller (pictured below) and Jae Crowder hit for 14 points each. Jared Sullinger was late to the game and was benched until the start of the 2nd quarter. He still managed to finish with 14 points and 7 boards. Evan Turner finished with 7 points, 8 rebounds and 8 assists.
Friday night saw the Sixers come to town. The Celtics were less than gracious hosts for most of the game and came out with a 107-96 win that improved them to 19-30 on the season.
The Celtics led 60-42 at halftime and built a 70-49 lead to start the second half. But as is usually the case, they ended up playing a bad stretch of basketball (14-16 minutes worth according to post game comments by coach Brad Stevens) and let the Sixers claw all the way back into the game. With about 7 1/2 minutes left in the game, the Sixers were down just 83-80.
However, the Celtics responded, got their offense straightened out and captured the win. Jared Sullinger (pictured below) had 22 points, 8 rebounds and 7 assists (new career high) to lead Boston's 6 players in double figures.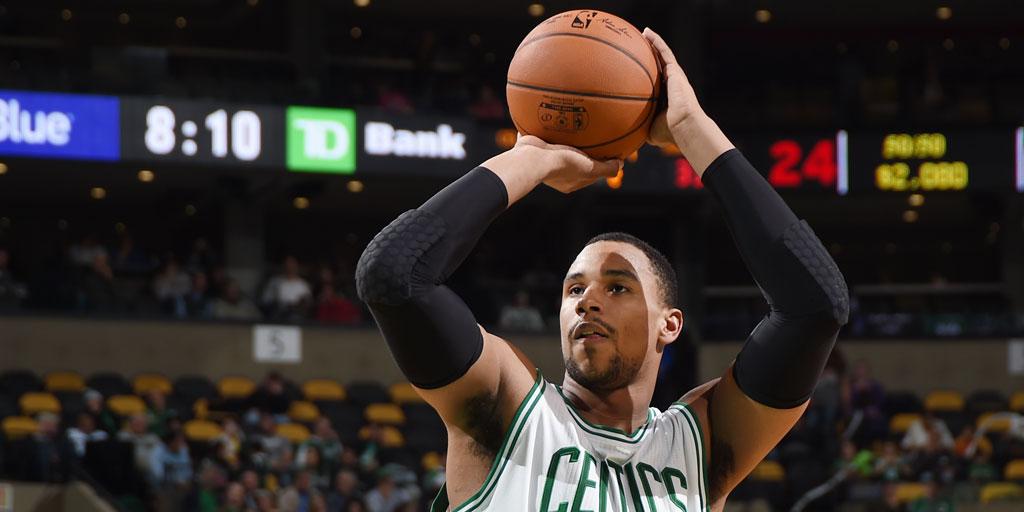 Avery Bradley added 18 points and Tyler Zeller finished with 16 points and 9 rebounds.
On Saturday night, the Celtics saw their three game win streak come to an end with a 96-93 loss to the Milwaukee Bucks. Jared Sullinger (see below) led six Boston players in double figures with 17 points and 7 boards.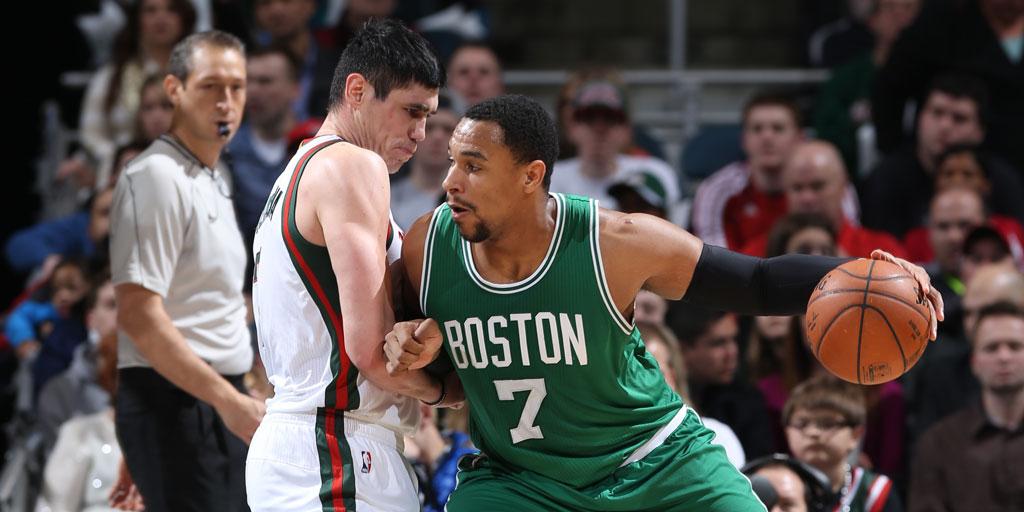 Meanwhile, Evan Turner's stat line looked like the winning combination on a slot machine. He scored 7 points, had 7 rebounds and dished out 7 assists.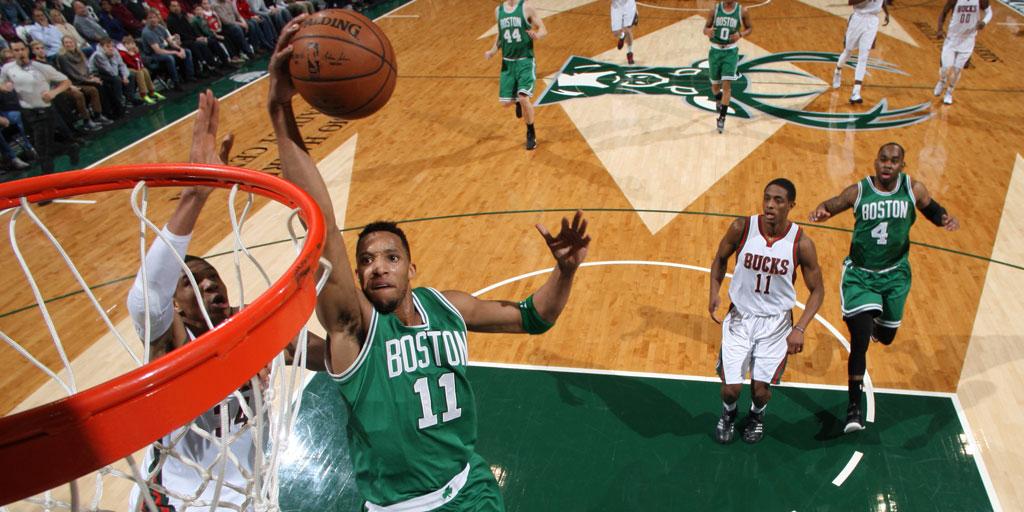 The Celtics finish their week with a 19-31 record.
In other league news, the Orlando Magic fired coach Jacque Vaughn this week. The team was 15-37 this year and Vaughn had a 58-158 record in 2 plus seasons. So arguing for him staying on the job might have presented anyone with some issues to overcome. But I did find it a little strange that the team's GM is staying on in his job despite the fact that he's the one that put the roster together that can't really compete.
WNBA
The WNBA season got a rather sizeable shakeup months before it even starts. Earlier this week, Phoenix Mercury star Diana Taurasi announced she is skipping the upcoming season in order to rest. This is being done at the behest of her Russian team. And making the story even more interesting is that the Russian club is going to be paying her to take the summer off. You can read more HERE.
COLLEGE BASKETBALL
Catholic University - The Cardinals lost to Elizabethtown 63-58 on Wednesday night. They rebounded from that loss to beat Drew 60-52 on Saturday afternoon. They are now 15-7 overall and 9-4 in Landmark conference play. Amber didn't see any action in either game.
Boston College Men - Olivier Hanlan (seen below) had a 28 point scoring performance against Notre Dame this week but it went for naught as the Fighting Irish, ranked 10th in the country, came out on top 71-63.
Aaron Brown (pictured below) chipped in 13 points and 8 rebounds while Dennis Clifford added 6 points and 7 boards.
On Saturday, BC was tied with North Carolina at halftime but the Tar Heels took over in the 2nd half and won 79-68. The loss drops the Eagles to 9-13, with a 1-9 conference record.
Olivier Hanlan (shown below 1st) scored a season high 30 points (with a team high 5 turnovers). Aaron Brown (shown 2nd) added 18 points and 6 rebounds.
You can see highlights of the game below.
Hartford - The Hawks got a late basket from Deanna Mayza and two foul shots from Amber Bepko to hold off Binghamton 51-46 and raise their record to 14-12 (7-3 in America East play). Bepko finished the game with 18 points and 6 boards. Cherelle Moore scored 13 points and grabbed a team high 8 rebounds
Mayza scored just 5 points including that late score which helped to offset her seven (of the team's 19 for the game) turnovers.
Boston College Women - The Eagles hosted Clemson on Thursday night and it was a big night for members of the freshman class. Ashley Kelsick, Katie Quandt (#42 pictured below 1st) and Martina Mosetti each scored 14 points to lead the Eagles to a 68-53 victory, their second (2-7) ACC win of the season. Overall, Boston College is now 10-12. Kelsick added 6 rebounds and 4 assists and Quandt had 4 rebounds. Mosetti (pictured below 2nd) had 5 rebounds and tied her career high of 7 assists.
Emilee Daley (shown below 1st) scored 13 points and grabbed a career high 9 rebounds while Nicole Boudreau (pictured 2nd) tallied 11 points.
You can check out highlights of the game and then the post game press conference with Coach Erik Johnson and Martina Mosetti below.
HIGH SCHOOL BASKETBALL
Upper Cape Girls Varsity - Michaela scored 6 points in Upper Cape's 51-36 victory over Blue Hills on Wednesay night. It was their first game Rams after 10 days off due to winter snowstorms.
But things seemed to catch up to the Rams when they played a makeup game against Sacred Heart on Thursday night. They hadn't been able to practice for two weeks and when you factor in that Sacred Heart played Upper Cape very tight the first time around, one of the only teams that have remotely challenged the Rams all season, the result wasn't all that much of a surprise. This time around, the Saints got a 20 point performance from one of their players and took advantage of Upper Cape's complete lack of offensive cohesion. The final score was 38-23 in favor of Sacred Heart, the lowest point total for Upper Cape this season.
On Friday night, their offense struggled in the first half and they led by just two points at the break. But they got going in the second half and beat Norfolk Aggie 54-34. Michaela didn't score in the game as Upper Cape raised their record to 14-1. They remain a perfect 6-0 in conference play.
Bishop Stang Boys Varsity - The Spartans dropped their game against Bishop Feehan 70-58 despite a season high 19 points from Jake.
Stang routed Coyle-Cassidy on Friday night 84-44. The win raises their record to 9-6 (4-3 in conference) and leaves them one win short of qualifying for the state tournament. Jake had 11 points in the game.
Wareham Boys Varsity - My ex-player Mark scored 9 points as the Vikings knocked off Cardinal Spellman 81-62.
On Friday night, Wareham had a rematch against Bourne. The Canalmen had beaten Wareham earlier in the season, a loss that will likely cost Wareham a chance to extend their conference championship streak. The Vikings worked up a nice lead but saw it disappear with a late Bourne rally and the game went to overtime. One of Wareham's players (not one of mine) had a huge night offensively. Andy finished with 42 points (including 22 made foul shots).  He shined brightest in the overtime period as Wareham took the game 84-78. The win leaves them at 14-3 (10-2 in conference). Josh had 2 points in the game.
Bristol-Plymouth Girls Varsity - B-P had three games this week. They started off with a 43-37 loss to Old Colony. Savahna hit two foul shots in the game. On Wednesday night, they destroyed South Shore Voc-Tech 43-16. Savahna told me that she had a bunch of rebounds in the game.
On Friday, I was supposed to go see Savahna play against Tri-County Voc-Tech, but I ended up missing the game because of car trouble. In a way, it was a good thing that I wasn't able to go because B-P got whipped 46-20. If the loss itself wasn't bad enough, the win gave Tri-County the conference championship. B-P's offense was nearly non-existent in the second half with the team managing just 5 points.
On Saturday, they had a game against West Bridgewater and lost 54-30.
Wareham Girls Varsity - The Vikings knocked off Bourne 44-26 this week to raise their record to 11-7 (8-4 in conference). Tieyanna and Gabby (#10 in blue below from an earlier game this season) scored 6 points apiece in the game. Erica added 3 points. The team has spent the second half looking completely different from how they started out the season. You can read more about the changes that have come over the course of the season HERE.
Sturgis East Girls Varsity - It was an eventful week for the Storm. They had 2 games to play and they had to do it while adjusting to a coaching change. The head coach of the team resigned for personal reasons and the assistant coach was handed the interim tag.
The first game was against Sturgis West and the East team came out with a 35-30 victory. Isabella didn't score in the game but she did make an appearance in four of the Cape Cod Times online picture gallery photos that went with the game. She's just a cameo player in three of the photos but the one below is of her making a play for a loose ball. She's in the white uniform with her face obscured by her arm.
On Saturday, the team played St. John Paul II and got stomped 50-20. The loss left them at 4-8 overall and 2-6 in conference play. The one positive note from this loss comes on an individual level for Isabella. She led the team in scoring with 9 points. I'm not positive, but I'm pretty sure that's the first time she has topped the scoring chart for her team.
MISCELLANEOUS SPORTS ARTICLES OF THE WEEK
I originally read this article in the print edition of Sports Illustrated a couple weeks back. The magazine's website just posted it online on Friday Feb. 6th. The article is an in-depth feature on former Yale swimmer Tony Blake that made for some fascinating reading. Here's the link.
MISCELLANEOUS
Books - I finished reading the Robert K. Lewis mystery Untold Damage this week. It is the debut novel from the author and (obviously) first in his Mark Mallen series.
The opening line of the book is "Mallen woke up with the needle still in his arm". It was a very effective way to grab the reader's attention and send them on a pretty interesting journey. The book did move a little slow at times but it was a pretty good read.
I sent a tweet out to the author (who responded) and the publisher (who retweeted it) and I'm looking forward to reading the second book in the series. The author said the second book is the Empire Strikes Back to the first book being Star Wars.
TV - Just another reminder that the second half of The Walking Dead season premieres tonight at 9pm EST on AMC.
Here's the Pop-topia recaps of the latest new episodes of The Flash - "Crazy For You" and Arrow - "Uprising".
If you watch the HBO series Game of Thrones, you are familiar with the guy who plays the character called "The Mountain". He's a huge guy and apparently takes part in European strongman competitions. Recently it was reported that he broke a 1,000 year old Viking strength record. You can read about it HERE.
Netflix will premiere the entire 13 episode first season of Marvel's Daredevil series on April 10th. You can check out the show's 90 second trailer below.
Music - Jack Russell's Great White (another band with two groups using some variation of the name) has released a new single called "Hard Habit" You can check out the lyric video for the song below.
I have to say that I was pretty surprised to find myself enjoying the song.
The band Toto has a new album coming out March 24th and they have released a video for the new song "Orphan". I enjoyed this one as well.
And the new band Revolution Saints has released a third song from their upcoming debut album. The song is called "Back on My Trail" and once again, I liked the song.