"You never know what you're gonna get."
We sit down to watch...
We go and attend...
It could be a typical game...
Or an atypical game...
We watch because we love it...
We go to be entertained...
Sometimes we don't have a rooting interest...
Just sit back and watch...
Other times we are screaming our lungs out...
Or shaking our heads in frustration or disbelief...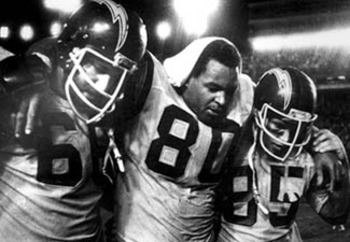 Kellen Winslow...
Need I say more???
The man was a warrior...
Look it up...
I have never seen an individual effort like that day in Miami...
A treasured moment...
Those don't go away...
And what is it about Miami???
Ohio State's Braxton Miller in the Orange Bowl... 
Now let's get this straight...
I have ALWAYS hated Ohio State...
That is your fault, Woody Hayes...
I NEVER root for the Buckeyes...
Even when I pick them to win as I did versus Clemson...
But something happened that night...
Braxton Miller made a fan out of me...
A Braxton Miller fan, mind you...
Not a Buckeye fan...
If you didn't see the game, shame on you...
I know...
The BCS idiots lined up the Orange & Cotton Bowls...
Simultaneously...
What up with that...
I didn't even get the full affect...
Both outstanding games nonetheless...
But Braxton Miller had the memorable performance of the bowl season...
He was stellar...
-----------
High school sports has its moments as well...
I've seen a few dandies over the years...
This year I have a little more time on my hands after school...
So I've decided to adopt our boys' basketball team...
The Bell Gardens Lancers...
The players really appreciate it when teachers attend the games...
They even gave me a "Lancers Basketball" t-shirt...
I wear it proudly...
This year we had the pleasure of hosting a team from Australia...
They grow 'em tall in Australia...
Our boys are always out-heighted...
But we have a distinct advantage in the heart department...
Jose Mata, our 5-4 point guard launched a whirling dervish of a lay up...
Over the outstretched arms of the 6-6 Australian...
At the buzzer to win the game...
We went nuts...
And if that wasn't good enough...
Tuesday night was one of those treasured moments...
The 11-6 Lancers hosting 4-12 Alhambra...
Basketball is a game of heart...
And Alhambra had the heart to win...
We were far from our best...
The Moors had us by 15 with 6:30 left in the game...
Oh well...
We'll get 'em next time...
NOT!!!
The shots weren't falling...
Freddy "En Fuego" Herrera, our super scorer, had an off night...
He couldn't buy a bucket...
Alhambra's star player had 35...
So Coach Cuevas had the boys turn up the heat defensively...
And the game made a U-turn...
The suffocating defense provided a jump start for the offense...
Guard Alan Villamar had the hot shooting hand...
Nailing one of his threes from 35 feet...
No kidding...
The Lancera actually procured the lead...
But Alhambra battled back...
And the game was tied at the end of regulation... 
Mata fouled out...
Starting forward Bryan Vidal was out with a sprained ankle...
And Alhambra got the early lead in overtime with a three...
With one minute left, the Moors had a five point lead...
Oh well...
But the Lancers scored four unanswered points and were down by one...
Thirteen seconds left...
And that Alhambra kid at the free throw line for two...
He had only missed one all night...
But the pressure was too much and he missed both...
Lancers with the rebound...
And Freddy redeems himself...
Going coast-to-coast and laying it in with seven seconds left...
Alhambra's desparate attempt fails...
LANCERS WIN, 70-69!!!
The most exciting basketball game I have ever attended...
Way to go, Bell Gardens...
They say, "You can't teach height."
But you can have that height if you ask me..
I'd rather watch a team with heart anyways...
And the Lancers definitely have lots of heart...
dvt
http://4.bp.blogspot.com/-vZmJt70pM3s/Tzvy3GKn68I/AAAAAAAAEtg/xrEn4ASQQTA/s1600/valentine_chocolates9_4674.jpg
http://cdn.bleacherreport.net/images_root/slides/photos/001/578/236/winslow_wk12_display_image.jpg?1321883912
https://www.toledoblade.com/image/2014/01/09/800x_b1_cCM_z/Orange-Bowl-Football-1.jpg
https://scontent-b-lax.xx.fbcdn.net/hphotos-ash3/t1/1511530_10201485527796143_1062309588_n.jpg