While planning my travels for next week's high school basketball tournament games...
And don't forget, I'm on Twitter now: @TheOneTrueJay
YOUTH SPORTS
Big Mack and Darrin's Lynx team was in the youth league championship game today. It was the fourth straight title game appearance for the coaches. And after three losses, their team brought it home. The Lynx defeated the Fire 28-22. So a hearty congratulations goes out to two very deserving coaches!
There were two players on the team that I care about despite not being a coach anymore. The first was Emma. I coached her older sister Megan a number of years ago and have remained friends with their mom Michelle. This was her third appearance in a title game, but her first win. So Emma (pictured below) and her sister are now on equal footing as far as championship bragging rights! Congrats Emma!
As for Gabby, what can I say? She's a favorite of mine so I make it a point to go to some of her games to root her on, though not the youth league ones. She played JV for Wareham High this season as an 8th grader and adjusted rather well, scoring 177 points during that team's season.
But Gabby (pictured below) wanted a youth league title in the worst way. She'd never won before and this was her last chance. And what a way to go out. Though there was no official award, she was the game's MVP. She dominated the game and willed her team to the win scoring 24 of the 28 points. This was her "in the zone" moment!
I'm so extremely proud of her and glad that while I couldn't see her play today, that I have four more years to watch her be great in high school.
Her trophy moment (she's on the far right):
And here's a look at the Champion Lynx team in full.
(photos by Michelle F. (Emma's proud as punch mom), used by permission)
HIGH SCHOOL SPORTS
Some quick notes:
Wareham Girls Track - The winter track season came to an end for Paige in the MIAA Division 4 Championships. Paige (pictured below in blue, photos by Wareham Courier's Adam Ellis)has battled a knee injury through most of the season and it made this winter season a bit of a tough road to hoe. She finished 20th in the 1000 meters with a time of 3:21.86.
Miscellaneous - There was an article in yesterday's paper on the shrinking attendance numbers at the area high school basketball games. It mostly focused on the boys games but there was a brief mention of one of the girls programs as well. I'd hazard a guess that the girls got short shrift in the article because their attendance figures are almost uniformly awful to begin with. You can check out the article here (and a photo of my ex-player Latroy from earlier in the season is below): http://www.southcoasttoday.com/apps/pbcs.dll/article?AID=/20140221/SPORTS02/402210335
Don't forget to check out my most recent Talking High School Hoops blog entry here: http://www.t-s-b-n.com/pt/Talking-High-School-Hoops-2013-2014-Part-21.2-20-2014/blog.htm
Bristol-Plymouth Girls Varsity Basketball - On Senior Night, the B-P girls managed just 1 point in the fourth quarter and lost to Middleboro 34-21. The more interesting part of the whole game was when the lead ref threatened to toss out the crowd for the last 6 minutes of the game. And it was a well earned threat because the fans were an embarrassment.
You know that saying "Better to be silent and thought a fool, than to open your mouth and remove all doubt"? Well, some of the B-P "fans" removed the doubt and showed a stunning lack of the basic understanding of what is and is not a foul. Did the refs miss some calls...sure. But the ones that brought the loudest and most ignorant catcalls from the morons in the stands, the refs actually got right.
Savahna saw some time in the game but not as much as when I saw her play on the road at Upper Cape. She forced a jump ball but otherwise didn't make a dent in the stat line. And she did a rather remarkable job singing the national anthem before the game. The girl has got a voice.
Upper Cape Girls Varsity Basketball - As you may have read in my blog post from Friday night, the UCT girls pulled off a stunner when they upset #1 seeded and previously undefeated Blue Hills to win the State Vocational school championship. My former player Michaela (who was part of all three girls teams I coached that won titles) played a huge role in the game, scoring 9 points, as the Lady Rams won 55-49. You can read all about The Big Damn Heroes here: http://www.t-s-b-n.com/pt/THE-BIG-DAMN-HEROES.2-21-2014/blog.htm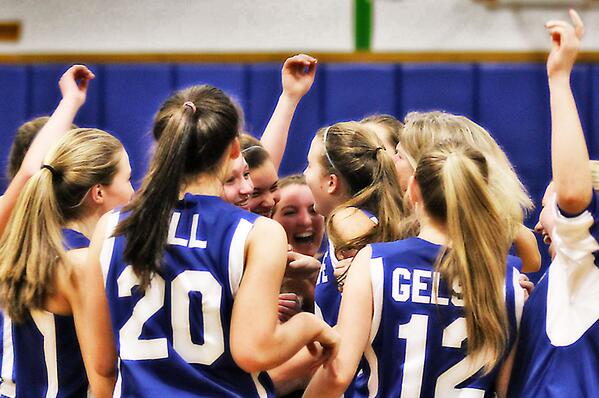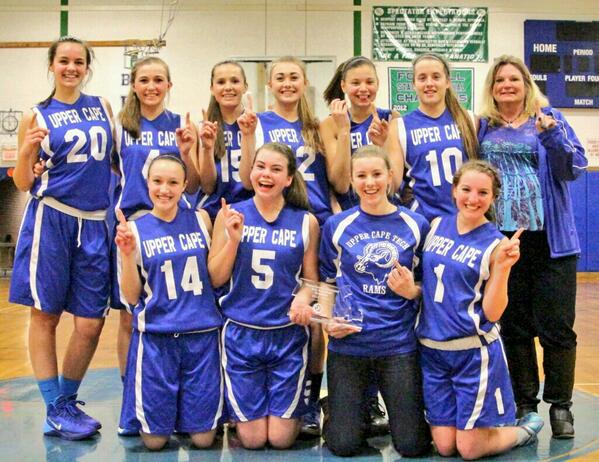 (photos by Wareham Courier's Adam Ellis)
As for the "regular" state tournament, five of the basketball teams I follow made the cut. The brackets were released yesterday afternoon so here's a rundown of where they'll be.
ORR Boys - Thanks to winning a coin flip, the Bulldogs are the #1 seed in Division 3 South. They get a first round bye. Their second round game will be at home against the winner of the GNB Voc-Tech/Burke game this coming Thursday. And if the unlikely but possible were to happen, ORR would face off with Wareham in the South Sectional final should both teams get that far.
Wareham Boys - Wareham got the #6 seed in Division 3 South and will play at home this coming Tuesday against East Bridgewater.
Upper Cape Boys - In Division 4 South, the Rams are the 11th seed. They will go on the road this coming Tuesday for their first round game against Bristol-Plymouth, a team they've already lost to twice.
Wareham Girls - The girls picked up the #7 seed in Division 3 South. They will play at home on Wednesday against Ursuline, who beat them last year in the playoffs. If they win that game, they'd go on the road to face the 19-3 Abington team who got a first round bye.
Upper Cape Girls - The Lady Rams are the #3 seed in Division 4 South. They get a first round bye (Division 4 features less teams, so more get those technical first round byes). They will play the winner of Nantucket/Sacred Heart on Friday February 28th.
Their potential second round matchup would be against West Bridgewater. That's assuming (and you know what that usually means) the 20-0 West Bridgewater team beats their second round opponent (Bristol Aggie or Westport).
BOSTON RED SOX
With spring training underway, there's been a marked increase in the news coming out of the Red Sox clubhouse these days.
The first story was pitcher Ryan Dempster announcing he is taking the year off. He's played for 16 years and this could likely be the end for him. He's giving up 13 million bucks in doing so. And thankfully, he's doing things in a manner that will not remind people of how former Boston Bruin Tim Thomas went about taking time off. You can read the article here: http://sportsillustrated.cnn.com/mlb/news/20140216/ryan-dempster-will-not-pitch-in-2014-boston-red-sox.ap/
Also, Jon Lester again let everyone know that he's perfectly willing to take the "hometown discount" to sign a contract with the Red Sox that would keep him in Boston for the rest of his career.
And while most people are sick of hearing David Ortiz complain about his contract, Big Papi is tired of hearing people complain about him wanting to have a contract. And he's made some good points while doing so. It is a little tiring for this contract thing to be a yearly event, but he's backed up things by earning what he's been paid all the time. And by baseball economics, he's been wildly underpaid while doing so.
Something to remember about this latest round is that Ortiz answered a direct question when asked about his contract status. You can read more here: http://tracking.si.com/2014/02/18/red-sox-david-ortiz-rips-critics/
NEW ENGLAND PATRIOTS
If it is true that cats have nine lives, how many do football front office guys have? The Patriots officially announced the hiring of Michael Lombardi as "assistant to the coaching staff".
Not a bad landing for a guy who was essentially fired as GM of the Cleveland Browns after only a year on the job. Now, given that Cleveland is a cesspool of incompetence from the ownership on down, getting out of town quickly may not be a bad thing.
Still, going from Cleveland to New England must be like a dream for Lombardi. When Belichick was the Browns head coach years ago, Lombardi was there.
I read Lombardi's articles when he was writing for the National Football Post website and he seemed to be pretty knowledgeable about what he wrote, but putting that knowledge to practice hasn't been all that great for him as of late.
His exact duties are unclear but I would hope that he can indeed be a positive to the organization.
MISCELLANEOUS SPORTS ARTICLES
Baseball - Dusty Baker is out of the game for now and SI.com had a good article on what he's doing now that he's out of uniform. I like the guy, he was one of my favorite players back in the day so I'd love to see him get another shot at managing. You can check out the article here: http://sportsillustrated.cnn.com/mlb/news/20140218/dusty-baker-reds-managing/index.html
College Basketball - As the college season winds down, firings are getting underway. After making a brief NCAA tournament appearance two years ago, the Lamar University men's team led by Pat Knight has fallen completely off the radar. The school had seen enough and fired Knight this past week with Lamar at 3-22 overall. You can read more here: http://tracking.si.com/2014/02/16/pat-knight-fired-by-lamar-university/
And for those following former UCLA basketball player Ed O'Bannon's lawsuit that could fundamentally change the landscape of college sports, the news this week was the judge in the case allowing the suit to proceed to trial. Details: http://sportsillustrated.cnn.com/college-football/news/20140220/ed-obannon-lawsuit-proceeds-to-trial/
College Football - Wyoming isn't exactly what you call "big-time" football, but with the hiring of new coach Craig Bohl (from FCS school North Dakota State, where he won three straight titles), the Cowboys are looking to make a move towards national prominence. Sports Illustrated's Lindsay Schnell (who has written some good pieces in the last couple of weeks) gives a look at the beginnings of Bohl's new job here: http://sportsillustrated.cnn.com/college-football/news/20140220/craig-bohl-wyoming-cowboys/index.html
BOSTON CELTICS
After the break due to the All-Star Game, the Celtics got back in action on Wednesday night. They ended up dropping a game to the Phoenix Suns 100-94. Brandon Bass had 18 points and 8 boards in the game while Rajon Rondo had 18 points and 10 assists.
Jeff Green scored 17 points and Jared Sullinger added 11 points and 8 boards.
More important to the team and its followers was the NBA's trade deadline. The Celtics were thought to be a player in the market but it turns out that GM Danny Ainge ended up sitting this one out. While Bass, Green and Rondo figured prominently in the myriad of swirling trade rumors, the Celtics ended up not making a move of any kind.
Whether there wasn't a satisfactory deal out there that Ainge wanted to pull the trigger on or perhaps as some have suggest online that Ainge priced himself out of trades, the roster the Celtics had for the Phoenix game is the roster they have now.
For those of us who aren't in favor of losing on purpose no matter how covertly you try to do it, I guess this could be seen as a good thing. That the Celtics will actually try to win games. They may not end up doing so, but the effort will be there at least.
For those who want to lose to get Jabari Parker, they are probably sticking pins in a Danny Ainge voodoo doll about now.
The challenge now for Ainge will be to figure out how to work with the roster he has, still be bad and then work some magic before draft day to unload a mixture of players and some of the bevy of draft picks he has to play with and get that top pick.
As for on the court results, the Celtics faced off with the Lakers last night and dropped to 19-37 with their 101-92 loss.
Jeff Green scored 21 points to lead the Celtics while Brandon Bass put up 20 points and 8 rebounds. Sullinger had a double double with 12 points and 12 boards. Gerald Wallace also poured in a dozen points while Rondo dished out 11 assists.
It's always tough to swallow a loss, but at least you know the team is actually busting their butts under coach Brad Stevens. He won't win it, but despite a losing record, what he's done so far with Boston under less than ideal circumstances and a roster that could change at any minute, I would think he has to be a candidate for NBA coach of the year. I don't think anyone expected to see the Celtics with 19 wins at the end of the season, much less right now.
WOMEN'S COLLEGE BASKETBALL
Tennesee - The Lady Vols got stunned by #18 Kentucky to start their week. The Wildcats knocked off Tennessee in Knoxville 75-71. 22 turnovers by the Lady Vols didn't help as Kentucky won for the first time in Knoxville since 1985.
Bashaara Graves had 20 points and 7 boards to lead Tennessee while Isabelle Harrison (pictured below) scored 20 points of her own to go with 16 boards. Meighan Simmons finished with 13 points.
Tennessee rebounded quickly though and crushed Auburn 93-63. Simmons (pictured below) had 26 points in the game. Cierra Burdick added 17 points and 9 boards and Andraya Carter scored 12 points. Isabelle Harrison had another double double with 10 points and 11 rebounds.
Hartford - The Hawks ended up losing to New Hampshire to start their week. The 76-71 overtime loss saw Amber Bepko and Morgan Lumb lead the team with 16 points apiece. Milana Gilbert had 11 points and Cherelle Moore scored 10 points and grabbed 10 rebounds.
Hartford went on to beat UMass-Lowell 80-64. Bepko again led the way, scoring 18 points and grabbing 7 rebounds.
Rebounding was a big key to the win as the Hawks had a 54-36 edge in that statistical department.
Alyssa Englert added 14 points, 6 rebounds and 5 assists while both Shanise Bultron and Morgan Lumb scored 11 points. Alyssa Reaves had 10 points and 8 boards. And Cherelle Moore led the team with 9 boards (to go with 5 points and 6 assists.)
You can see highlights and the post game press conference below.
On Saturday, the Hawks cruised to an 80-64 win over UMBC. They hit a school record 16 three pointers and Amber Bepko (pictured below) was the star of the game. She hit an individual school record 7 three pointers on the way to a career high 25 points.
The Hawks improved to 11-16 (8-6 in the America East Conference) with help from Shanise Bultron (18 points), Morgan Lumb (12 points), Cherelle Moore (10 points, 8 boards) and Alyssa Reaves (6 points, 11 boards).
Missouri State - It was a tough week for the Lady Bears. They lost to Drake 79-69 despite a combined 36 points and 13 rebounds from Tyonna and Bry Snow. MSU had no answer to stopping Drake's Kyndal Clark who finished with 38 points, 8 rebounds and 5 assists.
It got worse on Friday night as Indiana State's defense just suffocated the Bears offense and crushed Missouri State 73-37. Tyonna Snow led the team with just 8 points as the Bears were held to season lows in nearly every statistical category.
They are now 12-13 on the season with a 7-7 conference record (4th place).
By the way, you can learn more about the Snow sisters via the following article: http://www.news-leader.com/apps/pbcs.dll/article?AID=2014302210059&gcheck=1&nclick_check=1
BOSTON COLLEGE BASKETBALL
Men - It has been a long tough road for the Eagles this season and it continued earlier in the week as they lost another close game to Notre Dame last Sunday night. The 73-69 loss saw Olivier Hanlan score 18 points and Joe Rahon add 13. Ryan Anderson had 11 points and 11 boards.
Earlier in the day, the women's team paid tribute to the passing of longtime BC assistant sports information director Dick Kelley. The men's team did so as well.
They also went to the funeral on Tuesday and it was a pretty emotional time for all who knew the beloved Kelley.
And perhaps as it was played up, his death inspired the Eagles. But whatever it was, the Eagles soared when they went into their game against #1 ranked and undefeated Syracuse.
They had no chance in the game, they stunk and Syracuse was awesome. Or so that's how the script was supposed to go. Instead, led by 20 points from Olivier Hanlan (pictured below), the script got a dramatic rewrite and the Eagles stunned EVERYONE and knocked off Syracuse in overtime 62-59! HELL YEAH!
Lonnie Jackson scored 10 points and Ryan Anderson added 9 points and 14 rebounds to get the celebration (pictured below) underway.
He's been embattled because the Eagles haven't really risen to the occasion for most of his tenure but for one night at least, coach Steve Donahue (pictured below) was the man of the figurative hour.
Of course on Saturday, the hangover effect kicked in with a major beatdown for the Eagles at the hands of Miami. Patrick Heckmann scored 15 points for Boston College but it was the Hurricanes day as they rolled to a 69-42 victory.
Olivier Hanlan was the only other Eagle in double figures as they dropped to 7-20 (3-11 ACC).
Women - Last Sunday, I attended the BC women's game vs. Syracuse. And it was ugly. Despite a career high 13 points from Emilee Daley (pictured below), Syracuse annihilated BC. You can read my game report here: http://www.t-s-b-n.com/pt/Boston-College-Womens-Basketball-Game-Report-2-16-14/blog.htm
(photo by BC photographer John Quackenbos)
You can see the postgame press conference with coach Erik Johnson below.
On Thursday, the women's team traveled to play Clemson. Kristen Doherty was back in the lineup after missing a number of games due to injury but her return didn't change the final result as the Eagles lost 72-67. They are now 12-16 with a 3-11 ACC mark.
Nicole Boudreau (pictured below) had a career high 25 points to lead BC, including a career high 7 three pointers. Katie Zenevitch added 19 points and 10 rebounds.
By the way, don't forget to check out this week's ACC Women's Basketball Digest: http://www.accwbbdigest.com/1314/1402201-digest-feb-20-2014-vol3-no15.php
OLYMPICS
As I've said to others, the main interest for me in the winter Olympics has been the hockey. And the US teams were doing amazing in the early games.
The U.S. women made it to the gold medal game and were 3:36 away from capturing gold when they fell apart giving up 2 goals to arch rival Canada and then getting beaten in OT.
But blowing a game like they did is a bit easier to take because they were playing hard. Sure you wonder how they could give the game away so quickly like they did, but these things happen.
MISCELLANEOUS
Movies - The first official trailer for the Guardians of the Galaxy movie was premiered on the Jimmy Kimmel Live show this past week. You can check it out below.
And if you wanted to know what the movie Pompeii was like, you can check out my buddy J.D.'s review here: http://www.pop-topia.com/pompeii-delivers-end-world-action/
And you can check out this rather hilarious "Honest Trailer" for the movie Gravity.
TV - HBO has released the second promo trailer for the upcoming season of Game of Thrones.
Music - I picked up the new Adrenaline Mob CD Men of Honor and will hopefully, eventually get around to doing a review of it.
And when I went to pick up that CD, I ended up finding a surprise in the newly released Lone Justice CD This Is Lone Justice - The Vaught Tapes, 1983.
I'm a huge fan of the band, and singer Maria McKee in particular and this release captures (via recorded direct to 2-track tape with no overdubs) the set list that Lone Justice was packing L.A. Clubs with in 1983. Nine of the tracks are previously unissued.
See why I love going to record stores? I would never have known this CD was out if not for actually going to buy my music in the old fashioned brick and mortar storefront!
Books - Want a good police procedural book to read? Check out the Joe Gunther series by Archer Mayor. I'm just about done with his latest Three Can Keep A Secret and it has been yet another fantastic read by an author who I've met and does a marvelous job keeping me entertained throughout his books. Check him out at http://www.archermayor.com
I also picked up a couple of new books this week. There was a new Star Trek novel published. It is set during the Original Series time but author Greg Cox features a time travel crossover that has Seven of Nine from the Voyager series going back in time and meeting up with Captain Kirk. The book is called No Time Like The Past. I don't usually get the Original Series novels, but this one looked too good that I just couldn't pass it up.
The other novel is the new Tiger & Del book by fantasy author Jennifer Roberson. Set years after the original series run, Sword-Bound finds enemies from the past tracking down the pair for past transgressions. The original books were simply outstanding and when I saw that Roberson was doing another book (one more is planned as well), I knew I had to pick it up.
Other writing - My buddy J.D. has another in his "The Variety Pack" series of food and drink reviews. You can check it out here: http://www.pop-topia.com/variety-pack-02-chocolate-overload/
Smartest Girl Scout Ever? - You see them selling those precious boxes of Thin Mints and the other flavors everywhere these days. But one enterprising girl really understands the mantra of "Location Location Location". She took her cookies to the best place to market them. A pot clinic! Read the story here: http://www.mercurynews.com/breaking-news/ci_25191695/savvy-girl-scout-is-selling-cookies-at-cannabis