While trying to catch up on my magazine reading...
COMEBACK SUNDAY
For Boston area sports fans, last Sunday was one hell of a day. It ended up being called Miracle Sunday and Comeback Sunday, but whatever the name you choose to call it, thanks to two stunning comebacks, it was truly a fun day!
The day started off with the afternoon late game matchup of the Patriots hosting the Saints.
Now I'm not suggesting anyone out there reading this doesn't already know what happened given the ad nauseum talk and replay of the days events, but it does feel good to write about it even a week after the events.
I was a bit depressed by all the fans leaving the stadium when all appeared lost after the Tom Brady interception. However, I can understand the desire to get a jump on traffic. I haven't ever been to Foxboro for a Pats game (I haven't hit the lottery as you might've guessed.) But I've heard the horror stories of the traffic on Route 1 after the game lets out.
Of course, I'm feeling slightly superior to those fans who left though. See, when Brady threw that pick, I too felt the game was over. But unlike those who bolted for the exits, I kept the TV channel right where it was. And my reward for staying with the game to what was looking to be "the bitter end" was seeing Brady getting a third "last chance opportunity" and hitting Kenbrell Thompkins with 5 seconds left for the winning touchdown.
It was a hell of a pass and Thompkins displaying good hands and the presence of mind to get both feet down in bounds had fans everywhere cheering his name instead of cursing it as has been the case in weeks past.
Of course nothing is perfect and the Patriots lost three players to injury during the course of the game. Jerod Mayo is out for the season, while Danny Amendola got knocked out and Dan Connolly got a head injury as well. The continuing pile up of injuries keeps the chorus of talking heads talking about when the personnel losses will finally come back to kill the Patriots chances to win, but all that didn't matter at this moment in the game:
The capper to the Patriots game was Bill Belichick's quote to start the postgame press conference: "Well, I'm sorry you had to rewrite some of those [game] stories at the end."
After taking a break from sports to do watch other things on TV, I caught Game 2 of the ALCS with the Red Sox and Tigers. After getting shut down in Game 1 by Tigers pitching, I don't think the Sox or their fans figured to see it happen again in Game 2. And that's still taking into account that Max Scherzer was starting the second game.
But that is what happened as the Boston lineup could hardly get anything going against Detroit once again.
That is of course until the 8th inning when David Ortiz once again earned that unofficial but entirely accurate title of "best clutch hitter in baseball". When that first pitch to Ortiz got swatted into the Red Sox bullpen for a game tying grand slam, the sleepy Fenway Park crowd (and yours truly) went absolutely barking stars!
That crazy fervor went up even more when Boston nailed a walk off single to win Game 2 6-5 and salvage a split of the two games in Boston. They needed to do that after dropping Game 1, because if they'd gone to Detroit down 0-2, I really think the tone of the series would've been such that the only way Boston would be heading back to Fenway would be to clean out their lockers.
I'll tell you though, watching Big Papi swing the stick and tag that ball was beautiful, don't you think?
As for the rest of the ALCS, you can imagine how great it was to see the Red Sox take the first game in Detroit in a 1-0 classic performance. It is going to cost a lot of money if Boston hopes to keep Mike Napoli next season. His homer and an amazing performance from starter John Lackey in outdueling Justin Verlander had the tense fingernail biting game keeping everyone glued to every pitch.
Then there was the big win for the Tigers in Game 4. The less said about that the better for Red Sox fans. But the Tigers did a hell of a job getting to Jake Peavy for 5 runs to quickly take control of the game.
And then Game 5 saw the Red Sox solve Anibal Sanchez early and hang on to win 4-3 to head back to Boston with a 3-2 lead.
As you might imagine, I was writing this piece up ahead of time so there wasn't time to include my thoughts about Game 6. When I stopped writing, it was 2-1 Tigers heading into the 7th inning. I was swearing quite vociferously at the TV / Red Sox. I was cursing the lineage of whatshisname who walked the bases loaded, cursing Brandon Workman for dropping the ball when he tried to bare hand it to make a play and I was cursing every one on the Tigers for not laying down and dying so MY Red Sox could win the game.
And in the bottom of the 7th inning, I was screaming in joy as the Red Sox worked the bases loaded. And then came The Flyin' Hawaiian!
Not bad for a guy that everyone (including me) thought was done after his season last year in L.A. But instead he served as a catalyst to change the culture in the clubhouse and now has hit one of the most important home runs in Boston Red Sox history.
And don't let us forget the shutdown relief pitching we are getting from Craig Breslow, Junichi Tazawa and the lights out Koji Uehara. Those guys have been awesome and it showed again last night.
I am by no means getting ahead of things, but this team reminds me of the loose yet intense guys we saw back in 2004. The games are on the edge of your seat nail biters filled with huge and timely plays at the plate and in the field.
The Red Sox are in the World Series. Somehow, the world seems a little brighter this Sunday morning.
COLLEGE FOOTBALL
I was out running errands during the early part of the first games yesterday. But I stopped in at the 99 restaurant to have some lunch and saw some of the South Carolina-Tennessee game. Tennessee led 3-0 when I left but I've been saying that they stink, even after giving Georgia all they could handle two weeks ago. But once I got home, I watched the rest of the game as the Volunteers got their first "signature" win under Butch Jones and pulled the 23-21 upset on a field goal as time expired.
You gotta give Tennessee credit, they really busted their butts today and with an assist by some stupid decisions by Gamecocks coach Steve Spurrier, got the big win. Of course I can be momentarily happy for them to get the monkey off their back. But next week they play Alabama and I'll be rooting for them to stink all over again.
One game that is making all sorts of news this week is one that ended up not being played. The situation at Grambling State has reached epically bad proportions. Earlier in the week, players boycotted a practice after they'd walked out of a meeting with the school administration. This was due in part to their unhappiness with the firing of coach Doug Williams, the hiring of George Ragsdale as interim coach and a number of other issues.
After they boycotted a second practice, Ragsdale was fired as coach. The players initially had voted to play today's game against Jackson State, but the school forfeited the game when none of the players showed up to the buses that were to transport them to the game. (the busing to games is another of the issues raised by players).
So far the school administration is waving their weinies to claim they are the top dog in the fight. But the players released a letter to the media and I have a feeling that either the school will have no choice but to give into to what would seem like some reasonable demands, or they'll cut off their nose to spite their face and just cancel the whole season in a vain, futile and stupid attempt to show that they are in charge. You can read the story about the letter here: http://espn.go.com/college-football/story/_/id/9846943/grambling-state-tigers-players-send-letter-complaint-administration
And if that isn't bad enough for the school, Sports Illustrated published an article on their website that paints a really bad picture of the situation both at the school and the athletics program. You can read that article here: http://sportsillustrated.cnn.com/college-football/news/20131018/grambling-football/index.html
It is an utter shame what is being done at the school made famous by coach Eddie Robinson (pictured below).
I haven't really written much about Division 3 college football because in all honesty I don't really follow it. Heck, I usually don't even read about it when they have coverage in the papers of the area teams.
But I thought I'd mention the Mass Maritime Buccaneers. The team is located about 10-15 minutes from where I live and on the roster is a guy named E.J. Bennett. He's from my town and I had the pleasure of coaching him in basketball. He's been a pretty good receiver for the team and is currently a junior.
In last week's 54-53 victory over Western Connecticut, he caught 7 passes for 83 yards including a 33 yard TD reception. Through the first 5 games, he has 36 catches for 422 yards and 6 TDs.
The Buccaneers had their sixth game yesterday on the road against Westfield State. They trailed 27-7 but rallied to tie the game. But WSU scored 10 points to close out the game and win 37-27. Mass Maritime is 3-3 on the season with a 1-3 conference record. But E.J. had a huge day in the loss. He caught 15 passes (two shy of his own record of 17) for a school record 274 receiving yards and 3 TDs. His last TD was a 68 yard scoring strike.
You can actually see the archived video of the entire game here: http://www.mascac.tv/play/index.cfm?fuseaction=embstay&id=3D24F943CA
They have a home game next week and I'm thinking of going to watch E.J. play. You can check out his player profile here: http://www.mmabucs.com/sports/fball/2013-14/bios/Bennett_E.J.
Alabama - The Crimson Tide started the game off being just unstoppable against Arkansas. Ten minutes into the game and Alabama was up 14-0.
A.J. McCarron went 6-7 on the first drive and capped it off with a TD pass to Jalston Fowler. A bad punt from Arkansas gave Bama great field position and they marched unbelievably fast down towards the end zone where Kenyan Drake ran it in for the second TD.
Things slowed down for a bit after that, but Kenyan Drake blew open the game with a 46 yard TD run with 9:03 left in the second quarter. The surgically precise dissection of the Razorbacks continued with a McCarron to Amari Cooper 30 yard TD pass and a 28-0 halftime lead.
In the second half, it was more of the same as McCarron hit O.J. Howard with a 17 yard TD as Alabama's offense just kept grinding away at what seems like a defense unable to defend themselves.
T.J. Yeldon got into the action with a 24 yard run to make it 42-0 and Alabama was really looking like a juggernaut.
The bench got a bunch of playing time after that. Blake Sims went in at QB and led them to a field goal on his first series (helped largely by a roughing the punter penalty on Arkansas).
Add in an 80 yard TD run from Derrick Henry (he had 110 to lead the team on the night) in the fourth quarter and the 52-0 blowout was complete.
The ground game accounted for 350 out of the 530 total yards on the night. The defense held Arkansas to 256 yards of total offense while garnering 2 interceptions and a fumble recovery.
Domination thy name last night was Alabama. Ha Ha Clinton-Dix was cleared to play and he keyed the early going for the defense with a interception (pictured below).
In other Saturday action that caught my eye:
Georgia saw their season and conference title hopes take another big hit as Vanderbilt upset them 31-27. It seems that whatever the Bulldogs had to rebuild their season after the opening game lost has once again disappeared and they are now an also-ran yet again. And the defense has fallen apart. This is the second straight game where Georgia lost after holding a 13 point lead.
In continuing their surprising and continuously effective season, Missouri stomped all over the Florida Gators 36-17 to run their record to 7-0. And keep in mind that while Florida's offense hasn't been firing on all cylinders at times this year, the Tigers won with their backup QB starting in place of injured passer James Franklin.
The Michigan-Indiana game saw the two teams confused about whether they were playing football or basketball. The Wolverines won 63-47! The stat guys must've had a field day trying to keep up with QB Devin Gardner (pictured below). He was 21-29 for 502 yards and 2 TDs. He also ran for 81 yards and 3 TDs.
But it didn't stop there for the Wolverines. Running back Fitzgerald Toussaint (pictured below) ran for 152 yards and 4 touchdowns.
Not to be outdone, receiver Jeremy Gallon (pictured below) caught 14 passes for (and this is not a typo) 369 yards and two touchdowns.
Another shootout game was Texas A&M-Auburn. Auburn pulled off the 45-41 upset at College Station behind the power running of Tre Mason (178 yards 1 TD) and the combined passing and running performance of QB Nick Marshall. He threw for 236 yards and 2 TDS and also ran for 100 yards and 2 TDS.
Despite the loss, Johnny Manziel had a stat game to make most QBs jealous. He threw for 454 yards and 4 TDS. He added 48 yards on the ground with another TD. Receiver Mike Evans was in beast mode once again. He caught 11 passes for 287 yards and 4 TDs. It appears college teams that call the state of Alabama home can't cover him to save their lives. They win the games but look ridiculous trying to stop him from catching passes.
Meanwhile, Auburn is really looking pretty good and the Iron Bowl against "my" Crimson Tide is going to be a heck of an interesting game this year.
When you think of video game football, I think the real life equivalent this season has to be Baylor. They put another ridiculous beating on a team yesterday. This week's victim was Iowa State and they lost to the Bears 71-7 and managed just 173 yards of total offense.
Oh and in a day of upsets, Ole Miss blew a 24-14 lead but got a 41 yard field goal with 2 seconds left to knock of  #6 LSU 27-24.
LSU QB Zach Mettenberger had a very bad game overall with three picks, two of which were in the end zone.
The big power matchup of the week was the primetime game between  #5 Florida State and  #3 Clemson. And the sizzle for that game fizzled as the Seminoles just annihilated Tajh Boyd 51-14.
Clemson "Clemson'd" themselves once again as FSU quarterback Jameis Winston (pictured below) threw for 444 yards and 3 TDs. He also ran for a score as well.
I was busy watching the Alabama game and the Red Sox so I didn't see any of this game but you don't have to sit through four quarters to understand what happened. All you have to do is look at the scoreboard. There is no way to spin a 51-14 final score.
And Jameis Winston certainly has to be seen as a candidate for the Heisman Trophy. The guy is just killing it out there.
FANTASY FOOTBALL
Finally! I had a 2-0 week last Sunday in my fantasy football leagues. I play to have some fun and all, but of course I want to do well. And this was the first week where I went undefeated. Here's hoping that it is the start of a trend and not just a one week aberration.
COLLEGE BASKETBALL
As the season draws closer and closer, preview articles about teams are coming out. Here's one on the Tennessee Lady Vols: http://sports.yahoo.com/news/warlick-lady-vols-comfort-zone-195336867--ncaaw.html
What would women's college basketball be without yet another controversy erupting over a coach being accused by a player of abusive behavior. The latest involves Bill Gibbons, the coach at Holy Cross. Unsurprisingly he's "voluntarily" on administrative leave while an investigation takes place. You can read the initial story here: http://news.yahoo.com/holy-cross-coach-charged-suit-goes-leave-210449571--spt.html;_ylt=A2KJ3CacZGJSUx8Axv5NbK5_
I don't know what to make of the story and I don't want to assume anything either way. But a number of former players and staffers have come out publicly in support of the coach. You can read that story here: http://sports.yahoo.com/news/former-players-defend-holy-cross-162147373--ncaaw.html
NFL
While there is a full slate of games in the NFL today, no game has had more pregame hype than the Denver Broncos visit to Indianapolis. The return of Peyton Manning to play against the Colts was a big enough story all by itself, but it blew up into comically epic proportions when Colts owner Jim Irsay opened his ignorant yap and took his place alongside his father (for moving the team out of Baltimore in the middle of the night) as a tool of the first order. He made some comments in an interview with a USA Today reporter.
I read the interview and while much of what he said was factually correct, it came off as him being a bit of a dick. And that's why the backlash against him (including comments from Denver coach John Fox) was so fierce. Irsay comes off as if he's ungrateful for what Peyton Manning brought to Indy in the first place. The Colts would be nowhere near the level they are if Manning hadn't won all those regular season games Irsay kind of backhand dismisses. And while he may have won only 1 Super Bowl with Manning, that's one more than he would've won in those years without him.
 I realize it will never happen but it would be nice if megalomaniacal owners just learned to keep their mouths shut. If for no other reason than it would be a refreshing change of pace.
However, one Colts fan had a great take on the return of Manning. You can read that article here: http://mmqb.si.com/2013/10/18/emotions-are-torn-but-the-jersey-is-intact/
HIGH SCHOOL SPORTS
You can check out the latest in results for local high school teams I follow here: http://t-s-b-n.com/pt/The-Rootin-Tootin-High-School-Roundup-of-101913/blog.htm
One game that didn't make that blog post because it was played yesterday afternoon was the Upper Cape football team beating the Avon/Holbrook team 42-6.
MISCELLANEOUS
It has been a slow week for me this week, so there is no music or book news to share with you. But I did get confirmation that I was approved for a press pass to cover the Rhode Island Comic-Con on Saturday November 2nd. I'll write an article about my "Day at the Con" once I attend. You can check out the show's website at http://www.ricomiccon.com
I know that I'll be excited to meet one guest in particular. Catherine Mary Stewart from the 1984 sci-fi film The Last Starfighter. My inner child from when I was 13 was so in love with her and wished I could be the guy she ran (flew?) off to outer space with.
TV - The season premiere of The Walking Dead last Sunday was called "30 Days without an Accident". I've heard some negative talk about the premiere but I have to say that I really enjoyed it. By the way, I'm not doing the episode recaps this year so don't be waiting around looking for those links.
Oh and the folks who put together those Honest Trailers on Youtube have done one up for The Walking Dead. You can check it out below.
Oh, and there was a pretty good story about a waitress in New Hampshire that picked up the check for two National Guard members during the government shutdown. The story went viral and it was picked up by The Ellen Degeneres Show. Check the link to see what happened!
On November 23rd, the 50th anniversary celebration episode of Doctor Who called "The Day of the Doctor" will premiere. The first trailer for the special is now online.
Comic Books - Next weekend (October 26th and 27th), participating comic shops throughout the land will be taking part in Halloween Comicfest 2013. Much like Free Comic Book Day, special Halloween themed comics will be available at shops for the kids...for FREE!
You can check out the details and find the shop nearest you here: http://www.halloweencomicfest.com/Home/1/1/78/1138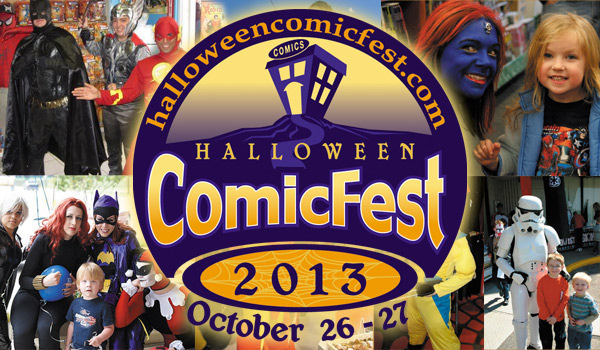 Speaking of comics, the third issue of the comic series SIDEKICK came out last week. And on the letters page I was quite happily surprised to find my letter of comment about the first issue had been printed.
I'm a huge fan of the writer J. Michael Straczynski and his response to my letter made my day.

The first part is a quote from my letter, the rest is his response:

JMS: "...set the bar high for someone falling so low." Best turn of phrase I've heard this week. Knock it off, you're showing me up here."
I thought that was pretty darn cool of him to say.