While pondering this quote by philosopher Arnold Schopenhauer as paraphrased by the late great Warren Zevon: "We buy books because we believe we are buying the time to read them"...
BOSTON CELTICS
The Celtics had a busy week with four games on the schedule. There was a nice moment of sunshine in the overcast look to the season, but it was fleeting.
The week started off with a 93-91 loss to the Orlando Magic. I saw the second half of this game and as you might expect by the slim final margin, the Celtics were in the game until the very end. But with one last chance to tie or win the game, the team just couldn't get the shot they were looking for and went down in flames. Jeff Green had 22 points, Kris Humphries had 18 points and 12 boards and Avery Bradley had 18 points.
Five players hit double figures when Boston faced off with the Miami Heat but it wasn't enough as Miami took the game 93-86. It was Brandon Bass leading the way with 15 points. Kris Humphries was once again a big factor with 14 points and 13 board. Jared Sullinger had 12 points and 11 boards. Green had 12 points and Chris Johnson added 11 points.
Gerald Wallace hit the game winning layup with 2.5 seconds left in overtime to life the Celtics to a 113-111 victory over the Washington Wizards in the team's third game of the week. Wallace finished the game with 9 points and 9 assists.
Jeff Green exploded for 39 points and 9 boards while Phil Pressey scored 20 points. It wasn't all hearts and flowers for Pressey though. He had 6 turnovers and fouled out of the game. Sullinger finished with 14 points and 11 boards.
On Friday night, the Oklahoma City Thunder played their first game since moving to OKC where neither Russell Westbrook or Kevin Durant were in uniform. I know OKC is a good team, but I thought that with both of those players out of action the Celtics could do a good thing and pull off an upset. Silly Me!
The Thunder rolled to a 101-83 victory. Green had 16 points, Wallace added 13 points and Bass finished with 11 points. Rajon Rondo (who was a DNP-CD for one game this past week in order to rest) had 8 assists in the game.
The Celtics are 15-30 on the season. They are a bad team but in the minds of many I'm sure, not bad enough.
Julian Edlow of Celticslife.com had a piece this week on Jeff Green. He called him the biggest tease in the NBA. This would be in reference to the up and down nature of Green's scoring prowess.
His article was a good read and I responded that it is frustrating that Green can't be more of a consistent double figures scorer night in and night out. But I also said to imagine how bad the team would be without him in the lineup.
I wrote in an previous Sunday Musings entry that after Green had two sub-double figure nights, he then went for a long period of games where he hit double figures each game. I think getting rid of Green would accomplish the goal of tanking the season official.
I wish that his numbers wouldn't vary quite so much for his scoring totals but I also don't believe that Green has to be the main scorer every single night. They've got guys on the team that can all get nights where they put a ton of points on the board.
It would be nice if it was Green all the time and the Celtics were winning but I do agree with Edlow that the ship on Green's year to year growth as a player has probably sailed. But I just can't see dumping him in order to be that much worse of a team.
BASEBALL HALL OF FAME VOTING SCANDAL & MORE
It was revealed this week that two of this year's inductees will go in with no team logo on their plaque. Greg Maddux couldn't decide between the Cubs and Braves and Tony LaRussa couldn't decide between the White Sox, A's or Cardinals.
I can sort of see LaRussa's point because he was so successful with the A's and Cardinals (sorry White Sox fans) but with Maddux saying that the length of time he spent with each club was a major factor for his indecision, I call BS. He was far more successful with the Braves and at least to my mind, going into the Hall with a Braves logo on his hat should've been a no-brainer.
BOSTON RED SOX
I picked up the NESN DVD Band of Bearded Brothers yesterday. It's their version of the World Series celebratory DVD.
This week saw the Boston Baseball Writers Dinner and Awards ceremony. One of the news bits out of the dinner was that the beards that played such a big role in last year's title team will be a thing of the past when the Red Sox take the field this year.
You can count me in as one who wants to see the two sides come to an agreement and keep Lester in a Red Sox uniform.
NEW ENGLAND PATRIOTS
After the debacle that was the AFC Championship game last Sunday I'm over the NFL season. I know that as a football fan I'm still supposed to be supercharged to watch the Super Bowl, but given that I really have no rooting interest in either team, I don't know if I'll even catch any of the game.
As for the Patriots loss, there's really nothing to say in defense of how ill suited they seemed to be to play against the Broncos. I listened to the first half of the game on the way home from the BC women's basketball game. If their lack of quality play wasn't bad enough, the Patriots radio announcers are two of the worst I've ever heard. They made the game that much more painful. Once I got home, the game didn't really get much better when I could visually witness what was going on out in Denver.
There was no running game, the passing game was sub-par at best and the defense could do nothing to stop a slight breeze much less the Broncos offense.
As much as I would've loved to see the Patriots make and win the Super Bowl, the plain truth is that they went about as far as their talent (or what was left of it after the parade of injuries) would let them.
The offseason news surrounding the Patriots started with the news of the coaching staff departures. Pepper Johnson quit to find a new job. There's no confirmation but reports I saw in the Boston Herald that said he was unhappy after getting passed over for the defensive coordinator job last year in favor of Matt Patricia. Johnson did release a classy statement with the news of his leavetaking.
The bigger surprise was the retirement of Dante Scarnecchia. He'd been an assistant with the Patriots for 30 years through 6 different head coaches. He's been the one constant for the team during all that time and his position and institutional memory are going be tough to replace.
I don't know what the Patriots will do this offseason, but they really have to upgrade the talent on the team and figure out a way to keep their players HEALTHY. They need to better their passing game attack by getting receivers who can stretch the field from Day 1. And they need to better their secondary.
HIGH SCHOOL SPORTS
You can check out what I had to say in my recaps about the various high school basketball teams I follow in the two links below.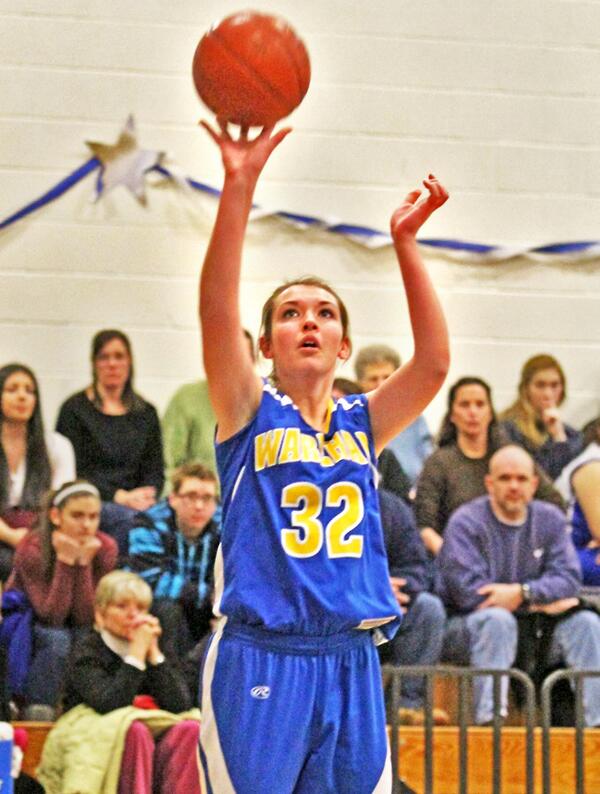 (photo by the Wareham Courier's Adam Ellis)
WOMEN'S COLLEGE BASKETBALL
Hartford - The Hawks saw their season fortunes turn around a bit this week. They've won three straight games. While the record improves to just 7-13, when you are doing that bad you take what positives you can get.
Amber Bepko (pictured below) scored 19 points to lead Hartford in their 80-76 win over UMass-Lowell. Deanna Mayza and Cherelle Moore each finished with 19 points. Alyssa Englert had a solid game with 6 points, 7 assists and 8 boards.
The Hawks got a 66-42 victory over Binghamton with Alyssa Reaves and Mayza scoring 12 points. Reaves had 8 boards in the game as well. You can see highlights and the post game press conference below.

Yesterday afternoon saw the Hawks knock off UMBC 65-55. Cherelle Moore scored 16 points off the bench to lead the offense. Mayza had 11 points. Bepko, Englert and Reaves each scored 10 points in the game. Reaves also had 7 boards.
Tennessee - On Monday, the Lady Vols led by as many as 12 points but ended up losing to Notre Dame 86-70. Meighan Simmons (pictured below first) led Tennessee with 23 points (but had 7 turnovers), Ariel Massengale added 14 points and Isabelle Harrison (pictured below 2nd) finished with 13 points and 16 boards.
The loss stung to be sure, but Coach Warlick's team rebounded with their 89-69 win over Florida later in the week. Simmons led five players in double figures for the Lady Vols with 21 points. Bashaara Graves (pictured below) had 17 points and 8 boards. Andraya Carter scored 14 points and dished out 8 assists. Jasmine Jones chipped in 13 points and 6 boards while Harrison hit for 12 points.
Tennessee is now 15-4 with a 4-2 conference record.
Missouri State - Bry Snow scored 16 points and grabbed 11 rebounds but the Bears came up on the short end of the scoreboard in their 68-60  loss to Northern Iowa early in the week.
The Harper family: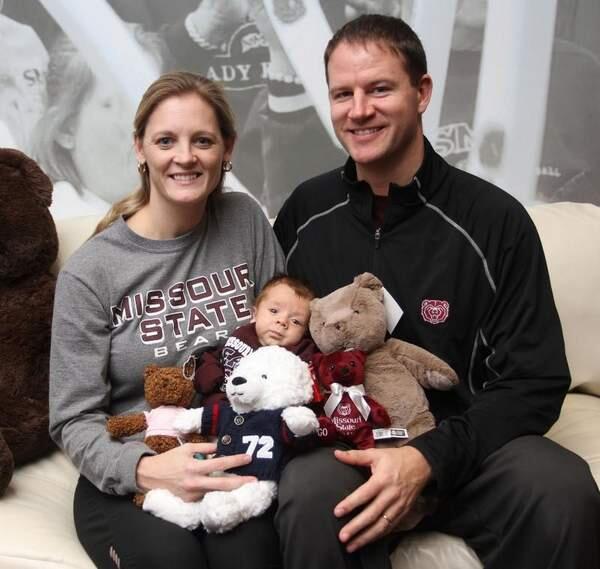 As for the game against Indiana State, the Bears ended up losing 74-57. They committed 24 turnovers in the game and shot just 36.4 percent from the floor. Tyonna Snow had 15 points to lead Missouri State. Katie Palmer finished with 12 points and Bry Snow had 10 points. The team is now 7-10 overall with a 2-4 conference record.
BOSTON COLLEGE ATHLETICS
Football - The 2014 football schedule for the Eagles has been released.
I'm not one for sitting outside in the cold so it isn't like I would be going to any of the late season games, but in all honesty there is no team coming to Alumni Stadium that makes me want to attend a game.
Men's Basketball - Before the team headed into an 8 day layoff, they got knocked off by Georgia Tech 68-60. Olivier Hanlan had 19 points and Lonnie Jackson added 14 points.
With the fan talk swirling about a coaching change, there was an article I read that suggested Bruce Pearl (ex-Tennessee) as a possible candidate. But he put the kibosh on that rumor.
I was talking to a friend of mind and mentioned that the fanbase was unhappy with how the team is progressing under Steve Donahue. He said a name that might be an intriguing hire would be current Minnesota coach Richard Pitino.
(Kristen Doherty)
(Nicole Boudreau)
(Kelly Hughes)
(Katie Zenevitch)
There was also a brief weekly press conference with coach Erik Johnson.
Things didn't get any better for the Eagles when they went on the road to play NC State on Thursday night. The Wolfpack went out 9-0 to start the game and that margin ended up being the final margin of victory as the Eagles fell 85-76.
The loss was their fifth in a row against a ranked opponent. They are 11-9 with a 2-4 ACC record going into today's game against Wake Forest. It is also serving as Alumni Day at Conte Forum.
Kat Cooper was out for the game which leads me to believe her injury was worse than they thought against UNC. This despite me getting a response from whomever runs the BC women's basketball Facebook page saying she was fine when I asked how she was doing right after the UNC game.
In place of Cooper, freshman Kelly Hughes got her first career start and made the most of it. She hit 6 out of 10 three point attempts and finished with a career high 23 points. Katie Zenevitch had 19 points and Kristen Doherty added 10 points and 6 boards.
(Nicole Boudreau hitting from downtown!)
You can see the post game press conference below.
In celebration of the 25th anniversary of BC's Conte Forum, they've been talking to a variety of former players about their best memory of their time at the school and in the venue. This week they had a brief piece with former BC women's basketball player Carolyn Swords. You can check that out here:
http://www.bceagles.com/sports/w-baskbl/spec-rel/012414aaa.html
MISCELLANEOUS
First off, for those that don't waste enough time on the Internet already, I potentially have another little stop you can make on your surfing time.
It seems that someone read that article I wrote a couple weeks back about my favorite mysteries/thrillers of 2013. It prompted them to try and get in touch with me. But as I was later told I am a hard guy to get in touch with.
The guy got in touch with my buddy J.D. who forwarded me the email he sent. Seems he wanted to send me a copy of a new spy novel that is coming out in May for review. Who is this guy? He's the director of publicity for Atria Books, an imprint of Simon and Schuster. For those in the know about the book publishing business, S&S isn't exactly a small press publisher.
So that was pretty sweet news. But not being able to get in touch with me seems to be an issue these days. So after a long time of "badgering" by J.D. and this latest development, I have reluctantly given in and created a Twitter account. You can find me @TheOneTrueJay
Food
- Speaking of good eats, I read a review of a restaurant this week. Actually, it's technically a pub. Flynn's Irish Pub to be exact. The review was intriguing and made me want to check the place out. And then I read the menu at the pub's website and think I'll have to hook myself up to a cardiac monitor to try any of their 21 different burgers. You can check it out for yourself at
http://www.gotoflynns.com
TV - I'm happy to report that I am now a very happy NYPD Blue fan. After years of waiting since the release of Season 4, I've now got my hands on Season 5. It was released this week and I immediately bought it. Now I'm in the midst of watching it and grooving to the rewatch of the adventures of the 15th Precinct.
Oh, and while I have to catch the first episode on On Demand, the Starz original series Black Sails debuted last night. It's a pirate drama and looking at the previews this isn't your usual Yo-ho-ho and a bottle of rum look at the life of a pirate. I'm optimistic about this series and hope that once I do watch the first episode, I don't feel let down. You can check out the trailer below.
Books - It's been a busy work week so I haven't finished any books this week. But I did pick up a new one. It's the Iris Johansen thriller Silencing Eve. It is the third book in a trilogy story featuring her Eve Duncan forensic sculptor character.
Music - I picked up the debut solo album from Sugarland singer Jennifer Nettles this week. It's called That Girl. I've given it one listen thus far, but have to play it again before I'll feel comfortable reviewing it.
You can check out the video for the title track below.
You can check out the video for the Red Dragon Cartel song "Deceived" below. I've got the album on order and a review of it will be forthcoming.
And this week was a sort of sad week for me musically. This past Friday would've been the 67th birthday of Warren Zevon. Sadly he passed away in 2003 but his music remains as important today to me as ever it was. You can check out the
http://www.warrenzevon.com
website. There's a Facebook page dedicated to getting him inducted into the Rock and Roll Hall of Fame and you can always go on Youtube to check out his incredible music.

Or go really crazy and buy his CDs! You probably know his biggest song "Werewolves of London" so I'm going to skip that one and instead you can check out a couple of different songs below.
There's a lot more to discover from raucous rockers to beautiful love songs and everything in between. And my love for all things Zevon extends to my choice in avatars that I use online. See that cigarette smoking skull next to my name? That's Zevon's Ol' Velvet Nose that was used on his backstage passes among other things.
Warren Zevon...music legend...still missed to this day.