While anticipating tonight's episode of The Newsroom...
BASEBALL
The Red Sox are playing the Dodgers this weekend and the first two games were split. The Dodgers won the first game 2-0 and the Red Sox won the second game 4-2.
This is the one year anniversary since the Red Sox traded Carl Crawford, Adrian Gonzalez and Josh Beckett to L.A. The trade got rid of three dead weight players and their equally awful contracts.
Sure, Beckett had some good years here but he had long since worn out his welcome in Boston. Adrian Gonzalez was actually providing some contributions but his piss poor attitude turned a lot of people off.
And Crawford was simply a bad signing all the way around. And he has continued to be a worthless piece of Red Sox history with his constant whining about how much he hated being in Boston.
It is almost like he is missing out on the part of the equation where Red Sox fans have no use for him either. He stunk here in Boston, when he actually managed to get on the field, which wasn't often.
His biggest contribution to the Red Sox was being part of the trade that got him the hell out of here.
Of course, most Red Sox fans would be willing to leave it alone and chalk it up to a bad fit, but Crawford won't let things go and keeps running off at the lip any time he gets the chance.
Keep running your trap Crawford because all it does is reveal what a loser you are now and were during your undeserved time in a Boston uniform.
NFL
The news that ESPN pulled out of a documentary project on concussions in the NFL is hardly a surprise. But the network and the league denying reports that pressure was put on the network by the NFL seems like the worst possible spin job by both sides.
I think by now everyone knows and understands that there is a huge problem with concussions in all levels of football and the league can't keep burying their head in the sand with past or current players piling up on the injury report with concussions or a variety of diseases associated with the effects of repeated concussions.
While it is possible the NFL didn't put pressure on ESPN, the league doesn't get the benefit of the doubt because of their track record with ESPN. Remember the drama series the network did called Players? It ran for one season and was killed at the behest of the NFL.
You can read more about the story here: http://nfl.si.com/2013/08/23/report-pressure-from-nfl-led-to-espns-disassociation-from-concussion-project-with-pbs/
In preseason football, Armageddon happened on Thursday. At least if you believe some of the stuff written in the aftermath of the New England Patriots getting their butts handed to them by the Detroit Lions.
And no that isn't a typo. The Lions killed the Patriots 40-9 (No I didn't watch) in Game 3 of the preseason. The game is usually the dress rehearsal game for the regular season, when the expected starters see the majority of their game action.
And no one on the Patriots did anywhere close to good. The Lions, the freaking Lions outdid the presumptive AFC East favorite. Hell, they completely undressed the Patriots in every facet of the game.
It was painful to read about the next day in the papers, I can imagine how painful it was to actually watch.
WNBA
New York Liberty - The Liberty had a pretty bad week as their playoff hopes faded even more. An 88-57 loss to the Lynx was made worse by comments from Liberty coach Bill Laimbeer saying that Lynx player Maya Moore should get hurt for being in the game late during the blowout.
He got fined by the league for his comments, as he should've been but a lot of people thought he should've been suspended for a game at least.
Katie Smith and Alex Montgomery scored 11 points apiece to lead the Liberty offense in the game.
Things didn't get any better for the team on Friday night. They played the Chicago Sky and lost 82-64. Plenette Pierson had 25 points in the game. Katie Smith (pictured below, photo from Getty Images) scored 3 points.
The Liberty are now 10-16 on the season and while still mathematically alive for the fourth spot in the Eastern Conference, it isn't looking likely.
Oh and Katie Smith has apparently started blogging. You can check her first entry out here: http://katiesmith.sportsblog.com/post/151377/countdown_to_my_last_40.html#sthash.K1gurLfo.uxfs
Chicago Sky - Before going into the Sky's side of the Liberty game, let's go back earlier in the week. Chicago started off their 3-0 week by knocking off the Connecticut Sun 89-78. This victory came after the Sky was trailing by 25 points. Epiphanny Prince had 21 points and Sylvia Fowles had 20 points and 21 rebounds to lead the comeback.
Next up was the Washington Mystics and the Sky came away with a 79-73 win thanks to 24 points from Elena Delle Donne. Fowles had 16 points and 15 boards while Courtney Vandersloot scored 19 points.
As for the Liberty game, it was Fowles with 14 points that led the way. Swin Cash and Delle Donne had 11 points apiece and Vandersloot had 10 points.
The win moved their record to 19-8 and it also qualified them for the playoffs. While that would normally be a lesser kind of news item, the Sky in the playoffs is kind of big since it is the first time in team history they've qualified for the postseason.
But the Sky weren't done, oh no, now they had a chance last night to tighten their grip on the top spot in the Eastern Conference. They played 2nd place Atlanta, who had beaten them in their only other matchup, and came away with a 67-56 victory. It is their 5th straight win (they are now 20-8). Delle Donne had 25 points to lead the Sky. I think she is a shoe-in for the Rookie of the Year award, but her season long performance has a lot of talk coming up around her for possible MVP as well. Swin Cash finished the game with 12 points and Fowles and 10 points and 13 rebounds.
COLLEGE BASKETBALL
Maryland - Dez Wells, a guard on Maryland's men's team, filed a lawsuit this week against Xavier University, his former school.
He was expelled from Xavier after a 2012 sexual assault allegation and he's claiming that the school failed to follow its own policies when they threw him out of school.
I honestly don't remember the story, but it seems like Wells might just have a case. The local prosecutor declined to prosecute the charge and went so far as to say IN THE MEDIA, that the case "didn't come close to a standard of proof and never should've gotten to the point that a person's reputation was ruined." A grand jury also refused to indict Wells.
I will be interested to see how this case proceeds. That is, of course, if it doesn't get thrown out first.
You can read the story here: http://sports.yahoo.com/news/ncaab--maryland-guard-dez-wells-suing-xavier-for-expulsion-021302176.html
Boston College Women - The BC women's team out of conference schedule was released this past week. I was pretty happy to see that they'll host Hartford this year (December 8th I believe), but was totally blown away that they'll be HOSTING Stanford on November 9th.
Usually when a program on the level of BC gets a game against a perennial title contending team like the Cardinal, they are going on the road.
Of course, I was starting to plan my ticket buying and trip to see the game when I noticed the date and realized that I have a commitment for that day already. ARGGGH!
YOUTH SPORTS
I never coached this girl, but I've seen her play and she's really good. Her team beat mine last summer in the youth league championship game (the last team I coached as it happens). The article about her appeared in a local paper and I thought you might want to take a look: http://www.wickedlocal.com/carver/topstories/x175618132/Local-hoop-prodigy-Bailey-Colon-dreams-big
Meanwhile, one of my ex-players tried out for the 8th grade Cape Cod Waves AAU team. And Gabby made the team! She was nervous about trying out but when I saw that she made the team I sent along my congratulations, but said I wasn't surprised that she made the team because talent always shines through.
LITTLE LEAGUE WORLD SERIES
I know I'm likely the only person reading (or in my case writing) this post, but I'm a big fan of the Little League World Series. I watch every year and enjoy the hell out of it.
Friday I watched Mexico beat Panama to get to the International final and saw the wild comeback win earlier in the week for the New England team from Connecticut as they beat Washington to get to the US title game.
Yesterday I saw most of the International final with Japan beating Mexico 3-2 and the US final that saw Chula Vista California end the dreams of Connecticut 12-1.
It sets the stage for what could be an amazing title game tomorrow afternoon on ABC. Japan brings a strong overall team that can pitch and hit with aplomb. Meanwhile, California sends their 6 foot 4 pitcher to the mound. He's already got a no-hitter in this tournament and he can swing the lumber as well. The rest of the team is pretty darn solid as well. Their #2 pitcher was on the mound in yesterday's game and he had 10 strikeouts and went all the way to the final out of the game before having to leave due to pitch count rules.
It's going to be an exciting championship game. I'm sure both team will acquit themselves well. While I was rooting for Connecticut to go all the way, I'll now have to be rooting for Chula Vista to win the whole thing.
FANTASY FOOTBALL
Anyone else taking part in Fantasy Football this season? I'm in two returning leagues that I've been a part of for a number of years now. One is doing a live draft on Wednesday while the other is doing an autopick draft.
I don't know which way is better, but here's hoping that I do significantly better than I did last year.
MISCELLANEOUS
Movies - Not much to report here this week, though I did end up catching the fourth Rambo movie the other day. It came out in 2008 but I somehow managed to miss seeing it until now. Unfortunately, it really wasn't very good and it isn't a movie that will affect your life if you never see it.
TV - The networks are really picking up their ad blitz for their new shows so you know that the fall season is fast approaching. But before I get all busy trying to check out all the different NEW shows I want to see and both talk and write about, I thought you'd find this video amusing.
I don't watch Breaking Bad, it never appealed to me, but this Honest Trailer was pretty amusing:
Meanwhile, I'm in the midst of a rewatch of The West Wing. I've made it to Season 3 already in between catching up on the various first run summer shows I'm already watching. It has been fun to go back to the show and realize how much the fictional president Bartlet was so much better than the last couple of REAL presidents we've had.
Oh and if you are watching The Newsroom on HBO, tomorrow night's episode delves into the season long story arc surrounding the story "Operation: Genoa". It will be good to see if Aaron Sorkin has the ability to really come through with what fans of the show are hoping will be a HUGE impactful story.
Books - This week I finished the second book in the Booktown Mystery series by Lorna Barrett. I wasn't overly thrilled with the first book Murder Is Binding, but I have to say that I really enjoyed Bookmarked For Death.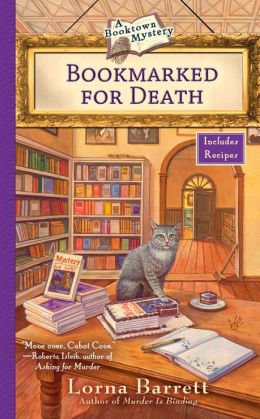 I picked up two more books in the Joe Pickett series by author C.J. Box yesterday. I got Below Zero and Nowhere To Run.
Music - The first bit of topic related news I have is a link to the review of the Queensryche self-titled CD. This is the second album released under the band name this year, which is explained in the review. You can check it out here: http://www.knac.com/article.asp?ArticleID=10005
Next up is the Youtube preview of the song "Firefly" from Fates Warning. It comes off their upcoming CD Darkness In A Different Light. You can check out the clip here: http://www.youtube.com/watch?v=ReoQw9ua9_Y#at=15
And to close out there is a preview for an upcoming review I'll be doing. And it isn't a rock or metal CD. Instead, you'll get my thoughts on the Kim Richey CD Thorn In My Heart. You can check out the title track below: