While planning my mostly vegging out day...
BOSTON CELTICS
It's funny how a week changes things isn't it? Last Sunday morning, I woke up still jazzed up over the Celtics beating the Heat at the buzzer on Saturday night. This Sunday morning I woke up with kind of a pit in my stomach over the now once again reduced fortunes of the Green.
The Celtics continued their winning ways earlier this week. They ran off a 120-105 win over Orlando for their fourth straight win (and second in just a few days over the Magic). Jeff Green, Kelly Olynyk and Jordan Crawford had 16 points apiece to lead the Celtics.
But something happened on the way to the Celtics becoming surprising world-beaters. They completely imploded in their next three games. The players themselves admitted that they didn't get "up" for the game against the Charlotte Bobcats. Judging by the lazy way they lost 89-83, you won't find anyone that will argue with their collective statement.
On Friday night, the Portland Trailblazers came to Boston and left with a 109-96 victory, their first in Boston since 2004. Jared Sullinger had a big game with 26 points and 8 boards.
But things got really bad in last night's matchup against the Minnesota Timberwolves. The Celtics suffered their worst defeat of the season with the 106-88 loss and "watched" as three players for the T-Wolves put up at least 20 points in the game (amongst a total of 5 players in double figures for Minnesota).
Jeff Green was his maddeningly inconsistent self, finishing with just 2 points (foul shots) on the night. Consistency seems to be a word that just cannot make its way into his basketball vocabulary.
It was Avery Bradley's 27 points that led the offense for Boston. Brandon Bass added 15 points and 7 boards. Jordan Crawford had 10 points, but if he's to be taken seriously as a point guard, he's going to need to do a hell of a lot better than a 5 assist, 3 turnover line.
Vitor Faverani had a decent statistical night for the Celtics. He had 9 points, a game high 14 rebounds, three steals and 4 blocked shots. The yeoman like work he's putting in is the kind of thing I would think Celtics fans would really appreciate. But this is the first time I can remember writing anything about him after the opening game of the season, so he might need to develop some level of statistical consistency as well.
COLLEGE FOOTBALL
I forgot to mention the Mass Maritime game from last week. They beat Plymouth State 46-44. My ex-player E.J. caught 2 passes for 50 yards and a TD.
In their game today, the 35th Annual Cranberry Bowl, they lost to Bridgewater State 45-20. E.J. caught 6 passes for 90 yards. The loss closes out their regular season at 6-4.
E.J.'s final regular season numbers were 9 games, 60 catches for 849 yards and 10 TDs. The 60 catches breaks his own single season receptions record at the school.
It was a big day for the otherwise pathetic Kansas Jayhawks. They hosted West Virginia and came away with a 31-19 win that I'd wager to guess stunned even themselves. James Sims (pictured below) ran for 211 yards and 3 TDs as Kansas picked up just their 2nd Big 12 victory in 40 games. The fans actually rushed the field and tore down one of the goal posts in celebration.
Of course, this also demonstrates how far Kansas has fallen. A win over a 4-7 team that raises your own record to 3-7 and you storm the field? Talk about desperate and lacking any sense of perspective.
For cryin' out loud, they even doused head coach Charlie Weis! The guy they usually want to run out of town just for breathing, never mind running a losing program, and a win over an awful Mountaineer team gets him an unscheduled bath?
What the heck is going on at Duke? When anyone says the path to the ACC championship runs through Duke, they are generally referring to the men's basketball team. But the hoopsters aren't alone in that category this year. Not after their 48-30 upset trouncing of the Miami Hurricanes.
The Blue Devils are 8-2 on the season and nobody's pushover. The statistical oddity of this game is that while Duke tallied up 543 yards in total offense, they were actually outgained on the day by Miami. Duke's already a bowl eligible team, but if they keep playing like this, they could end up being a bowl WINNING team.
Florida sucks. Their is just no sugarcoating this fact after their 19-14 loss to South Carolina. Granted, the Gamecocks are ranked #11 in the country, but if Florida had any kind of offense, they would've been able to win this game. Instead, a relatively solid defensive effort from the Gators (they gave up 4 field goals and a touchdown) was wasted yet again. Florida is 4-5 and that much closer to sitting out the bowl season. Coach Will Muschamp's seat isn't just hot, it's got some napalm on it about to be set off.
#4 Baylor beat Texas Tech 63-34. The Bears continued run of video game like offense isn't that surprising since they've demonstrated all year that their opponents can't keep up with them. No, the interesting thing about this result is that it was the fourth straight loss for Texas Tech. They started off the year 7-0 and new coach Kliff Kingsbury was the toast of college football. But this month long losing streak is going to test the team and the coach severely. Which Texas Tech is the real one? The one that outpaced their competition the first seven games of the season, or the one that looks like the early part of the season was the honeymoon and reality has now set in?
Wow! Just Wow! The USC football program was in shambles when they fired Lane Kiffin. They hired Ed Orgeron as the interim coach to finish out the season before the school looked for a new coach.
The way the team has responded for Orgeron has been rather amazing. Limited by scholarship reductions and a continuing run of injuries to key players, you'd be hard pressed to blame the coach if the team had continued to stink. But after last night's 20-17 upset of #5 Stanford, the Trojans are 8-3 and have thus far salvaged what was looking like another pathetic season.
And despite flaming out in his first go-round as the head coach at Ole Miss, Orgeron's work with the team has had to put him in the mix to get this job on a permanent basis. The season isn't over yet and I'm not saying he should definitely get the job, but a serious interview has to be done after the season.
Alabama - I was watching something else last night, but during the commercial breaks I checked in on the Alabama game versus Mississippi State. I was happy to see the Tide pick up the 20-7 victory but it was by no means a sure thing. Despite now being 4-6 on the season, the Bulldogs gave Bama all they could handle.
Alabama played sloppy football throughout the game (it showed from what I saw) and the defense for Mississippi State forced them into a season high four turnovers. A.J. McCarron got picked off twice (the second of which you could see coming the whole way) and the combo of RBs T.J. Yeldon and Kenyan Drake fumbled the ball away once each.
If the Bulldogs had been able to mount an offense (their starting QB was out injured and his replacement left in the fourth quarter with a shoulder injury), the final score would've been a lot different.
Instead, on a night where the offense stunk for Bama, their defense save their butts allowing just 197 yards of total offense (including just 53 rushing yards). They had just two sacks and an interception (by Ha Ha Clinton-Dix) and missed out on recovering four fumbles by the Bulldogs, but when it came time to force punts our four and out series, the Tide defense did the job.
McCarron did throw for two TDs but he was uncharacteristically pedestrian for most of the game that I saw. He looked out of sorts, and that second pick he threw was just awful. T.J. Yeldon ran for 160 yards but never found the end zone.
You know your offense had an off to bad night when the punter is the only guy on the team you can say was outstanding. Cody Mandell had four punts on the night and averaged 55 yards a kick. If you add in Cade Foster (pictured below) kicking 2 field goals and 2 PATs, this might be the week where kickers are appreciated instead of considered afterthoughts.
NFL
The Patriots were on a bye last week so I kind of took the weekend off from pro football. I checked out the scores but only saw highlights instead of complete game action. With the Patriots off until the Monday night game against Carolina, I might just do it again.
But the most interesting NFL related story comes from an off the field criminal trial against former Chicago Bears player Sam Hurd. He was sentenced to 15 years in prison for being a key figure in a drug smuggling/distribution ring. You can check out an in depth story about the case over on SI.com: http://mmqb.si.com/2013/11/12/sam-hurd-cocaine-bust/
FANTASY FOOTBALL
I was back to uniform mediocrity last week. I split the two leagues I'm a part of.
HIGH SCHOOL SPORTS
Football -
ORR - The undefeated season for the Bulldogs came to an end as they lost to the Abington High Green Wave 47-20 to end their playoff run. My ex-player Richie (pictured below) and the rest of the running game was essentially shut down by a stout defense. He had 13 carries for just 24 yards. ORR will have their Thanksgiving Day game left to finish out their season.
Wareham - The Vikings trailed 42-0 at halftime to Middleboro and went on to lose 49-0. The season of awfulness will come to an end with their Thanksgiving Day game against arch-rival Bourne.
Volleyball - Two state championships were held yesterday that had a passing interest for me. In Division 1, the Barnstable girls won their fourth straight championship. How good is the Barnstable program?
They finished the season undefeated at 23-0. As I said, it was their fourth title in a row. But they've won 10 out of the last 11 state titles and 16 titles overall. The coach, Tom Turco, has been the one to build the program and guide it to each of the titles.
It is for lack of a better word, a dynasty program.
The team celebrates after the final point:
The thrill of victory:
Here's a look at the team after the win: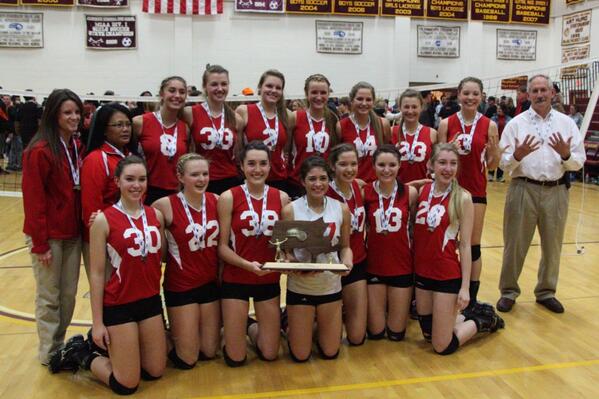 In Division 3, the Fairhaven Blue Devils girls volleyball team squared off against Frontier Regional. I'd seen them play once this year when I went to a Wareham girls volleyball match. The team is one of the best in the region.
The Blue Devils have won the last four South Sectional tournaments and this was their 2nd appearance in the state title game in four years. Unfortunately, they came away with another loss in the final, falling 3-1.
The team will likely remain a power in the region, but losing 7 players to graduation won't make things easier. Sadly, the Fairhaven girls come away embodying the agony of defeat on this day:
MISCELLANEOUS SPORTS ARTICLE
There was a pretty interesting article on SI.com about Duke basketball player Andre Dawkins. You can check it out here: http://sportsillustrated.cnn.com/college-basketball/news/20131113/andre-dawkins/index.html
And there was a long form article on SI.com about a rival of Jesse Owens that made for some interesting reading: http://sportsillustrated.cnn.com/longform/peacock/
WOMEN'S COLLEGE BASKETBALL
Tennessee Lady Vols - The Lady Vols knocked off North Carolina 81-65 early in the week. Ariel Massengale (pictured below) led Tennessee with a career high 20 points and 6 rebounds.
After getting upset by Chattanooga last year, the Lady Vols spent the first half of this year's matchup trying to get away from their opponents. But it was tied at the half.
However, the jets got turned on in the second half and the Lady Vols ran away with an 80-56 victory. Massengale had 16 points and 5 assists while Mercedes Russell (pictured below) added 15 points.
Hartford - The Hawks shook off the beating they took last week from UConn and beat Loyola 59-53 for their first win of the season (1-1). This despite shooting just 28% from the floor. But the seven threes and 24 out of 30 foul shots helped Hartford hold things together long enough. Freshman Deanna Mayza scored 20 points to lead the team. Amber Bepko added 13 points and 6 rebounds. Alyssa Reaves had 12 rebounds and Cherelle Moore finished with 10 points.
Missouri State - The Lady Bears era under coach Kellie Harper began this past Monday with an opening 79-61 loss to Arkansas State. Kenzie Williams (pictured below) scored 21 points and grabbed 7 boards to lead MSU.
The team rebounded to beat Arkansas-Little Rock 72-68. They had a 19 point lead but had to withstand a 16-0 run before finally putting the game away. Kenzie Williams had a career high 24 points and Bry Snow added a career high 17 points.
BOSTON COLLEGE NOTEBOOK
Men's Soccer - The team lost to #4 Maryland in the ACC quarters. They are 7-9-2 for the year.
Women's Soccer - In the first round of the NCAA tournament, the BC women beat Northeastern 2-0 and will play Nebraska in a second round matchup on November 22nd. BC is 11-9-1 thus far.
Men's Hockey - On Friday night, the Eagles skated to a 2-2 tie with UMass and they are currently 7-2-2 on the season.
Women's Hockey - A 3-2 loss to Quinnipiac dropped the #5 BC team to 7-3 on the season.
Field Hockey - The BC women played UConn in the first round of the NCAA tournament yesterday 2-1 in overtime. They finished the season at 12-8.
Women's Volleyball - The Eagles beat Maryland on Friday night 3-0 for their first ACC win of the season. They are 9-18, 1-14 ACC on the season.
Men's Basketball - The defense of the Eagles is awful. The team is 0-3 on the season after two more losses this week. These are games they can't afford to lose when you play in a tough conference like the ACC.
First up was an 86-73 loss to UMass. Ryan Anderson (pictured below) had 22 points and 7 boards to lead the team's offense. Olivier Hanlan added 19 points and Patrick Heckmann had 11 points.
A telling statistic about the game was that the Eagles had just 7 rebounds in the second half of the game.
Despite leading by 8 at halftime, the Eagles gave up a 14-2 run late in the game and watched as Toledo came into Conte Forum and left with a 95-92 win.
Olivier Hanlan (pictured below) had 18 points and 6 assists, while both Ryan Anderson and Joe Rahon added 15 points.
The Eagles have the offense down, but their failures to stop the other teams is going to kill them if they don't pick it up defensively.
Women's Basketball - The women's team went on the road to New York and beat Hofstra 83-60 to even their record at 1-1. Kelly Hughes (pictured below) scored 19 points and had 8 rebounds to lead the Eagles.
BC got out rebounded 52-44 in the game but in the end that didn't matter. Lauren Engeln had 14 points while Nicole Boudreau added 10 points. Katie Zenevitch had 10 points and 7 boards.
It was a homecoming of sorts for BC's Kristen Doherty and she had a 10 points, 8 rebound, 5 steal performance in front of a crowd that included a lot of her friends and family.
You can see the brief post game press conference from coach Erik Johnson below.
The team went on the road last night to face BYU and ended up losing in overtime 70-69. Nicole Boudreau had a 23 points (5-6 from three point range) and 7 rebounds to lead the Eagles. Kristen Doherty had 15 points, 12 rebounds and 3 steals. BC also got 11 points from Kelly Hughes and 10 from Lauren Engeln.
But they had no answer for BYU's 6 foot 7 center Jennifer Hamson, who finished with a game high 28 points and 12 rebounds. She played a key role in the second half (16 points) push for BYU.
It didn't help that the Eagles got out rebounded in the game 52-41. They also couldn't capitalize on the fact that BYU missed 10 out of 26 foul shots.
You can read the full recap here: http://www.bceagles.com/sports/w-baskbl/recaps/111613aaa.html
You can see the quick wrap up with coach Johnson below.
Doherty on the foul line:
Rallying the players:
Football - If you look at the stat line for BC quarterback Chase Rettig, you'd have to wonder just how bad the Eagles had been beaten by North Carolina State. He was 8-15 for 53 yards. That is just a pathetic statline no matter how you look at it.
But thanks to an amazing day on the ground, Boston College ran away from the Wolfpack and won the game 38-21.
The ground game churned their way through the NC State offense for 420 yards. Andre Williams (pictured below) ran 42 times for 339 yards and 2 TDs. Of course, he fumbled twice (losing one) so ball security is an issue that has to be addressed. But his final game at Alumni Stadium was a sight to behold. He had over 100 yards in the first quarter alone. He set new school records for career rushing yards and single season rushing yards. Oh, and he broke his own single game rushing record (set just last week) as well.
Myles Willis also got into the rushing attack with 77 yards and a score.
Receiver Alex Amidon caught 5 of Rettig's 8 completions for 34 yards, but also had a 15 yard rushing TD.
The Eagles are 6-4 now and that means they are now bowl eligible. Not bad for the first season under coach Steve Addazio. And even better considering just how bad the team performed last year.
Andre Williams and the rest of the seniors were playing their last home game at Alumni Stadium yesterday and the team went out at home on a high. The fans going on the field in this game was both a celebration of the win and the turnaround this year. Unlike the Kansas game mentioned above, the fans were also invited by the school to come on the field after the game anyway. It was some promotional thing I saw on the team's website page.
The Eagles close out their regular season with two away games and one of the announcers on the game yesterday said that BC has a chance to actually end up with 8 wins on the season. I'm not counting on that prediction or anything (especially since one of their opponents is Maryland who pulled off a 27-24 win over a supposed to be better than them Virginia Tech yesterday) but for a talking head to say that about a team that couldn't find their own collective asses last year, even the chance at 8 wins is something to be ecstatic about.
MISCELLANEOUS
TV - On Saturday November 23rd, the BBC will do a global simulcast of the 50th Anniversary Celebration Doctor Who Special "The Day of the Doctor". It will be on BBC America starting at 2:50 pm EST.
To further whet the appetite of Whovians everywhere, they released the prequel minisode the other day. It's called "The Night of the Doctor" and features a huge surprise return of...well I'll let you all figure it out.
In other TV news, I checked out one of the new Hallmark Channel Christmas movies last night. Yes, it is that time of year again. Hallmark is running holiday movies day and night from now until the end of the holiday season. I watched one called The Thanksgiving House a couple weeks ago, but it was preposterously stupid and a total wimp out cheat in the resolution.
But last night I watched the premiere of The Christmas Ornament and it was actually pretty decent. It starred Kellie Martin, who I've liked since her time on the show Life Goes On and LOVED on both ER and the Hallmark mystery movie series Mystery Woman. Also along for the ride, playing the best friend of Martin's character was Jewel Staite. And you can't go wrong in my book when you cast have someone from the Firefly TV show and the follow up movie Serenity in a role. Especially if it is one of the cast members that I've actually met!
Movies - I saw Thor: The Dark World last Sunday. I thought the first Thor movie was fine to see a single time but otherwise not really much of a movie. But this one was far more entertaining with a ton of action and an appropriate portion of humor thrown in as well.
Music - The official live video for the new Fates Warning song "I Am" has been released.
Meanwhile, a group of teenage music students covered the Tool song "46 and 2" and the video has been posted online. The singer is a 12 year old girl and the video is fantastic.
I've got a new review in the works. It is for the new Benedictum CD Obey. The album isn't due out until December 3rd, but I was forwarded the record company's download link to check out the disc for review.