While hoping that the winter storm leftovers (snow) melts down a little before we get hit with another round of fresh powder...
BOSTON CELTICS
More bad news this week for the Celtics. Their stay in first place of the Atlantic division has gone by the boards after three more losses.
The Celtics blew yet another 18 point lead as they lost to the Atlanta Hawks 92-91. Kelly Olynyk had a career high 21 points in the game as the bench players got a lot of action when the starters got benched for a large part of the game due to ineffectiveness. Case in point: The starters shot 25% for the game while the bench hit 62% of their shots.
Kris Humphries scored 18 points and grabbed 10 boards while Courtney Lee added 11 points. Jared Sullinger had 11 points in the game.
There was some flareup on the Boston bench between Brandon Bass and Jeff Green. It has been played off in the press as just a run of the mill argument between teammates. I'm hoping that is the case because the Celtics can't afford any lingering bickering between two of their top players.
On Thursday, the Chicago Bulls put a 94-82 knockdown on the Celtics with 6 Bulls hitting double figures in the game. As for the Celtics, Jordan Crawford scored 22 points and had 7 assists. Green and Sullinger each scored 11 points. Sullinger had 11 boards as well. Humphries finished with 9 points and 11 boards.
And then came Friday's game against the New Orleans Pelicans. Avery Bradley scored 22 points. Bass had 16 points and 11 boards and Green added 16 points. Jared Sullinger finished with 13 points and 11 boards. Kris Humphries scored 7 points but led the team in rebounding with 12.
Jared Sullinger has been toughing it out as of late. It seems he re-aggravated a hand injury and it is causing him some harsh discomfort, but so far he has been adamant about playing through the pain. While an admirable trait, I hope the injury doesn't get so bad that he ends up having to be out for a long period of time. I'd rather see him down for a few games than a few dozen.
And have you noticed the way Kris Humphries has been playing as of late? Injuries led to his playing time increasing and he has shown up in a big way in the box score. He's scoring the ball, but he has also been a huge factor on the boards. For a guy that initially looked like he might not even be with the Celtics when the season started, he's actually earning the money he's getting right now. It's a long way from how people (including me) saw him as originally.
FANTASY FOOTBALL
The official results of my dabbling in being a fake NFL GM this year saw me finish 5th overall in one league and 7th overall in another. I'm guessing if I was an actual GM, the one you'd compare me to most was the guy in Tampa Bay who just got fired.
Better luck to me next year I hope.
WNBA
Two resoundingly bad bits of news this week for the league.
It seems the Los Angeles area is in for their second round of gawdawful ownership worries (after the McCourts-Dodgers debacle). The majority owners of the L.A. Sparks, the family owned company led by Sparks chairman Paula Madison have essentially walked away from their responsibilities as team owners.
The league has taken over the search for a new owner since the ones who were in control have abdicated their duties. The front office and coaching staffs (three weeks after head coach Carol Ross signed a contract extension) have been laid off / fired. The players got letters saying as of Dec. 31st, they were no longer employees of the team. They are apparently still being paid and getting their benefits though.
This is a rather spectacular disaster for the league, which has had more than its fair share of teams folding or moving it its relatively short lifespan.
From what I've read on the Rebkell women's basketball message boards, the Madison family ownership was seen as bad from Day 1 and allegations of shady business dealings by Paula Madison and her brother have been getting some play on the boards too.
It has also been mentioned that if the league can't maintain a team in a media capital like LA, it might further hasten a possible demise of the entire league.
Apparently there might be some light at the end of the tunnel though as Joe Lacob, the owner of the Golden State Warriors has expressed interest in owning the team. He's a big supporter of women's basketball and owned the San Jose Lasers in the ABL before that league folded.
It will be interesting to see how this story unfolds from here.
You can read more about the story here: http://www.latimes.com/sports/sportsnow/la-sp-sn-sparks-20140102,0,7972507.story#axzz2pRG2bmy7
The other bit of news came on Friday when Seattle Storm President and CEO Karen Bryant announced the 2014 season will be her last with the team. She has spent 15 years with the team from securing the franchise in the first place and helping name the team to becoming one of the owners of the Storm.
While an owner stepping down/away from the team might not seem like a big thing when the rest of the ownership is still in place, you can't help but wonder if this is another BAD BAD BAD sign for the league when it loses one of its most passionate supporters in actively working in the WNBA.
You can read more here in a letter from the owners: http://www.wnba.com/storm/news/owners_letter_010314.html
You can learn more about what Bryant has meant to the Storm here: http://www.wnba.com/storm/contact/karen_bryant.html
WOMEN'S COLLEGE BASKETBALL
Missouri State - The Lady Bears have been on a roll as of late. They beat North Texas 85-79 to win their 4th straight game and improve to 5-6 on the season.
Yes I know it is still a losing record but the rough start to the season had you wondering if it was going to be a long run of losses this year. It is nice to see things starting to take hold for the team as a whole before their Missouri Valley Conference schedule kicks in.
Bry Snow scored a career high 21 points and Tyonna Snow added 21 points of her own. Nijay Gaines added 12 points and Kenzie Williams finished with 11 points and 8 boards. Of course, the biggest factor in the win just might have come from the foul line as MSU hit 30 out of 40 attempts.
Tennessee - The Lady Vols split their last two games. First up they destroyed Lipscomb 110-42. The score makes you wonder why this team was on Tennessee's schedule in the first place.
Isabelle Harrison (pictured below) led the team with 26 points and 15 boards. Meighan Simmons added 15 points. Cierra Burdick had a big game with 13 points, 10 rebounds and 7 assists. Mercedes Russell, who would be named SEC Rookie of the Week, added 12 points and 7 boards. Bashaara Graves and Nia Moore each scored 11 points.
The score of the game was the largest margin of victory for Tennessee since 2005.
But the good times didn't keep rolling along when they faced off against #16 LSU. The Tigers are coached by former Lady Vol Nikki Caldwell and she came back to somewhat mar the Candace Parker jersey retirement ceremony (pictured below 1st) by upsetting the #5 Lady Vols 80-77.
Isabelle Harrison tied her career high with 26 points and added 10 rebounds. Simmons had 15 points. Ariel Massengale scored 10 and dished out 12 assists while Jasmine Jones (pictured below 2nd) had 8 points and 10 rebounds.
The loss leaves Tennessee at 11-2 on the season.
Hartford - The Hawks dropped a 70-56 decision to Penn State last week. Cherelle Moore scored 11 points as the only Hartford player to hit double figures in the game. She added 9 rebounds as well. Alyssa Englert scored just 4 points in the game but did have a career high 9 assists.
Hartford closed out their non-conference schedule on Saturday afternoon with a 56-43 victory over Dartmouth. They improve to 4-10 on the season. Amber Bepko (pictured below) was the only player in double figures for Hartford, finishing with 11 points (all in the first half).
You can see the highlights and the post game presser with coach Jennifer Rizzotti below.
NFL - I don't have a whole lot to say about the playoffs that hasn't already been said by talking heads who get paid to offer their opinions or by other bloggers on TSBN or YouGabSports. So I'm pretty easy on this...GO PATRIOTS!
But the interesting read I had this week had to do with the Cleveland Browns. This joke of a franchise should be contracted to save the NFL the weekly embarrassment that is the so-called professional football franchise. I've got a friend who is a huge Cleveland sports fan (no accounting for his tastes but I digress). While I'm not saying that I'm hoping a Cleveland team wins to get him off the metaphorical ledge of the building, it would be nice if he had SOME hope.
It seems a lot of football fans are despairing of ever seeing a winner with the Browns. You can check out this article for more: http://mmqb.si.com/2013/12/30/rob-chudzinski-firing-browns-fan-reaction/
After the firing fest that took place last Sunday and Monday, it looked like the pink slips had gone by the wayside for the NFL head coaches. But yesterday, the Tennessee Titans fired Mike Munchak after he went 22-26 over three seasons.
I guess you can't say it was much of a surprise that he was fired but the timing is odd. What was going on that it took an extra week to decide he wasn't going to be brought back for a 4th season?
The article I read said the team has been holding meetings for the last week, but I can't imagine they just started their organizational review AFTER the season ended.
The firing ends Munchak's tenure with the club which began in 1982 when he was drafted to play for the franchise.
You can read more here: http://sports.yahoo.com/news/ap-source-titans-fire-mike-200638428--nfl.html
As for yesterday's first playoff game, fans sure got their money's worth for the game, didn't they?
I tuned in with 13:39 left in the 3rd quarter with the Kansas City Chiefs just smacking the Indianapolis Colts around, 38-10.
But just when you might've thought the game was over, the Colts rallied back, in "Music City Miracle" fashion, and with 4:21 left in the fourth quarter went ahead 45-44.
Yes neither team played much defense in the second half and yes the Chiefs were hurt by a number of injuries (including running back Jamaal Charles) but for those that love offensive football, this was a game of Thanksgiving meal sized proportions.
BOSTON COLLEGE NOTEBOOK
Women's Basketball - The women's team is cooking with fire lately. They've now won 6 games in a row to stand at 9-5 on the season.
They beat Providence 80-71 behind a season high 23 points from Kristen Doherty. Kat Cooper added 15 points and Nicole Boudreau scored 15 points of her own to go with 6 boards. Katie Zenevitch had 14 points and 6 boards.
You can check out a brief video of the post game comments from Erik Johnson below.
The team followed that victory up with an 81-67 win over Mount St. Mary's. Katie Zenevitch had a career high 29 points and career high 16 boards to power the Eagles to victory. Boudreau added 17 points and Doherty had 13 points and 8 boards. Lauren Engeln finished with 10 points.
The most amazing thing about this current win streak is that the Eagles are doing it while at the same time missing a large portion of their lineup. Against Mount St. Mary's they had just 7 available players for the game.
If they ever get all their players healthy and contributing...man I could be setting myself up for disappointment in a big way, but I would think they could be a factor in the ACC conference play.
You can watch the postgame with coach Johnson below:
Men's Basketball - The "Fire Steve Donahue" movement is now starting to get louder. On the BC athletics Facebook page in particular. After the Eagles lost to Harvard on New Year's Day 73-58, unhappy basketball fans aren't even bothering to hide their dissatisfaction with the product on the floor.
I can't say I blame them. The Eagles have now lost to Harvard 6 years in a row! They were 4-10 on the season after the Harvard loss and it isn't because they lack players. They've got guys who can score. But apparently they have no one who can play defense. And improvement doesn't seem to be on the horizon when you factor in that the ACC schedule with teams consistently ranked in the Top 25 (and top 5 for that matter) will be their opponents for the rest of the regular season.
If you can't stop teams that aren't as good as what you'll be facing in conference play, how the hell do you think you are going to stop Duke, Syracuse or North Carolina?
For the Harvard game, Ryan Anderson led the Eagles with 17 points and 9 boards. Olivier Hanlan added 13 points. Eddie Odio scored  11 and Joe Rahon chipped in with 10 points.
The Eagles played Clemson on Saturday afternoon. The first half was awful as BC was held to just 17 points for the first 20 minutes.
The game was much better and closer in the second half. Olivier Hanlan had a chance to tie the game at the foul line but front rimmed the first shot and had to purposely miss the second attempt. Clemson got the rebound and the final horn sounded and the Tigers won 62-60
Hanlan had 27 points and 5 rebounds in the game to lead Boston College. Ryan Anderson finished with 13 points as the Eagles dropped to 4-11.
MISCELLANEOUS
TV - While I've been doing a rewatch on the cancelled Fox series Wonderfalls on DVD and watching Night Court on On Demand, the biggest TV news is also movie related.
The three season series Veronica Mars is getting a big screen movie. And the first official theatrical trailer has been posted online. You can check it out below. As a huge fan of the series, I was quite happy with the tease of the trailer.
Books - I picked up two books this week. The first I mentioned last week as having ordered it. But my copy of Hank Phillippi Ryan's The Wrong Girl finally came in the mail this week.
The other book I picked up was the latest Star Trek novel Star Trek: The Fall - Peaceable Kingdoms by Dayton Ward.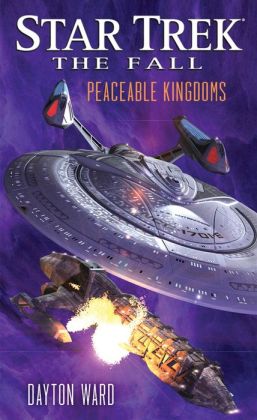 And for those who might at least pretend to care about my opinions on the subject of Best of lists, you can check out my Pop-topia.com article for my picks for the best mysteries and thrillers of 2013 here: http://www.pop-topia.com/couch-potatos-top-10-mysterythriller-novels-2013/
Music - My last CD review of 2013 was for the Beth Hart / Joe Bonamassa CD Seesaw. You can check out what I had to say about the album here: http://www.pop-topia.com/cd-review-beth-hart-joe-bonamassa-seesaw/
Also, as part of my writing duties for KNAC.com, I submitted my list of the 10 best CDs of the year. You can read the full article including the lists from everyone else involved with the content side of the site here: http://knac.com/article.asp?ArticleID=10688
My full breakdown of the best of goes like this:
01.) Oliva - Raise The Curtain (Nuclear Blast)
02.) Metal Church - Generation Nothing (Rat Pak Records)
03.) Black Sabbath - 13 (Republic Records)
04.) Fates Warning - Darkness in a Different Light (InsideOut Music)
05.) S.U.N. - Something Unto Nothing (Robo Records)
06.) Pamela Moore - Resurrect Me (Rat Pak Records)
07.) Deep Purple - Now What?! (Eagle Rock Entertainment)
08.) Helloween - Straight Out Of Hell (Sony)
09.) Queensryche - Frequency Unknown (Cleopatra Records)
10.) Benedictum - Obey (Frontiers)

If you include the NON-Metal releases, the list would look like this:

1. Oliva - Raise The Curtain
2. Metal Church - Generation Nothing
3. Black Sabbath - 13
4. Beth Hart - Bang Bang Boom Boom
5. Fates Warning - Darkness in a Different Light
6. S.U.N. - Something Unto Nothing
7. Pamela Moore - Resurrect Me
8. Beth Hart / Joe Bonamassa - Seesaw
9. Deep Purple - Now What?!
10. Helloween - Straight Out of Hell