While anticipating the potential body count in one of my favorite TV shows tonight...
BOSTON CELTICS
Have you been paying attention to the Celtics recently? The Saturday night game was too late to be included in the column this week, but there were three games over the past week and Boston picked up two wins. They are an unremarkable 7-11 as I write this but one thing that seems to be trending is the sudden scoring consistency of Jeff Green.
The week started with a 96-86 win over the Charlotte Bobcats. The team was led by Jordan Crawford's 21 points. Gerald Wallace had a big game with 17 points and Brandon Bass added 16 points. Jeff Green had 13 points and Courtney Lee finished with 11 points. Rookie Phil Pressey had a career high 8 assists.
Against the Grizzlies, the Celtics were completely out of sync in the first quarter and trailed 27-13 after one period. They actually managed to outscore Memphis in the second half, but the first half deficit was too much to overcome.
Green had 26 points and 7 boards to top the scoring column for the Celtics. Jared Sullinger had a huge game with 23 points and 12 rebounds and Avery Bradley scored 16 points. Bass was the top rebounder for Boston with 13.
Last night, the shoe was on the other foot for the Cleveland Cavaliers as it was the Celtics using the first quarter to blow out their opponents 28-10. The final socre was 103-86 and it was Green scoring a season high 31 points that led the way to victory. Bradley had 21 points. Brandon Bass and Jared Sullinger added 12 points apiece while Jordan Crawford had a triple double with 11 points, 11 rebounds and 10 assists.
In looking over Green's recent production, you would see that since the November 20th game against San Antonio Green has averaged more than 22 points in the last 6 games. He's had a string of double figure scoring totals over the course of the season thus far, but he had back to back games of 2 and then 4 points and questions about his consistency arose as they have when he doesn't "step up". I've said much the same thing when I bring his name up.
But he seems to have recently found a new level. For me, being a consistent scorer doesn't necessarily mean you have to lead the team in scoring each game. But you do have to be in double figures and do it game after game. You have to be one of the players that can be "the man" in a game at any given time.
Questions about Green's consistency will likely still remain, but over the last 6 games, Green has seemed more comfortable with the expectations on him to be one of the main producers of offense for the Celtics.
And if that streak continues, it can only be a good thing for the fortunes of the Celtics season.
FANTASY FOOTBALL
I had another crappy week in fantasy football. I went 0-2 for the week. One of the losses was the biggest blowout of the week in that particular league. I had a chance to win the second matchup but the failure of the players I had in the Monday night game to do anything statistically sent me to the second loss.
Oh well, try try and try again this week.
COLLEGE FOOTBALL
Mass Maritime - While the season is over for the Division 3 Buccaneers, postseason accolades are being announced. My ex-player E.J. was named an all-MASCAC first team selection.
In a game that featured just how the fortunes of a team can change drastically within a season, Texas beat Texas Tech 41-16.
If you haven't paid attention, Texas started the season off so badly that the defensive coordinator was fired and it looked like head coach Mack Brown was going to be following him out the door and not necessarily at the END of the season. But the Longhorns are now 8-3 and looking pretty good overall. Perhaps they aren't on par with their glory days but from the way they started to 8-3, it is a decent improvement.
As for Texas Tech, rookie coach Kliff Kingsbury started out 7-0 and was the toast of college football. One has to wonder what is being said about him now after 5 straight losses. The Red Raiders are still bowl eligible. But when they were 7-0, they looked like a team headed for a major bowl. Now, they are looking at something equivalent to the Poulan Weedeater Bowl.
It is not exactly a bold statement to say that college football coaches can be the living embodiment of the phrase "huge jackass". But Nebraska coach Bo Pelini seems to be redefining the qualifications. The Cornhuskers started out okay, but a blowout loss to UCLA didn't have many people happy. A loss to Minnesota in Week 9 wasn't good either. But after two big wins over Northwestern and Michigan, it looked like Pelini's hot seat was cooling off.
A loss to Michigan State wasn't too bad because the Spartans are one of the better teams in the country. But losing to Iowa (38-17) in the regular season finale was pretty bad. 8-4 is an unacceptable season for the Cornhuskers, and there has been a number of seasons under Pelini that have ended with 4 losses.
If the losses weren't bad enough, Pelini basically dared Nebraska to fire him at the post game press conference. They guy has failed at his job of bringing the Cornhuskers back to national title contender status and he's calling what he thinks is a bluff by the Nebraska administration?
The AD is publicly standing by the coach, but I am really unconvinced that will be the case after the school's bowl game, win or lose. I've always thought when a coach makes that kind of "if they don't like the job I'm doing, fire me" statement, that's exactly what a team should do.
I know the constant speculation on job security can be wearing on anyone, but if you blow up in public it makes you and the school look bad and a parting of the ways looks better than suffering through another season of will they or won't they.
San Jose State knocking off #16 and previously undefeated Fresno State 62-52 has to be one of the bigger upsets of the week. The win was huge for the team not just because of the upset over a ranked team, but it was also their 6th of the season making them bowl eligible.
SJSU quarterback David Fales (pictured below) had what had to be the game of his life with 547 passing yards and 6 TDs.
Of course Penn State beating #14 Wisconsin 31-24 was a big win in the otherwise kind of disappointing Nittany Lions season. I know they have 7 wins, but for some reason I think fans and observers alike were expecting a bit more from them this season.
Duke beat North Carolina 27-25 to finish the regular season 10-2. Coach David Cutcliffe (pictured below hugging player David Helton) was carried off the field by his players as they celebrated making the ACC championship game where they will face Florida State.
Other rivalry games - Ohio State beat Michigan 42-41 after the Buckeye defense intercepted the pass for a two point conversion with 32 seconds left in the game. It does raise the question of why you would try to score the go-ahead points instead of taking the tie in a big game such as this.
The Kansas State-Kansas game saw the Jayhawks lose 31-10. The only reason I brought up this game was at 3-9, what's the over-under on Charlie Weis coaching at Kansas next season?
When two teams are ranked inside the top ten, the lower ranked team winning still counts as an upset right? Well, no matter how you look at it, #10 South Carolina beating #6 Clemson 31-17 had to have the Gamecocks strutting like peacocks last night.
It's been a long long season for Hawaii. But they remain winless no longer after their 49-42 defeat of Army to finish 1-11. Quarterback Sean Schroeder (pictured below with coach Norm Chow) passed for 3 TDs and ran for another to run Hawaii's record against Army to 3-0.
Alabama - And the earth trembled. With a game for the ages in terms of competitiveness if not excellence of execution, the Crimson Tide blew chance after chance to put away the Auburn Tigers in the latest Iron Bowl.
A.J. McCarron passed for 3 TDs, T.J. Yeldon ran for 140 yards and a score and yet it was a horrible performance from the defense and special teams that doomed in stunning fashion the chances for a 3rd straight national title.
You'd think a McCarron 99 yard TD pass would be the play of the game but with a 109 yard return by Chris Davis after a missed Bama field goal with 1 second left, Auburn totally shook up the BCS field and won 34-28.
The Crimson Tide defense gave up 296 rushing yards (393 total). Auburn's QB Nick Marshall threw for 2 TDS and had 99 rushing yards and rushing TD.
The special teams were a disaster as kicker Cade Foster missed 3 field goals before being pulled for the second string kicker for that last 56 yard FG attempt. The sub kicker had taken just two kicks in his CAREER before the attempt.
Alabama had nothing in the way of fast guys on the field and when Davis ran the missed kick back, no one could catch him.
I've said all year that Alabama was the best team in the country because they started at #1 and never lost. But the Tigers got two miracles in the last two weeks and enlivened that "War Damn Eagle" cry.
There's just nothing to say. Bama blew their multiple chances and Auburn took advantage to mark the biggest upset of the weekend.
Congratulations to the Tigers.
WOMEN'S COLLEGE BASKETBALL
The holiday tournaments were underway this Thanksgiving weekend as teams head all over the country and even out of the country for their next round of games.
Missouri State - The Lady Bears weren't headed to any holiday tournaments. They dropped to 1-4 after losing on their home floor to Quinnipiac 75-65. Kenzie Williams led the team with 15 points while Hannah Wilkerson had 12 points.
While the start has been less than auspicious for coach Kellie Harper, she did have some fantastically joyous news to share on November 27th. She gave birth to her first child, Jackson Kenneth Harper. Congratulations to Kellie and her husband/assistant coach Jon Harper.
Hartford - Another team that has seen their season get off to a rather disastrous start, the Hawks got blown out twice this week and lost a total of three times and stand at 1-6 on the year.
The first loss was to Central Connecticut State, where they lost 82-50. Alyssa Reaves and Alyssa Englert scored 11 points apiece to lead Hartford.
A brief "highlight" and post game comments video can be seen below.
Hartford then went on the road to play in the Miami Thanksgiving Tournament where they faced Missouri in the first round. The Hawks got 11 points from Cherelle Moore but shot just 32.7% from the floor in their 68-45 loss.
In the consolation tourney game on Saturday, it was a closer game, but St. Francis (NY.) captured the 56-49 win. Freshman Morgan Lumb (pictured below) had a career high 16 points to lead Hartford while Amber Bepko finished with 12 points.
I'd like to weigh in with an opinion on what exactly is going on with the Hawks, but for a change, I simply can't. I don't understand why they are playing so badly. They seem to have players who can make something happen, but nothing seems to be coming together for them as a whole. I might be able to say something more once I see them play next Sunday (December 8th) when they visit Boston College.
Tennessee - The Lady Vols ran off three wins this past week and remained undefeated at 7-0. They blew out Oakland 84-50 behind 15 points and 11 boards from Bashaara Graves. Meighan Simmons had 14 points and Ariel Massengale scored 13 points while dishing out 6 assists.
The team then jetted off to the Bahamas for the Junkanoo Jam tournament. In the first game, they held off Virginia 76-67. Meighan Simmons (pictured below) exploded for 32 points (including 8 three pointers) and 5 assists.
Massengale had 10 points and a career high 13 assists. Cierra Burdick added 10 points and 6 boards.
In the tournament final, the Lady Vols just demolished SMU as they captured the tourney title 87-47. Ariel Massengale had 16 points, 5 assists and 5 rebounds and Jasmine Jones (pictured below) had 13 points. Bashaara Graves had a double-double with 10 points and 10 boards.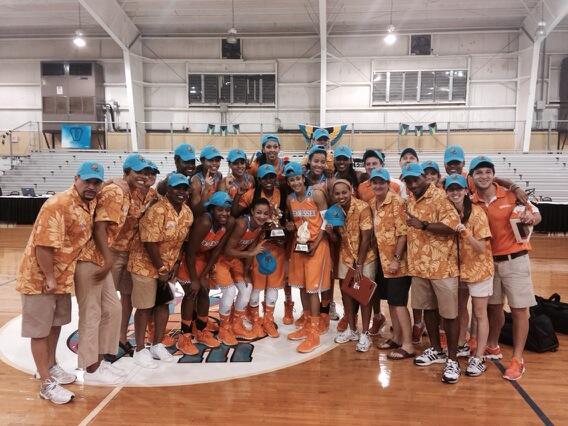 MISCELLANEOUS SPORTS ARTICLES
Ex-WNBA star Katie Smith had a featured article in the December issue of Columbus Monthly that came with a rather awesome photo. You can check out the article here: http://www.columbusmonthly.com/December-2013/For-Love-of-The-Game/
There was another one of those miracle long distance buzzer beaters in college basketball recently. It was from NAIA school Huntington University. They got a 3/4 court shot from Shane Merryman to beat Marian. You can read the article here: http://sports.yahoo.com/blogs/ncaab-the-dagger/three-quarters-court-heave-gives-naia-school-win-135552863--ncaab.html
The video is below here:
Speaking of buzzer beaters, there was a rather huge one in a New York high school playoff game between New Rochelle and Mount Vernon back in March 2013. I remember seeing the shot when it happened. Sports Illustrated had a really good article about the game, the shot and the principals involved that appeared in the most recent issue. You can check  out the story (and video) via this link (you have to watch a quick video to unlock the story on the SI.com website): http://sportsillustrated.cnn.com/magazine/news/20131127/new-rochelle-the-shot/index.html
BOSTON COLLEGE NOTEBOOK
Women's Soccer - The BC women's soccer team beat Illinois last Sunday 4-1 to advance to this past Friday's Elite Eight game against #3 Florida State. Unfortunately for the Eagles, their season came to an end with a 4-0 loss to the Seminoles. They finish with a 13-10-1 record.
Men's Hockey - The Eagles found themselves on the wrong end of two losses this week. They dropped at 5-1 game to Maine and then fell short of a huge comeback and lost to Holy Cross 5-4 after spotting them a 4-1 lead. It was the first loss ever to a team from the Atlantic Hockey conference. They are 8-4-2 on the season now.
Women's Hockey - In the first of back to back games against #3 Cornell, the Eagles lost 2-0 but rebounded last night to win 4-1 and raise their record to 12-4-1.
Women's Volleyball - With consecutive 3-1 losses to Syracuse and Notre Dame, the Eagles season came to a close with a 9-23 record.
Men's Basketball - Ryan Anderson (pictured below 1st) scored 28 points and grabbed 11 rebounds to power the Eagles to a 75-67 overtime win against Sacred Heart. With a 3-4 record, the Eagles are in the midst of a weeklong break for Thanksgiving.
Joe Rahon (pictured below 2nd) finished with 19 points, including 9 in the overtime period. Olivier Hanlan had 15 points.
Women's Basketball - The women's team was off to Mexico for three games in the Cancun Challenge over the holiday weekend.
According to a tweet from coach Erik Johnson, he made the mistake of drinking the water and ended up having to visit TWO hospitals for reasons you can probably suss out for yourself.
Also, with the school running their annual Thanksgiving weekend ticket sale, I was able to pick up tickets to a couple more games. And I paid just $1 a ticket and I'll be seeing games against North Carolina and Syracuse to go along with that December 8th game against Hartford I mentioned above.
As for the games in Cancun, the Eagles blew out UNC-Wilmington 75-54 with Kristen Doherty scoring 13 points to top the scoring chart for BC. Kat Cooper had 12 points and Kelly Hughes added 11 points and 8 boards.
Game two of the tourney was against Iowa. The Hawkeyes came away with a 78-68 victory despite 18 points (including a career high 5 threes) and 5 rebounds from Kelly Hughes. Kristen Doherty (pictured below leading the pack) had 16 points and Lauren Engeln added 11 points.
The odd thing about the Eagles losing this game was that they shot better from the 3 point range and won the battle of the boards. The overall shooting percentages for both teams were pretty close as well.
The final game of the three game set was against USC and the Trojans just trounced the Eagles in the first half. It was 45-18 at the break as BC couldn't hit water if they fell out of a boat. It was UGLY as they fell to 3-4.
The terrible thing about playing so bad in the first half is that it makes the fact they played USC even (34 points eas) in the second half. 79-52 was the final score and shows just how far the Eagles have to go.
Kristen Doherty and Katie Zenevitch each scored 12 points to pace the Eagles.
Football - The regular season came to a stunning and disappointing end last night for the Eagles. They were ahead 31-27 late in the game but Syracuse marched down the field and scored the go ahead TD with just 6 seconds left in the game and won 34-31. The loss drops BC to 7-5 while Syracuse becomes bowl eligible with their 6th win of the season.
There's no way to spin a loss, but I suppose the Eagles being in the game at all was good since they lost Andre Williams to an injury early in the third quarter. He had just 29 yards rushing (with a TD) before leaving the game. Talk about the worst time to get hurt, just as a ground swell of Heisman support was starting up. Oh and you can check out this SI.com article about Williams: http://sportsillustrated.cnn.com/college-football/news/20131126/andre-williams-boston-college/index.html
With their most potent offensive weapon out of the game, it was up to QB Chase Rettig to be more than a game manager. His numbers weren't outstanding but he had the results that had the Eagles in the lead late. He was just 11-19 for 168 yards with an INT. But he also threw for 2 TDS. Going above and beyond normal level of expectations, he had 85 yards rushing (including a 54 yard run) and scored on a 1 yard run.
The biggest failure on the day was the Eagles defense. Despite getting a sack and an INT, they gave up 480 yards in total offense (270 rushing yards). The failure to get stops when they needed it is what will be seen as the main sticking point for the loss.
MISCELLANEOUS
Thanksgiving - I had a pretty good meal on Thursday. All the traditional foods (except stuffing which no one in my family likes) were on the menu with two kinds of pie for dessert. We all helped out in the preparation of the food before devouring the finished product!
I actually didn't go to the neighbor's for dessert like we usually do.
The site I write articles for asked me to contribute to a piece about what everyone was "geek-thankful" for this year. You can check out what I had to say here: http://www.pop-topia.com/happy-thanksgiving-pop-topia-staffers-reveal-theyre-geek-thankful/
Xmas - With the Black Friday kickoff to holiday shopping season, I am happy to say that other than regular weekly spending, the only extra spending I did was for those BC women's basketball tickets I mentioned above. I only went out once on Black Friday and it was horrible so I've never done it again.
Speaking of horrible...do you remember last week's Sunday Musings when I talked about my plan to watch Rudolph the Red-Nosed Reindeer on Tuesday? I've been watching the show for decades and on Tuesday I actually realized something I'd never caught before.
Did you know that there is a murder at the end of the show? I'm not kidding, there really is a murder in the 49 year old holiday special.
At the very end, when the elf is dumping the toys out of the sleigh. He gives them an umbrella. But then he gets to one of the misfit toys. It's the bird...but he can't give him an umbrella, so he just lets the bird go. Except the bird is the one that can't fly, he swims! J'ACCUSE! Murder most ahem "fowl"!
Other than watching the holiday movies on the various channels (Hallmark, Hallmark Movie, Lifetime, etc.), I don't usually do anything Christmas related (shopping doesn't count either, I do that all year long) until December 1st. So today will be the first day I pull out my Trans-Siberian Orchestra Christmas CDS and play them a number of times over the next month.
You can check out the band's big instrumental hit "Christmas Eve / Sarajevo 12-24" below. Though I always make it a point to acknowledge that the song was originally recorded by the heavy metal band Savatage from which TSO became a side project of before becoming the monster holiday hit that it is. The song was on the Savatage concept album Dead Winter Dead but when they sent the song to radio stations, no one would play it. And now it is a big holiday rotation hit.
TV - Tonight is the mid-season finale of The Walking Dead. It looks like it is going to be a bloodbath too with some scenes appearing to be lifted straight from the comics.
Music - I got the new Chastain CD Surrender To No One this week via a download link from the record company releasing the disc. I'll be reviewing it at a later date. But you can check out the title track here:
But I also got to review a new CD this week. It's due out this coming Tuesday (December 3rd). The band is Benedictum and the album is called Obey. You can check out my review here: http://www.knac.com/article.asp?ArticleID=10574
The video for the song "Scream":