(The face only a mother and wrestling fans could love...)
What would The Undertaker have been without his Paul Bearer?
The perfect schtick...
The Deadman...
His freaky manager...
And The Urn...
So...
If you want to get a guy to play a mortician...
You get a real life mortician...
William Moody, aka Percy Pringle III, aka Paul Bearer...
I can hear him squealing now...
I can see him clutching the urn to his body...
As Undertaker takes a few blows from the opponent...
The Phenom and the phenomenal Paul Bearer...
The guy played the part to a tee...
One of the most accessible men in the business...
Try sending a tweet or an email Hulk or Punk...
And you'll wait a while...
I'd always loved Paul Bearer...
This is about as bad as when Macho passed...
So about two years ago...
Right before Paul made his last set of performances for WWE...
I sent him an email on percypringle.com...
"Wow! I was stunned and thrilled at the same time when I saw your face next to the Deadman, promoting Hell in a Cell. He's back. We emailed back and forth a few years ago. I had been checking your website every once in a while, but had totally missed the fabulous news... until I saw you on SyFy Friday.
My condolences in regards to your wife. I will pray for you. My congratulations on your return. You deserve to be in the WWE Hall of Fame... and you will be there. You have been through a lot and you deserve all of the accolades you get...
Percy, Paul... I will be 56 on the 20th of this month. I love the business of wrestling... and have since the sixties. Many years ago, in the LA Sports Arena, my son Ryan actually touched the urn as you were headed to the ring with the Undertaker. He was thrilled.
Anyways, a friend of mine named Scott writes a Wrestling Wednesdays blog (scottjax77) on YouGabSports.com. I told him to look you up and that you are very accessible. You may hear from him.
I am so very happy for you.
God Bless You,
Doug Van Tuyl
And within a few days, I checked my inbox...
I thank you Doug, for your kind email.  I appreciate it more than you may ever realize.  I enjoy being able to interact with my fans and supporters.
Be Blessed.
† Percy
Now that was cool... 
He was a really nice man who'd been through a lot...
Morbid obesity...
The loss of his son, then his wife...
And the loss of many friends in the business...
Check the calendar on the website...
Commemorations of birthdays and memorials of death days...
Moody passed away two days before Brother Love's Birthday...
And 19 days before Taker's b-day...
Monday is National Funeral Director's Recognition Day...
Continue to scan the calendar...
And you'll see...
"RIP Rick Rude", April 20...
"RIP Miss Elizabeth", May 1...
"RIP Freddie Blassie & Junkyard Dog", June 2...
Leave it to a mortician to remember that...
Percy, as he called himself, loved the business and his friends...
Not necessarily in that order...
"Since 2005, and over 800 entries, the orginal purpose of this BLOG has never changed. I consider it to be a personal letter from me to my extended family of fans, supporters, and friends. I ALWAYS encourage your emails, comments, suggestions, and questions. Be Blessed! ~Percy" (http://percysposts.blogspot.com/)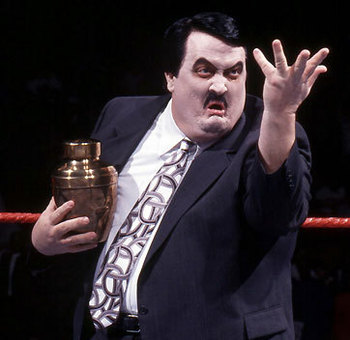 The most distinctive and colorful manager in the history of the WWE...
Which means...
A lock for the WWE Hall of Fame...
Well deserved, but a tad bit too late...
Percy's Prayer- 
Lord, as I stumble through this life help me to create more laughter than tears, dispense more happiness than gloom, spread more cheer than despair. Never let me grow so big that I will fail to see the wonder in the eyes of a child or the twinkle in the eyes of the aged.
Never let me forget that my total effort is to cheer people, make them happy, and make them forget at least momentarily all the unpleasant things in their lives. And, in my final moment, may I hear You whisper: "When you made my people smile, you made me smile." Amen.
~Author Unknown.
And he did just that...
He made us smile...
"RIP Paul Bearer", March 5, 2013...
dvt
http://media.npr.org/assets/img/2013/03/06/paul_bearer_31b-1adbdb868907df73f90ca71bb0ffe5972120f34e-s6-c10.jpg
http://www.youtube.com/watch?v=qTkjcVBVLRc
http://percysposts.blogspot.com/
http://cdn.bleacherreport.net/images_root/slides/photos/002/191/746/paul-bearer-pictures-11_display_image.jpg?1335938964
http://percypringle.com/prayer.html