What a long and strange trip is has been for the Oakland Raiders. Born in 1960 in the expansion American Football League, the Raiders were first destined to call Minneapolis, Minnesota home. Yet the NFL countered by starting the Minnesota Vikings franchise.

Los Angeles Chargers owner Barron Hilton told the AFL he would rescind his franchise if the league did not get another West Coast team. There were few football stadiums that were appealing for professional football in California at that time.

The city of Oakland asked for the Raiders after a group of businessmen formed a group to purchase the team. They played their first season across the bay in San Francisco and even played their last three games on the NFL's San Francisco 49ers turf in Candlestick Park.

After a rough start, the Chargers helped the Raiders again. Al Davis was an assistant coach to Hall of Famer Sid Gillman with the Chargers. Davis was named the general manager and head coach.

The team started to improve, but Davis accepted the job to be AFL commissioner. The job was short lived because the AFL decided to merge with the NFL. Davis returned to the Raiders after buying a stake in the teams ownership.

Becoming a powerful team by this time, under head coach John Rauch, the Raiders won the 1967 AFL title before heading to the second ever Super Bowl and losing to the Green Bay Packers. The team continued to be one of the best in football, but it would take until 1976 for them to reach another Super Bowl.

After winning it all that year, the Raiders won Super Bowls in 1980. Davis had now become the managing general partner of the Raiders and was unhappy with the Oakland Coliseum. He moved the team to Los Angeles.

Though an unpopular move for the city of Oakland, Los Angeles accepted the Raiders with open arms. The city now hosted the Raiders and the Rams together. The Rams, who had been there since 1946, battled the Raiders for fans allegiance.

Oakland gained an edge by winning the Super Bowl in 1983. Though the Rams won a title in 1951, it would be the only championship they secured until moving to Saint Louis in 1995 and winning it all in 1999.

Oakland struggled somewhat after the 1985 season as they tried to rebuild. An 8-8 season was their best until 1989. Rumors of their return to Oakland began around that time and was a reality in the 1995 season.

Since then, it has been a bit of a roller coaster ride. The team did reach the Super Bowl in 2002 and lost. They began to struggle after that season and eventually became the first team in NFL history to lose at least 11 games in seven straight seasons.

Some fans of the Raiders think the 82-year old Davis is a lot like Bear owner George Halas was toward the end of his career. Out of touch and stubborn in his ways.

Other fans do not question the wisdom of the Hall of Famer and live by his created slogans like "Pride and Poise," "Commitment to Excellence," and "Just Win, Baby". With the teams recent improvement in 2010, it seems Davis has plenty left in his tank to give to his beloved Raiders.

This is a team rich in tradition and history with some of the most loyal fans in all of football. They have witnessed some of footballs greatest and even most controversial moments with their team.

There was the infamous "Heidi Game" in 1968, when the NBC network decided the New York Jets had the game in hand late in the fourth quarter and switched to a movie. The Raiders would storm back and win.


There is the "Immaculate Reception" in 1972, when the Steelers returned a deflected pass for a score late in a playoff game. Fans still question whether the ball touched the Steelers or Raiders first.


There is the "Sea of Hands" play in 1974, where halfback Clarence Davis caught a fluttering touchdown pass to win the game while three Miami defenders dove for the ball in a playoff game.


There is the "Ghost to the Post", where Hall of Fame tight end Dave Casper made a crucial 42-yard catch as time was expiring in double-overtime against the Baltimore Colts. The Raiders tied the game and Casper caught the winning touchdown in the next overtime period.

It is the fourth longest game in NFL history and was the last playoff game ever for the Baltimore Colts.


There is the "Holy Roller" in 1978, where three Raiders fumbled the ball forward before falling on the ball in the end zone for the winning score as time expired.


There is the "Red Right 88" play where Cleveland Browns quarterback Brian Sipe was on the Raiders 13-yard line with less than a minute to go in a 1981 playoff game. Instructed to throw the ball away if the play wasn't there, Sipe tried to force the ball to Hall of Fame tight end Ozzie Newsome and had the ball picked off by the Raiders Mike Davis.


There is the "Tuck Rule Game" in a playoff game in 2002 against the New England Patriots. Played in the snow, Patriots quarterback Tom Brady appeared to fumble the ball in a tie game. Oakland recovered the ball, but the referees declared that Brady's arm was going forward and it was an incomplete pass, allowing New England to kick the game-winning field goal shortly thereafter.

Many of these plays had impact on the game afterwards, as the NFL made rule changes to prevent them from happening again. The one thing that is certain is that the Raiders seem to be in the middle of some of footballs most historic moments.

Remember : this is a team of players who are not members of the Pro Football Hall of Fame.




Quarterback : Ken Stabler



Stabler was drafted by the Raiders in the second round of the 1968 draft. With Daryle Lamonica entrenched firmly as their starter, Stabler joined the Spokane Shockers of the Continental Football League.

When the league ceased operations after the 1969 season, Stabler joined the Raiders and appeared in three games. He started one game the next season and won. He lost his lone start the next year but played more than he had before.

Oakland started him 11 games in 1973 and led the NFL with a 62.7 completion percentage. He was also named to his first Pro Bowl.

The 1974 season was one of his best, where he went back to the Pro Bowl and earned his only First Team All-Pro nod. He led the NFL with 26 touchdown passes, a 8.4 touchdowns thrown percentage, a 7.9 yards adjusted per attempt average, a 7.1 net yards gained per attempt, and a 7.0 adjusted net yards gained per attempt.

He was also named the NFL MVP by the Associated Press, as well as the AP's Offensive Player of the Year, and the NFL MVP of the Newspaper Enterprises Association.

After missing out on the Pro Bowl in 1975, he returned to it in 1976 with one of his better seasons. He led the NFL with career best marks of 27 touchdowns tossed, a 9.3 touchdowns thrown percentage, 228.1 yards thrown per game, 8.2 net yards gained per attempt, an 88-yard pass, and a quarterback rating of 103.4.

His stellar season led the Raiders to Super Bowl XV, as he lost just one game he started all year, where the franchise won their first world championship. He was named the winner of the Bert Bell Award for NFL Player of the Year.

After making the Pro Bowl for the final time of his career in 1977, Stabler continued to lead an aging Raiders team to winning records as it rebuilt. He left after the 1979 season for the Houston Oilers in a trade that brought Oakland quarterback Dan Pastorini.

After a solid 1980 season for Houston, Stabler experienced his first year as a starter with a losing record in 1981. He joined the New Orleans Saints in 1982 and led them to a .500 record in two years before spending 1984 as a reserve. He retired after the season ended.

There were few quarterbacks in Stabler's era with as much grit, intelligence, and desire as him. Though a free spirit off the field, Oakland knew he would lead his team to victory on the field. He won 69 of his 96 regular season starts and 7-4 in the postseason.

Stabler was known to improvise, even if it meant breaking the rules, in order to win. Many opponents claimed he greased his jersey so he could slip out of their grasp. In a game in 1977 against the San Diego Chargers, the Raiders were down by six points with a few seconds left on the clock.

They were in the red zone and Stabler was attempting to pass one as the clock was expiring. His receivers were covered, so Stabler fumbled the ball forward as he was being dragged down to the turf by a Chargers defender.

Running back Pete Banaszak then batted the ball towards the end zone where tight end Dave Casper kick the ball into the end zone and fell on it. The Raiders won, despite the Chargers protesting the play.

Stabler confessed later on that he fumbled the ball forward on purpose. The NFL rules committee soon placed a rule that no more "lmmaculate Deceptions," or "Holy RoIlers" would be allowed ever again.

The rule stated that on fourth down or any down in the final two-minutes of play, if a player fumbles, "only the fumbling player can recover and/or advance the ball," for the 1979 season.

Many fans believe Stabler should be inducted into the Pro Football Hall of Fame, but critics point to his predecessor Lamonica. Not only did Lamonica get one more Pro Bowl and First Team All-Pro nod, he won three AFL titles.

Lamonica's career yards passing and touchdowns thrown are very similar to Stabler, as well as the fact he won 62 of 84 starts for Oakland and was named AFL Player of the Year twice. Critics reason that Lamonica deserves induction into Canton just as much as Stabler, since he taught a young Raiders team how to win while Stabler stepped in with a seasoned roster.

Yet "Snake" Stabler holds a special place in Raiders lore. He helped the franchise win their first Super Bowl and was part of the most historic plays in NFL history. He may be the best quarterback the team ever had.

Daryle Lamonica, Cotton Davidson, Tom Flores, Jeff Hostetler, Jim Plunkett, and Rich Gannon deserve mention.





Fullback : Mark van Eeghan



van Eeghan was drafted by the Raiders in the third round of the 1974 draft. He was rarely used as a rookie, carrying the ball a career low 28 times.

Starting eight games the next year, he impressed by averaging 4.4 yards per carry and cemented himself in the lineup. He soon became the cowbell of the Raiders offense.

Beginning in 1976, van Eeghan had a string of three consecutive 1,000 yard rushing seasons. He led the charge against impressive run defenses like the Pittsburgh Steelers "Steel Curtain" and Minnesota Vikings "Purple People Eaters" as Oakland won Super Bowl XV.

The 1977 season was his best. He set career highs with 324 carries for 1,273 yards. He ran in a career best nine touchdowns the following season.

Though he never ran for 1,000 yards again, his 1979 was excellent. Besides rushing for 818 yards and seven scores, van Eeghan caught a career best 51 balls, he had caught a total of 75 balls his previous five years, and a career high two touchdowns.

After churning out 838 yards in 1980, he spent most of the next year injured and had just 39 carries. He then joined the New England Patriots for two seasons before retiring after the 1983 season.

van Eeghan was the Raiders all-time leader in rushing attempts and yards until Hall of Famer Marcus Allen surpassed him in 1987. He still ranks second, as well as tops amongst all Raiders fullbacks.

His 35 rushing touchdowns ranks third best in team history. van Eeghan was the definition of a plow horse in football vernacular. He never took a ball longer than 34 yards, but his was consistent and averaged a solid four yards per carry for his Raiders career.

He was also a solid blocker who often opened up holes for versatile halfback Clarence Davis. Davis was also a good blocker who complimented van Eeghan well enough to make the Raiders one of the NFL's true powerhouses of the 1970's.

The Raiders have a deep stable of excellent fullbacks who wore their uniform, yet Mark van Eeghan may be the best that they ever had.

Hewritt Dixon, whose four Pro Bowls are the most ever by a Raiders fullback, Alan Miller, Steve Smith, Jon Ritchie, Derrick Fenner, and Marv Hubbard deserves mention.




Halfback : Clem Daniels



Daniels was an undrafted free agent rookie who signed with the Dallas Texans of the American Football League in 1960. He spent that year backing up Rookie of the Year Abner Hayes. He was also used on defense and intercepted three passes.

He was traded to the Raiders the next year and carried the ball just 31 times. Oakland liked what they saw, so he was elevated to the starting lineup in 1962 and scored a career best seven rushing touchdowns off of 761 yards.

He then had perhaps the greatest season by a Raiders running back in 1963, where he made the first of four consecutive Pro Bowls and was named First Team All-Pro.

He led the AFL with 1,099 rushing yards, 1784 yards from scrimmage, and 78.4 rushing yards per game while averaging a career best 5.1 yards per carry. He also led the AFL with a whopping 22.8 yards per catch average on 30 receptions, which is still a Raiders record for running backs with 30 receptions or more.

Though he never ran for over 1,000 yards again, Daniels ran for over 800 yards in each of the next three seasons and matched his career high of seven rushing touchdowns in 1966. He was named First Team All-Pro that year as well.

His 1967 season was cut short to nine games, though he did churn out 575 rushing yards. The Raiders would win the AFL title that year. It was his last year for the Raiders, as he joined the San Francisco 49ers the next year and carried the ball just 12 times in nine games before retiring.

His 22.8 yards per catch average in 1963 has only been surpassed by Warren Wells, Mervyn Hernandez, Cliff Branch, and James Jett as the best ever by a Raider with at least 30 receptions. All four played wide receiver.

Daniels ranks third in Raiders history in rushing attempts and yards, as well as sixth in rushing touchdowns. His 58.7 rushing yards per game is third behind Bo Jackson and Hall of Famer Marcus Allen.

While he finished his career with the most rushing yards ever in AFL history, what made Daniels even more exceptional was his way to beat opponents several ways. He is a member of the AFL's All-Time Team.

His 201 receptions are the third most ever by a Raiders running back and he averaged an excellent 16.4 yards per catch, an unheard of average for a running back. His 24 touchdown catches are the most ever by a Raiders running back and he completed four of nine passes for 143 yards.

His 4.5 yards per carry average and explosive receiving ability show that Clem Daniels was a threat every time he touched the ball. He is certainly one of the greatest players the Raiders ever had play for them.

Napolean Kaufman, Pete Banaszak, Bo Jackson, Kenny King, Clarence Davis, Tyrone Wheatley, Justin Fargas, and Charlie H. Smith deserve mention.






Wide Receiver : Tim Brown



Brown was selected sixth overall in the first round on the 1988 draft by the Raiders. He was used mainly as a return specialist as a rookie, but he did snare 43 catches and carry the ball a career high 12 times. He scored seven times that year, including the only rushing touchdown of his career.

After missing all of 1989, except one game, because of injury, he was not used much on offense the next two years. That changed in 1992 when he started 12 of the 15 games at wide receiver.

Now entrenched in the starting lineup, Brown made the Pro Bowl five straight years. He had 472 receptions over that time, including leading the NFL with 104 catches in 1993.

Brown also began a run of nine straight years of over 1,000 yards receiving. He never had less than 76 receptions during that time, which was in 2000 when he had a career best 11 touchdown catches

Despite 81 receptions in 2002, his 1,000-yards streak ended with 930 yards that season. After 52 receptions the next year, Brown left the Raiders to join the Tampa Bay Buccaneers.

He mostly was used as an extra receiver for the Bucs, though he did start four games. He had 24 receptions for just 200 yards and a score, prompting him to retire at seasons end.

His 1,094 receptions for 14,934 yards are still the fourth most in NFL history. His 100 receiving touchdowns ranks sixth and he is fifth best ever in all-purpose yards.

Tim Brown still hold most of the Raiders receiving records and might be the greatest wide receiver in that franchises history.

Art Powell will slide in here when Brown is inducted into Canton.




Wide Receiver : Cliff Branch



Branch was drafted in the fourth round of the 1972 draft by the Raiders. While catching just three balls as a rookie, he did return nine kickoffs for 191 yards and returned 12 punts for only 21 yards. He was never asked to return kicks again in his career.

After 19 catches in his second season, Branch exploded onto the NFL scene. He had a career high 60 catches in 1974 while leading the NFL with 1,091 receiving yards, 13 touchdowns catches, and 78 receiving yards per game.

It was the first for four consecutive years he went to the Pro Bowl. It was also the first of three straight First Team All-Pro nods.

He led the NFL with 12 touchdown receptions and career high of 79.4 yards receiving per game in 1976, while averaging a career best 24.2 yards per catch. It was the only year of his career he exceeded 20 yards per reception, though he did average over 19 yards twice.

The Raiders reached Super Bowl XI in 1976 and defeated the Minnesota Vikings 32-14. The 1977 season was his last as a Pro Bowler.

Branch continued to be the Raiders best deep threat. They reached Super Bowl XV in 1980 after he averaged 19.5 yards on 44 receptions.

Oakland made the playoffs as a wild card team and began a magical run. Branch had two touchdown receptions in Super Bowl XV, including the first score of the game, as the Raiders won 27-10.

As he got older, it appeared Branch never lost his amazing speed. He tied a NFL record at the age of 35 in 1983 by taking a catch 99 yards for a touchdown.

He had 14 receptions for 192 yards in the postseason while scoring a touchdown in Super Bowl XVIII. Oakland would win the title with a 38-9 thumping of the defending champion Washington Redskins.

After 27 receptions in 1984, he appeared in four games during the 1985 season and failed to record a catch for the first time in his career. He retired after that, but did play the 1988 season for the Los Angeles Cobras of the Arena Football League before retiring permanently.

He has the third most receptions, receiving yards, and touchdown catches in Raiders history. This was done while maintaining an impressive 17.3 yards per catch average.

Cliff Branch has been a semi-finalist for induction into the Pro Football Hall of Fame twice. He was blazing fast with sure hands, making him one of the greatest wide receivers on Raiders history.

Art Powell, Warren Wells, Bo Roberson, James Jett, and Jerry Porter deserve mention.





Tight End : Todd Christensen



Christensen was drafted in the second round of the 1978 draft by the Dallas Cowboys, who put him at fullback. He broke his foot in a preseason game and was cut. The New York Giants signed him as a fullback in 1979 but cut him after he appeared in one game.

The Raiders signed Christensen and moved him to tight end. He caught just eight balls in his first three years with the Raiders while taking a fumble recovery in for a touchdown, which includes their Super Bowl XV winning season in 1980.

He began to get the ball in the strike-shortened 1982 by catching 42 balls in nine games. It set the stage for maybe the finest season of his career.

Christensen led the NFL with 92 receptions. He set career high marks of 1,246 receiving yards and 12 touchdowns. He was named First Team All-Pro and made the first of five straight Pro Bowls.

His performance helped carry the Raiders to Super Bowl XVII. He led the Raiders with 14 catches, tied with Cliff Branch, in the postseason as the Raiders would win the world championship.

From 1983 to 1986, Christensen had 349 receptions. It was an NFL record at the time.

His next two years were cut short by injuries, limiting him to 62 catches in 19 games. He retired at the end of the 1988 season.

The 461 receptions for 5,872 yards and 41 touchdowns by Christensen are the most ever by a Raiders tight end. He has the fourth most receptions and receiving yards in Raiders history, as well as the sixth most touchdown catches.

His five Pro Bowls is tied with Hall of Famer Dave Casper as the most ever by a Raiders tight end. His two First Team All-Pro nods is second most behind Casper's five.

Some will say Todd Christensen is the greatest tight end the team ever had.

Raymond Chester, Ethan Horton, and Billy Cannon deserve mention.





Tackle : Harry Schuh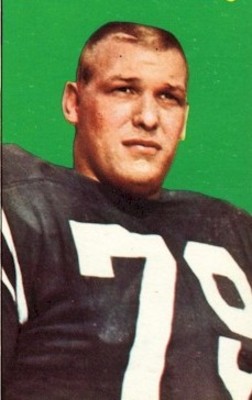 Schuh was the Raiders first-round draft pick in 1965. Frank Youso began the year as a starter, but Schuh soon replaced him and would remain a starter the rest of his Raiders career.

He made his first Pro Bowl in 1967 while helping the Raiders win the AFL title. He returned to the Pro Bowl in 1969 while being named First Team All-Pro as well.

Schuh made his last Pro Bowl in 1970, but was then traded to the Los Angeles Rams for Hall of Fame tackle Bob Brown. He played three years for the Rams before joining the Green Bay Packers in 1974.

The Packers moved Schuh to left tackle that year, where he split starts with Keith Wortman. Schuh then retired at the conclusion of the season.

Harry Schuh was the first Raiders offensive tackle to go to a Pro Bowl and be named First Team All-Pro. His three Pro Bowls are still the second most in team history. He is the greatest right tackle in Raiders history.




Tackle : Lincoln Kennedy



Kennedy was drafted in the first round of the 1993 draft by the Atlanta Falcons with the ninth overall selection. After starting guard in his rookie year, he lost his starting job the next year and remained mostly a reserve until after the 1994 season.

He was traded to the Raiders before the 1995 season and quickly won the starting job at left tackle, which he would hold onto most of the rest of his career. He would make the first of three consecutive Pro Bowls in 2000.

Kennedy's 2002 season may have been his best. He made his last Pro Bowl while earning his only First Team All-Pro honor. It helped the Raiders reach Super Bowl XXXVII.

He appeared in just 12 games in 2003 because of injuries, starting in 10, and decided to retire. He later attempted a comeback with the Dallas Cowboys in 2005, but was cut in training camp. He then played for the Tampa Bay Storm of the Arena Football League in 2007 before retiring permanently.

Lincoln Kennedy's three Pro Bowls is tied with Harry Schuh as the second most ever by an offensive tackle in Raiders history. He is a player whose career was resurrected by the Raiders, something the team has often done, to become one of the finest blockers in that teams history.

Henry Lawrence, Bruce Davis, Bruce Wilkerson, and Barry Sims deserve mention.




Guard : Steve Wisniewski



Wisniewski was drafted with the first pick in the second round of the 1989 draft by the Dallas Cowboys. He was quickly dealt to the Raiders in one of the most lopsided trades in NFL history.

The Raiders got themselves a guard who started immediately and would start every game but two for the next 13 years. After playing right guard as a rookie, he moved to the left side in 1990 and stayed there the rest of his career.

The move worked out for both Wisniewski and the Raiders. He was selected to the first of six straight Pro Bowls on 1990 and quickly developed a reputation as one of the very best guards in the entire NFL.

He was named First Team All-Pro in 1991 and 1992. He was considered tough and surly, playing with a real mean streak that had opposing defensive tackles rue the days they had to square off against him.

After missing the Pro Bowl in 1996, he went back in 1997. He was passed over the next two years before returning for the final time in 2000. He retired after the 2001 season having started in every game he played in.

A decade after retiring, Wisniewski has returned to the Raiders as an offensive line coach. He will be coaching his nephew Stefen Wisniewski, whose dad Leo is Steve's older brother. Leo Wisniewski was an excellent NFL defensive tackle who had his career cut short by injuries.

Many Raiders historians consider Hall of Famer Gene Upshaw the greatest guard the team has ever had. Yet Steve Wisniewski went to eight Pro Bowls, one more than Upshaw. It is the most Pro Bowls ever by a Raiders guard.

One day Steve Wisniewski will be inducted into the Pro Football Hall of Fame. Not only was he a fine technical blocker against the pass, but he was an absolute mauler run blocking. He frequently was seen pancaking his opponents into the turf with ferocious desire.

He may be the greatest offensive guard in the history of the Raiders and he is a member of the NFL's 1990s All-Decade Team.




Guard : Wayne Hawkins



Hawkins was originally the first selection of the Denver Broncos in the 1960 AFL territorial draft, but was soon selected by the Raiders in the allocation draft of the fledgeling league.

John Dittrick, one of just four veterans who started games on offense that year, split a few starts with Hawkins that year. The rookie soon grabbed the job and would hold it until 1967.

After starting at right guard his first three seasons, Hawkins moved to left guard in 1963 and earned the first of five straight Pro Bowl nods. He moved back to right guard the next two years before playing on the left side in 1966.

Moving back to the right side in 1967, helping Oakland win the AFL title, he made his last Pro Bowl. His 1968 season was racked by injuries and he played just 10 games while second-year player Gene Upshaw, a future Hall of Famer, took over at left guard.

After spending 1969 on the bench, he retired having played his entire career with just the American Football League. He is one of only 20 men to have done this. His five Pro Bowls was a record for a Raiders guard until Upshaw surpassed him in 1975 and it is still the third most ever in franchise history.

Wayne Hawkins is a member of the Raiders All-Time Team and is one of the best guards to have ever played for them.

George Buehler, Max Montoya, Kevin Gogan, Charley Hannah, Mickey Marvin, and Jim Harvey deserve mention.





Center : Don Mosebar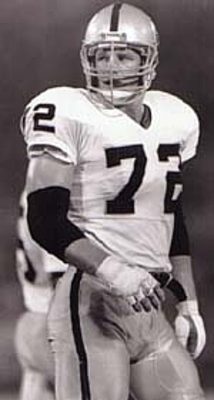 Mosebar was drafted by the Raiders in the first round of the 1983 draft. He spent his rookie year on the bench learning from veteran Pro Bowler Dave Dalby as the Raiders would end up winning Super Bowl XVIII.

He played right guard the next year and started in the 10 games he played. He took over for Dalby in 1985 and would be named to the Pro Bowl in 1986.

Mosebar quickly showed his athleticism and versatility. He played left tackle for the Raiders in 1988 before moving back to center for the rest of his career.

The pinnacle of his career came in 1990 and 1991 when he was named to the Pro Bowl each year. He was the starter until the 1994 season and was annually considered one of the best centers in the NFL.

As he prepared for the 1995 season, he was accidentally poked in the left eye in practice. The injury was so severe that he lost sight in the eye and was forced to retire. His retirement ended a magnificent run at center for the Raiders.

Hall of Famer Jim Otto, Dalby, and Mosebar were the main starters at center for 34 straight years, minus the 1988 season where Mosebar played tackle and Bill Lewis played center.

Otto might be the greatest center ever, and Dalby was fantastic in his own right, but Mosebar's three Pro Bowls is second to Otto as the most ever by a Raiders center. His ability to play all over the offensive line, even at left tackle, also is an example of his greatness and gives him this slot.

Dave Dalby and Barrett Robbins deserve mention.





Defensive Tackle : Tom Keating



Keating was drafted by the Kansas City Chiefs in the fifth round of the AFL Draft. He was also drafted in the fourth round of the NFL Draft by the Minnesota Vikings.

The Chiefs dealt him to the Buffalo Bills before the season began and he spent the next two years appearing in nine games as a reserve. The Bills won the AFL title each season.

Buffalo then traded Keating to the Raiders before the 1966 season. He earned a starting job right away on one of the AFL's best defensive lines.

Oakland had four Pro Bowlers starting with Ben Davidson, Ike Lassiter, Dan Birdwell, and Keating when he earned the honor in his first season with the Raiders. The unit would lead Oakland to an AFL title in 1967.

Not only were they stout against the run, but the quartet helped the Raiders collect 67 sacks that year. It was perhaps Keating's finest season, as he was named to the Pro Bowl and became the first Raiders defensive tackle to be named First Team All-Pro.

After two more solid seasons, Keating appeared in just 15 games between 1971 and 1972 because of injuries. He joined the Pittsburgh Steelers in 1973 and backed up Ernie Holmes and Hall of Famer "Mean" Joe Greene. Pittsburgh would lose to Oakland 33-14 in the playoffs that year.

Keating then went to the Kansas City Chiefs for two years. After spending the 1974 season starting next to Hall of Famer Buck Buchanan, his 1975 season was bereft by injury and he played in nine games before deciding to retire.

His two Pro Bowls are still the second most ever by a Raiders defensive tackle. Many Raider fans may remember Keating for a unique four-point stance that was similar to Hall of Famer Bob Lilly, but he was also the point man on the team.

When many new players joined the team, they were sent to live with Keating. His house was also where the party was at most times. Raiders would frequently congregate at his residence, which helped the team develop a close bond amongst one another.

The wild stories on the rebel Raiders seemed to go down at Keating's house more often than not. He was one of the most popular teammates for good reason during that era.His play on the field exceeded his leadership off the field at times.

"He's a great defensive tackle," Chiefs nine-time Pro Bowl offensive tackle Jim Tyrer once said about Keating. "When they play him head-on the center, he occupies three players. The center knows he's there and both the offensive guards have to be aware of him, because he can go either way around the center and then they have to help."

Tom Keating is a member of the All-AFL Second Team, alongside of Buchanan, and is one of the greatest Raiders ever. He and his best friend Ben Davidson lined up together for years and dominated opponents with athleticism, intelligence, and teamwork.

These themes were just part of Keating's leadership as a Raiders team grew up together and became ingrained into football folklore.





Defensive Tackle : Chester McGlockton



McGlockton was drafted by the Raiders in the first round of the 1992 draft. After playing off of the bench as a rookie, he earned a starting job in 1993 and held the rest of the time he was with the Raiders.

He made the first of four consecutive Pro Bowls He had 29.5 sacks and averaged 61 tackles per season over that time while being regarded as one of the best defensive tackles in the AFC.

He left the Raiders after 1997, his last Pro Bowl year where he had a career best 64 tackles, to join the Kansas City Chiefs. The Chiefs moved him to defensive end and he appeared in just 10 games because of injury.

After two more uneventful seasons with the Chiefs, McGlockton moved on to the Denver Broncos in 2001. He spent two years there and scored the only three touchdowns of his career. Two came off of interceptions and the other off a fumble recovery.

The New York Jets signed him as a reserve in 2003, where he would retire at the end of the season. Of his 51 career sacks, 39.5 came with the Raiders. It is the second most ever by a Raiders defensive tackle.

The great Bill Pickel was considered for this slot, but the four Pro Bowls McGlockton had is the most by a defensive tackle in Raiders history. He is certainly one of the better defensive tackles the team has ever had.

Bill Pickel, Otis Sistrunk, Darrell Russell, Dave Costa, Bob Golic, Art Thoms, and Dan Birdwell deserve mention.






Defensive End : Ben Davidson



Davidson was drafted by the New York Giants in the 1961 NFL Draft, but went undrafted by the AFL. He was traded to the Green Bay Packers and was a reserve on a Packers team that won the 1961 NFL Championship, the first of five won by Hall of Fame coach Vince Lombardi.

He went to the Washington Redskins for the next two years, playing as a reserve, before joining the Raiders in 1964. After beginning the year on the bench, he quickly worked himself into the starting lineup and would remain there the rest of his career.

He missed two games that year, the only games he failed to play in throughout his entire career. At 6'8", Davidson was one of the biggest men in profession football. He was also one of the toughest.

For all the strength and grit Davidson had, he was also incredibly athletic. He could hurdle 6'6" Kansas City Chiefs offensive tackle Jim Tyrer on his way to the quarterback.

Davidson was an important member of a great Raiders defensive line where he, Ike Lassiter, Tom Keating, and Dan Birdwell would all go to the Pro Bowl in their careers. While they were all excellent pass rushers, they were equally excellent versus the run.

He made the first of three straight Pro Bowls in 1966. He and Keating lined up next to each other and were almost impossible to block. The duo went to the Pro Bowl two straight years together and were both named First Team All-Pro in 1967.

He was the first Raiders defensive end to be named First Team All-Pro, an honor no other Raiders defensive end would achieve until Hall of Famer Howie Long did it in 1984 and 1985. Davidson and Long are still the only defensive ends in franchise history to accomplish this.

After his final Pro Bowl in 1968, Davidson remained a consistent force until he retired after the 1971 season to focus on his burgeoning businesses off the field. His three Pro Bowls is second to Long as the most ever by a Raiders defensive end.

After football, Davidson acted in some legendary movies like M*A*S*H, Conan the Barbarian, Behind the Green Door, and Miller Lite commercials. He has also excelled in real estate while still maintaining a close bond with Raider fans by tailgating with them.

While Davidson and his best friend Tom Keating were known for creating havoc on the field and go on long road trips via motorcycles off the field, he also helped the league by playing within the rules.

In 1976, the NFL made a rule that prohibited a defender from "running or diving into, or throwing his body against or on a ball carrier who falls or slips to the ground untouched and makes no attempt to advance, before or after the ball is dead."

The inspiration came from a play in 1970 where Kansas City Chiefs Hall of Fame quarterback Len Dawson ran down field. He soon slid on the ground and waited on the referee's whistle.

Davidson barreled into Dawson helmet first. While the play was within the rules, a minor brawl broke out between the Chiefs and Raiders over the play with Chiefs wide receiver Otis Taylor squaring off on Davidson and led to the rules eventual emplacement.

The play resulted in offsetting penalties and forced the Chiefs to punt after it took away a first down that would have sealed a Kansas City victory. It helped lead the Raiders to tie the game and eventually win the AFC West.

The Raiders were known as rebels in that era and Davidson was one of the players most mentioned. His huge frame drew much of it even if Davidson played within the rules, but he would also do whatever it took to win.

Ben Davidson is a great Oakland legend for several reasons. He brought a winning attitude to a young team and helped develop the franchise to becoming a consistent winner. There is no question that he is one of the greatest members of the Oakland Raiders ever.






Defensive End : Greg Townsend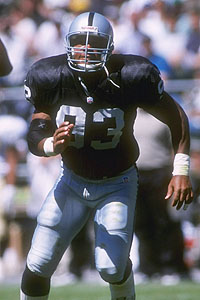 Drafted in the fourth round of the 1983 draft by the Raiders, Townsend ended up contributing mightily in his rookie year. He backed up Hall of Famer Howie Long and Lyle Alzado that year and the trio combined for 30.5 sacks.

Townsend had 10.5 sacks in the regular season, then 4.5 in the post season as the Raiders would win Super Bowl XVIII. He also had a safety and fumble recovery of 66 yards for a touchdown that year.

He spent the next two seasons as a pass rush specialist and collected 17 sacks. He started in four games during the 1986 season and had 11.5 sacks while recording another safety.

The 1988 season saw him start 11 games and get 11.5 sacks while scoring touchdowns on both a fumble recovery and 86 yard interception return. He became a full-time starter in 1990 and responded with a Pro Bowl season after collecting 12.5 sacks, getting a career high 67 tackles, and scoring the last touchdown of his career off a fumble recovery.

Townsend made his last Pro Bowl in 1991 after getting a career best 13 sacks and picking off the last pass of his career. His sack totals dwindled the next two years, getting 12.5 total, but he did see some time at defensive tackle when injuries hit the Raiders hard in 1993.

He joined the Philadelphia Eagles in 1994 and had a career low two sacks in 12 starts. Townsend rejoined the Raiders in 1995 and appeared in four games. It was the only season of his career he failed to record a sack.

He retired at the end of the season with 109.5 career sacks, which is currently the 16th most in NFL history. The 107.5 he had with the Raiders is the most in that franchises history.

His three touchdowns off of fumble recoveries is tied as the most in team history, and his two sacks are the second most in Raiders history. His 13 forced fumbles are also the second most in Raiders history.

Greg Townsend is one of the best pass rushers to have ever played for the Raiders, let alone one of the finest defensive ends in the franchises history.

Ike Lassiter, Derrick Burgess, Lyle Alzado, Anthony Smith, Tony Cline, Lance Johnstone, and John Matuzak deserve mention.






Linebacker : Rod Martin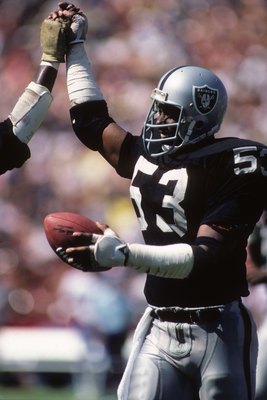 Martin was drafted in the 12th round of the 1977 draft by Oakland, the 317th overall selection. Just five men drafted behind him played in the NFL.

Martin played just one game as a rookie, but started to earn a lot of playing time in his second year by starting half of the season. Oakland was impressed with his intelligence and solid all-around play.

After starting all of 1979, he did not start in six games in 1980. This inspired him to get better just as the Raiders reached the playoffs as a Wild Card team.

Bookending Hall of Fame linebacker Ted Hendricks, the duo helped the team reach Super Bowl XV. Facing the Philadelphia Eagles, Martin became a nightmare for Eagles quarterback Ron Jaworski.

He made three key interceptions to help lead Oakland to a 27-10 win. No other player in Super Bowl history has had three picks in a Super Bowl, and his three career swipes is tied with two others as the most in Super Bowl history.

He was somehow not named MVP of the game, despite such excellence.

The 1983 season was one of the best in his career. He led the NFL with two touchdowns off of interceptions, had a career high four picks, and chipped in six sacks.

He was named to his first Pro Bowl. Oakland reached the playoffs, where Martin had a sack in their AFC Championship win. In Super Bowl XVIII, he came up big again for his team.

Besides recording another sack, he recovered a fumble and made several key tackles. One came on a fourth-down play, where he stopped Hall of Fame running back John Riggins short of a conversion in the Raiders victory.

He was honored as First Team All-Pro in 1984, as well as being named to his last Pro Bowl. Martin had a career high 11 sacks, recorded a safety, and scored off a 77-yard fumble recovery.

Martin stayed in the starting lineup until after the 1988 season, where he decided to retire.

One of Martin's special abilities was reaching the end zone once he got his hands on the ball, which he did six times. Only Terry McDaniel's seven exceeds his total for a team record for a defensive player.

While the Raiders have had a few late round picks help them, none have been better than Martin.

His four touchdowns off of interceptions is the most by a Raiders linebacker and tied with three others as the second most in team history. Martin's 14 career interceptions are the second most by a Raiders linebacker.

The ten fumble recoveries he had are the second most in team history. The two he returned for touchdowns is tied with five other Raiders as the second most in team history and his 33.5 quarterback sacks, the seventh most in team history, tops the list of sacks by a linebacker in Oakland history.

While many NFL fans remember him for being superb in Super Bowls, Raider fans got to enjoy him for 12 seasons and several will say Rod Martin is the greatest linebacker in team history.




Linebacker : Dan Conners



Conners was the Raiders second round draft selection in the 1964 AFL Draft. He was also the Cleveland Browns fifth round choice in the NFL Draft.

After appearing in just five games as a rookie, he spent 1965 listed as the third-string middle linebacker behind starter Archie Matos, a three-time Pro Bowler, and Bill Budness. Budness was drafted two rounds after Conners the year before.

Matos left the Raiders after 1965 and Budness was named the starter. Conners soon supplanted him and began a run of three consecutive Pro Bowl years by taking one of his two interceptions for a touchdown.

His 1967 season was one of Conners best. He had a career high three interceptions, returning one for a score, and had a career best four fumble recoveries. He took one fumble for a touchdown of 73 yards.

Though his Pro Bowl run ended in 1968, Conners had a solid 1969 season. He took his lone interception for a career long 75 yard touchdown return and recovered three fumbles. One fumble was returned for a score, the last touchdown of his career.

Conners continued to start for Oakland until 1974, where he retired at the end of that season. His three Pro Bowls is the most ever by a Raiders middle linebacker.

Conners 15 interceptions are the most ever by a Raiders linebacker, and his three touchdowns off of interceptions is the most ever by a Raiders middle linebacker. His two touchdowns and 16 fumble recoveries are the second most in Raiders history.

Dan Conners was a play maker in his 11 seasons with the Raiders. He is the best middle linebacker the team has ever had.

Archie Matos, Matt Millen, Monte Johnson, and Greg Biekert deserve mention.








Linebacker : Phil Villapiano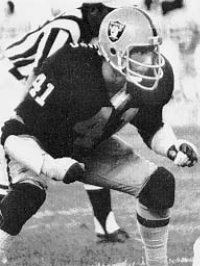 Villapiano was drafted by the Raiders in the second round of the 1971 draft. He earned the starting job at left outside linebacker immediately and would hold it the next six seasons.

His 1972 season saw Villapiano pick off a career best three interceptions, returning one 82 yards for the only touchdown of his career. Villapiano then made the Pro Bowl in 1973, an honor he would earn until 1976.

Oakland would win Super Bowl XI in 1976. Villapiano had a solid playoffs for the Raiders by getting a quarterback sack in both the AFC Championship and Super Bowl victories. He was the only Raider to sack Hall of Fame quarterback Fran Tarkenton in the Raiders 32-14 Super Bowl win.

Villapiano's 1977 season was cut short after two games because of injury. He came back the next year and recorded a safety while playing right outside linebacker. After playing for Oakland in 1979, he joined the Buffalo Bills.

Villapiano spent four years with the Bills, playing as a reserve on an excellent Bills linebacking unit. His last two years were riddled by injuries, playing just 13 games over that time.

Retiring after the 1983 season, Villapiano's four Pro Bowls is still tied with Hall of Famer Ted Hendricks as the most ever by a Raiders outside linebacker. Though he was most noted for his excellent run defense, the 11 interceptions he had are the third most ever by a Raiders linebacker and his 17 fumble recoveries are the most ever by a Raider.

Stout, consistent, and tough is how many remember Phil Villapiano. He was a leader on and off the field as well. He is unquestionably one of the best linebackers in Raiders history.

Gus Otto, Willie Hall, Gerald Irons, Jeff Barnes, and Winston Moss deserve mention.






Strong Safety : George Atkinson



Atkinson was drafted by the Raiders in the seventh round of the 1968 draft. He played well enough to win the American Football League's Rookie of the Year Award, but was beaten out by Paul Robinson of the Cincinnati Bengals.

Atkinson led the AFL with 36 punt returns for 490 yards and two touchdowns. He also led the AFL with a kickoff return average of 25.1 yards on 32 attempts. He played cornerback on defense and swiped four passes, returning one for a touchdown, and recovered a career best three fumbles in just six starts.

The Raiders noticed how well he tackled, so Atkinson was moved to strong safety in 1969. While his kickoff duties lessened to just 16 attempts, he still returned 25 punts and picked off a pair of passes. He returned one for another touchdown.

He was named to the Pro Bowl in each of his first two years. The AFL officially merged with the NFL in 1970, and the hitting prowess of Atkinson quickly garnered the notice of his newer peers as well.

Though he returned just four punts that year, he did handle 23 kickoffs. He would be asked to return just five kickoffs for the rest of his career, because he was too valuable on defense.

In 1973, he led the NFL with 41 punt returns. After returning just 12 punts the next two years, he never fielded another punt in his career.

His tackling and fierce attitude was stuff of legend for Raiders fans in the "Black Hole". He was a fan favorite because Atkinson would do whatever it took to win.

He also drew the ire of opponents. After knocking Pittsburgh Steelers Hall of Fame wide receiver Lynn Swann unconscious in 1976 on a play away from the ball, a player Atkinson gave a concussion on a hit the year before in the AFC Championship Game, Steelers called Atkinson part of the "criminal element" in football.

But hitting opponents hard wasn't Atkinson's only skill. He frequently intercepted passes and returned a pair of fumbles for touchdowns. He was a play maker who left everything on the field.

That 1976 season may have been the highlight of his career. Though he failed to intercept a pass for the first time in his career, the Raiders defense became stingy in the AFC Championship Game, which carried over in helping them win Super Bowl XI.

He played one more season for the Raiders before retiring. He did attempt a comeback in 1979 and appeared in six games with the Denver Broncos before retiring for good.

His 26 interceptions for 382 yards are the most ever by a Raiders strong safety. His 30 career interceptions ranks fifth best in team history, and his 448 yards rank sixth.

Not only is George Atkinson one of the greatest Raiders leaders in team history, he is the best strong safety to have ever played for them.

Warren Powers, Howie Williams, Charlie Phillips, and Mike Davis deserve mention.




Free Safety : Jack Tatum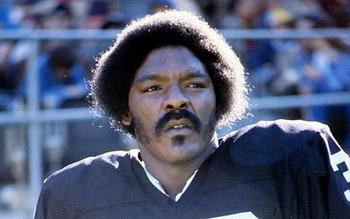 Tatum was a first round draft pick of the Oakland Raiders in 1971. He was the 19th player picked overall. Tatum did not start playing organized football until his tenth grade year. By the time he left Ohio State University, he had a career that later had him inducted into the College Football Hall of Fame.

Tatum made an immediate impact upon his arrival in the NFL. One game, he knocked out two Baltimore Colts from the game. Hall of Fame tight end John Mackey was one of the players.

He intercepted four passes that year, and returned them for 136 yards. Tatum intercepted four passes the next year as well, gaining 91 yards on returns. He also set an then-NFL record by returning a fumble 104 yards for the only touchdown of his NFL career.

By 1973, Tatum was one of the most feared and respected free safeties in the NFL. He missed the first game of his career that year, but was named to his first Pro Bowl squad.

Tatum would go on to be named to the Pro Bowl team until 1977. In 1977, Tatum snared six interceptions, and returned them for a career high 146 yard. He was a key ingredient to the Raiders team that would go on to win Super Bowl XI.

He was traded to the Houston Oilers prior to the 1980 season and responded by intercepting a career high seven interception for 100 yards despite not starting one game. He helped the Oilers win the AFC Central Division Championship.

Houston, coincidentally, would then lose to the Wild Card Oakland Raiders in the first round. Tatum retired after that game.

His 164 yards returned via fumbles ranks 16th All-Time in NFL history, and his 736 yards returned by interception ranks 38th All-Time in NFL history.

Tatum's 636 yards off interceptions ranks first in Raiders history. It is 12 yards more than Dave Grayson, the player he replaced at free safety.

No matter how one looks at Tatum, he in part of some of some of the most memorable moments in the NFL's history. The famous "Immaculate Reception", at the end of a playoff game in 1972, started when Tatum laid out Pittsburgh Steelers running back John Fuqua. Most fans recall Hall of Fame running back Franco Harris gathering the caromed ball and taking it for a game winning touchdown.

In Super Bowl XI, Minnesota Vikings Wide Receiver Sammy White was leveled by Tatum on a crossing pattern, but the Vikings great held onto the ball. During a 1978 pre-season game, Tatum hit New England Patriots Wide Receiver Darryl Stingley in a play that would paralyze Stingley for life.

He happened to play on a team that was called the "Bad Boys" of the 1970's NFL. It was a unique roster full of characters.

Tatum was nicknamed the "Assassin" due to his hard hitting ability. The hit on Stingley, coupled with the Raiders already established reputation, gave Jack an unfair label of being a dirty player. He was vilified by casual observers, and anti-Raider media types after this play.

Tatum once said, "I always wanted to hit someone hard, and if they got hurt, that was just part of the game. But you always wanted them to be OK." Tatum admitted his hitting prowess "borderlines on felonious assault."

The game was much rougher back then. Yet the media continues to try to spin this fabricated tale that Jack was a cheap shot artist. "They said on ESPN that I hit Stingley in the back and that's just a lie," Tatum said. "It's amazing to me that they lie like that when they can just look at the hit. They have it on tape."

Even then-Patriots Head Coach Chuck Fairbanks said the hit was far from dirty. Propaganda machines like ESPN are probably a big factor as to why Tatum has yet to be inducted into Canton.

Many media types tried to say he was remorseless about this play. Tatum has expressed sorrow on televised interviews, only to have that part edited out. "I feel sorry for what happened to him," said Tatum, "I tried to apologize to him a number of times, but people around him wouldn't let that happen."

Sports Illustrated's Paul Zimmerman, a Hall of Fame voter, are part of other big reasons why Tatum has yet to be inducted into the Pro Football Hall of Fame. It is sick, and unfair, that Tatum is being labeled for one play. A play no one wants to remember in its reality, rather to fabricate this villainous imagery.

This play is the main reason the NFL went from the 10-yard chuck rule to the current five-yard rule. Tatum was once part of the NFL as part of the Uniform Code Enforcement Team, commonly known as the "fashion police".

There needs to be one major enforcement. This on the media who lie. Tatum may have hit guys hard, but that is the way the game was played then. He played within the rules and was not flagged nor fined for his hit on Stingley. That is the reality.

Tatum is a player many look up to. Hall of Famer Ronnie Lott is on record for idolizing Tatum. That is another reality.

It is time for the voters to do away with spun fabrications and deal with reality. Just look at his statistics if you want to have disdain for his impact. Jack Tatum deserves his place in Canton.

David Grayson, Vann McElroy, Eddie Anderson, and Tom Morrow, whose eight consecutive games with an interception is an NFL record, deserve mention.






Cornerback : Lester Hayes



Hayes was drafted by the Raiders in the fifth round of the 1977 draft. Though the Raiders were the defending champions with an excellent defense, Hall of Fame head coach John Madden was so impressed with Hayes that he had the rookie start in a few games.

He earned the starting job the next year and would hold onto this honor the rest of his career. After four interceptions in 1978, he began to gain league-wide notice the next year by picking off seven balls and taking two in for touchdowns.

The 1980 season is considered the best of his career. Hayes led the NFL with a career best 13 interceptions and returned one for a score. He was named the NFL Defensive Player of the Year, helping lead the Raiders to a Super Bowl XV victory.

Hayes was named First Team All-Pro for the only time of his career that season, as well as beginning a run of five straight seasons where he would go to the Pro Bowl.

Business began to really pick up for Hayes and the Raiders during the 1983 season. They acquired Hall of Famer Mike Haynes to bookend Hayes and give the team the best cornerback tandem in the NFL.

The duo helped the Raiders reach Super Bowl XVIII, where they shut down the Washington Redskins passing game so effectively, the defense was allowed to concentrate on the vaunted Redskins game in the Raiders 38-9 blowout win.

Haynes went to the Pro Bowl three times opposite Hayes, who went twice himself. Hayes missed two games in 1988, the first games he missed since his rookie year. He retired at the end of the season.

He is a member of the NFL's 1980s All-Decade Team. He is on the second team behind Hall of Famers Haynes and Mel Blount. Hayes is the only Raider to ever be named NFL Defensive Player of the Year.

His 39 interceptions is tied with Hall of Famer Willie Brown as the most in team history. The four touchdowns he had off of interceptions is the second most, and his 572 yards off of interceptions are the second most by a Raiders cornerback, ranking fourth best in franchise history.

The images of Stickum all over his body is as memorable as the unusual stance Hayes took before the snap of the ball. When the NFL banned Stickum in 1981, after Hayes stuck to 13 thrown balls the year before, it was called the "Lester Hayes Rule".

He has been a finalist for induction into the Pro Football Hall of Fame four times and a semi-finalist six times. It seems the "only true Jedi" will one day join Willie Brown and Mike Haynes as a member of the Pro Football Hall of Fame.





Cornerback : Terry McDaniel



McDaniel was the Raiders first round draft pick in 1988, where he was the ninth overall selection. He was expected to be the next great Raiders cornerback, following legends like Willie Brown, Mike Haynes, and Lester Hayes.

His rookie season was cut short to just two games, but McDaniel quickly rebounded to become a top defender for the team. He scored the first touchdown of his career in 1990 by taking a fumble recovery 42 yards to seal the teams initial victory that season.

Though the 1991 season saw no interceptions by him, the only time besides his rookie year McDaniel failed to pick off a pass, it was one of his better years. He had a career best 77 tackles and two forced fumbles.

That was followed up by his first Pro Bowl season the next year. McDaniel made the Pro Bowl five straight years and scored at least one touchdown in four seasons.

His 1994 year may be his very best. McDaniel set career best marks of seven interceptions, three fumble recoveries, and three touchdowns. Two came off of interceptions, another career high mark.

The 1997 season saw him miss the first three games of his career since his rookie year. He then would join the Seattle Seahawks as a reserve the next year, appearing in nine games.

McDaniel did swipe one pass and took it 43 yards for a touchdown. He retired at the conclusion of the year and is all over the Raiders records books.

His five touchdowns are the most in franchise history and his two off of fumble recoveries are the most ever by a Raiders cornerback. His seven touchdowns lead all Raiders defenders and his 34 interceptions for 624 yards are both ranked second best in team history.

Though Terry McDaniel has yet to follow Brown or Haynes into Canton, he certainly is one of the best cornerbacks in team history.

Fred Williamson, Kent McGloughan, Lionel Washington, Nemiah Wilson, Skip Thomas, Eric Allen, Phillip Buchanon, and David Grayson deserve mention.






Kicker : Jeff Jaeger



Jaeger was drafted by the Cleveland Browns in the 1987 draft. Despite playing in just 10 games because of a players strike, he set a franchise scoring record by a rookie with 75 points.

Yet Cleveland replaced him with veteran Matt Bahr the next year and Jaeger spent the season out of football. He signed with the Raiders and replaced Chris Bahr, the older brother of Matt.

Handling the placekicking duties over the next seven years, Jaeger led the team in scoring for five consecutive years. He scored at least 103 points three times and was considered one of the better kickers in the AFC.

Jaeger made his only Pro Bowl in 1991, where he was also selected First Team All-Pro. His 85.3 field goal percentage that year was a career best mark.

His best season may have came in 1994. He led the NFL with a career best 132 points, while also leading the league with 44 field goal attempts and 35 makes. Gary Anderson, of the Pittsburgh Steelers, was chosen to the Pro Bowl ahead of Jaeger after missing just two kicks all year.

After missing five games because of injuries in 1995, Jaeger joined the Chicago Bears the next year. He was effective for three seasons before getting replaced after third game of the 1999 season. He then retired.

Jaeger ranks fourth in Raiders history in points scored, field goals attempted and made, and extra points attempted and made. His 132 point season in 1993 was a team record until Sebastian Janikowski broke it in 2010.

He is still the only placekicker in Raiders history to be named to the Pro Bowl or be named First Team All-Pro. His 44 field goal attempts and 35 makes in 1991 still stand as team records.

George Blanda may be the best kicker in team history, as the Hall of Famer seemed to always come through in the clutch. Janikowski is setting team records and seems to have several years ahead of him.

Yet Jeff Jaeger is chosen to man this position because he is amongst the best placekickers in Raiders history.

Chris Bahr deserves mention.





Punter : Ray Guy



Guy was a first round draft pick of the Oakland Raiders in the 1973 draft. He was the 23rd player picked overall.

He is the first punter to ever be inducted into the College Football Hall of Fame and is considered the greatest punter to have ever played college football and has a trophy named after him. The Ray Guy Award is given annually to the best collegiate punter in the nation.

Guy is the first punter to ever be drafted in the first round by the NFL. His impact was immediate. He was named to the Pro Bowl as a rookie, when he averaged 45.3 yards per punt.

He would be named the Pro Bowl Punter every year up until 1978. At the 1976 Pro Bowl, Guy became the first punter to hit the Louisiana Superdome video screen.

In 1979, he was named to the UPI All-Conference Second Team, and the Newspaper Entertainment. Association All-NFL Second Team. He was named to his final Pro Bowl in 1980 after averaging 43.6 yards per punt. He also booted a career long punt of 77 yards that year.

For some unknown reason, he was not named to the 1981 Pro Bowl, despite punting a career high 96 times and having a 43.7 average. He was named to the UPI All-Conference Second Team.

Guy booted the ball over 70 yards in four of his seasons, and kicked five balls over 60 yards in one season alone. His shortest season long was 57, in the strike shortened 1982 season. That season also was the only season of his career when he did not average over 40 yards per punt, finishing with a 39.1 average.

He ended the last three years of his career averaging 90 punts per season and retired after the 1986 season. Guy did more than just punt for the Raiders. He threw three career passes, completing two for 54 yards. He also rushed for 43 yards on 11 attempts.

In 1976, Guy was asked to kick an extra point, but missed. Ray only had three punts blocked in his entire career, and never had a punt returned for a touchdown. He led the NFL in punting three times and also kicked off for aging kicker George Blanda, a Hall of Famer.


He was an integral part of the Raiders. He also was on three Super Bowl winning teams in Oakland during his career.

The highlight of his Super Bowls was in 1983. His punt in Super Bowl XVIII pinned Washington inside their 12 yard line, which led to a Raiders touchdown via a turnover the next play.

Guy was also named the punter on the National Football League's 75th Anniversary Team, the Super Bowl Silver Anniversary Team and as a member of the NFL 1970's All Century team. He was inducted into the Bay Area Sports Hall of Fame.


If you saw Ray Guy, you must be scratching your head right now as to why he isn't yet in Canton. His punts were legendary. Other teams would test the balls that he punted for helium, due to the heights his punts attained.

I had thought, after seeing placekicker Jan Stenerud inducted in 1991, that the voters were FINALLY recognizing the importance of special teams. In 1994, Guy was the first punter to be nominated, but he still has not been elected.

I find myself often questioning the football knowledge of several voters. Some claim to be "purists", saying that specialist do not belong because they only get on the field for a few plays each game.

Still, isn't Canton's reason for existence based upon what players do once on the field? There is NO DOUBT that Ray Guy helped the Raiders win many games.

Even if you disregard his statistics, you cannot look past his impact on football at all levels. Guy belongs in the Pro Football Hall of Fame right now!

Jeff Gossett deserves mention.






Kich Returner : Chris Carr



Carr is still active, so there is a chance he returns to Oakland. Yet we place him here because of his statistical dominance as a kickoff returner in Raiders history at this moment.

He made the team as an undrafted rookie free agent for the Raiders in 2005. He earned the job as the return specialist. While he did return 77 punts over three years for the Raiders, he averaged just 5.9 yards per return.

Returning kickoffs is where he excelled. Carr led the NFL in kickoff returns and kickoff return yards in each of his first two seasons. He ranked fourth in returns and seventh in return yards in his third season.

Carr also began to see time as an extra defensive back for the Raiders. In 2006, he picked off a pass and ran 100 yards for a touchdown. It was his only interception with the Raiders.

He left Oakland after the 2007 season and spent a year with the Tennessee Titans. It was his last year as a full-time kickoff returner. Carr joined the Baltimore Ravens in 2009 and returned 32 punts while picking off a career best two passes.

He was rarely used on special teams in 2010, returning four total balls, as he became a starting cornerback for the Ravens and intercepted two passes. Carr is expected to duplicate that role when football resumes.

Carr has the most kickoffs and kickoff return yards in Raiders history. His return average was a healthy 24.1 yards per return. He ranks third best in all-purpose yards as well.

Though he may not be the flashiest kick returner in Raiders history, Carr's stats place him on top of the franchise list as one of the best.

Bo Roberson, George Atkinson, Terry Kirby, Justin Miller, Napoleon Kaufman, Tim Brown, Rocket Ismail, and Clarence Davis deserve mention.






Punt Returner : Tim Brown



When the Raiders used the sixth overall pick on the 1988 draft, they knew they were getting a player who did more than play wide receiver. Brown's career at wide receiver would last 17 years, grab 1,094 passes, attend nine Pro Bowls, and should one day be inducted into Canton.

Yet Brown showed in college he was excellent at special teams so well, he was inducted into the College Football Hall of Fame in 2010. The Raiders decided to let him play there in his first nine years, mainly as a punt returner. But his rookie season showed he was great at returning kickoffs as well.

He led the NFL with 41 returns for 1,098 yards at an average of 26.8 yards per return. One return was taken 97 yards for a touchdown. Brown would be asked to return kickoffs just nine more times in his career.

While also returning a career high 49 punts, Brown was named to the Pro Bowl as a rookie. His 2,317 all-purpose yards led the NFL.

The first four years with the Raiders saw Brown mainly used as a punt returner, though his role on offense enlarged yearly. He did get hurt in the first game of the 1989 season so seriously that he missed the rest of the year.

He returned to the Pro Bowl in 1991 after averaging 11.4 yards on 29 punt returns. He took one return 75 yards for a score and caught 36 passes. He began a string of five straight Pro Bowls in 1993 after returning 40 punts and scoring off a 74-yard return.

His best year returning punts was in 2004, where he averaged 12.2 yards on 40 returns and led the NFL with 487 yards. After 68 returns over the next two years, he returned just 25 punts the rest of his career. He did take one a career long 88 yards on just 6 returns in 2001.

He did leave the Raiders in 2003 and joined the Tampa Bay Buccaneers for one season before retiring after the 2004 season.

He ranks fifth best in all-purpose yards, fourth in punt returns and fifth in punt return yards in NFL history.

Brown holds the Raiders records for all-purpose yards, punt returns and yards, receptions, receiving yards, and receiving touchdowns. His 667 points leads all non-kickers in Raiders history.

Though he was never named First Team All-Pro, his nine Pro Bowls are the second most in Raiders history. He is on the second unit of the NFL's 1990s All-Decade Team and was a finalist for the Pro Football Hall of Fame in 2010.

It is just a matter of time for Canton's call, but Brown is the best punt returner in Raiders history and holds this spot until he is enshrined.

George Atkinson, Claude Gibson, Phillip Buchanon, Desmond Howard, Neal Colzie, and Greg Pruitt deserve mention.