While pondering this quote:
"Life isn't divided into genres. It's a horrifying, romantic, tragic, comical, science-fiction cowboy detective novel. You know, with a bit of pornography if you're lucky."

—Alan Moore in The Mustard magazine (January 2005). Moore is a British writer, most famous for his influential work in comic-books and graphic novels. (Watchmen, V for Vendetta)
COLLEGE FOOTBALL
Alabama - This week's Game of the Century featured the Crimson Tide vs. Texas A & M. Among the many things leading up to this game, there was the constant babble from the talking heads about how this game was the chance for revenge for Bama over the loss to the Aggies last season.
I really wish those talking heads would stop referring to the game this way. It isn't. Alabama may have lost to the Aggies last year, but they got the national title. And the season ended. This is a new year. No revenge possible.
As for the game, I was out running errands when it started but was listening on the radio. In the beginning, Texas A & M was just shredding the Bama defense. It was almost too easy for Manziel & Company on their way to a 14-0 lead. This had shades of last year written all over it.
But things settled down a bit and then A.J. McCarron started getting his offense on track and led the Tide to three scoring drives.
On an A&M drive, the refs called a penalty on a pass play against Alabama's Ha Ha Clinton Dix and it really ticked me off. They called him for "targeting" which is an ejection from the game penalty. Watching the replay you could see that it was an utterly BS call. Dix was playing tight D and made a move to intercept the ball.
But what made the call even worse was the replay booth overruled the ejection of Dix, saying there was no foul on the play. But under the rule, the penalty yardage still stays in effect. So instead of a third down play after an incomplete pass, the Aggies got 15 yards and a first down for a thoroughly blown call by the refs.
It didn't end up hurting them on the scoreboard but it was just a bad bad call. Thankfully Bama led 28-14 at the half and then scored another TD (a 73 INT return) to go up 35-14 before the Aggies broke up the Tide's 35 point streak with another touchdown of their own.
Not to be outdone, Alabama got another score to go up 42-21 by the end of the third.
But the fourth quarter started off pretty much like the first quarter as Manziel led the Aggies to two scoring drives, including a stunning 95 yard TD pass from Manziel to Mike Evans. Evans was the stud receiver all game long for A&M.
That TD pass came after T.J. Yeldon fumbled the ball on the 1 yard line as Alabama drove for a score.
But A.J. McCarron directed another cool as a cucumber drive that culminated in a TD pass to Jalston Fowler for a 49-35 lead.
You'd think with just over 2 minutes left in the game, that would be big enough, but given the lack of pass defense by the Tide's defensive backfield today, you shouldn't have been surprised to see Manziel deliver another TD drive to cut the lead to 49-42 with 15 seconds left.
For those in the know, this means A&M would be trying for an onside kick. It didn't work as Bama got the kick and ran out the clock to at long last seal the victory.
Defense was a myth in this game. In fact, the 42 points the Aggies score was the most given up by Alabama since Nick Saban took over as coach.
Manziel threw for 464 yards with 5 TDs and 2 picks. He was also the Aggies leading rusher with 98 yards. He may be a jerk of the first order but the SOB sure can play.
If you don't know the name Mike Evans don't feel bad, the Alabama defense apparently didn't either. He caught 7 passes for 249 yards and a score against Bama and it looked they couldn't be bothered to remember he was torching them each time he caught a ball. All those yards and he only found the end zone once. Meanwhile, Malcome Kennedy had just 57 yards receiving but had 3 TDs.
As for Bama, their offense carried the day behind 334 passing yards and 4 TDs from A.J. McCarron (pictured below). The offensive line did a great job of protecting him too. He wasn't sacked at all.
T.J. Yeldon had great numbers with 25 carries for 149 yards and a score but he lost a fumble on the one yard line. On the TD he made, he got called for an unsportsmanlike penalty for making some sort of "show me the money" gesture followed up by a throat slash move. I can only imagine that Nick Saban (pictured below) probably wants to make him walk home.
Bama's defense gave up 628 yards in total offense, while A&M gave up 568 yards. Alabama's defensive coordinator Kirby Smart is really going to have to figure out something should these two teams end up meeting again.
Boston College - I was hoping for better, but I can't say that I was really all that surprised to see the final score (the game wasn't on TV in my area that I could find) of the BC game against USC be a 35-7 blowout in favor of the Trojans.
BC (2-1) managed just 184 yards of total offense. Chase Rettig threw for just 83 yards and lead back Andre Williams had 38 yards on the ground. The one score for the Eagles came late in the game on at 29 yard TD run by Tyler Rouse.
The Eagle defense did get two sacks in the game but were otherwise used and abused for 521 yards of total offense by USC.
So it is back to the drawing board for the Eagles.
In other game news from yesterday:
The Minnesota game against Western Illinois saw the Gophers win 29-12. It isn't the result of the game that interested me but rather a story that came out of off the field action. Minnesota coach Jerry Kill apparently suffered a epileptic seizure at halftime while still on the field.
If I remember correctly, this is the third time he's had a game day seizure. While you obviously can't do anything to force him to leave his job due to his condition, you do have to wonder how long the coach can endanger his health this way. While there is medical staff around to provide aid, if game days help provoke the seizures wouldn't it be time to consider stepping down?
Louisville beat Kentucky 27-13 and Heisman candidate Teddy Bridgewater had what for him qualifies as a pedestrian day with just 250 passing yards and 1 TD pass.
Another off field story at a game also made me wonder: In the Rutgers 28-10 win over Eastern Michigan, the school retired the number of Eric LeGrand. You remember LeGrand right? He was the Rutgers player who was paralyzed in a game a couple years back. And now for the first time in the 144 year history of the school, they retired a football player's number.
Look, I'm as impressed by his recovery to this point as the next guy, but I think retiring his number is a bit much. It is terrible that he got hurt in a game, but retiring numbers should be reserved for players who established legends ON the field. Yes I realize that I will be in the minority opinion on this and probably be looked at as kind of a dick for saying it but come on people, we are rewarding too much for too little in all aspects of sports and life these days.
WNBA
Chicago Sky - The best season in team history continued to get better and better this past week as the Sky rolled off three more wins to improve to 24-9. They beat the Mystics 93-79. Their offense was led by 22 points from Elena Delle Donne and 21 points from Epipphany Prince.
Against the Phoenix Mercury, Delle Donne (18 points) hit a back breaking game winner at the buzzer to win 70-68. Prince had 21 points. You can see the game winning score from Delle Donne below:
On Friday night, they continued their winning ways by knocking off the Atlanta Dream 87-82. It was Prince leading the way with 29 points for Chicago. Delle Donne scored 18 points while Sylvia Fowles had 12 points and 18 rebounds.
Unfortunately, in their season finale last night against the Minnesota Lynx, the Sky came up short in their quest for the #1 overall seed in the playoffs. They lost 79-66 to finish 24-10. Fowles had 17 points and 11 boards to lead Chicago. Delle Donne had 14 points and Prince finished with 10.
New York Liberty - The New York Liberty will finish out of the playoffs this season. They lost their two most recent games to end their flickering hopes for a "second season" spot this year.
September 10th was their final home game and it served as fan appreciation night AND as a means of honoring Katie Smith before the game. She's retiring after the season after 17 pro seasons.
Nike gave a reception for her the day before the game. You can see a photo gallery from that event via the Liberty's Facebook page: http://www.facebook.com/media/set/?set=a.10151673741787918.1073741836.14850732917&type=1
The ceremony was nice and a lot of stuff has been written honoring Katie's long career and accomplishments. You can check out a gallery (also from the Liberty's Facebook page) focused on the pregame ceremony for Smith here: http://www.facebook.com/media/set/?set=a.10151676940512918.1073741837.14850732917&type=1
ESPN had a really well done video piece on Smith leading up to the final home game. You can check that out here:
As for the game against the Mercury, it was a valiant effort but the Liberty came up just short, 80-76. Smith (pictured below) led the offense with 17 points while Alex Montgomery had 13 points and Kelsey Bone finished with 11 points. Plenette Pierson added 5 points, 15 rebounds and 6 assists.
(with her parents)
On Friday night, the Liberty visited the Indiana Fever and despite leading for a while in the game fell 66-63 to drop their record to 11-22. Delisha Milton-Jones scored 18 points to lead the Liberty. Tamera Young had 10 points and Smith (pictured below, from Getty Images) had 10 points.
As anyone who has read my ramblings knows, I'm a huge fan of Katie Smith. On the occasion of her retirement tomorrow, I wrote up my own appreciation piece. It's loaded with details, pics, links and commentary. I hope you'll take the time to read that piece which is located here: http://yougabsports.com/pt/Exit-Stage-Left---A-Legend-Leaves/blog.htm
By the way, Nike did a shirt that was given out to the fans at the final home game. I've got lines on a couple of shirts thanks to Liberty fans who know what a big fan of Katie's I am.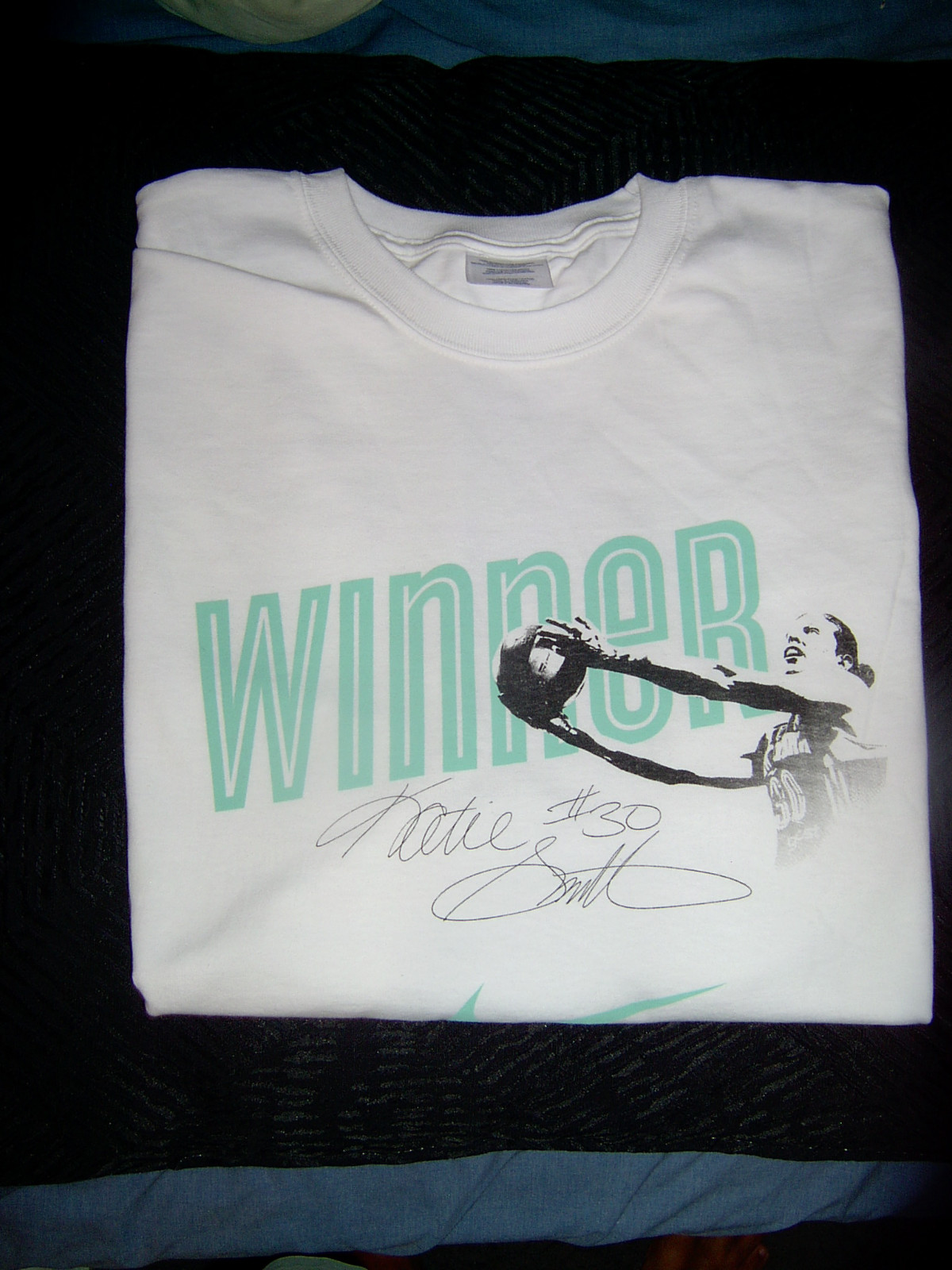 HIGH SCHOOL SPORTS
Well I tried but there's always some high school action going on each day of the week it seems.
Wareham Field Hockey - After a 1-0 loss to Bourne, the team is 0-4.
Wareham Boys Soccer - The team is 0-4 after losing to Dighton-Rehoboth 4-1.
Wareham Girls Volleyball - The team fell to 1-4 after losing 3-2 to Dighton-Rehoboth.
ORR Football - The team improved to 2-0 on the season with a 35-6 win over case. Raekwon had a 23 yard TD run.
Upper Cape Girls Soccer - The Lady Rams blew a 4-1 lead but ended up beating Blue Hills 5-4 for their first win of the season (1-3).
Wareham Girls JV Soccer - No news to report as far as game results but it looks like I'll have to try and attend a game now that I've learned another ex-player of mine, Gabby, has been added to the JV team. Not bad considering she hasn't played in a number of years and is actually still in the 8th grade. But I'm sure she'll be a great addition to the team. Way to go Gabby!
OLYMPICS
While still taking no public stand (not that I think or expect them to), the IOC announced this week that Tokyo Japan will host the 2020 Summer Olympics. Also announced was that wrestling (which had been kicked out earlier in the year) had been voted back in as an Olympic sport.
This news was a big sigh of relief for those of us that aren't even huge Olympic wrestling fans. It just seemed wrong to take out an original and still relevant sport from the Olympic games.
BASKETBALL HALL OF FAME
While watching the Patriots game last Sunday, I completely forgot about the Basketball Hall of Fame induction ceremony which was being held in the afternoon. For some reason I thought it was a nighttime ceremony.
I ended up catching the rebroadcast on NBATV and a couple things that caught my notice was the speech from Gary Payton and a line from Rick Pitino's speech. I know there was a lot of talk about how Payton's speech was one of the best. But when I watched it, I thought he came off as a bit arrogant. Not quite as bad as Michael Jordan's speech but it just didn't feel as if he had what I would think would be proper deference to the magnitude of being inducted.
Pitino's speech included the line that "Coaches don't get to the Hall of Fame, players put them there." I thought it was a great acknowledgement of a true fact that the coaches are only as good as the players that suit up for them.
As for my favorite moments, one was bittersweet and one was my pick for best induction speech.
The best induction speech was from Dawn Staley. She was a three time Olympic gold medalist, played in 3 Final Fours at Virginia where she was player of the year a couple of times, and was a star in the WNBA. She crafted a superb speech tied into the time at the Olympics when she was selected to be the US flag bearer at the Opening Ceremonies. It was just a great speech. You can see it here:
The bittersweet moment was the long overdue induction of ex-UNLV coach Jerry Tarkanian. Now 83 and in terrible health, he could barely speak and his wife read most of his statement during a pre-recorded segment. His long and eventual winning battle against the NCAA cost him an earlier induction is what most people believe.
It was great to see Tarkanian get his proper due, but it should've come when he could speak for himself.
NEW ENGLAND PATRIOTS
I'm sure some will see it as a sign of a spoiled fan base, but the fact the Patriots are 2-0 is not sitting well with the fans or some of the press.
The utter lack of a cohesive offense (particularly the passing game) has set tongues to wagging in New England.
The Patriots beating the Bills despite a defense that generated no pressure on Bills rookie QB E.J. Manuel was lucky to say the least. Sure receiver Danny Amendola did well as did Julian Edelman. But Stevan Ridley got benched for an inability to hold on to the ball. Shane Vereen had a huge game in his place.
But the 23-21 win over the Bills came at a big cost. Vereen broke his wrist and is probably out until at least Week 11. Danny Amendola injured his groin in the game and he was out for the Jets game this past Thursday.
With Julian Edelman having a career high 13 catches, the Patriots were able to not stink on offense just enough to beat the Jets 13-10. The run game was pathetic and the passing game was so bad that Tom Brady couldn't contain his bad body language when receivers ran bad routes or dropped passes. Brady finished with 185 yards and a TD pass.
The key to the win over the Jets was the defense coming up with a lot of pressure against the Jets QB Geno Smith. They got 4 sacks and picked Smith off three times.
At this time, the receivers are a joke. Brady didn't even target a tight end for the entire Jets game. And the rookies Aaron Dobson and Kenbrell Thompkins mostly reminded you of that Jerry Glanville one liner about the NFL standing for "Not For Long". Despite catching that Brady TD pass, Dobkins was pretty terrible otherwise. Between he and Thompkins they got targeted 17 times and caught just 5 passes.
Really, I could be that bad, why aren't I getting a contract offer?
FANTASY FOOTBALL
The first week of fantasy football saw me split the two matchups. The team that features Peyton Manning as my starter won in the league's biggest blowout of the week while the Tom Brady led team lost a comeback game due to the Monday games.
MISCELLANEOUS
Music - This week I got a CD review done. It was for the reissued edition of the 1989 CD from Tangier called Four Winds. You can check out the review here: http://www.knac.com/article.asp?ArticleID=10107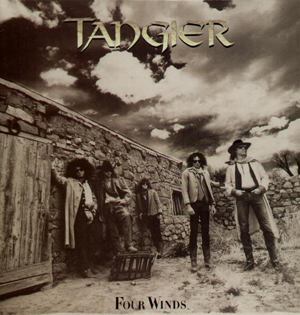 David Reece is the singer for a band called Bangalore Choir. He used to sing for the band Accept (one album called Eat The Heat). I saw him live with Accept. He's got a new solo CD coming out October 25th called Compromise. You can check out a MP3 sample of the song called "End Of It All" here: http://www.metalheaven.net/soundbytes/AORH00088_REECE/David_Reece-End_Of_It_All_edit.mp3
Fates Warning has released another song from their upcoming CD Darkness In A Different Light. It's called "I Am" and you can check it out below:
Movies - The remake of the movie Robocop has released the first trailer for the new movie. You can check it out here:
TV - The USA Network show Burn Notice ended its seven season run this past Thursday. For the most part I enjoyed the show (there was an early season that I tuned out but came back to the show). And unlike a lot of shows that give a bad final episode, I thought the series finale was quite good. It tied up the story in a nice fashion and even managed to work in the two lines most associated with the series as a nod to their beginnings. It was a job well done.
The HBO show The Newsroom will end its season tomorrow night and it should be a blowout finale. While there has worthy and unworthy criticism of the show, the past two episodes have been lights out awesome. Episode 7 "Red Team III" was particularly noteworthy as I saw a lot more positive talk about the episode online than I've seen for most of the other shows.
Books - I finished a couple more books this week. They were the C.J. Box novel Blood Trail, which was fantastic and I also finished the Lorna Barrett book Bookplate Special. Unfortunately, that one was merely adequate in terms of entertainment value.
I also picked up two more books. Thanks to my BJ's Warehouse membership, I got to two trade paperback versions of novels for the same price as the mass market paperback cost and don't have to wait the extra few months to read the stories. The two books in question were the James Patterson and Marshall Karp novel NYPD Red and The Fifth Assassin by Brad Meltzer.
In sad news, author A.C. (Ann) Crispin died on September 6th at the age of 63 after a long fight with cancer. While probably not familiar to most people, she was quite well known to those of us who read the Star Trek and Star Wars universe novels. She wrote a quite well received trilogy featuring Han Solo as well as writing one of my all-time favorite Star Trek novels. It was called Sarek and was about Spock's father. Quite a brilliant read I thought. She was also one of the creators and driving forces behind the website Writer Beware which kept aspiring writers up to date on publishing scams.
She made a final post on her Facebook page on September 3rd and I wanted to share it here: "I want to thank you all for your good wishes and prayers. I fear my condition is deteriorating. I am doing the best I can to be positive but I probably don't have an awful lot of time left. I want you all to know that I am receiving excellent care and am surrounded by family and friends."