While still at loose ends with the high school basketball season over for me...
BOSTON CELTICS 
The Celtics season continues along it's sub .500 way. I know that normally that would be considered a snarky remark, but for a change it is just a simple statement of fact.
It's not like they are truly horrid. They have their moments. They aren't as bad as people hoped they would be but they aren't a real threat to anyone either. The season has moved towards the end and the Celtics have morphed into the role of a spoiler team. If a playoff bound team comes into a game against them and gets caught looking past them, they just might be in for an unwelcome surprise loss.
With the Rajon Rondo birthday party tempest in a teapot behind them, the focus is back mainly on the court.
While the Pacers are the best team in the Eastern Conference, the Celtics took their full measure before losing 102-97 last week. Jeff Green led the team with 27 points and Kris Humphries added 18 points of his own.
Sadly, the Celtics have had to deal with an injury bug as of late. First they lost Gerald Wallace and before Friday's game against the Nets, the new came out that center Vitor Faverani is done for the year as well. Both had surgery for a torn meniscus.
Speaking of the Nets, the Celtics ended up beating them on Friday night. I saw the first half of the game and Boston looked decent. The 91-84 win saw Rajon Rondo lead the team in scoring with 20 points. He had 9 assists, but also finished with a slightly disturbing 7 turnovers.
Jeff Green had 15 points and Jerryd Bayless added 14 points. Kelly Olynyk scored 13 points and grabbed 7 boards. Jared Sullinger had just 5 points but led the team with 12 rebounds.
BOSTON RED SOX
Did you see this ridiculousness that passes for a spring training controversy? Apparently the Red Sox sent a mostly minor league lineup to play the Miami Marlins in a game. While a minor violation of the rules that call for four "regular" players or players under serious consideration for the major league level, the Marlins executives were more pissed off because they had the gall to charge a lot more for game tickets because it was the Red Sox.
What a joke! The Miami Marlins trot out major league rosters that aren't even good Triple A teams and they get pissed about the Red Sox lineups?
Even more galling was how Red Sox GM Ben Cherington actually apologized for the lineup they sent. If I was him, I would've told the Marlins, "I sent minor leaguers to play against minor leaguers."
Red Sox owner John Henry said it best when he tweeted out about the Marlins "They should apologize for their regular season lineup."
The Marlins apparently are the class tattletale and seem to be hellbent on continuing to be an embarrassment to organized baseball again this year.
MEN'S COLLEGE BASKETBALL
If you aren't one of those who follow bracketology from Midnight Madness practices onward, the NCAA men's tourney bracket fever might set in about the time the first team seals a bid to the tourney.
Well, set your brackets up because Friday night Harvard beat Yale to clinch the Ivy League title and seal their automatic bid to the Big Dance. No one is really expecting a national title out of the Crimson, but it would be fun if they got to advance once again this year.
WOMEN'S COLLEGE BASKETBALL
But keep in mind that only one side of the story is presented in the article. And given how the Boston Globe is notorious for ignoring facts in favor of fantasy, I want to hear a complete story before launching into any kind of diatribe.
Some teams are headed for conference tournaments while others have yet to finish their regular seasons.
Missouri State - The Lady Bears lost to Evansville 72-65 this week. Now 13-15 (8-9 in conference), they close their regular season today. They trailed by 19 points in the first half of the game but rallied back to make the score closer, unable to fully complete the comeback.
Katie Palmer had 15 points to lead the team while Bry Snow added 14 points.
Hartford - The Hawks closed out their regular season with a 57-49 win over Vermont. They finish with a 12-17 mark (9-7 in the America East Conference). Deanna Mayza scored a career high 22 points to lead the team to victory.
Shanish Bultron added 10 points and 6 boards.
The highlights are below.
It was Senior Day and the four graduating players were honored before the game. The photo below in order: Diamond Doe, Taylor Clark, Alyssa Englert and Milana Gilbert.
As for their conference tourney, Hartford opened up with a 63-62 overtime thriller, knocking off Maine in the quarterfinals. Amber Bepko led the team with 16 points, but it was Deanna Mayza's 4 points in the final 14 seconds of overtime that powered the Hawks to the win. Mayza finished with 12 points. Alyssa Englert had 10 points and 5 assists.
You can see game highlights and the post game press conference below.
The win advances Hartford to the semifinals where they will face top seeded Albany this morning.
Tennessee - The Lady Vols closed their regular season at 24-5 (13-3 in the SEC) with a 73-81 upset of #4 South Carolina. Isabelle Harrison scored 20 points and grabbed 15 boards. Meighan Simmons (pictured below) had 16 points and was honored before the game as the only senior graduating this season. Andraya Carter added 14 points.
Ball security was a big factor in Tennessee's win, they only turned the ball over 7 times for the game and outrebounded South Carolina 48-39.
Things weren't easy in the Lady Vols first round SEC tournament game. They trailed LSU by as many as 15 points in the first half, but a late 19-0 run in the second half helped fuel their 77-65 comeback win.
Isabelle Harrison (pictured below) had 21 points and 12 rebounds. Bashaara Graves added 14 points and 9 boards. It wasn't a great shooting night for Simmons but she finished with 14 points. Cierra Burdick (10 points, 11 boards) and Carter also played a big role in the win.
In the semifinals, Coach Holly Warlick (pictured below) saw her team go down by 10 points in the first half. But like the LSU game, they rallied back again and took an 86-77 win over Texas A&M. Now 26-5, the Lady Vols got 20 points and 13 boards from Isabelle Harrison. Simmons added 15 points and Graves had 14 points and 9 boards. Mercedes Russell had 11 points.
BOSTON COLLEGE BASKETBALL
Men's Basketball - The Eagles got 20 points from Olivier Hanlan but it wasn't enough to hold onto a late game lead and BC fell to Florida State 74-70. They are 8-22 now with a 4-13 conference mark. Their regular season still has some games before the ACC tournament starts. Patrick Heckman added 13 points and Joe Rahon had 11 points.
Women's Basketball - The women's team closed out their regular season on the road against Georgia Tech. Playing with just 7 available players (senior Kristen Doherty was out with the flu), the Eagles lost 84-74. They finish at 12-18 and 3-13 in the ACC.
The ACC women's tournament is in Greensboro, North Carolina and the Eagles were playing in the first round. That's where there season came to a sadly merciful end. Virginia beat them 74-59 ending the careers of Katie Zenevitch and Kristen Doherty (didn't travel with the team).
Zenevitch (pictured below) finished with a team high 14 points. Lauren Engeln and Kelly Hughes had 12 points apiece and Kat Cooper added 10 points.
The fact of the matter is that despite having talent on the team, the Eagles don't have enough of it to compete in the ACC. There needs to be a major talent upgrade if you ever want to be a REAL factor in the conference. I know the football money is the primary reason Boston College is in the ACC, but they just aren't good enough.
Also, coach Erik Johnson needs to find a true point guard. One that can actually handle things when teams throw pressure defense at them. The post game is going to need a lot of work with the loss of Zenevitch and Doherty. I'm not sold on Karima Gabriel or Victoria Lesko as capable replacements for either of them.
Lauren Engeln: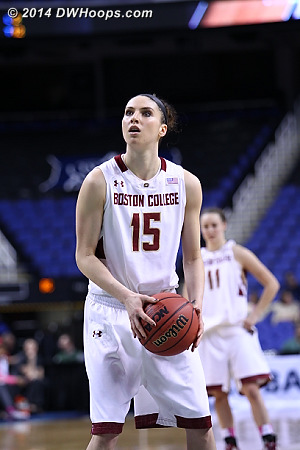 Kelly Hughes:
Kat Cooper:
COLLEGE FOOTBALL
HIGH SCHOOL BASKETBALL
You can check out what I think is my last three blog posts about the local high school scene below.
By the way, I did well enough in the two games I provided commentary for that both the guy I worked for and the UCT coach want me back to do more games next season. The first game I did is available online. You can check it out here:
http://vp.telvue.com/preview?id=T01161&video=187485
Oh, and Sports Illustrated's website had an article by Chris Ballard about the Gunderson High basketball team in California. The coach kicked a number of players off the team and then more quit in protest. The story goes into the details of what happened next. I like that the coach did what he did, but he also comes off as a bit of one of those holier-than-thou types as well. Check out the story and decide for yourself:
http://sportsillustrated.cnn.com/highschool/news/20140305/gunderson-high/
NEW ENGLAND PATRIOTS
Linebacker Brandon Spikes is hitting the free agent market next week and given the remarks he made during an appearance on the NFL Network show NFL AM, it would seem a foregone conclusion that he will not be returning to the Patriots next season.
The damning comment was "I would never say never -- everybody (says) you never want to burn a bridge," he said of returning to New England. "But I just feel like both sides would benefit from a fresh start."
As if the Patriots didn't have enough problems finding a defense without their own players heading off to parts unknown.
MISCELLANEOUS
TV -  Thanks to having a bit extra money I was able to order my copy of the Shout! Factory release of L.A. Law Season 1. Back when the series was airing on TV, it was one of my favorite shows. But I haven't really seen it since it left syndication on the Lifetime Network. It will be interesting to see how the show holds up to my memories of it.
I also took advantage of a huge bargain deal and got my hands on the first two season of the sitcom Wings. It cost me less than 10 bucks so it was well worth the investment.
Oh and of course there's this little awesome "24: Live Another Day" trailer.
Movies - This week I got the DVD release of the movie Riddick in the mail. I saw it in the theater and liked it enough that I wanted to add it to my collection. It was an inferior version of the Pitch Black movie that started the series but better than The Chronicles of Riddick film.
Books - I finished reading the novel Robert B. Parker's Wonderland by Ace Atkins this week. I found it rather enjoyable despite my reluctance of reading Spenser novels written by someone other than Parker himself.
I'm also trying to get my review of the book I Am Pilgrim done. I'm finding that doing a review of book is a bit of a challenge.
Do you remember the band Winger? I certainly do. I got to see them when their first album came out and met them after the show. Well, they are due to release a new album called Better Days Comin' and the first song from the album is called "Rat Race". You can see the video for this far heavier sounding song from the band below.