While being pleased with both the feedback I've been getting for an article I wrote and the arrival of my Red Sox Championship T-Shirt...
BOSTON COLLEGE ATHLETICS
As most regular readers of the column know, I'm a big fan of Boston College sports. And beginning with last night and this afternoon, the three major sports that I follow are underway at the same time.
Men's Basketball - The Eagles lost their season opener last night to Providence College. The 82-78 loss was a big disappointment in my book (though my buddy Brian, a PC alum, was likely quite ecstatic with the result). The Eagles have a nice triumvirate of scorers in Olivier Hanlan, Ryan Anderson and Joe Rahon and they should be better than they have been in the last couple of seasons.
Now it is just the first game but the Friars were playing without two of their freshmen players (suspended by coach Ed Cooley for failing to meet expectations as student-athletes). The Eagles got 23 points from Hanlan before he fouled out, 21 points from Ryan Anderson and 13 points from Rahon.
Offense was obviously not the problem in Game 1, but it is also rather apparent that BC will need to play far better on defense if they want to get those all important wins before their conference schedule begins.
Football - The football team went on the road in the hopes of ending their 9 game losing streak away from Alumni Stadium. They were faced with the 1-8 New Mexico State Aggies. The head coach is Doug Martin, who spent last season as the offensive coordinator for BC.
I was listening to the start of the game on the radio as I drove home from the BC women's basketball game. Unless I misheard the radio announcers, the Aggies were said to have nothing approaching a decent run game. This made the game plan seem pretty easy right? Just stack the deck by protecting against the pass and make things tough all around for New Mexico State.
Someone forgot to tell the Eagles that then, because the Aggies threw for 378 yards (to go with 159 yards on the ground) against a stunningly inept BC defense. The team kept missing tackles in a way that reminded one of kids in Pop Warner leagues missing tackles. While they did pick off a pass, they didn't get to the Aggies QB for a sack until late in the 4th quarter.
Of course, this lack of defensive fortitude was offset by the fact that the BC offense showed some real spring in their step on the way to 543 yards in total offense.
QB Chase Rettig had a solid day under center as he completed 17 of 25 passes for 222 yards and 3 TD passes. Receiver Alex Amidon caught 8 of those passes for 81 yards and a TD. The passing yardage put him in the school record book as the new leader in career receiving yardage.
Myles Willis returned a kickoff 98 yards for a score and kicker Nate Freese hit a career long 51 yard field goal...and then comes RB Andre Williams.
Williams has been laying claim to not only the best running back in the ACC, but in the entire country as well. He has been nearly unstoppable all season (the USC game aside). Today against the Aggies, he set a new school record for single game rushing yards when he ran for 296 with 2 TDs. One of the TD runs was 80 yards, while the other one was for 47 yards.
He is a beast!
The win gives the Eagles a 5-4 record with 3 games to go. If they pick up one more win they will be bowl eligible a season after bottoming out at 2-10.
Women's Basketball - The women's hoopsters began their new season this afternoon at home in the Conte Forum.
And for a change, I can write about their game with first hand knowledge as I was there to see them face off against #3 Stanford.
Yes, THE Stanford Cardinal playing AT Boston College. Do you know how rare this kind of thing is? A program on the level that BC is currently at getting a program like Stanford to put them on their schedule is huge. But usually they would have to go out to Palo Alto, CA when they are the lower tiered team.
So getting the Cardinal, a team featuring a Hall of Fame coach in Tara Vanderveer, 2 national titles and multiple Final Four appearances and a candidate in National Player of the Year in Chiney Ogwumike, to come to Chestnut Hill is HUUUUGE!
Not that you'd be able to tell from the pathetic size of the crowd that turned out for the game. The theme of Pack the House didn't play well despite the ticket giveaways and reduced price tickets that were available for the game. (I bought my ticket a while ago so I paid the full price.)
Before the game, they had 2010 graduate and ex-BC hoop star Ayla Brown sing the national anthem. Other alums in the house included Amber Jacobs, Victoria Jones, Amy Lacombe and Carolyn Swords.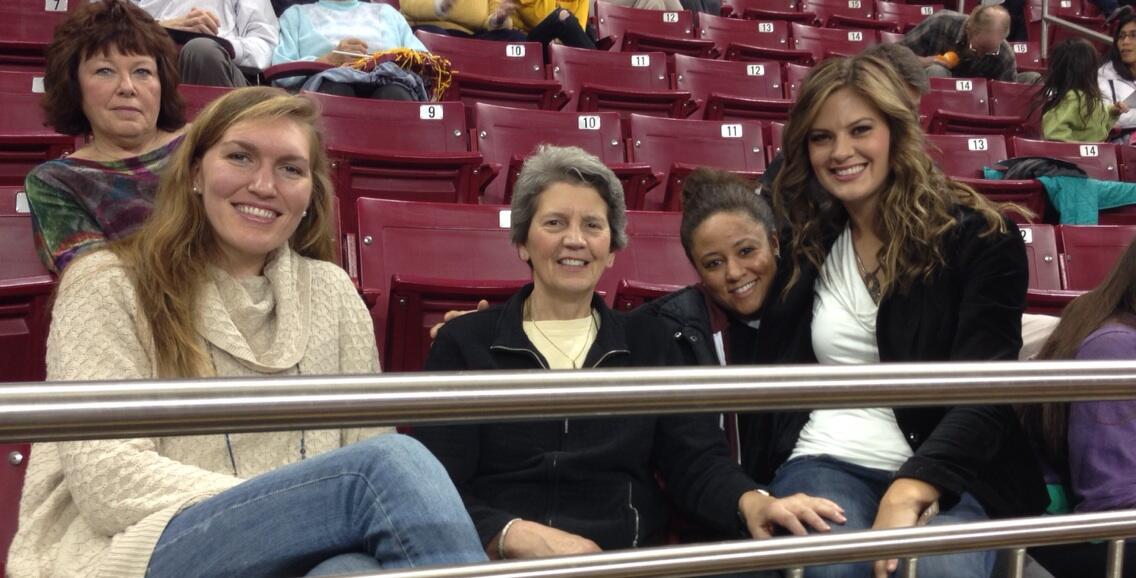 I got the chance to talk to Swords in the early part of the game. She walked about 2 feet away from where I was sitting on the way to where she sat for the game (Swords on the left with blonde hair,pictured above). I asked her how the rehab from her season ending knee injury was going and if she'd be back with the WNBA's Chicago Sky next season. She told me that the rehab was going well and that she would indeed be headed back to Chicago. I also mentioned how happy I was that she finally got a card in the annual WNBA trading card set. A missed opportunity that was for me. If I'd known I would've had the chance to talk to her I would've brought the card to have her sign it. I did pick up another Boston College T-shirt at the game though. I think that makes 8 or 9 I have now.
After the game there was an autograph session with the team, but I didn't stay for that.
As for the game, let's start with the preseason interview the Eagles website did with coach Erik Johnson here: http://www.bceagles.com/sports/w-baskbl/spec-rel/110713aaa.html
There was also a preseason video interview with both Johnson and senior Kristen Doherty.
In the early going, Stanford started out quickly and took a lead, but surprisingly the Eagles mounted a charge of their own and took an 18-13 going into the media timeout with 11:20 left in the first half.
While I was under no delusions or illusions that "my" Eagles would win the game, it was nice to see them taking the Cardinals on in a full on competitive mode. But coming out of that timeout, the BC offense and defense went into a coma. They couldn't hit a shot to save their lives and Stanford got their offense on track and over the next 10:20 of game time went on a 28-0 run that ended with BC hitting a three pointer with a minute left in the half.
The Eagles played reasonably better in the second half but spent most of the half down by 20 points before cutting the score down to the final margin of 81-73 in favor of Stanford.
It was disappointing to see so many sloppy turnovers from the Eagles and their defense had no answer to Chiney Ogwumike. She finished with 30 points and 14 rebounds. Other standouts for Stanford included Bonnie Samuelson (15 points), Mikaela Ruef (8 points, 10 rebounds) and Amber Orrange (19 points, 10 assists and 9 rebounds).
Despite the loss, it wasn't all bad news for the Eagles. Kristen Doherty had 16 points. In her first game since transferring from UConn, Lauren Engeln had 10 points. Kat Cooper had 11 points and showed a nice shooting touch to help BC to claw back into the game by making 3 out of 5 from three point range. Shayra Brown was dogged all day long. She had 15 points and 5 rebounds. She also showed a lot and made those hard to define "hustle plays". Unfortunately, her day ended early when she limped off the floor with an apparent foot injury. No word yet on exactly what happened there.
I think it is hard to predict exactly how the season will go for the women's basketball team, but I'm hoping they can build upon their solid ending to the season last year (despite the actual final record).
I've got a ticket ordered for an early December game so I'll be headed back to Conte Forum at least that one more time to check the team out in person.
The postgame from coach Erik Johnson is below:
FANTASY FOOTBALL
In a cleanse the palate entry before moving on to the rest of the column, I had a good week in fantasy football. I won both matchups in my leagues this past week. One was a big win where I got the award for biggest blowout of the week while the other win was a come from behind victory as a result of the Monday night game. If I remember correctly, I'm 5-4 in both leagues at this point in the season.
BOSTON CELTICS
The rough season start for the Celtics continued early in the week. After starting off with 2 losses (I mentioned them last week), the losing streak stretched to four games with an 87-77 loss to the Detroit Pistons and then a 95-88 loss to the Memphis Grizzlies.
I was around this point that I read in the paper that Gerald Wallace expressed his frustration with the team's effort for the second time so far this year. The first time was in the preseason. I can understand his frustration, but you have to wonder if it is just a bit early to be freaking out.
The Celtics are not expected to contend at all this year and we are dealing with a far younger team than what was on the court last season. Your best player is out injured, another good piece of the puzzle is coming back from back surgery and you've got a lot of young players that you are trying to mold into a new playing system.
Running off at the mouth after just 4 real games and a few fake ones might not be the most constructive use of your veteran's viewpoint Mr. Wallace.
My buddy Brian reminded me that he is not at all sold on Brad Stevens as coach. I'm nowhere near forming a solid opinion on him yet. I read an article in Sports Illustrated a few weeks back that gives you a good sense of Stevens the man, but not so much about his plan to rebuild the Celtics. You can check out a different SI.com article about Stevens here: http://sportsillustrated.cnn.com/nba/news/20131102/brad-stevens-homecourt-debut-boston-celtics/index.html
While an 0-4 record is a bad way to start the season, the Celtics have marginally started to turn things around. They beat the Utah Jazz 97-87 for their first win of the season and then on Friday night nipped the Orlando Magic 91-89 for a two game winning streak.
Last night, they played the Miami Heat. So you'd expect that this team got blown out as Lebron and Company took it to the Celtics. Well, surprisingly enough the Celtics hung with the Heat for the entire game. Lebron bailed out the Heat with 11 of his 25 points in the fourth quarter, but the game went down to literally to the buzzer. A violation on a free throw by the Heat with 0.6 seconds on the clock gave the Celtics shot to win the game. Gerald Wallace inbounded the ball and threw it deep in the corner on the opposite side of the court where Jeff Green drilled a three pointer at the buzzer to win the game 111-110. Yes, you read that right. The Boston Celtics just knocked off the two time defending champion Miami Heat. That loud scream of exhultation as Green drilled the shot that sounded a whole lot like "HOLY SH*T!, YEAHHHHHHHH! FRICKIN' A!"...yep that was me!
Talk about some scrappy ball playing. The Celtics are now riding a three game win streak. And did you see the expression on the face of Brad Stevens? Wow, there was almost no expression. As if he expected it to go down that way.
All 11 players that got into the game scored, led by Green's 24 points. Avery Bradley had 17 points and Jordan Crawford had 15 points. (Although late in the fourth quarter Crawford took a three pointer that was about as bad a shot selection as I could've thought to see.)
Jared Sullinger had 12 points and 8 boards. Kelly Olynyk got his first start and had 7 points and 8 boards. The broadcast team mentioned that he didn't play like a rookie.
And I have to give some props to Gerald Wallace. He made that inbounds pass, but he also made the basket that got it to 110-108 Heat. He finished with 6 points, 7 assists and 6 rebounds. A true glue player type of performance. Maybe popping off about effort wasn't such a bad thing after all.
The Celtics are 3-4 now and damn, that was an entertaining game last night.
There was some good news off the court to look forward to as well. There were reports that Rajon Rondo has been cleared for limited contact. This would be slightly ahead of schedule and he could be back on the court earlier than the anticipated December return. Of course, a lot of fans might be horrified by this news if they are hoping for the Celtics to be utterly bad instead of just kind of bad. The better the record, the less chance they'll have to land one of the top 3 picks in the expected to be loaded draft.
And at long last, a statue of Celtics great Bill Russell has been unveiled. You can read the story and see a photo of the statue here: http://sportsillustrated.cnn.com/nba/news/20131101/bill-russell-statue-boston/
A QUESTION FOR READERS
I was wondering, when you read an article in a magazine or even online, if it moves you do you save it or print it out? I keep a binder of stories, sports related or otherwise, that were just good writing or informative or sometimes even moved me.
Am I the only one who does this? I have to tear the articles out of the magazines like Sports Illustrated. If I tried to save every full issue that featured an article I liked, being a 25 years plus subscriber, I'd be one of those paper packrat hoarders. But I like good writing and love being able to every so often go back and pick out an article to give another perusal.
WOMEN'S COLLEGE BASKETBALL
And now for the return of what is likely the least read section of my columns. The women's college basketball round up. I know women's college hoops isn't exactly an area of interest for most. And idiotic promotions like giving away bacon to get people to come to the Kansas State women's game help make things seem like a sideshow, but I'm a fan and thus I continue to write about it.
This season, I'll be following Boston College, Tennessee, Hartford and Missouri State.
I already wrote about BC's first game above and Missouri State doesn't play their first game until Monday November 11th. They've got Kellie Harper as their new coach so I'm really hoping that they can become a good team under her guidance.
Tennessee - The Lady Vols found themselves down 12 points at halftime against Middle Tennessee in their season opener. But the team, in danger of losing their second straight season opener, rallied back and took the game 67-57. Isabelle Harrison led the team with 13 points and 7 boards. Ariel Massengale added 12 points. Mercedes Russell had 11 points and 7 boards while Andraya Carter scored 10 points. Cierra Burdick finished with 6 points and 11 boards.
Hartford - It is never a good thing to open your season against the defending national champion. It is even worse when that defending champion is UConn. And the Hartford Hawks found no mercy yesterday afternoon as the Huskies killed them 89-34. Freshman Deanna Mayza (pictured below) led the Hawks with 8 points on the day
By the way, here's the team photo:
The captains for the 2013-2014 season are pictured below (L-R): Redshirt Sophomore Katie Roth, senior Alyssa Englert and junior Amber Bepko.
HIGH SCHOOL FOOTBALL
Wareham - The Vikings lost yet again, falling to Foxboro 40-6 on Friday night.
ORR - The Bulldogs stretched their record to 9-0 with their 38-20 victory over East Bridgewater on Friday night. The win sends them to the South Sectional final next week against #2 seeded Abington.
My ex-player Richie (in red helmet) had a great game. On offense he carried the ball 24 times for 156 yards and 2 TDs.
On defense he recovered a fumble and had a solid hit (on left in photo below).
COLLEGE FOOTBALL
After the way the season started for USC, you'd think they would've packed up their tent and went into the offseason early. But the firing of Lane Kiffin and the hiring of Ed Orgeron on an interim basis has at least temporarily changed the team's fortunes for the better. The Trojans beat Cal today 62-28. While they lost yet another blue chip player to injury, they managed to return 3 punts today for scores (no one's done that since 2003) and ran their record under Orgeron to 4-1.
Alabama - The Crimson Tide had their matchup with LSU tonight and though it was a tight game in the first half, they rolled over the Tigers 38-17 to remain undefeated and in total control of the conversation in the land of college football.
The defense and offense had equal roles in this big win. On the defensive side of things, the Bama defense sacked LSU QB Zach Mettenberger 5 times, recovered 2 fumbles and held the ground game to just 43 yards.
A.J. McCarron threw for three TD scores while T.J. Yeldon (below) ran for 133 yards and two scores.
I know all the Bama haters can't stand it, but this is the best team in college football. Period.
PAYING COLLEGE ATHLETES
There was a huge development in the case to compensate athletes on the money they generate for the NCAA and member schools. The Ed O'Bannon class action lawsuit was partially certified. You can read more about what this means here: http://sportsillustrated.cnn.com/college-basketball/news/20131109/obannon-ncaa-class-action-lawsuit/index.html
MISCELLANEOUS
TV - The first trailer video for the 50th Anniversary Special of Doctor Who (due on November 23rd) has been revealed and it is a crackerjack bit of tease!
Books - I haven't had time to finish any books this week, but I did pick up a new one for my to-read piles.
It's the latest in the Star Trek series The Fall. It's called A Ceremony of Losses and it is written by David Mack. He wrote the amazing Star Trek Destiny trio of books so the book will likely be a fantastic read.
Music - I managed to get another CD review done this week though. You can check out what I had to say about the new Motorhead CD Aftershock via this KNAC.com link: http://www.knac.com/article.asp?ArticleID=10497
With the completion of this review, I've got 5 CDs left to get done before the end of the year and then I can do my top 10 list.
Meanwhile, you can check out the video for the Place Vendome song "Talk To Me" below:
Rhode Island Comic-Con - Last Saturday I attended Day 2 of the Rhode Island Comic-Con. I got to cover it as press for Pop-topia.com and had a great time doing both the press thing and spending time on personal things I wanted to get done as well. You can read the full article on my day at the con here: http://www.pop-topia.com/day-con-rhode-island-comic-con-2013/
I'm happy to report that my article has been getting a lot of good response from the people mentioned in it and shared quite readily by others (not just me) on Facebook.
You can also check out a video report that was done by a friend of mine named Ashley Bottoms.
The best part of the show was getting to meet actress Catherine Mary Stewart from the 1984 film The Last Starfighter. I've been a fan of hers since that movie and while it took me 29 years, I have finally gotten to meet her, life is good. You can check out the photo of me with her below. But please excuse the stupid look on my face. If the guy taking the photo had waiting a second longer, I would be grinning ear to ear.