While still mentally jazzed about the big win on Friday night...
Oh and I'm on Twitter now: @TheOneTrueJay
HIGH SCHOOL BASKETBALL
My first recap of the week that was in high school hoops can be seen here: http://www.yougabsports.com/pt/Talking-High-School-Hoops-2013-2014-Part-22---Tourney-Time/blog.htm
On Friday night, I was set to attend the Upper Cape girls basketball playoff game against Nantucket.
But on Wednesday night, I got a phone call. You can read about that here: http://www.t-s-b-n.com/pt/Ill-Be-Coming-To-You/blog.htm
So now that I'm sure you've finished reading that link...when I got to the gym on Friday I spoke briefly with the Upper Cape coach and Michaela. Afterwards, I went over to introduce myself to the guy in charge of filming. We got the tech stuff out of the way and got prepped to do the game.
I was working with an Upper Cape student named Brian on the call of the game while the guy in charge handled the video. Things went reasonably well. I was by no means perfect but I did well enough that the guy said after the game that things sounded good.
As for the game, WHAT A GAME!
Things started out a bit slow in the first quarter with Nantucket holding an 8-4 lead but UCT's Amber scored 5 quick points to have the Rams up 9-8 after one quarter. In the second half, UCT's offense went cold for a bit and Nantucket built a 16-11 lead.
But Amber (a freshman) helped counter that finishing with 13 first half points (on the way to a career high 26 points on the night) and Upper Cape was up 25-20 at the break.
Not to be outdone, in the second half Amber's older sister Krystle nailed three straight three pointers as the Rams eventually built a 38-21 lead. The offense went ice cold again and Nantucket cut the lead to 41-35 after three quarters.
But the Rams re-established things in the fourth and went on to grab a 60-42 victory! Survive and advance is the name of the game. Upper Cape will play West Bridgewater in the Division 4 South Sectional semifinals on Tuesday March 4th.
The crowd turned out for the game. It was the biggest crowd I've seen for a UCT girls home game in the five years I've been going to games there. The Cape Cod Times had people covering the game. You can read the full game report here: http://www.capecodonline.com/apps/pbcs.dll/article?AID=/20140301/SPORTS/403010316/-1/SPORTS
The 17 picture photo gallery by the Cape Cod Times staff photographer Ron Schloerb is here: http://www.capecodonline.com/apps/pbcs.dll/gallery?Site=CC&Date=20140228&Category=MEDIA0107&ArtNo=228009998&Ref=PH&Presentation=desktop#img-17
The photos below are all by Ron Schloerb from the gallery.
Krystle down the sideline:
Amber looking for the layup:
And of course, Michaela (3 points, endless relentlessness on defense)
Going for a loose ball (this photo was on the front page of the Cape Cod Times sports section yesterday morning)
And two shots on defense:
While none of them are heavy metal fans I'm sure, watching the way they have played all season, the UCT girls remind me of the Adrenaline Mob song "Undaunted".
Oh, and because it is the playoffs for the high school season, you might have been able to guess that there'd be some miracle shots made all around the country. You can check out this one that happened in California: http://sports.yahoo.com/blogs/highschool-prep-rally/california-kid-banks-75-foot-buzzer-beater-deliver-miracle-prep-playoff-victory-170643544.html
And here's the video:
COLLEGE BASKETBALL
I read a pretty good article on SI.com this week. It was about the Boston University men's coach Joe Jones. You can check out the article here: http://sportsillustrated.cnn.com/college-basketball/news/20140228/boston-university-joe-jones-patriot-league/index.html
Missouri State - The Lady Bears split their two games this week. Things began with a 66-57 loss to Illinois State. Tyonna Snow had a season high 26 points while both Hannah Wilkerson and Mikala McGhee scored 10 points apiece.
A couple of notes about the team before talking about their next game.
Bry Snow was one of the recipients of the Missouri Valley Conference Leadership and Service Award this past week.
I had found myself wondering why Kenzie Williams had disappeared from the boxscores of the Missouri State games. I didn't see any stories about an injury or her leaving the team. Finally, I did a Google search on her name and found out that she had torn the ACL in her left knee. The sophomore had hurt the same knee last year as a freshman. Mystery solved, but sadly not in a fashion I would've hoped for. Here's to a quick recovery for Kenzie!
Against Southern Illinois, the Lady Bears got a season high point total as they ran off to a 93-76 victory. The win raises their record to 13-14 with an 8-8 conference mark. They won the game despite being outrebounded 49-40.
Bry Snow had 26 points and 8 boards to lead MSU while sister Tyonna Snow scored 18 points. Mikala McGhee (15 points) and Desiree Phillips (12 points) established new career scoring highs for themselves in this game as well.
Hartford - After a stellar week for the Hawks in last week's game action, Amber Bepko picked up the America East Player of the Week award.
On the court, Hartford lost to Binghamton 55-51, dropping them to 11-17 (8-7 in conference). Cherelle Moore had 15 points and Alyssa Reaves added 10 points
Tennessee - It was a good week for the Lady Vols as they continue their season of "Grind for 9", their mantra in chasing a ninth national championship.
They beat a tough Missouri squad 56-50 with only 7 players entering the game for Tennessee. Meighan Simmons had 25 points to lead the scoring while Bashaara Graves added 11 points. Isabelle Harrison had just 5 points, but grabbed 10 rebounds. Mercedes Russell scored 6 points and had 11 rebounds.
In the first half of their game against LSU, the Lady Vols built a 21 point lead going into the break. But things got tougher for them in the second half. They ended up hanging on to win 72-67 and now stand at 23-5 with a 12-3 SEC record. It was Simmons powering the offense once again as she finished with 31 points. Cierra Burdick scored a career high 22 points to go with 10 rebounds and Isabelle Harrison added 11 points and 11 boards.
By the way, I'm sad to report that the ACC Women's Basketball Digest will be ceasing publication once the season ends. You can read their last weekly digest offering here: http://www.accwbbdigest.com/1314/1402271-digest-feb-27-2014-vol3-no15.php
HIGH SCHOOL SPORTS
My ex-player Paige recently competed in the MSTCA Pentathlon. She finished 39th overall. She is pictured below on the right with two of her teammates.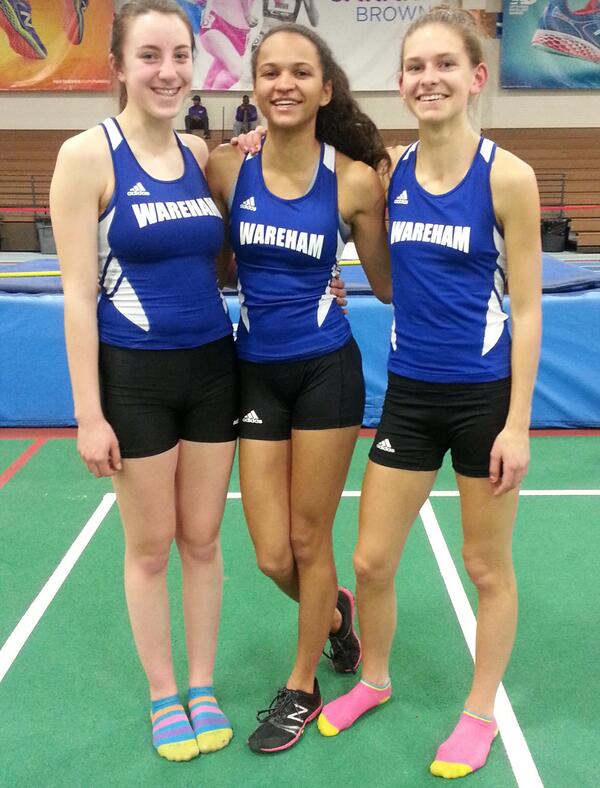 COLLEGE FOOTBALL
Do you remember when Bret Bielema was the BMOC as the head coach at Wisconsin? Well, since his shocking move to take the Arkansas job, things haven't gone well for him and his reputation seems to be taking a dive every time he opens his mouth lately. You can read all about it here: http://sportsillustrated.cnn.com/college-football/news/20140225/bret-bielema-arkansas-razorbacks/?eref=sihp
MMA
I'm not a fan so don't expect this to be a regular included part of my columns. Pat, one of my former players who was on the very first team for which I was the head coach, was supposed to be fighting his last fight on Friday night. The local paper had a story about him which you can read here: http://wareham.wickedlocal.com/article/20140224/SPORTS/140228084/?tag=1
However, the fight ended up being called off as his opponent didn't make weight. And if the Tweets I read from the guy who wrote the article are to be believed, the training for the fight has apparently made Pat rethink the decision to retire.
BOSTON CELTICS
Last Saturday, the Celtics were in Sacramento. The 105-98 loss to the Kings was made kind of a secondary story when, with 35 seconds left in the game, coach Brad Stevens got ejected. It is the first time he's ever been tossed from a game on any level. The replays I saw do not really show what he did to get the ref to run him, but after a week of being amazed at how Syracuse men's basketball coach Jim Boeheim reacted to a call that got him thrown out, Stevens is the anti-Boeheim.
Instead of yelling and screaming, he calmly called down to the Kings bench to get their coach's attention, gave him a wave and said "good game" and calmly left the court.
The funniest thing is that his reaction became the story of the game. It was just so surprising that he got tossed and then how he didn't lose his mind on the way out of the arena.
As for the game itself, Jeff Green had 29 points to lead the Celtics and Kris Humphries added 19 points.
But even the ejection paled in comparison to the unwarranted brouhaha that happened when the media learned that Rajon Rondo stayed behind in LA to celebrate his birthday with family and friends instead of traveling with the team to Sacramento. He wasn't scheduled to play against the Kings so not traveling with them wouldn't be such a big deal.
But as usual, it was the pinheaded way he went about it that seemed to rile the media. Apparently, he didn't get the official permission of the team to stay behind. A tempest in a teapot likely but once the media got its hooks into the story, suddenly it was disrespect to Brad Stevens and how would the coach handle things. Not too mention Rondo and Danny Ainge.
I don't see what the big deal is all about. It seems like a minor infraction. Sit Rondo down with Stevens or Ainge or both. Behind closed doors, this situation is ironed out in five minutes. And no one has to do any media dance as if they've someone been wronged on a galactic level.
Jeff Green scored 21 points and Rondo had 18 points and 10 assists when the focus got back to the actual games on the court. Unfortunately, it still ended up being a loss. This time it was Utah taking a 110-98 victory.
The doom and gloom of fans who actually think the Celtics should TRY to win the games got a little sliver of sunshine when Boston beat Atlanta 115-104. Jerryd Bayless scored 29 points as the Celtics raised their record to 20-39. Ronda had 22 points and 11 assists while Jeff Green scored 17 and Brandon Bass chipped in with 14 points.
BOSTON COLLEGE ATHLETICS
Football - The MMQB.com website has chosen to follow former BC running back Andre Williams over the next 11 weeks as he prepares for the draft. You can read the first article in the series here: http://mmqb.si.com/2014/02/25/andre-williams-rookie-journey-the-mmqb/
Men's Basketball - The Eagles fell to 7-21 (3-12 in the ACC) after losing 66-59 to Pittsburgh. Olivier Hanlan scored 25 points in the game (putting him over the 1,000 point mark for his career). Patrick Heckmann added 15 points and Ryan Anderson had 10 points.
Sportswriter Mark Blaudschun had a good read on why coach Steve Donahue should be kept as the man in charge of the basketball program. You can check it out here: http://ajerseyguy.com/?p=9306
The Eagles got a solid 80-72 win over Wake Forest on the road. Ryan Anderson led the team with 24 points and 7 boards. Olivier Hanlan scored 17 points while Lonnie Jackson added 12 points. Patrick Heckmann finished with 10 points. The win puts them at 8-21 (4-12 in the ACC).
Women's Basketball - Leading up to the Thursday night home game which would serve as Senior Night, the BC women's basketball site had brief Q&A's with the team's two seniors.
Kristen Doherty - http://www.bceagles.com/sports/w-baskbl/spec-rel/022514aac.html
Katie Zenevitch - http://www.bceagles.com/sports/w-baskbl/spec-rel/022614aab.html
As for the game, the two players were honored before the game. You can see photos (by BC photographer John Quackenbos) of the players with coaches and family below. Doherty first, then Zenevitch.
To start the game, Zenevitch was sent out. Maryland won the tap and the Terps coach Brenda Frese immediately called a timeout so that Zenevitch, who was dealing with a knee injury, could be taken out of the game.
It was a classy move that the two coaches had agreed to before the game. Whichever team won the tap would call the timeout thus enabling Zenevitch the chance to "start" in her last home game.
The rest of the game was not so nice for the Eagles. Maryland just pasted them and cruised to a 92-66 win. Doherty led the Eagles with 15 points, Kat Cooper added 13. Freshman Kelly Hughes scored 12 points and Nicole Boudreau finished with 10 points. The Eagles got outrebounded 37-21 and have now lost 10 of their last 11 games. They are 12-17 overall with a 3-12 ACC record.
BOSTON RED SOX
While the spring training games don't really matter much to me, the annual Sox vs. college teams games saw the Red Sox beat Northeastern and Boston College by identical 5-2 scores.
MISCELLANEOUS
Movies -   The opening scene to the upcoming Veronica Mars movie has been released. It works to catch viewers up on the three seasons of the TV show before launching into the movie. The film is due in theaters and On Demand March 14th.
My favorite sports movie is Hoosiers. Gene Hackman was great as the coach in the movie and in many other movies as well. But did you know that it has been 10 years since he worked as an actor? He's retired now and is now working mostly as a writer. I actually have his latest book on my to be read stacks. You can learn more about what he's been up to in the last decade with this Yahoo! interview: http://movies.yahoo.com/blogs/movie-news/the-big-questions-for-actor-turned-novelist-gene-hackman-001314382.html
TV - In the lead up to the fourth season of Game of Thrones, the HBO PR machine has now unleashed a bevy of promo posters with the phrase "Valar Morghulis" (All Men Must Die) on them. My favorite is the one featuring the Arya Stark character which you can see below.
Books - I finished reading the Rhys Bowen mystery The Family Way this week. It's the latest in her early 1900's New York set series featuring Molly Murphy. It was a nice read and managed to show how Murphy gets to solving a case despite promising her new husband to give up detective work now that she has a baby on the way.
And though it isn't actually due out until Tuesday March 4th, I got my hands on the paperback edition of the latest Spenser novel Robert B. Parker's Wonderland. It's written by Ace Atkins. While I'm normally loathe to see a series continue after an author dies, I just can't stand the thought of not knowing where the new author (copious notes from Parker aside) takes the characters I've been reading for more than 20 years.
Music - Got a new CD review done this week. You can check out what I had to say about the self-titled debut album from Red Dragon Cartel here: http://www.pop-topia.com/cd-review-red-dragon-cartel-st/
The video for the song "Deceived" is below.