As a general rule I like to talk about different topics, but I'm so pissed by Deion Sanders performance on Saturday Night, I just have to speak my peace on this asshole.   
NFL .   This is what it's come down to for the San Francisco 49ers.  They pay 3.6 million dollars for one year of the services of Braylon Edwards?  Hey Niners, when I said I wanted improvement, I didn't mean for you to go out and sign an immature diva WR who has some "investigative" issues pending in the state of Michigan after his cousins stabbed two bouncers at a bar while he was egging them on (ALLEGEDLY).  Bad guy who torched Cleveland on his way out of town, had a DUI in NYC of all places, and is known to drop his fair share of passes.
NFL – Hall of Fame Induction.  Did the ceremony run a little long?  Abso-freaking-lutely, but the memories of these seven who got in is truly something special.  It's a damn shame that there couldn't be a game to cap the weekend.
First off NFL, you didn't get off Scott-free here.  You didn't get your negotiations done in time, and the economically depressed city of Canton lost valuable tourist dollars that they can't get back.  Do the right thing and somehow reward Canton, Ohio either monetarily, or by holding next year's draft there instead of NYC, then have the HOF game between two fantasmic teams with fan bases that would travel well, perhaps Pittsburgh, Denver, Green Bay, and Dallas? 
Hey members of the Hall of Fame, where the hell were you to support the entry of seven new legends?  So few of you were there, that was horrible representation. 
I absolutely loved the induction ceremony.  The dignity of 94 year old Ed Sabol, the thankfulness of Richard Dent, the comedy of Chris Hanburger, the raw emotion and very becoming humility of Shannon Sharpe, the pride of Marshall Faulk (even if it was a little long), and the honoring of old schooler Les Richter.  It's too bad that the ceremony had to end with a bunch of non-sense and foolishness out of Deion Sanders.
I'll get to that stupid twit in a minute, but I want to talk about Shannon Sharpe, whose speech was the absolute bomb.  You know how I knew that Sharpe had the crowd in the palm of his hand?  When he thanked Art Modell, the boos came out, and he raised one hand and it all stopped.
Shannon Sharpe isn't just funny, he's one of the classiest guys I've had the pleasure of hearing, and saying that is a major shift in how I feel about him.  How great was the line "I'm the only HOF who know what it means to be the second best player in the family."? Part preacher, part motivational speaker, part survivor, and 100% honest.  He's right – let's take a look at his brother's stats and have an honest discussion – does Sterling Sharpe belong in the HOF with his brother? 
Marshall Faulk, you are so right – we can't wait until Kurt Warner and hopefully a few others on "The Greatest Show on Turf" are up on that podium getting enshrined!
This next take is gonna get me some blowback, but I don't freaking care!  I am going through Deion Sanders' speech at the HOF Saturday Night, and I still don't understand what he was trying to say.  I guess I'm stupid, but I have to ask this - Where does "Prime Time" end and Deion Sanders begin?  My guess is that even he doesn't know.  Seemed to me he was part hip-hop mogul, part corporate shill, part motivator to kids, and I don't know what else.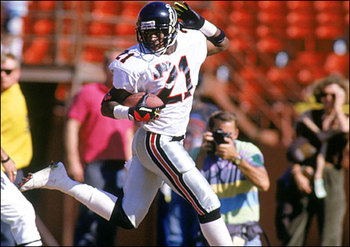 DEION SANDERS, WHAT THE HELL WERE YOU TRYING TO COMMUNICATE AT THE HOF?
I am not black, so I can't possibly know the struggles of those in that community, but if I was Shannon Sharpe, Marshall Faulk, and Deion Sanders Mother, I would be seething at Sanders' speech on Saturday Night.  For him to represent himself in the way he did was a mockery to those who had to endure far much more pain than he even thought about.  It was also insulting to anybody who can think for themselves.
Marshall Faulk grew up in the infamous Ninth Ward of New Orleans.  Now, I haven't lived there, but I know guys who have, and from what I understand it wasn't pretty and that's an understatement.  He was a five sport athlete in High School just so that he could avoid the crap there.  Marshall had no hangers on, didn't play on travel leagues, he got lucky – somebody caught him on a tape of somebody else and gave him a chance.  He was self-indulgent and arrogant in the beginning, but he wised up and matured.
Shannon Sharpe struggled through a young life that included living with his Grandmother in a house that leaked so bad that they had to use pots and pans to catch the rain water, and hang burlap sacks to allow them to sleep dry.  At times, his diet consisted of Raccoon, Possum, and Squirrel.  He ended up at Savannah State, with virtually no chance of being noticed, let alone getting into the NFL.  His journey to the halls of Canton was far more challenging than that of Sanders. 
Sharpe didn't have the advantages Sanders did.  Sanders lived in South Florida which meant plenty of attention from scouts/recruiters, participated in travel leagues, had hangers on, and ended up at Florida State on a team that garnered national attention.  He might have thought that he struggled early in life, but around the age of 13 or 14, I'm quite sure he was on the fast track and was well taken care of!
Sanders said that everything he did was for his mama (whom he admitted to being embarrassed by her during traveling leagues)?  She should have slapped your sorry ass into next week you dumb fuck!  How dare you embarrass your mother on national TV, even if it was to express regret.  Some things shouldn't be said, nor admitted to, and that was nothing more than a Jerry Springer moment.   
OK, enough about the upbringing.  He has the audacity to call "the haters"?  I hate to break it to Deion, but you put yourself on Front Street with your "persona" – did you honestly think that you were going to be 100% loved pulling that shit?  Did you honestly go with the comment "Since 1989, I tackled every bill my mama has ever given me."?  Fuck you, you self-indulgent SOB!  Did you do this for your mother, or did you do it to make yourself look good in the eyes of the public?  I'm having trouble distinguishing what was the true motive. 
Jason Whitlock said it best yesterday on his blog at Fox Sports – "Yep, the gold chains, the bandannas, the music videos, the high-steps, the brash talk and hey-look-at-me antics were all done for the benefit of Deion's mother.".  Nothing more need be said!!!
I might be wrong, but it appeared to me that his mother was uncomfortable with all this talk of her.
The Under Armor pin on your HOF Jacket Lapel - Advertising a business on a Hall of Fame jacket?  Other than the American Flag and/or the NFL logo, that's a straight up party foul.  Wonder how much you made off that?  Good Lord, what uncharted waters are we heading into with some divas coming up for induction.
Trying to elevate kids by telling them to expect great things from themselves is good, it really is, but when you turn around in the very next breath and thank Snoop, Nelly, and Ice Cube (by the way, why didn't you thank MC Hammer for being a major part of your "persona") and add that you were gonna "tear this thang up" with them after the ceremony?  Nice message to the kids, do your best, then hang with rappers who espouse nothing of what you're trying to teach them.  DUMB ASS! 
Putting a doo-rag on your bust?  What the fuck was that?  Oh, that's right, provoke change!   There will be some people who find that funny or humorous - I am not one.  It's not about the doo-rag, its about respect for the Hall.  It's about respect for those who you are joining.  I guess change means to lower the standards of the ceremony and sell out to a persona!   Don't you dare tell me that the person and the persona are two totally different things.  You treated your induction like a fucking business and advertising campaign, with a touch of ridiculous arrogance.  Hey "21", it's the Hall of Fucking Fame, a little decorum is in order – save that bullshit. 
Lastly, to insinuate that your behavior was the result of not having a dad who was involved?  How many athletes don't have a father (or even a father figure), took good care of their mother when they finally had the ability to, yet never "created a persona" or worse yet, fell into the trap of living like your persona?  Not too many athletes who came up rough pulled the same shit you did - what a cocksucker you are!!! 
Deion Sanders did nothing to change my mind about him – he's an ASS, just like always!   He could have used his forum last night to change what many feel about him - a la Michael Irvin.  He could have articulated that hard work, perseverance, and dedication can develop self-respect and make you a success.  Whatever he said last night was nothing more than a SELL OUT to Hip Hop, Corporations, and personas. 
When Deion Sanders puts away "Prime Time" and becomes a man, somebody let me know.  I'll bet he's probably a decent fellow!