REMEMBER : This Is A Team Of Greats Who Are Not, And Maybe Never Will Be, Inducted into The Pro Football Hall of Fame.

Quarterback : Archie Manning

In the very first nationally televised college football game ever in 1969, Archie Manning gained 540 yards. It is still a SEC record and Manning would later be inducted into the College Football Hall of Fame.

The Saints used their first round draft pick, the second overall selection, in 1971 to attain his services. New Orleans was entering into their fifth season of professional football, and most experts considered them severely undermanned in talented players.

Manning was looked upon to be the savior of a franchise that did not seem interested in getting enough talent surrounding him by putting together terrible drafts yearly. Manning would spent much of his time running for his life in New Orleans.

While he led the NFL in passing attempts and completions in his second year, Manning was also sacked more than any other quarterback in three of his first five seasons. What made the statistic even more astonishing was the fact that Manning was extremely mobile and not easy to tackle.

With seemingly 11 defenders jumping on his back virtually every time he dropped back to pass, the Saints lost more games than they won. Manning was only able to suit up for every game in an entire season once up until 1978 because he was getting destroyed on the gridiron weekly.

Things got so bad that defenders like Hall of Fame defensive end Jack Youngblood were telling reporters that they were trying to take it easy on Manning because he was so poorly protected. Manning's toughness and desire to keep lifting his carcass off the turf every play garnered the respect of every NFL player.

With New Orleans losing so much, fans called the team the "Aint's". They wore paper bags over their heads as the team seemed to lose on a weekly basis. The team won more than five games only twice in Manning's career.

He made his first Pro Bowl in 1978 after New Orleans set a franchise record with seven wins. He was named the NFC Most Valuable Player by the Sporting News and UPI. Manning went back to the Pro Bowl the next season after the Saints posted their first non-losing season in franchise history.

After the Saints won one game in 1980 and three games in 1981, they traded Manning to the Houston Oilers during the 1982 season. Like the Saints, Houston had fallen on hard times and were in the process of rebuilding. He started in eight games over two seasons, failing to win once. He was then traded to the Minnesota Vikings during the 1983 season and retired at the end of 1984.

When the novice fan sees that he win just 35 of 139 starts, they may fail to realize the talented quarterback never had the chance to prosper with the teams he played with. Manning was sacked 340 times in his 11 seasons in New Orleans.

He has two sons, Peyton and Eli, playing quarterback in the NFL and both were also first round draft picks who have gone to the Pro Bowl. Unlike their father, they have been surrounded by exceptional talent and both have won a Super Bowl. Their father never appeared in even a playoff game.

While Peyton is headed for Canton one day, and Eli still has an outside chance of accomplishing this as well, their father had the stronger throwing arm and was much more athletic than either child. He did not get to enjoy the rules heavily slanted in the offenses favor like his sons have.

He and his favorite passing target, Danny Abramowicz, were the very first players inducted into the Saints Hall of Fame. He has stayed in New Orleans and is an ambassador of the team and community, much beloved and respected by all in the Big Easy.

Not only is he probably the greatest quarterback in Saints history, but he could be the very best Manning to play in the NFL.

Billy Kilmer, Bobby Hebert, Jim Everett, and Aaron Brooks deserve mention.





Fullback : Tony Galbreath



Galbreath was the Saints second round draft pick in 1976. New Orleans had drafted Chuck Muncie in the first round and the pair was called "Thunder and Lightening". While Muncie got the majority of the carries, Galbreath was used in many different ways.

He led the team with seven rushing touchdowns and 54 receptions, which was the sixth most in the NFL that year. He also returned a team leading 20 kickoffs and a pair of punts.

Though the roles remained the same the next year, Galbreath continued to be an excellent blocker and pass catcher. He snagged a career best 74 balls in 1978, which was the second most in the NFL that year. He followed that up with 58 more receptions and a career high 708 rushing yards the next season.

The Saints were decimated by injuries in 1980, causing them to win just one game all year. Galbreath caught 57 passes, but was then traded to the Minnesota Vikings at the end of the year. Though he didn't carry the ball much for the Vikings, he caught 45 passes one year.

A free agent in 1984, Galbreath signed with the New York Giants in 1984. Mainly used as a blocker for Pro Bowl halfback Joe Morris, he did average 32 receptions over four seasons before retiring at the end of the 1987 season. The highlight of his career came in 1986 when the Giants won Super Bowl XXI.

Galbreath wasn't just a great blocker and pass catcher, he was a versatile athlete. He made two of three field goal attempts, as well as an extra point, when called upon i an emergency situation during the 1979 season. He also threw seven career passes, completing three.

When he left the Saints, he was the second leading rusher and pass catcher in team history. He is currently ranks sixth in receptions and seventh in rushing. Galbreath is a member of the Saints Hall of Fame and the greatest fullback in franchise history.

Wayne Wilson, Lorenzo Neal, and Tony Baker deserve mention.





Halfback : George Rogers



After a Heisman Trophy winning collegiate career that eventually got him inducted into the College Football Hall of Fame, Rogers was the first draft pick of the 1981 draft and the Saints leaned on him heavily.

He was named Rookie of the Year, First Team All-Pro, and to the Pro Bowl after leading the NFL with a whopping 378 carries for 1,674 yards at an average of 104,6 rushing yards per game. He also scored 13 times

Rogers was on his way to duplicating his rookie year when a players strike derailed his 1982 season. He was named to the Pro Bowl. He gained 1,144 yards the next year despite missing three games. After 914 rushing yards in 1983, he was traded to the Washington Redskins.

He shared carries with Hall of Famer John Riggins and halfback Keith Griffin in his first season with the Redskins, but still gained 1,093 yards and scored seven times. Washington made him the primary ball carrier the next year, after Riggins retired, and he led the NFL with a career high 18 rushing touchdowns while gaining 1,203 yards.

His last season was in 1987, which was marred by a players strike and nagging injuries. Rogers still led the team in rushing as Washington went on to win Super Bowl XXII.

Though he still ranks second on the Saints all-time rushing yards list for a career, his 1,674 yards in 1981 is still the best in team history. His 13 rushing touchdowns that year is tied with Deuce McAllister and Dalton Hilliard as the most for a single season in Saints history. The 83.7 yards he averaged per game with New Orleans is also a team record.

Though Rogers lasted just four years with the Saints, his impact lasted much longer. New Orleans spent many years in last place in their division before his arrival. The team steadily improved and the previous losing culture that had dogged the franchise soon became a thing of the past.

He is a member of the Saints Hall of Fame and Rogers is the only Saints running back to be named First Team All-Pro. His two Pro Bowls is still tied as the most in franchise history by a running back. On a franchise that has had many excellent running backs, Rogers may be the best.

Deuce McAllister, Rueben Mayes, Chuck Muncie, Dalton Hilliard, Andy Livingston, Fred McAfee, and Ricky Williams deserve mention.






Wide Receiver : Eric Martin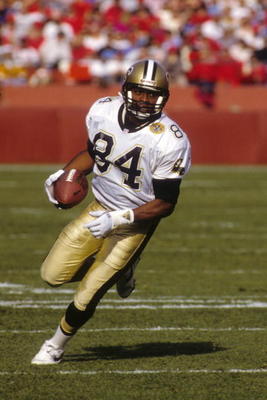 Martin was drafted by the Saints in the seventh round of the 1985 draft. He was initially used as both a return specialist and wide receiver, but he stopped being the primary punt returner after his third season.

The 1988 season was his best, making his only Pro Bowl after catching a career high 85 passes. He gained a career best 1,090 yards and caught a career high eight touchdown passes the next year. He caught 63 or more passes between 1989 to 1993.

Martin joined the Kansas City Chiefs in 1994, but was seldom used. He retired at the end of the season. His 532 receptions for 7,854 yards are still the most in Saints history, and his 48 touchdowns and 18 100-yard receiving games are the second most in team history.

He is a member of the Saints Hall of Fame and there are several New Orleans fans who consider him the best wide receiver in team history.




Wide Receiver : Joe Horn



Horn was drafted in the fifth round of the 1996 draft by the Kansas City Chiefs after having played a year in the Canadian Football League. He was rarely used in his first three seasons with the Chiefs, catching 18 balls total, but the Saints signed the free agent after a promising fourth season that accrued 35 receptions.

New Orleans put Horn to work immediately in 2000, having him catch a career best 94 balls in the first of three consecutive Pro Bowl years. He duplicated that reception total in 2004, his last Pro Bowl season, but added a career high 11 touchdowns and 1,399 receiving yards.

His next two years saw his production decline greatly, as Horn dealt with nagging injuries along the way. He was cut by New Orleans, but signed a big contract with the Atlanta Falcons. Soon he was not producing and asked to be traded. Atlanta cut him and no other team was interested in his services, so Horn retired.

Fans either loved or hated him for a style of play and clothing that earned Horn the nickname "Hollywood". He once hid a cell phone in the padding of a goalpost during a nationally televised game, pulling it out upon scoring to call his children to share in the celebration. He was fined heavily by the league for his antics.

Horn caught 50 touchdowns in his seven years with New Orleans, which is a team record. He is tied for the most touchdown receptions in a season with Marques Colston, and his 1,399 yards in one year is also a team record. Horn also ranks second in Saints history in catches and receiving yards.

Inducted into the Saints Hall of Fame in 2010, his four Pro Bowl appearances is a franchise record for wide receivers. No other Saint receiver has gone to the Pro Bowl more than once. It is safe to say that Joe Horn is one of the best wide receivers in Saints history.

Wes Chandler, Jeff Groth, Quinn Early, and Danny Ambramowicz, a Saint Hall of Famer who is the only New Orleans receiver to be named First Team All-Pro and once held the NFL record for consecutive games with at least one catch. deserve mention.




Tight End : Hoby Brenner



Brenner was drafted in the third round of the 1981 draft by New Orleans. Though he was used sparingly as a rookie, Brenner became the primary starter from his second season on for the Saints.

While he was very good at stretching the seam, especially in the first seven years of his career, blocking was something Brenner was exceptional at. He refined this skill in college blocking for two Heisman Trophy winning running backs named Charles White and Marcus Allen on the 1978 National Champion USC Trojans.

He caught a career high 42 passes in 1985, but he exceeded 34 reception just three times in his career. He was such a respected blocker that Brenner was named to the Pro Bowl in 1987. Brenner and Henry Childs are the only Saints tight ends to go to the Pro Bowl.

Brenner retired at the end of 1993 having appeared in 1975 games, the most in team history by a Saints pass catcher.. He still ranks fifth all-time in team history with 267 career receptions, the most ever by a Saints tight end. He is a member of the Saints Hall of Fame and may be the best tight end in team history.

Henry Childs and John Tice deserve mention.







Tackle : Willie Roaf



With the eighth overall pick in the first round of the 1993 draft, New Orleans selected Roaf. They started him immediately at left tackle and he would remain there the rest of his career. He made the first of seven consecutive Pro Bowls in his second season, including two straight First Team All-Pro nods in his second and third seasons.

While he was considered amongst the very best left tackles in the NFL, Roaf hurt his knee in 2001 and missed nine games. New Orleans made the mistake of thinking Roaf was in decline, so they traded him to the Kansas City Chiefs for a conditional draft choice.

Roaf showed immediately that he had lost nothing to his game, and he went to the Pro Bowl in each of his four seasons with the Chiefs. He was honored with his final First Team All-Pro nod in 2004, then retired at the end of the 2005 season.

Not only is he a member of the Saints Hall of Fame, but he is a member of the NFL's 1990's First Team All-Decade Team and a member of the Second Team on the 2000's All-Decade Team.

It is a matter of time before he is inducted into the Pro Football Hall of Fame. The 11-time Pro Bowler was a finalist in the 2011 vote, and it seems likely he will go in the next year.

His seven Pro Bowls with the Saints is the most in franchise history, as is his two First Team All-Pro honors. He is the best blocker to ever wear a New Orleans Saints uniform.







Tackle : Stan Brock



Brock was the Saints first round draft pick in 1980. He played college football for head coach Chuck Fairbanks, who coached his older brother Pete with the New England Patriots.

He earned the starting job in the fifth game of his rookie year at right tackle and held onto it for the rest of his Saints career. Though he missed 11 games in two years, because of injury, Brock started and played in every game for 10 years.

Brock became a free agent after 1992, then joined the San Diego Chargers for three years. The highlight of his career was playing in Super Bowl XXIX for San Diego. He retired after the 1995 season.

Brock was dependable, playing in 186 games over 13 seasons for New Orleans. He is considered by many to be one of the finest blockers in team history and he is a member of the Saints Hall of Fame.

Kyle Turley, Don Morrison, and Jammal Brown deserve mention.







Guard : Jim Dombrowski



The Saints used the sixth pick of the first round to draft Dombrowski in 1986 after a collegiate career that was so outstanding that Virginia University retired his number and he would later be inducted into the College Football Hall of Fame.

After playing just three games as a rookie, the Saints put him in as the starting left tackle. for almost three years before deciding guard might be his best position. He stayed entrenched there until 1993, where he spent most of the season as a reserve due to injuries.

Starting every game the following two season, Dombrowski was forced to miss six games in 1996 because of an injury. They were the first games he missed since the strike-shortened season of 1987, which caused him to retire at seasons end.

Dombrowski is a member of the Saints Hall of Fame. His versatility, toughness, and durability helped make him play a team record 147 straight games and become one of the best blockers the Saints ever had.







Guard : Jake Kupp



Kupp was drafted by the Dallas Cowboys in the ninth round of the 1964 draft. He earned a starting job for the last ten games of his rookie season and held the job until he was traded to the Washington Redskins before the start of the 1966 season.

He was a reserve for the Redskins, but they like Kupp's athleticism enough to toss him four passes for 28 yards that year. He joined the Atlanta Falcons the next year, but was released after six games. New Orleans grabbed him and Kupp spent the last five games on the year with them.

Earning the starting job in 1968, Kupp became a top blocker for the team. He became the first Saints offensive lineman ever to go to the Pro Bowl in 1969. He continued to start until the end of the 1975 season when he retired.

Not only is Kupp a member of the Saints Hall of Fame, he is one of the very best offensive guards in tam history.

LeCharles Bentley, Del Williams, Emanuel Zanders, and Brad Edelman deserve mention.






Center : Joel Hilgenberg



Hilgenberg was drafted in the fourth round of the 1984 draft by the Saints. He spent his rookie year as a reserve, but started five games the next year. He earned the starting job in 1987 then was moved to guard for the 1988 season. He went back to center the next year and stayed there for the rest of his career.

He was named to the Pro Bowl in 1992, marking the eighth consecutive year a Hilgenberg played for the NFL in a Pro Bowl. His older brother, Jay, had went the previous seven times as a member of the Chicago Bears. Jay Hilgenberg joined the Cleveland Browns in 1992, opening the way for Joel to get honored.

The Hilgenberg brothers were both members of the Saints in 1993. When Joel was injured after nine games, his older brother finished the season in his place. Both Hilgenberg brothers retired together at the end of the year.

Though the Saints have had many fine centers in the history of their franchise, including Saints Hall of Famer John Hill, Joel Hilgenberg was the first to ever go to the Pro Bowl. LeCharles Bentley is the only other one to have accomplished this. Hilgenberg is a member of the Saints Hall of Fame and may be the est center the team has ever employed.

John Hill, Jerry Fontenot, and LeCharles Bentley deserve mention.








Defensive Tackle : La'Roi Glover



Glover was a fifth round draft pick of the Oakland Raiders in 1996. Oakland had a pair of productive 27-year old Pro Bowlers named Chester McGlockton and Russell Maryland as their starting defensive tackles, so Glover appeared in just two games that year and was released just before the season ended.

The Saints grabbed him in the off season and had him play in NFL Europe. He stood out as his team, the Barcelona Dragons, won World Bowl V. He then returned to New Orleans to come off the bench and collect 6.5 sacks.

He earned the staring job by his third season and remained entrenched there the rest of his career. He quickly became a star, getting 10 sacks, an interception, forced a career best three fumbles, and had a career high 67 tackles in 1998. After an excellent 1999 season, Glover was considered one of the best defensive tackles in the NFL.

The 2000 season was the first of six consecutive Pro Bowl nods for Glover, and it was the best of his career. He led the league with 17 sacks, the second most ever in a single season by a defensive tackle, and matched his career high totals on forced fumbles and tackles. He also earned his only First Team All-Pro honor.

Despite another productive season that had him named a Pro Bowler in 2001, New Orleans released Glover instead of picking up the option of his contract. The Dallas Cowboys quickly signed him. He played four years in Dallas and went to the Pro Bowl each year.

Dallas went to a 3-4 defense in 2005, forcing Glover to play nose tackle. Though he made the Pro Bowl, his 6'2" 285 pound frame was not thought to be conducive to play that position. He became a free agent and was signed by the Saint Louis Rams. He lasted three years with the Rams before retiring.

Only seven defensive tackles have more sacks than the 83.5 Glover had in his career. The 50 he had with the Saints is the seventh most in franchise history and the most by a defensive tackle. His two Pro Bowls as a Saint are the most by a defensive tackle in team history, and he is the only Saint defensive lineman ever to be named First Team All-Pro.

New Orleans lucked into signing him in 1996, and obviously made a mistake letting him go in 2002. He was superb in his short time with them and might be their best defensive tackle ever.







Defensive Tackle : Derland Moore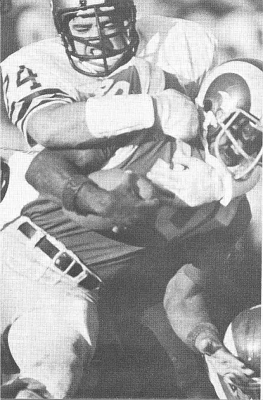 Moore was a walk-on player at Oklahoma University who stood out enough to be drafted in the second round by the Saints in 1973. He was the highest drafted walk-on in NFL history at the time.

He played all over the defensive line as a reserve, during his rookie season, and picked off the only pass of his career. He was named a starter the next season and would remain there the rest of his Saints career.

Moore was a tall, rangy player who was athletic enough to start at defensive end the entire 1981 season after New Orleans switched to a 3-4 base defense. Moore was plugged in at nose tackle the next year. After collecting six sacks in 1983, Moore went to the Pro Bowl as an injury replacement.

Playing in just 18 games the next two years, New Orleans cut him at the end of the 1985 season after he appeared in only six games. He suited up for one game with the New York Jets the next season then retired.

The 170 games Moore played with New Orleans was a team record at the time by a defensive player, and it is still the fifth most. He is a member of the Saints Hall of Fame and is considered one of their finest defensive lineman ever.

Bob Pollard, Elex Price, Tony Elliott, and Norman Hand deserve mention.







Defensive End : Wayne Martin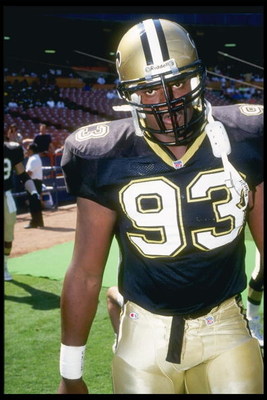 New Orleans used their first round draft pick, 19th overall, by selecting Martin in 1989. After spending his rookie year coming off the bench, Martin started in every game he played in the rest of his career. He missed five games in 1990, then never missed a game again.

He exploded with a career best 15.5 sacks in 1992. Martin made the Pro Bowl in 1994, and had double digit sacks in five of six seasons starting in 1992. He was a key component of the famous "Dome Patrol", which saw all four starting linebackers for New Orleans go to the Pro Bowl on a top-rated defense that is considered one of the finest in modern football history.

The Saints moved him to defensive tackle in 1995, and he responded with three consecutive years of double digit sacks and had a career best 88 tackles in 1996. He had a safety in 1998, then retired after the following season.

The 82.5 sacks Martin had is the most by any Saints defensive lineman and is second behind Hall of Fame linebacker Ricky Jackson for New Orleans. His 171 games played are the fourth most by a Saints defender. The 531 tackles he had are the most ever by a Saints defensive lineman and ranks fourth best overall in franchise history.

Not only is he a member of the Saints Hall of Fame, but Martin is probably the best defensive end the team has ever had. His 144 straight starts are the most by any Saints player.







Defensive End : Frank Warren



New Orleans drafted Warren in the third round of the 1981 draft. He was a key reserve of an improving Saints defense until 1987. He could play any position along the defensive line and be productive. When he was named a starter in 1988, Jumpy Geathers also started a few games.

He had perhaps his best season in 1989. Jim Wilks, his bookend, was now starting at nose tackle and Geathers replaced him at defensive end. Warren piled up a career best 9.5 sacks, 50 tackles, and collected a safety. The versatility of the Saints defensive line often gave opponents problems.

Continuing to start, he was moved from the left to the right side the next year and had seven sacks. New Orleans then moved him to nose tackle in 1994. Warren retired at the end of the season. Though sacks were not a recognized statistic until 1982, the 52.5 sacks Warren had ranks fifth best in team history.

Warren is a member of the Saints Hall of Fame and the 189 games he played in are the most ever by a Saints defensive lineman. He was athletic, versatile, and durable. He is certainly one of the best defensive linemen the franchise ever had.

Jim Wilks, Joe Johnson, Darren Howard, Bruce Clark, Jumpy Geathers, Willie Whitehead, and Elois Grooms deserve mention.







Outside Linebacker : Pat Swilling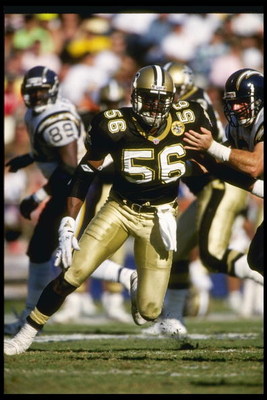 After a legendary collegiate career that eventually ended with induction into the College Football Hall of Fame, Swilling somehow lasted until the third round of the 1986 draft until the Saints selected him.

He spent his rookie year coming off the bench but was named a starter from his second season on. Swilling's specialty was rushing the passer, getting double digit sack totals in five of his seven years with the Saints.

Swilling made the first of five consecutive Pro Bowls in 1989 after getting 16.5 sacks and forcing five fumbles.He had perhaps his best season in 1991 when he led the NFL with a career best 17 sacks. He also forced a career high six fumbles, scored a touchdown off his only interception, and was named First Team All-Pro and NFL Defensive Player of the Year.

He was named First Team All-Pro again the next year, but the Saints traded him to the Detroit Lions at the end of the season. His first with the Lions was his best, as well as the last Pro Bowl year of his career. Swilling picked off a career best three balls and forced five fumbles. He left Detroit after the 1994 season to join the Oakland Raiders.

Oakland put Swilling at defensive end for them and he responded with 13 sacks in his first year with them. He retired after playing two more years with them. Though he played on some very good teams, Swilling is the only player in NFL history to play in six playoff games without ever winning once.

Swilling is the only Saints player ever to have won the Defensive Player of the Year Award. Of his 107.5 career sacks, which is the 17th most in NFL history, 76.5 came with the Saints. That is the third most in team history. He forced 24 fumbles with New Orleans, which is the second most in team history.

Though Rickey Jackson is often the first named mentioned on the famous "Dome Patrol" linebackers corp, Swilling is the only one to be named First Team All-Pro with the team. With a career that had one less Pro Bowl than Jackson, some fans feel Pat Swilling should also be inducted into the Pro Football Hall of Fame.








Middle Linebacker : Sam Mills



Mills went undrafted in 1981, then tried out with the Cleveland Browns and was cut. He then tried out with the Toronto Argonauts of the Canadian Football League and was cut again.

The United States Football League began playing in 1983 and Mills tried out for the Philadelphia Stars. Not only did he make the team, he became an instant success. Nicknamed the "Field Mouse", the 5'9" Mills was known for his leadership and intensity both on and off the field.

The USFL folded after 1985, but it did have many successes. Six members of the USFL are inducted into the Pro Football Hall of Fame, including four players. Mills played in the USFL Championship Game all three seasons, winning twice. He is a member of the USFL All-Time Team, and was named All-USFL, their version of the Pro Bowl, all three years.

David Dixon created the USFL. He also was instrumental in bringing the Saints to New Orleans. His connections with the USFL proved to be valuable when that league folded as he signed many former USFL personnel.

He hired Jim Mora Sr. as his head coach, Bobby Hebert as his starting quarterback, Chuck Commiskey as a starting offensive guard, Buford Jordan as the starting fullback, Antonio Gibson as the starting strong safety, Mel Gray as the return specialist, and Mills and Vaughn Johnson as his starting inside linebackers. Mora had coached Mills, Commiskey, and Gibson in the USFL.

The Saints already had Hall of Famer Ricky Jackson at one outside linebacker slot, and had just drafted future Pro Bowler Pat Swilling to bookend him. Teamed with Mills and Johnson, New Orleans has one of the best linebacker corps in NFL history. The group was so devastating that they were called "The Dome Patrol".

Mills was the leader of the group and made his first Pro Bowl in his second season. He was always around the ball and averaged almost 100 tackles a year in his nine season with the Saints. He also took two fumble recoveries in for touchdowns and made the Pro Bowl four times total.

When his contract expired in 1994, the Saint allowed the 36-year old to leave despite the fact he had just piled up a career high 155 tackles that year for them. Mills signed with the expansion Carolina Panthers determined to show he had a lot of football still in him. He became an instant hero for the Panthers.

The 1996 season was one of his best. He was named to the Pro Bowl and was also given his only First Team All-Pro honor. Mills had a career best 5.5 sacks to go with 122 tackles and became the oldest player in NFL history to recover a fumble and return it for a score.

He retired after the 1997 season and became a linebackers coach for Carolina. He found out he had intestinal cancer and only had a few months to live in 2003, but kept coaching and pleading for his players to "keep pounding". This inspired Carolina to reach Super Bowl XXXVIII that year.

Mills died in 2005 and the Panthers have a statue of him outside of their stadium in his honor. He is a member of the Panthers Hall of Honor, the Saints Hall of Fame, the Louisiana Sports Hall of Fame, the Sports Hall of Fame of New Jersey, and the College Football Hall of Fame.

There is still a good chance Mills will be inducted into the Pro Football Hall of Fame one day. Though critics may say his five Pro Bowls with the NFL isn't enough for induction, that means they are discounting what he did in the USFL.

The USFL was professional football, and Mills was a huge star in that league. The building in Canton has the words Pro Football" engraved on their buildings, signs, and letterheads everywhere. The USFL obviously had tremendous impact and influence on the NFL as well.

His is a story of perseverance. The "American Dream" that became reality. Even if Mills never gets into Canton, he is probably the greatest inside linebacker the Saints franchise ever had wear their jersey.

Joe Federspiel, Vaughn Johnson, Charlie Clemons, and Winfred Tubbs deserve mention.








Outside Linebacker : Keith Mitchell



The Saints signed Mitchell as an undrafted free agent rookie in 1997. He was used sparingly as a rookie, but still accrued four sacks. He won the starting job the next year and would remain in the starting lineup the remainder of his time in New Orleans.

Mitchell had a propensity of making the big play. After scoring off a fumble recovery in 1998, he repeated that event in 2000 and scored again on an interception while getting a career high 6.5 sacks. He was named to the Pro Bowl for his efforts.

He started to get phased out by Charlie Clemons in 2001, so Mitchell asked to be released. He signed with the Houston Texans but spent one injury filled season with them. Joining the Jacksonville Jaguars in 2003, he got hurt for the year early on then retired.

Mitchell was a pass rusher who was quite a find for the Saints. He was productive and became just the fourth outside linebacker, along with Mark Fields, to go to the Pro Bowl representing New Orleans.

Reynaldo Turnbull, Whitney Paul, Mark Fields, Wayne Colman, and Jim Merlo deserve mention.







Strong Safety : Sammy Knight



Knight joined the Saints as an undrafted free agent rookie in 1997. He quickly won a starting job at free safety and intercepted 11 passes over two years. He also scored twice, one coming off a 91-yard interception return.

New Orleans moved him to strong safety in 1999 and he responded with 102 tackles. He had 100 tackles, two sacks, five interceptions, and two touchdowns the next year, which put him amongst the best strong safeties in the NFL.

His 2001 was his lone Pro Bowl year after matching his career high of six interceptions. The Saints moved him back to free safety the next year and Knight piled up a career best 107 tackles.

Now a free agent, Knight joined the Miami Dolphins for two years and recorded a safety. He moved on to the Kansas City Chiefs in 2005 and spent two years as their starting strong safety. Joining the Jacksonville Jaguars in 2007, he moved onto the New York Giants the next year for a hefty contract.

He spent much of the year hurt, the first time he missed a game since1998. The Giants released him, so he retired. Not only is Knight the first Saint strong safety to ever go to a Pro Bowl, but his impact was significant.

Knight ranks third in franchise history in interceptions and sixth in tackles. His four touchdowns off interceptions is also a team record. Though some Saint fans might prefer Gene Atkins here, Knight was more productive in a shorter amount of time and may be the best strong safety in team history.

Gene Atkins, Brett Maxie, Jay Bellamy, Benny Thompson, Chuck Crist, and Hugo Hollas deserve mention.








Free Safety : Tom Myers



Myers was drafted by the Saints in the third round of the 1972 draft. He worked his way into the starting lineup by mid-season and held onto that honor the remainder of his career.

The NFL knew of him as a big play artist in 1975, when he took a fumble recovery in for a score. He duplicated that feat the next year as well. He was at the top of his game by 1978.

He intercepted six balls that year for a career best 167 yards. He took one ball a then-team record 97 yards for a score, which was the longest interception return of the year. He followed that up with an even better performance the next season.

Myers became the first Saints safety ever to be named to the Pro Bowl in 1978. He was also the first Saint defender ever to be named First Team All-NFL. Myers picked off a career high 7 passes that season, returning one for a score.

He played two more years before retiring, but his final season saw him attempt two passes. He completed one for an eight yard touchdown. The 36 interceptions Myers had was a Saints record at the time, and it still ranks second. He was inducted into the teams Hall of Fame in the second year it existed.

Though he played on some truly awful teams in his career, Myers still was able to excel and garner a lot of respect along the way. He is probably the best defensive back in team history.

Gene Atkins, Frank Wattelet, and Josh Bullocks deserve mention.








Cornerback : Dave Waymer



Waymer was a second round pick of the Saints in 1980. He started ten games at right cornerback as a rookie, but was switched to left cornerback the next year. He stayed there for eight seasons, becoming the teams top cornerback.

After getting a career best nine interceptions in b1986, he made his only Pro Bowl the following year. The 1987 season saw him play 12 games because of a players strike, but that did not prevent Waymer from swiping five balls.

He made a seamless transition to free safety in 1989, intercepting six passes. Waymer then joined the San Francisco 49ers for the next two years to play mostly strong safety. He then went to the Los Angeles Raiders for the 1992 season, then passes away during the off season at 34-years old.

Of his 48 career interceptions, 37 came with the Saints. It is the most in franchise history. His 149 games in New Orleans are the most ever by a Saints defensive back. Waymer is a member of the Saints Hall of Fame.

The Saints have had three cornerbacks go to the Pro Bowl. Waymer was the second to accomplish this, but he might be the best cornerback the team ever had.







Cornerback : Dave Whitsell



Whitsell was drafted in the 24th round of the 1958 draft by the Detroit Lions. He played in Detroit until 1960, then joined the Chicago Bears. He lasted six years there, intercepting 26 passes.

Joining the expansion Saints in 1967, Whitsell became the first star in Saints history. Leading the NFL with 10 interceptions, returning them for 178 yards and two scores, he became the first player in team history to be named to the Pro Bowl.

New Orleans had him play free safety the next two years mostly, and he responded with nine passes picked off. He then retired and is a member of the Saints Hall of Fame. Not only did he lead the team in interceptions in each of his three seasons, but the 19 Whitsell had as a Saint ranks the fifth most in team history.

When the Saints started out as a franchise, they were not a team full of talent. Of the excellent players they did have, Dave Whitsell stood out perhaps the most.

Fred Thomas, Toi Cook, Johnnie Poe, Ernie Jackson, Ashley Ambrose, Vince Buck, and Mike McKenzie deserve mention.





Kicker : Morten Andersen



Drafted in the fourth round of the 1982 draft by the Saints, Andersen spent the next 13 years with New Orleans becoming the greatest kicker in team history.

He made the first of his seven career Pro Bowls in 1985, then was named First Team All-Pro the next two seasons. He led the NFL in field goal attempts twice, field goals and field goal percentage once with New Orleans. He was known for a very strong kicking leg, once hitting a 60-yard field goal that is three yards short of the NFL record set by Saints legend Tom Dempsey.

After the 1994 season, the Saints felt that the man called "Mr. Automatic" and "The Great Dane" was no longer quite as effective at 34-years old. They let him go into the free agency pool. The Atlanta Falcons would end up signing Andersen.

Named to the Pro Bowl and his final First Team All-Pro in his first year with Atlanta, he showed the Saints he has plenty of leg left by becoming the first player in NFL history to kick three field goals of 50-yards or more against them. Andersen spent six years with the Falcons. His highlight was kicking a game-winning field goal in the NFC Championship Game in 1998 to send the Falcons to their only Super Bowl appearance.

He joined the New York Giants in 2001, then the Kansas City Chiefs the next year. He signed with the Minnesota Vikings in 2004, then rejoined the Falcons the next season. He stayed with Atlanta for two years before retiring at the age of 47-years old.

Andersen in the leading scorer in NFL history. He is also the leading scorer in both Saints and Falcons history. No one has attempted or made more field goal in NFL history, nor played in as many games. He is a member of both the 1980's and 1990's NFL All-Decade Team.

He holds 22 NFL records four Pro Bowl records, and is the only player to set records for two team, the Saints and Falcons, in both field goals and extra points attempted and made. He is also second in six other NFL records for kicking. When he retired, he was just two days away from passing Hall of Famer George Blanda as the oldest person to play an NFL game in the modern era.

It seems inevitable that he will be in Canton, especially after the great Jan Stenerud broke the barrier for allowing kickers to be inducted. There was little Andersen couldn't do kicking a football. Not only did he possess a big leg, but his NFL record of 103 game winning kicks show nerves of steel. He may be the greatest kicker in NFL history, but he is the best in Saints history.

Tom Dempsey, Doug Brien, Charlie Durkee, and Rich Szaro deserve mention.







Punter : Tommy Barnhardt



Barnhardt was a ninth round draft pick by the Tampa Bay Buccaneers, selected ahead of notable players like Clyde Simmons and Vai Sikahema. Tampa Bay decided to go with veteran Frank Garcia and cut Barnhardt.

He joined the Saints and Chicago Bears for a total of five games the next season, then for four games with the Washington Redskins in 1988. The Saints were dissatisfied with the performance of George Winslow after five games in 1989, so they replaced him with Barnhardt.

Staying with the Saints the next six years, Barnhardt was known for his consistency and leg strength. He led the NFL with 3,743 punting yards in 1991. He joined the Carolina Panthers for just the 1995 season, punting the ball a career high 95 times.

Barnhardt spent the next three seasons with the Buccaneers before rejoining the Saints in 1999. He went back to the Redskins in 2000, then retired at the end of the season His 515 punts for 21,880 yards are the most in team history.

His career average of 42.5 yards per punt with New Orleans shows his leg strength. It is the most by any Saint with at least 228 attempts. Though Brian Hansen and Mitch Berger went to the Pro Bowl for New Orleans, both spent just four and three years respectively with the team as opposed to the eight that Barnhardt did.

Tom Blanchard, Brian Hansen, Mitch Berger, and Russell Erxleben deserve mention.







Kick Returner : Michael Lewis



Lewis was driving a beer truck when he made the team at 30-years old in 2001 after playing semi-pro football for several years. He was rarely used by the Saints as a wide receiver, catching 28 balls over three years, but he did average nearly 20 yards per reception.

Used mainly as a kick returner as a rookie, Lewis exploded on his second year and made the Pro Bowl. He led the NFL in kickoff returns, kickoff return yards, punt return yards, and all purpose yards. His two scores on kickoff returns also led the league, and he scored once more on a punt return..

He returned 114 kicks and punts that year for 2,432 yards, both of which are NFL records. His 625 punt return yards that year are the 12th most in NFL history, and his 1,807 kickoff return yards are the third most ever. His 2,647 all-purpose yards are the second most in NFL history, and his 70 kickoff returns are the fourth most.

Unable to stay healthy enough to play an entire season the next four years, Lewis remained New Orleans' primary return specialist. He joined the San Francisco 49ers in 2007 and was used primarily as a punt returner before retiring at the end of the season.

He has remained popular with the Saints organization since and was given a Super Bowl ring in 2010 after the Saints won Super Bowl XLIV. He is most likely the greatest return specialist in team history. Lewis holds the team records in both punt and kickoff returns in attempts and yards gained.

Tyrone Hughes, Mel J. Gray, Eric Guliford, Wayne Wilson, Aaron Stecker, and Rich Mauti deserve mention.







Punt Returner : Tyrone Hughes



Hughes was drafted by the Saints in the fifth round in 1993. He made the Pro Bowl immediately, leading the league in punt return yards, two touchdowns, and a 13.6 yards per return average. He also scored off a kickoff return.

Though the Saints did not use him much on defense, he had the only four interceptions of his career the next two years. He recovered three fumbles in 1994, returning them for a league leading 128 yards and two scores.

He also tied an NFL record that year by returning two kickoffs for scores in one game. He would lead the NFL in kickoff returns and yards in each of the next three years. Hughes left New Orleans after 1996 and then played a season each for the Chicago Bears and Dallas Cowboys the next two years before retiring. He even caught eight balls for the Bears.

Hughes ranks second in Saints history in punt and kickoff return yardage but first in touchdowns scored. Lewis could hold this slot too, but I gave it to Hughes because he was such a productive and exciting player.

Michael Lewis, Jeff Groth, Mel J. Gray, Howard Stevens, and Eric Guliford deserve mention.