Against a winter backdrop that reminded me of when I used to ride the bus to school, I started my first day. I'm only in a long term sub job right now, but things look good as far as staying on board for the rest of the year. I was kind of hoping to get a contract, but the school is dragging its feet. We public schools stayed open here in Michigan today, but it seemed like the charters and academies packed it in. Maybe we should have followed their lead; one of the classrooms had a temperature reading of 32 Fahrenheit. We shut our heater down for the three day weekend and didn't turn it on til this morning. Oh, and someone left a bunch of windows open on the first floor.
So in a week of odd stories, a new one comes out of the wood work. While waiting for what I believe is an overdue Hall of Fame call, Tim Brown has been busy making the radio circuit. While his tour could be a nice send off to the Hall of Fame, Brown has been all business using his appearances to allege misdeeds by former Raiders coach Bill Callahan. According to brown, Callahan hated the Raiders organization and walked out on the team a few times during his tenure in Oakland. Callahan reportedly only took the job because Jon Gruden asked him. Brown, along with others, believes now that Callahan may have thrown Super Bowl 37 against Gruden's Bucs as a final middle finger to Oakland and a big boost to Gruden.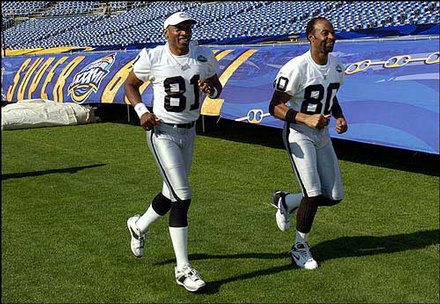 The players say that Callahan changed the Raiders game plan at the last moment. Originally, the Raiders planned to use their size advantage on the offensive line and feature back Charlie Garner to over power the Bucs. Come Friday, however, Callahan had shifted tactics to a 60+ attempt passing attack. Rich Gannon threw 44 passes, while Garner had a grand total of 7 carries. During the regular season, the Raiders' O was a more balanced 521 passes to 423 rushes. While it may sound like overdue, sour grapes, Brown has been backed up by other greats like Jerry Rice. While probably true, the report doesn't do much. Still, it seems like an odd statistic and another gut shot to Raiders fans.
The offseason moves by the Toronto Blue Jays just keep coming. In an obvious rush for the playoffs, the Jays have now signed IF/OF Mark DeRosa to a one year $775,000 deal. DeRosa has slowed down mightily offensively, hitting .188 in 48 appearances with the Washington Nationals. Coupled with last month's trade for R. A. Dickey and you can see a team that is really working to get in league with the Yankees, Orioles, and Rays. How did I not hear that Dickey was traded to the Jays? For prospects? The Jays are getting aggressive and the Mets are going for a rebuild with prospects? That seems oddly in reverse.
Here's this seasons Blue Jay's rotation:
1. R A Dickey
2. Josh Johnson (when healthy)
3. Mark Buehrle
4. Brandon Morrow
5. Ricky Romero
Oh, and they have J.A. Happ and Kyle Drabek in reserve just in case one of those arms (cough, Johnson, cough) breaks down. That is mighty impressive. Pair that with the depth you just added in DeRosa and you see a "little sister of the poor" really showing some effort to get into the discussion.
Delmon Young also got a new opportunity. Young has signed a one year $750,000 deal with the Phillies. Young had some well publicized off-field instances that had many, myself included, questioning the tigers for keeping the guy around. The Tigers did and it paid off in the postseason, as Young now stands as the Tigers' all time post season home run leader. Young adds another talented bat with newly acquired 3B Michael Young to a Phillies line-up that lacked punch last season. Howard may just get a little protection, or at least provide some. Young (.265) provides an offensive upgrade from Dominic Brown (.235) in right and John Mayberry Jr. (.245) in left. Both of these young guys, however, are clear defensive improvements. This gives the Phils a lot of options the next 162 games.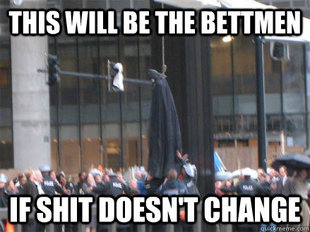 I'm not sure if my void of television sports will be able to keep back my annoyance at yet another hockey strike. I caught a few minutes of last Saturday's Kings-Blackhawks game, just enough time to see Kane score on a PowerPlay attempt. As assed out as I've been by the stupidity of all the above in hockey, it was nice to see the guys back on the ice. Still, next strike I'd like to see Bettman and Fehr fight to the death to resolve it. Afterwards, someone needs to dispose of the winner.
Well, lesson planning awaits. Thanks as always for stopping in. I'm looking forward to a warm up to 9 degrees when I wake up this morning. Should be awesome. I leave you as always with your word of the week.
Te'oing, verb
The act of hugging an imaginary person.
Lacey: Yo, McCarron, did you see Te'o trying to tackle me? It looked more like he was hugging an imaginary girlfriend.