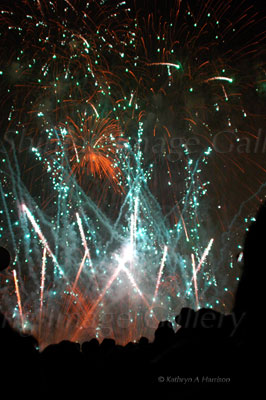 Oh hey guys. It's that time again. Almost time for America to get one year older. Time for the fireworks, hot dogs, and baseball.
Let's start with the dogs. On sunday, NYC will once again play host to the Nathan's Hot Dog eating contest. All American hopes will once again be pinned on Joey Chestnut. It could be easier this year, however, as Chestnut's arch rival Kobayashi might miss this year's contest over a contract dispute.
Really?? These guys get paid to do this? I wonder what they buy with that hot dog cash? Maybe a shiny golden bucket to purge in right after the contest is over. (Note: no one at the Gab condones eating disorders. Even if the popular kids are doing it.) The winners are always such small dudes. You always see a couple fat dudes in the mix, but they can't do it. Us fat guys just aren't sprinters. If it was more of an endurance thing, then we'd own.
Back to Kobayashi and I guess the plus side is at least they're starting to treat this like other athletes do. They're getting the prima dona act down. If you want to be taken seriously as a sport, you need to have contract disputes and pouting. It worked for Danica...It failed for the French soccer team, but then we all thought of their behavior as more typically French than spoiled athlete. You sit out, Kobayashi and try to earn some Kobe Bryant money before you come back and get stomped by Joey Chestnut.
Well, it's never to early, so everybody join in.
USA! USA! USA! USA!
Well, onto our spot: baseball. Looks like my Tigers are going to have to go it without flame thrower Joel Zumaya again. He went down in Monday's win against the division leading Twins with a fractured elbow.
Normally, I'd be bummed, but I gotta look on the bright side here. This is one of the first times that dude has hurt himself playing baseball. Last time, he hurt his shoulder trying to move some furniture out of his mothers house as the wild fires were ravaging Southern Cal. Not sure why a guy who makes his living off his arm couldn't have hired a few guys to do it for him to protect himself, but who am I to judge? Before that, he hurt his wrist playing too much "Guitar Hero". yeah. Sure. "Guitar Hero."
Anyways, if the guy's gonna get hurt (and he will if he's Joel Zumaya), at least he's finally getting hurt doing the right thing. Good luck on the rehab.
Now, before I get to the big reason I'm here tonight, let's dive into a big subject as of late. Stephan Strasburg has officially taken major league baseball by storm. I've finally had a chance to see him and I agree, the kid looks good. But, is he All-Star good?
Some will say yes, because despite what Bud has tried to do the all-star game is still an exhibition. It's a game by the fan, for the fan. Clearly, the fans want to see this kid pitch. Also, others will say he is just plain good enough and would give the NL an edge as most AL hitters haven't faced the guy before.
I, on the other hand, say let the kid wait. Look, going by the numbers it seems a bit much to put the kid in. He's 2-2 with a 2.27 ERA and 48 Ks in 5 games. Nice stuff, but the NL has a lot of great pitchers right now. Jimenez and Josh Johnson have better ERAs and Jamie Garcia (the cards rookie pitcher) is quietly putting together a better season with a 2.27 ERA and a 7-4 record through 15 games. Three NL pitchers currently have 10+ wins, 4 have 9 wins, and 9 have 8 wins.
Also, the Nats have some other guys having good years. It would be hard to justify giving Strasburg the Nat spot. While I wouldn't be horribly opposed to this, I just don't thin it should happen this season. Besides, if this kid is as good as we've been told, he'll make plenty of All-Star games.
Now, without further ado, let's start the Gab All-Star pick em challenge. the rules will be simple. Everyone submits one all-star line-up. Feel free to discuss and debate the picks. We will have a scoring system: 3 points for each starter you name, 2 points for a reserve. be sure to include your picks for NL DH, starting pitchers, and relievers. Winners get nothing, aside from momentary bragging rights. All stats I use are probably a day or so out of date.
AL LINE-UP
1B-Miguel Cabrera DET.......................Current Fan Leader(CFL): Justin Morneau MIN
Ok, looks like a homer pick. But he's batting .332 with 20 HR and 64 RBI.
2B-Robinson Cano NYY......................CFL: Cano
This is one Yank who deserves the vote at a weak position: .359, 15 HR, 53 RBI.
SS-Alex Gonzalez TOR.........................CFL: Derek Jeter NYY
This guy was a big reason for Toronto's hot start: .263, 14 HR, 40 RBI.
3B- Evan Longoria TB..........................CFL: Longoria
What can I say, the kid is good: .297, 12 HR, 52 Rbi, 12 SB.
C-Joe Mauer MIN..................................CFL: Mauer
Might not be putting up the numbers we're used to, but still impressive: .304, 3 HR, 33 RBI.
OF1-Josh Hamilton TEX.....................CFL: Hamilton
Good player and a great story coming in hot out of June: .346, 18 HR, 57 RBI.
OF2-Alex Rios CHW.............................CFL: Carl Crawford TB
Amazing production for the lowly north siders: .313, 13 HR, 40 RBI, 21 SB.
OF3-Ichiro Suzuki SEA........................CFL: Suzuki
I just plain like this guy: .333, 3 HR, 22 RBI, 21 SB.
DH-Vladamir Guerrero TEX..............CFL: Guerrero
Think the Angels regret letting him go yet? .327, 15 HR, 60 RBI.
SP-David Price TB
He's developed into just what people thought he would: 11-3, 2.44 ERA, 84 Ks.
RP-Neftali Feliz TEX
Not a huge surprise, came on strong at the end of last season: 20 SV in 22 Op, 2.70 ERA, 1-1.
NL LINE-UP
1B-Albert Pujols STL..........................CFL: Pujols
Another guy i just plain like: .306, 16 HR, 51 RBI, 7 SB.
2B-Martin Prado ATL..........................CFL: Chase Utley PHI (just put on DL/ thumb)
A bright spot for a rebuilding team: .334, 7 HR, 31 RBI.
SS-Hanley Ramirez............................CFL: Ramirez
Douche-baggery aside, he's doing fine: .296, 11 HR, 44 RBI, 14 SB.
3B- David Wright................................CFL: Placido Polanco PHI (DL/elbow)
Wright's been big for the Mets: .300, 14 HR, 61 RBI. 13 SB.
C- Miguel Olivo COL...........................CFL: Yadier Molina STL
Kid's been big and probably helped Jimenez: .296, 10 HR, 34 RBI.
OF1- Andre Ethier LAD......................CFL: Ethier
Really took advantage of Manny being injured: .317, 12 HR, 46 RBI.
OF2- Ryan Braun MIL........................CFL: Braun
One of the few reasons to be a Brewer fan: .301, 10 HR, 47 RBI.
OF3- Colby Rasmus STL..................CFL: Jason Heyword ATL (DL/thumb)
Tough choice between Rasmus and Holiday, but Holiday should make reserve: .283, 16 HR, 40 RBI.
DH- Adrian Gonzalez SD
Going strong for the Padres and deserves a start: .302, 16 HR, 51 RBI.
SP- Ubaldo Jimenez COL
Superb year capped off by first no-no in COL history: 13-1, 1.60 ERA, 95 Ks.
RP: Heath Bell SD
Proving to be a fitting replacement for Hoffman: 21 SV in 24 opp, 1.93 ERA.
I also voted for the HR Derby since it was right there on MLB.com.
AL: Ichiro, Mark Teixeira, Nelson Cruz.
NL: Prince Fielder, Ryan Howard, Troy Tulowitzki
Post your line-ups gabber. Feel free to lamb-baste mine if you'd like. While you're at it, get on MLB.com and vote. Voting ends Thursday night. Results will be out sunday. I will post how everyone did Monday.
One piece of serious business, I need a replacement for next week. My girlfriend is coming in from Missourah and it's her birthday. I promised to take her out. Anyone interested let me know. Also, if the admin could let me know how to do that....coool. Have a great 4th and be safe out there.