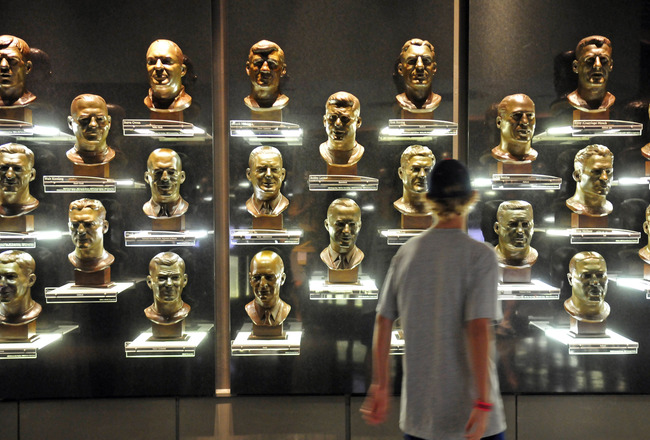 Happy Wednesday folks. We're halfway through another week. I know summer is getting here because I finally put the AC in. I haven't truly used it, but I have the option now. I generally hold off AC til we hit the 90s. We might've reached the 90's twice so far. Otherwise I use a box fan and try to feel hardcore about it.
Last week kicked off the nomination process for the NFL's Faces of the Franchise. People laid out their ideas for the following franchises:
Cleveland: Jim Brown*, Paul Brown, Bernie Kosar, Otto Graham (Beeze, *selected as favorite)
Dallas Cowboys: Roger Staubach (Jeffto2)
It really has to be Roger Staubach. Smith was great, but there was only one Captain Comeback...
Detroit Lions: Barry Sanders (AFD and Jeffto2)
Barry Sanders is truly a marvel. I watched a terrific video produced by NFL films on Sanders. A few things that I found interesting from the video...Curtis Martins says of Jim Brown...in his day, Brown was physically imposing. He was much bigger and faster than defenses. Martin wonders if Brown would have had the same success in today's game. Martin also said that Sander's talent would play well in any time of the game (I have to agree).
New England: 
Troy Brown (Lanz)- He was no Superstar but he was the guy that made Belichick and the Patriot phillosphy come to life. A Wide Receiver who would come up with a big catch but also was a kicker returner and played Dback when asked to. Team first him second. He was the Patriot Way
Tom Brady (Hal Bent, oldharry, Sully)
Bill Belichick (Hal Bent, oldharry, Sully)
Robert Kraft (Hal Bent, Sully)
New York Giants: LT (ScottJax77)
San Francisco: Bill Walsh (BOB and Hal Bent)
San Francisco has to be Bill Walsh.  Without him, the franchise doesn't turn around, Joe Montana doesn't become a great player, Jerry Rice is never drafted by the 49ers, and 20 years of success doesn't happen.
How does everyone feel about these pics? What about the other 26 franchises? There's still a lot to be determined. Either way, I will have the post in the NFL section of YouGabSports.
In baseball news, Brian Cashman of the Yankees finally said what the majority of the baseball community has wanted to say for years: A-Rod needs to shut the fuck up. You figure this wouldn't be hard, right? He's got a healthy list of reasons why. 1) He's been one of, if not the highest, paid player in the game since 2001. In that time, he's won exactly one World Series title. 2) He's been on the IR list more than the batting order lately. 3) His name has been linked to some sort of steroid related story a lot more often than anyone is comfortable with. If the recent story holds any truth, he's looking at a very healthy suspension coming.
A-Rod, on the other hand, is only too happy to announce that his doctor has cleared him for rehab games. Cashman and the Yankees have placed a tentative return date of July 5, though it seems they are waiting for the dust to settle on the Miami issue. While I can see that A-Rod is anxious to get out there and prove his worth, especially following the latest roid rumors and his disastrous 2012 playoff run, the Yankees have a right to be cautious. While I don't see any indication that the Yankees would have to forfeit any games if A-Rod plays and is declared to have used steroids, another steroid scandal would certainly not help the image of the Yankees winning at ANY cost. 
Still, A-Rod has a history of trying to talk his way out of trouble or make public appearances to put himself back in everyone's graces. The problem has been that these usually go wrong and make him look all the more smug and arrogant to sports fans. A-Rod needs to listen to Cashman: STFU.
That is it for me. This is the weekend of my family reunion on my mom's side. IHM and I are heading to the Akron, OH area to meet cousins and have a picnic. It also means I got to make my dad a few CDs for the road. The nice thing about making the CDs is that it reminds me of some good ol' music. I leave you with a nice song I'd forgotten about and your word of the week.
book hangover, noun
When you've finished a book and you suddenly return to the real world, but the real world feels incomplete or surreal because you're still living in the world of the book.
"I have a really bad book hangover today, I could hardly concentrate at work."