While laughing at this radio song about traveling to Cape Cod during the summer...(Believe me, if you live in Massachusetts you will totally understand this song.)
MAJOR LEAGUE BASEBALL
Boston Red Sox - As I type this a bit in advance and schedule it for posting, I'm watching Jake Peavy make his first start for the Red Sox. The trade was rumored for days before it finally happened. And while I think he will make a good contribution to the team, especially in light of the continued frailties of Clay Buchholz, I have to wonder why everyone in the media seemed to be losing their minds over the trade as if the Red Sox had just gotten Roger Clemens in his prime.
While Peavy won the Cy Young in 2007, he hasn't really been the same pitcher since. He had injuries and ineffectiveness. Again, I think he's going to be a serviceable member of the rotation but I just don't get acting like he's the second coming or something.
And late last week I learned something that I didn't know about Peavy. I was reading the Red Sox Notebook article in the Boston Herald and it had a story about how Peavy is legally blind!
Yes, the Red Sox traded for the one pitcher in the majors least likely to argue balls and strikes with the umpire. Can you imagine that conversation?
Peavy: "What? How could you call that a ball? Did you not see where it was located?"
Ump: "Did you?"
Apparently Peavy has 20/300 vision and is not a candidate for laser surgery. With glasses/lenses, he can improve to 20/40 vision.
See what you learn when you read the daily beat coverage of the team?
And of course, what does Peavy do in his first start for the Red Sox last night? How about 7 innings with with 4 hits, 2 walks, 7 K's and 2 earned runs. Not bad, not bad at all.
Marlins - The lost season of the Florida Marlins got a bit worse last week when rookie hitting coach Tino Martinez resigned his position after complaints of verbal and, in at least one case, physical abuse (really more of a grab than FULL ON abuse) of a player.
Apparently he had offered to resign earlier, but idiot owner Jeffrey Loria wanted him to stay on. But when the story became public, Martinez resigned.
My question is the player that was grabbed, why did he not knock Martinez on his ass? Martinez is going to be the poster child for NOT hiring people as coaches that haven't had any previous experience.
You can read the story here: http://sports.yahoo.com/news/tino-martinez-resigns-marlins-hitting-202750669--mlb.html
Yankees - Reports are circulating that the long in coming suspension for Alex Rodriguez is going to be for at least 214 games. That would cover the rest of this season as well as the entire 2014 season. And of course, Rodriguez is taking the news as you would expect from someone who lacks any sense of reality. He's promising to fight to the end while apparently also trying to negotiate a contract settlement with the Yankees ahead of the looming suspension. The Yankees have reportedly declined that offer.
And Major League Baseball is not in the mood to do any negotiations with poor deprived abused and maligned Alex either after he made comments about MLB and the Yankees "conspiring" to keep him off the field.
As if he had nothing to do with his current predicament.
It's time for everyone to acknowledge Rodriguez as what he is. No, not a former superstar, or a drug cheat. Between his actions on the field and his lack of ability to accept responsibility for his own actions, everyone should see and refer to him as what he truly is...a scumbag loser.
BOSTON COLLEGE WOMEN'S BASKETBALL
The Eagles will have yet another transfer finally hitting the court for them this fall. After sitting out a year after arriving from Depaul, 6-2 forward Karima Gabriel is now eligible. You can check out an interview with her here: http://www.bceagles.com/sports/w-baskbl/spec-rel/073113aab.html
BOSTON CELTICS
Just a quick note that the Celtics have released Shavlik Randolph. If they'd kept him on the roster they would've had a 1.1 million dollar contract guarantee, and they didn't want to be tied into that with this team coming up next season.
WNBA
Chicago Sky - With the loss of Carolyn Swords for the season with a knee injury, I have to admit my fandom for the Sky has gone down a tiny bit. She was the reason I was following the team. But last night they did improve to 13-5 with their 85-78 win over the Mystics. Sylvia Fowles led the team with 32 points (season high) and 15 rebounds.
Unfortunately for the Sky, the good times didn't keep on coming last night when they lost to the Fever 79-58 and fell to 13-6. Courtney Vandersloot (11) and Fowles (10) were the only players to hit double figures for the Sky, who are still without Elena Delle Donne due to her concussion.
New York Liberty - The Liberty started off the week with a nice win over the Mystics, 88-78. Kara Braxton was the leading scorer for the team with 22 points and 8 boards. Cappie Pondexter added 19 points and 9 assists. Plenette Pierson had 16 points and 7 boards and Kelsey Bone finished with 15 points and 11 rebounds. Katie Smith played 30:11 in the game and had 3 points. The team improved to 8-11 with the victory.
But as has been the case with the Liberty all season, they couldn't keep the momentum continuing. They lost Saturday night to the Connecticut Sun (one of the few teams in the league with a worse record than the Liberty). New York had a one point lead at halftime but fell apart in the second half and lost 88-66. There record is now 8-12.
Braxton had another big night with 18 points while Pierson and Pondexter scored 17 points apiece. Bone had a team high 9 rebounds. While she played more than 29 minutes in the game, Katie Smith (pictured below) didn't score.
Oh, and there was a nice write up about Smith in this week's New York Post. You can check out that article here: http://www.nypost.com/p/sports/liberty/liberty_smith_has_career_packed_DGNsaxB39rXyNmhlDS7H4H
OLYMPICS
I hope that you are ready for a little bit of anger now.
Despite the notion that countries are supposed to conform to that mythical "Olympic Ideal" during the time they are hosting the Olympics, it seems Russia didn't get the message. After passing a hugely restrictive anti-gay law, the Russian president announced that they will indeed enforce that law during the Olympics. The law prohibits "spreading propaganda of nontraditional sexual relations" to minors, and even proposing penalties for those who express these views online or in the news media. Gay pride rallies also are banned.
According to the articles I read online, despite assurances to the contrary by the International Olympic Committee, the Russians could arrest gay or lesbian athletes for simply kissing each other and being seen by a child!
And I really don't believe any assurances coming from a country whose president is only a high body count away from being a new version of Josef Stalin. They can't keep the Russian Mafia under control, have a problem with rebels in the mountains overlooking where the Olympics will be held but let's worry if two people of the same gender want to give each other a kiss.
I really am beginning to just despise most of the world. I would think murderous thugs and rebel forces bent on overthrowing the government would be more of a priority these days but no, gay people are still seen as more of a destructive force.
I can't be the only one left in the world who judges people by their actions and not what sexual genitalia they prefer to play with, right? I mean seriously, when I despise someone, it's because THEY are an asshole (like, say the president of Russia?) not because they might happen to prefer screwing one.
And all this is coming from a president who lets pictures of himself be taken as if he's the poster child for a homoerotic tourist guide to Russia?
Here's one article about the story: http://news.yahoo.com/russia-enforce-anti-gay-law-during-olympics-114212670.html
HIGH SCHOOL SPORTS
Football - If you have read my postings for any length of time, you likely know of my disdain for all things religious. And if you needed further proof of why I think religion in sports is a corrupting force more powerful than the entire nuclear arsenal, look no further than the story of Scott Phillips: http://sports.yahoo.com/blogs/highschool-prep-rally/alabama-state-champion-coach-ad-fired-being-member-102348634.html
Did you read it? Can you believe it? The guy, who was a successful football coach that got his school to playoffs for the first time in years and coached the boys basketball team to the school's first state title in any sport and then was asked to be and hired as the school's AD, was fired because he didn't attend the "right" church.
It wasn't like he attended services at the Church of Satan or something, he simply attended a different church than the one that the school supported. And while there was no contractual requirement to do so, the school expected him to force his family to attend the church as well.
The more I hear about these so called good moral upstanding church based schools and such, the more I realize they are cornering the market on being the most intolerant SOBs out there.
The guy should sue to get his job back seeing how he truly did nothing wrong.
Basketball - The girls high school summer league has playoffs starting this Monday night (August 5th). The ORR team has a game at 8:30pm that night. My player on that team is Jillian and she sent me a message via Facebook to let me know the time. I'll be going to that game.
Meanwhile, I learned that the Wareham team will only have 6 players for the playoffs as the rest of the girls on the team don't take it seriously enough and haven't shown up when they were supposed to be there. Now they aren't being allowed to take part in the playoffs.
Of course it is hard to take things seriously when their "coach" (really just a former player who is free) hardly ever shows up for games. I know the two games I saw for Wareham, she wasn't at one game and strolled in late for the other one. And there are no practices either.
It's a joke and the actual coaches should be embarrassed to see their players putting in such little effort. It's also why they should get a REAL coach to run the team during the summer. And no, I'm not suggesting me, I'm retired. But the ex-coach in me is just flat out embarrassed to see such a laissez-faire attitude towards the summer league. If you aren't going to put forth the effort, why bother having a team.
NFL
The Hall of Fame induction ceremony was last night and that means Bill Parcells is now officially a Hall of Famer. There's been a number of articles written about The Big Tuna this week and I've read a lot of them. I'm a fan of Parcells so I was pretty happy to watch his speech:
There was a pretty good interview with Parcells by Peter King on SI.com: http://mmqb.si.com/2013/08/02/bill-parcells-hall-of-fame/
The Cleveland Browns were part of a feel good story last night. You can check out that story here: http://sportsillustrated.cnn.com/nfl/news/20130803/browns-camp-cancer-survivor-touchdown.ap/
SURFING
During my usual surfing around the Net this past week, I came across this article on surfing itself. Not the Net surfing, but the big board on the water kind of surfing. And while I love to see the photos of surfing, I'm not one for dreaming about catching a big wave myself.
But this story about the trash filled spot in Indonesia was just disgusting to me. You can check out the article and more photos here: http://www.grindtv.com/action-sports/surf/post/surfing-paradise-has-a-serious-trash-problem/
But here's the photo that struck me the most:
MISCELLANEOUS
TV - As I prepare for the season finales of The Killing and Fallen Skies tonight, the biggest type of TV news for me was two commercials.
The first is the promo for the Discovery Channel's Shark Week. It was simply hilarious.
The other ad is actually for a website. It is a real ad as near as I can determine. It should probably be considered NSFW for most people. It is both uproariously funny and jaw dropping at the same time. I'll let you judge for yourself because there are just no words to describe the video that really do it justice.
Books - This week was a good week for me in BookLand. I finished reading three books and bought two more.
The first of the finished books was Daniel Silva's The English Girl.  Despite me seeing the alleged shock twist towards the end of the story coming a mile away, it was another great read in the Gabriel Allon series. The second book was the "Richard Castle" thriller Storm Front. This book is one of those tie ins to the TV series Castle, but it was actually quite a good read. The third book was the Janet Evanovich / Lee Goldberg humorous adventure caper The Heist. It's the first in a new series teaming a female FBI agent with a charming con man. I liked the book, though I think Evanovich series featuring bounty hunter Stephanie Plum is better.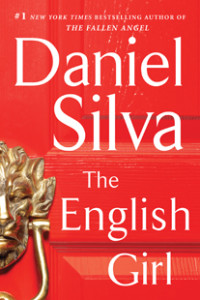 The two books I picked up were the 2nd and 3rd entries in the Joe Pickett series by C.J. Box. I had tried out the first book, Open Season, after reading an interview with the author and loved it. So now I've picked up both Savage Run and Winterkill. I'm looking forward to reading those and getting more into the adventures of Wyoming game warden Joe Pickett.
OTHER WRITING
I write for Pop-topia.com and while I didn't write the following articles, I thought they were interesting enough to share with anyone who enjoys food articles.
Eating in Detroit: http://www.pop-topia.com/food-tour-weekend-in-detroit/
Alternative Oreos: http://www.pop-topia.com/oreo-madness-do-non-traditional-oreo-offerings-make-the-grade/