So, this isn't going to be the usual type of entry for me.  I am quite pissed about some recent developments in the last week, and I think I am do for an unload on some of the bullshit that has transpired over the last few days.  
---
Now, I am going to start with the Barch suspension, and believe me when I say I going to restrain myself on this one.  Barch received a one game suspension for making a racist remark following an altercation with P.K. Subban of the Montreal Canadiens.  A linesman overheard the remark, and it was reported to the NHL offices.  After a discussion with Barch, the fucking geniuses at the NHL decided it would be best to give Barch a one game suspension.  Barch was a man about it and owned up to what he had said, and stressed that it did not carry any racial undertones.  What exactly did Barch say?  I'll fucking tell you what he said.  Following an altercation on the ice between P.K. Subban and Erik Gudbranson of the Panthers, Subban fell to the ice and turtled.  As Subban was skating to the penalty box, Barch said "What happened?  Did you slip on a banana peel?"  That earned Barch a one game suspension.  Are you fucking kidding me?  How is that racist?  There are far, far worse things that Barch could have said to Subban.  Anyone fucking wipes out, the banana peel joke is the common comment to be made.  What in the fuck is happening to people?  Barch making a statement that he stressed did not have racial undertones earns him a one game suspension, but you don't need to hear the audio to understand what Wayne Simmonds is saying to Sean Avery in this one...
In my opinion, calling someone a "fucking f****t" is far, far worse than what Barch said.  Why the disparity?  I guess the last thing Bettman wants is Reverend Al Sharpton and Reverend Jesse Jackson banging down the front doors of the offices.  But yet, a linesman was right there.  Was it because the target in Simmonds verbal attack was the league scapegoat and resident self proclaimed media darling Avery?  Tables turned, and Avery makes that comment to Simmonds.  Punishable?  You bet your fucking ass.  Avery would be gone for at least more than one game.  Thank fuck Gary Bettman didn't have his buddies from GLAAD banging down his door.  That is absolute fucking horseshit.
---
Okay...someone tell this fucking piece of shit to buy a fucking scarf already.  If you want to wear something around your neck, do your fucking tie up or buy a fucking scarf from your overpriced shitty fucking gift shop.  But in all honesty, he may have said something that I can agree with.  Seriously...did I just say that?  Don't worry, I'll get back to ripping him a new one shortly.  Burke recently placed leaf tough guy Colton Orr on waivers and sent him down to the Marlies.  When asked why, he simply explained that there is no room in this league anymore for that type of player.  This is the part of what he said that I agree with; "(Shanahan) needs a telephone receptionist in his house because of all of this crap that's going on on the ice," said Burke. "These guys that won't back it up, won't drop their gloves, run around and elbow people in the head and hit people from behind. They never have to answer for that in the game, they used to have to answer for that in the game...You see guys that run around and start stuff and won't back it up and it makes me sick to my stomach."
This came on the heels of a 2 game suspension to Minnesotas Nate Prosser.  It would appear that Torres is a slow learner.  Following his beatdown from Darth Quaider, Torres was right back up to his old tricks, and caught the attention of the NHL disciplinarian after pulling shit in 3 straight games.  Sure, the beatdown from Adam McQuaid was probably punishment enough, but he should have learned his lesson.  This is the dirty type of rat that Burke is describing.  Fucking ridiculous piece of shit, skates around and throws elbows and because of the instigator rule, anyone says or does anything about it is subject to further penalty.  Lets look at the timeline for Torres.  First incident, a head shot on Andrew Ference.  And yes, I fully expect Beezer and Sully to comment on the background scenery at the 55 second mark.
No suspension for that incident.  Next incident, during the very next game, another headshot on Colorado's Jan Hejda.
And then, the NHL finally decides to do something after Torres leaves his feet to hit Nathan Prosser. 
Want to see the elbowing and chicken shit play stop?  Easy...scrap the instigator rule.  Done deal, hold the little pricks accountable.  And Burke...go buy a fucking tie you piece of shit.
---
I like to see Tortorella go off once in awhile.  He is extremely knowledgeable, and is one hell of a good coach.  Torts very rarely holds back when something irritates him, and the officiating in the Winter Classic was no exception.  After Torts went and vented that maybe the officials and NBC were trying to get the game to an overtime period.  From my perspective, there were some phantom calls that shouldn't have been called.  The penalty shot was one, as from my perspective, bullshit.  There is to be an automatic penalty shot if a player other than the goalie closes his hand on the puck in the crease.  I didn't see that happen, but it still received a penalty shot.  There were a couple of other calls that were a little shady, and Torts found himself $30,000 lighter in the wallet for his comments.  Once I watched that, I knew it was going to be a substantial sum for a fine.  You cannot go on tv and bash the broadcaster that Bettman has tried very hard to get in bed with.  Bettman and the NHL had to come down hard on Torts in order for Bettman to save face.  
---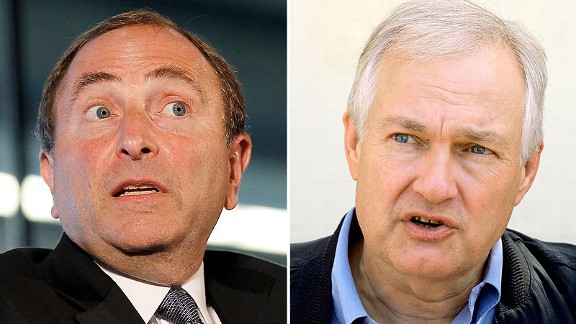 This is what I knew would happen once the NHLPA decided that Fehr is the perfect candidate to run their union.  The NHLPA rejected the NHL's proposal for Conference re-alignment, stating that the players concerns about travel and the playoff format were not answered sufficiently enough.  Are you fucking serious?  As a result, Winnipeg will continue to fly to all their divisional games in the South Eastern United States.  The way I perceive this, I honestly believe that this is nothing but posturing prior to the upcoming negotiations.  Fehr and Bettman will not relate well, and that does not bode well for us hockey fans.  Get ready for another lockout.  If Fehr is willing to scrap Conference realignment, then we are going to be in for a long, long round of negotiations.
That is all I have for you this week.  Be sure to stop by and wish MiaTay all the best.  She has been my posting partner for some time now, and is taking a break from posting on Sundays.  However, the Gab is full of ultra talented and super passionate sports fans and I am sure that Stormin' Norman will be just fine.  
Thanks for stopping by and letting me get a few things off my chest.
And yes, is there any other choice for the fight of the week?
Hotchnuts