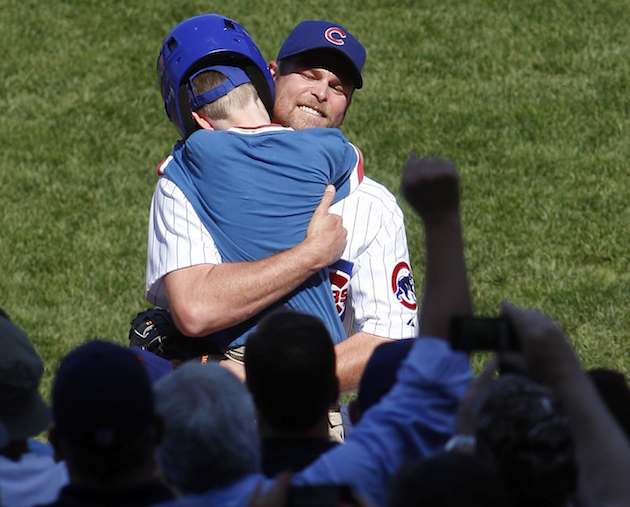 It breaks your heart. It is designed to break your heart. The game begins in the spring, when everything else begins again, and it blossoms in the summer, filling the afternoons and evenings, and then as soon as the chill rains come, it stops and leaves you to face the fall alone. You count on it, rely on it to buffer the passage of time, to keep the memory of sunshine and high skies alive, and then just when the days are all twilight, when you need it most, it stops.
~A. Bartlett Giamatti, The Green Fields of the Mind
One of my favorite things to do is to sit down and watch a baseball game. I don't have any preference as to who is playing, just as long as the game is on and I have nothing to distract me from the perfect afternoon of enjoying the action on the diamond.
I love the strategy involved in a baseball game. I love the one-on-one matchup between pitcher and batter, the excitement of a triple or a stolen base, the sight of a good defensive play, or a nasty slider to freeze a hitter in the batter's box. I love the fact that baseball isn't timed, that it can go on for hours and no one seems to notice or care. I love the emphasis on statistics in baseball. I may not understand all of them, but I love that you can use a set of numbers to compare as many players as you want, and you can determine that player A is better than player B at any facet of the game with a mathematical formula.
I love baseball because my dad loves baseball, and because his dad loves baseball. My dad introduced me to baseball when I was a kid, just like everyone's dad did when they were children. Some of my fondest memories from my childhood revolve around watching the Atlanta Braves with my brother and my dad on TBS, and watching those games allowed me to forge a special bond with the Braves and with the game of baseball as a whole.
Another pleasure I was able to enjoy as a kid was watching the Chicago Cubs on WGN when the Braves weren't playing. It was because of watching the Cubs play for all those years that I was able to truly appreciate the moment that Kerry Wood had this past Saturday when he suddenly announced he was retiring from the game. It wasn't a complete surprise that he decided to retire, because he hasn't been very good this year (I still blame Dusty Baker for ruining his arm), but I was surprised that he retired during the season. Of course, I will give him credit for being a team player and allowing the Cubs to find someone as a replacement that could help the team more than Wood could at this point in his career. 
If you didn't see his final appearance, you missed one of the best moments of the last ten years. Wood came in late in the game and struck out Dayan Viciedo, and was immediately taken out of the game. But, before he could get off the field, he was greeted by his young son whom Wood embraced on the field in front of the screaming fans. It was one of the greatest things I've ever seen because it was so real. Kerry Wood showed what the game of baseball is all about. It's about family. It's about passion. It's about love. Wood demonstrated that Saturday night when he walked away from the game that he gave everything he had.
It's a shame that he was constantly battling injury towards the end of his career (again, I blame Dusty Baker), because I think he would have been on the verge of the Hall of Fame if he would have been able to pitch in the years he was out due to various arm and shoulder problems. But, alas, it just wasn't meant to be. Wood leaves the game with a bunch of what could have been, but he left in a way that very few are able to do: he went out on his own terms.
Thank you, Kerry Wood, for giving me the pleasure of watching you pitch. I will always remember your 20 strike out game against Houston your rookie year (in your fifth start, nonetheless). You were unhittable that day, and it was one of the greatest games I've ever seen (and I've seen a lot). So thank you for giving me a story to tell my kids and grandkids one day - a story that begins with "let me tell you about one of the best pitching performances in baseball history". The pleasure was certainly mine, and I wish you all the best in your future endeavors.
That's all I have this week. If you have anything you'd like to add, feel free to add your thoughts in the comments.
Until next Monday...