Welcome to the tantrums, where Uncle B.O.B. welcomes you to October, the month that I personally enjoy the most.  Why?  Because there is so much to do and enjoy while the weather is comfortable enough to enjoy some outdoor activities like Apple Hill and taking a trip into the mountains.  Oh yeah, there's also the fact that MLB is in playoff mode, Football is starting to get competitive, Hockey is starting its regular season, and for some, the NBA kicks into gear.  Let's get to it:
MLB.   So hard to believe that it's been six months already since Mrs. B.O.B. and I got to SF to catch a game, and seven months since family B.O.B. went to Phoenix and caught a Spring Training game.  Now the season is over.  Where the hell has the time gone?
I want to say this to MLB:  Absolute props for a very good season.  It may not have ended the way that I personally would have liked, but it's been great nonetheless.  What's even better?  Yes my Gabber friends, our long national nightmare is over, Bud Selig is outta here after the 2014 season, and get this, he made a promise that the Oakland A's stadium issue will be resolved before he leaves.
And now for the second consecutive year, we have the Oakland A's and Detroit Tigers in the playoffs.  Could the A's pull it off this season and beat the Tigers?  Hope so.
OK SF Giants, a great start to the off-season by signing Hunter Pence to a new five-year contract!  Now go out and get a LF and some pitching.  As for Pablo Sandoval, it's time for him to get serious about his weight.  Might be time for SF to get the message to him that his weight IS an issue. 
On to the Yankees.  What the hell is going on in the Bronx?  The good will created by the goodbye tour of Mariano Rivera covered up a lot of stench.  Robby Cano is either getting greedy or getting bad advice.  The constant A-Fraud issue.  Pitching is an issue and it would appear to me that the Yankees have priced their fans out.   My guess is there's gonna be a lot of Yankee talk in the off-season.
NFL.   Could you imagine if the Super Bowl was Seattle and Denver?  Holy Crap, the East Coast media would have a coronary!
If you can believe it, we are already ¼ way through the season, and while Denver is THE dominant team, look at all the surprises out there.  Kansas City, San Diego, Miami, Detroit, Chicago, and Tennessee are 3-1 or 4-0?  Meanwhile, the media darlings are struggling.  But I wonder if the thing that is the most suprising in the NFL is that the Cleveland Browns are not only 2-2, but in first place in the AFC North? 
New England has been able to overcome quite a bit, but losing Vince Wilfork to an Achilles?  That's gonna be tough.
Hey NFL, if you're so safety conscious, how the hell come so damn many helmets are flying off players during play?  Are the players strappin them up the right way or what?  It seems to me that helmets are flying off way too much this season.
Thanks a lot NFL for taking me away from a fantastic Seattle/Houston OT and sticking me with the 1st Quarter of Washington/Oakland.  Yeah, that's what I really wanted.  Dammit NFL, could you at least consider pushing the late game start times back one hour and let the early games finish up?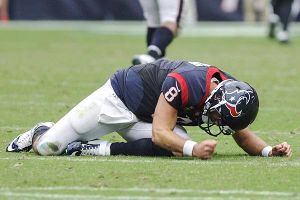 Matt Schaub makes stupid mistakes week after week, and that pick-six against Seattle was totally absurd, but why am I not hearing one word about the "coaching" who sent that play call in?  There should have been no other play called other than a run and to even think about passing the ball when you're up seven with two minutes left and you have Foster and Tate chewing up the clock by running the ball down the field?  That was STUPID.  Houston got cute and it bit them in the ass.
Could have been it was the Rams, or it could have been that the 49ers finally got back to what made them so good the past two years?  I don't know, but it seems that the 49ers got back on track. I'll take the win, but I gotta be worried about big Joe Staley getting bent back like that – holy crap that was brutal.
Forget the fact I hate the Jets for a minute, that hit that Wilkerson and Coples laid on Jake Locker that took him out?  It was dirty and it took out the Titan QB. CFB.  Are the Georgia Bulldogs the one team who can beat Alabama?  Memo to CFB:  If Georgia can play a challenging schedule (look where they're ranked), then by God so can everybody else. 
Hey Ole Miss, you still think it was a good idea to yap about how you could throw on Alabama?  Confidence is great, but...
Thank goodness Louisville is coming to the ACC in the future, that way Florida State and Louisville can start matching up and strengthening their schedules.
Speaking of schedules, if I had my wish, I'd like to see Oregon play Texas A&M in a neutral site.  Bowl game perhaps?  NCAA could make a mint off that one.
Cougar Report.  On Saturday, the Cougars were at home playing the Minnesota-Crookston Golden Eagles and a sunny, cool, and windy 55 degree Saturday afternoon, beautiful football weather.  This wasn't fair from the get-go with the Cougars winning 52-7.  Cougars were up 35-0 at half, Crookston had 83 yards in first half.  Jerry is getting closer to a sack.   All you need to know here is that their drives were 60-plus yards, Cougars ran the ball and the drives were less than 3:00.
Here's something else about D2 Football that I like.  Flags don't come out a whole helluva lot, the Zebras let the kids play.
Mustang Report.  The Mustangs traveled up the North Coast to face one of the small school powers up there and lost at the end 21-20. 
NBA.   No sooner does training camp start do we have to hear the media practically begging for LeBron James and Carmelo Anthony to go to LA after this upcoming season.  Jesus NBA, can we just enjoy some Basketball?
Sporting Thought of the Day.    I don't know what the hell is going on in San Francisco, but I find myself asking for the return of the fans known as the "white wine sippers" - they might have been snobs, but at least it was safe in the stands and outside the stadiums.  Jesus, it's getting brutal in the stands.  Fights at Candlestick, stabbings at AT&T?  Memo to San Franciscans:  You live in San Francisco, NOT Philly – act like it. 
My CFB Top 25.  I'll tell you right now, I refuse to rank Louisville.  Secondly, this is horrific because honestly, outside of the top 9, who the hell else is there?  I mean really, there is a huge gap between the first nine and then a couple, then the rest.
Alabama (4-0) (1, Beat Ole Miss 25-0).  "Inconsistent?"  Seems to me they consistently win.
Clemson (4-0) (3, Beat Wake Forest 56-7).  I wonder how Clemson could do against Bama. 
Georgia (3-1) (4, Beat LSU 44-41).   Played Clemson, South Carolina, and LSU before October. 
Stanford (4-0) (2, Beat WAZZU 55-17).  HUGE games coming up! 
LSU (4-1) (5, Lost @ Georgia 44-41).  No shame here.      
Ohio State (5-0) (8, Beat vs. Wisconsin 31-24).  No challenges in Big 10.  Enjoy Rose Bowl.   
Oregon. (3-0) (6, Beat Cal 55-16).  Wake me up when they play somebody challenging.
Texas A&M (4-1) (7, Beat @ Arkansas 45-33).  Defense is KILLING them. 
South Carolina (3-1) (11, Beat @ UCF 28-25).  Sleepwalking through their season. 
Oklahoma (4-0) (15, Beat @ Notre Dame 35-21).  Color me surprised. 
Miami, FL (4-0).  (16, Beat @ South Florida 49-21).  Long way to go before "the U, Version 3"?
UCLA (3-0) (9, Idle).  Played nobody.  This team needs to drop.
Florida State (4-0) (10, Beat @ Boston College 48-34).  One word Seminoles:  FOCUS.
Michigan (4-0) (12, Idle).  Really should drop.
Washington (4-0) (22, Beat Arizona 31-13).  Quite possibly the toughest next three games.     
Texas Tech (4-0) (14, Idle again).  No challenges in the near term.  Next up @ Kansas 10/5.
Florida (3-1) (17, Beat @ Kentucky 24-7).  I'm a bit underwhelmed.
Fresno State (4-0) (18, Beat @ Hawaii 42-37).  Margin of victory here will screw them in Dec.
North Dakota State (4-0) (19, Beat South Dakota State 20-0).  Hey Big 10 or 12???
Ole Miss (3-1) (20, Lost @ Alabama 25-0).  Fellas, don't talk prior to game til you've earned it.
Arizona State (3-1) (24, beat USC 62-41).  Can they beat UCLA?
Northwestern (4-0) (21, Idle).  Upcoming game vs. Ohio State 10/5.
Virginia Tech (4-1) (29, beat @ Georgia Tech 17-10). 
Notre Dame (3-2) (13, Lost vs. Oklahoma 35-21).  Just how inconsistent can a team be? 
Northern Illinois (4-0) (38, Beat Purdue 55-24))