Welcome to the tantrums where your Uncle B.O.B. wants to ask:  Are you mad about the cheating in sports?  Why?  We as a society have come to live under the Jim Rome mantra:  If you're not cheating, you're not trying and it's only cheating if you get caught.  It happens in politics, business, and tons of other places, why would anybody think that sports are any different?
But then again, is it cheating, or simply a new world order of sports/business dictated by the people with the most money who control the hearts and minds of the sheep?
Super Bowl.  Baltimore and San Francisco in the Big Sleazy!  As a fan, I love it and here at the Gab its gonna be a fun two weeks with no shortage of things to talk about, but it's my hope we spend far more time on X's and O's then on what the media thinks is important.
Flacco has proven himself this post-season, and does anything rattle Kaepernick?  Both QB's will be facing strong defenses (provided the staffs plan properly this time!).  Gore and Ray Rice, Crabtree and Moss vs. Boldin and Scott, Davis/Walker vs. Pitta, Unbelieveable front sevens, and both with questionable d-backfields. 
NFL.  But for all the happiness I have for Super Bowl 47, of course there has to be some NFL  foolishness to address:
Adam Schefter brought up a great point on Twitter:  "After Lovie Smith, Romeo Crennel and six other were fired, there eight HC jobs filled. Not one hire was a minority."  This is a perfect example of where the race card SHOULD be played.  To me, having all of this occur right around the time when we celebrate Dr. King to me is insulting and a disgrace.  There isn't anybody out there who can convince me that only old white guys can coach. 
Hey 49er fan, you guys are going from White Wine Sipper to gangsta on the rep scale with a quickness.  Clean it up you freaks, you aren't Raidah fan.  Speaking of which:  Hey Raider fan, don't hate because the 49ers are now going to their SIXTH Super Bowl. 
Hey New Orleans, that's right, the Sheriff is coming to town and I know this is a lot to ask, but, but please act right!  Remember, the NFL decides on future Super Bowls and if you all eff it up by trashing the commish, you may not see another SB in the near future.
Given my choices of who I read on Twitter I'm probably the last guy who should be saying this, but Terell Suggs is gonna call New England arrogant pricks yet he's winning with about as much class as Evel Knievel on a bender.  Come on man, you're the AFC Champs, act like it.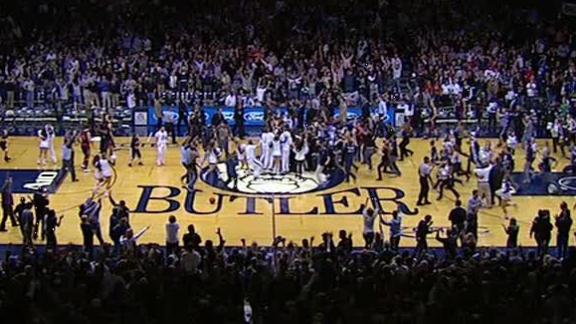 Rant #3 – CBB.  Hey yo – what's the difference between College Basketball and College Football?  In CBB, you get games like St. Mary's beating BYU and Butler beating Gonzaga, while in College Football you get Florida playing Jacksonville State and Alabama playing Western Carolina.
You see CFB, you don't always need the same teams regurgitated, give teams like this a chance!!!
NBA Team and Player of the Week.   You can generally take stats and make them say anything you want.  As a reminder, I make these choices with the one rule being that I will not give props to superteams or superstars. 
Team of the Week:   New Orleans Hornets.  7-3 over their last ten games and over the last five games, they are outrebounding their opponents by 10.5 per game.  But what I really am impressed with is that the Hornets are only giving up 89 points per game. 
Player of the Week:  Paul George, Indiana Pacers.  Over the last five games, he's averaging 21 points, 11 rebounds, three assists and three steals per game.