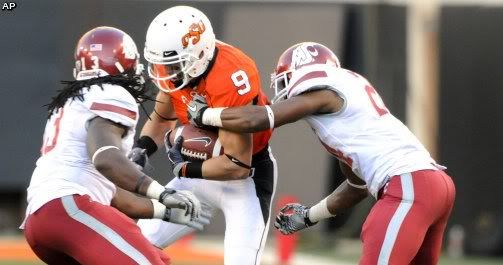 Before I get into the misery that is my fandom, I want to thank the owners of You Gab Sports for reaching out to me, and offering me the chance to sub in for one of the featured bloggers. The welcome I've received has been great, and everyone here seems really cool. Onto the misery.
It was a long day for the Washington State Cougars in Stillwater, Oklahoma. It's hard to win football games when you give up 544 total yards. Giving up 65 points hurts too! That's right folks, my Cougars lost 65-17 to the Cowboys from Oklahoma State.
Quarterback Jeff Tuel played well, passing for 212 yards and a touchdown. The Cougars running back by commitee only gained 112 yards, and the team coughed up the ball twice. Turnovers will kill you, but a defense that can't stop anyone will do you in even faster. The Cougars gave up 291 yards on the ground, and 253 through the air. That's not going to be a fun film session!
It sure wasn't fun for us fans to watch. I felt awful for my son. He and his mother came over to watch it with me. Us being a couple of WSU alumni, we thought it was time to expose him to this curse. Kathy tapped out early and went shopping. At half time Adam was beat down, and we went to the park. I had been so excited to share football with him, and now I fear I made him Huskies fan. I hope when I take him to his first Seahawks game he will be more excited about football.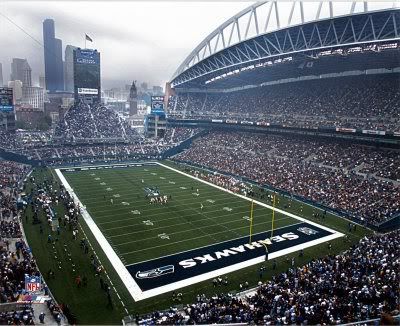 The first weekend of College Football has been exciting. There were plenty of blowouts, besides the WSU game. Then there was the shocker. Jacksonville State upsetting Ole Miss 49-48 in overtime. Two fumbles and an interception came back to haunt the Rebels. It's games like this that make college football so exciting.
This past week, I noticed there are a few Notre Dame fans here. They should be happy with a 23-12 victory over Purdue.
The worst game of the week may have Oregon's 72-0 thrashing of New Mexico. I didn't really know what to expect from the Ducks this year, but I guess we all should expect a lot of offense. It just wasn't fear at all. The Lobos turned it over 5 times, but does that even matter when they give up 720 yards of total offense? that's just brutal.
This week's big game is Monday night. Boise State vs Virginia Tech. Two good teams, and proud programs. I expect it to be a shootout.
For those who have followed my personal trials and tribulations, I'll tell you that Adam and I have been having a blast together, except when I make him watch the Cougars! The few days I don't see him, we talk on the phone, but the way things are progressing between Kathy and me, I may be seeing him every day. I've tried to take it slow with her, but it's hard at times. We just click. I have to remind myself sometimes what she did, but is that really going to help either of us if I keep doing that?