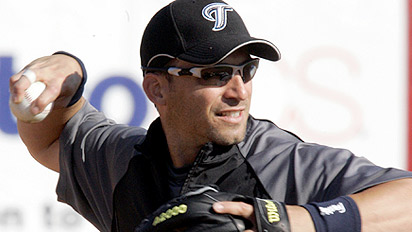 MARCO SCUTARO
OR
?
Ok so the Red Sox have a Shortstop. A guy with a half decent glove and a good bat. A guy who fits all of the Red Sox statistical catergories. I guy that nknow doubt will compliment Dustin Pedoria. .I'll pose this question to You who will be playing Shortstop for the Boston Red Sox in 2011?
I'm not anti Marco Scutaro http://mlb.mlb.com/team/player.jsp?player_id=340192(stats) as matter fact he is a veterarn (34) with some game left.
Scutaro and the Red Sox agreed ona 2 year deal for 12 million a year with an option for a thrid year. It won't get to a thrid year.
My concern is he is 34. My concern is Theo Epstein tends to grow restless at this position . My concern is there was nobody better or they weren't willing or couldn't pull off a deal wfor someone else.. My concern is that Theo said this guy is just peaking(which indicates a steep quick decline at 34). All that aside you are placing an aging shortstop on an aging team and that seems to be not exactly the best move to improve the team.
Essentailly, the Red Sox and the Blue Jays traded Shortstops and I tend to like the guy the Blue Jays got a little better, Maybe Alex Gonzalez http://mlb.mlb.com/team/player.jsp?roster_year=2009&player_id=136460&c_id=tor(stats) doesn't have the bat of Scutarto but his glove does a lot of talking and his bat seems to be better at Fenway. Is Marco Scutaro move of the all around package yes. Good Bat and very good glove that won't hurt you. But IF this guy struggles just a little bit you will see more Jed Lowrie if he doesn't have a hang nail or maybe Nick green until they send him packing.
Come on Red Sox nation will you be surprised in 2011 when Scutaro is playing for the Houston Astros and the Red Sox are paying for him to play there. I won't I think it was a bad deal for the short term. I also think giving the guy they had another year would have made sense. It would have cost the 12 million schrods a year either. I'll embrace Scutaro cheer for him like I said earlier I'm not anti Macro Scutaro . I'm just not sure if he is the guy you want to make statement of getting younger.
I guess where Theo was looking is a guy with a bat who can get on base.. he will give the Red Sox a little more pop but like I say he won't be a long term solution for the next 3 or so years.